Hi Matt. If we add more than one links from page A to page B, do we pass more PageRank juice and additional anchor text info? Also can you tell us if links from A to A count?
***Please note this is an old post Ive updated to tidy up.****
STOP PRESS – All-round nice guy and official representative for Google published a a video recently telling us how Google USED to work according to the original Pagerank formula! :)
I suppose there's a good attempt at explaining Pagerank in simple terms with fingers for those new to SEO. Or at least, how it used to work. :) Let's face it – Google Pagerank works differently than it used to. Toolbar Pagerank is so out of date it's really not an accurate measure of most of the pages a SEO would be interested in. Real Pagerank – the stuff Google uses internally – however that works – we don't get to see.
He mentioned something like he 'wasn't going to get into anchor text flow' (or as some call First Link Priority) – in this scenario, which is, actually, a much more interesting discussion.
Pity.
But the silence on anchor text and priority – or what counts and what doesn't, is, perhaps, confirmation that Google has some sort of 'link priority' when spidering multiple links to a page from the same page and assigning relevance or ranking scores.
For example (and I am talking internal here – if you took a page and I placed two links on it, both going to the same page? (OK – hardly scientific, but you should get the idea). Will Google only 'count' the first link? Or will it read the anchor txt of both links, and give my page the benefit of the text in both links especially if the anchor text is different in both links? Will Google ignore the second link? What is interesting to me is that knowing this leaves you with a question. If your navigation array has your main pages linked to in it, perhaps your links in content are being ignored, or at least, not valued.
I think links in body text are invaluable. Does that mean placing the navigation below the copy to get a wide and varied internal anchor text to a page? Perhaps.
I'm pretty sure, from plenty of observations I've made in the past, that this is indeed the case. I have seen a few examples where I *thought* might contradict my own findings, but on closer examination, most could not be verified. It's a lot harder today to isolate this sort of thing – but Google is designed that way.
I think, as the years go by – we're supposed to forget how Google works under the hood of all that fancy GUI, BTW.
Simple answer, for me is, expect ONE link – the first link –  out of multiple links on a single page pointing at one other page – to pass anchor text value. Follow that advice with your most important key phrases in at least the first link when creating multiple links and you don't need to know about first link priority.
A quick SEO test I did a long time ago throws up some interesting questions today – but the changes over the years at Google since I did my test will have an impact what is shown – and the fact is – the test environment was polluted long before now.
I still think about first link priority when creating links on a page.
It is possibly, a powerful good practice when inter-linking your pages.
I had hoped watching this video MC answered that point about anchor text. Maybe next time.
—————————————-
Do let me know if you have a view on 'first link priority' – if you consider it – or if you think differently. If you have heard of MC talking about the flow of anchor text in this fashion – let me know – as I haven't seen it…. I might even give this a test again.
If you don't know, there are lots more of these videos for noobs at:
https://www.youtube.com/user/GoogleWebmasterHelp
Want to know more about first link priority theories? It's an interesting and sometimes hotly debated discussion – well, it used to be. Perhaps it is the case, the first link priority is not a short answer for MC to give, and by answering it, it opens a can of worms for him. The rule ITSELF probably has nuances, when nofollow is added to the mix, for instance, etc etc.
Internal Links – Testing If Only The First Link Counts in Google
****HERE"S THE ACTUAL TEST I DID A LONG TIME AGO TO TEST THIS……******
I thought I would share the results of another simple test I did to see how Google treats internal links.
What does Google count, when it finds two links on the same page going to the same internal destination page.
I surmised:
Google might count one link, the first it finds as it indexes a page
Google might count them all (I think unlikely)
Google might count perhaps 55 characters of ALL of the available links (could be useful)
OK – From this test, and the results on this site anyways, testing links internal to this site, it seems Google only counted the first link when it came to ranking the target page.
In much the same method as my recent SEO test where I tested how many words you should put in a link, I relied on the "These terms only appear in links pointing to this page" (when you click on the cache) that Google helpfully shows when the word isn't on the page).
Again, I pointed 2 everyday words at a page that don't appear on the page or in links to the page, and searched for the page in Google using a term I knew it would rank high for (Shaun Anderson) and added my modifier keywords. I left it for some time, and checked every now and again the results.

Searching for "shaun anderson" + "Keyword 1" returned the page (cache shown above).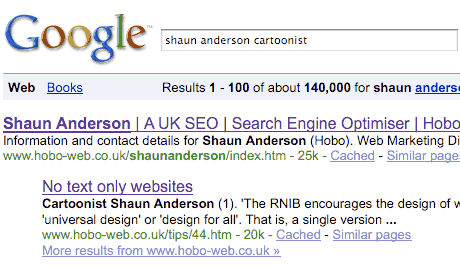 Searching for the term "shaun anderson" + "keyword 2" did not return the page at all, only the page with the actual link on it, further down the SERPs.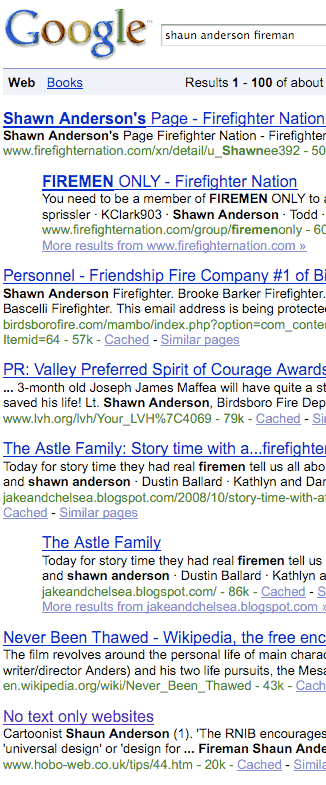 Not even in a site search.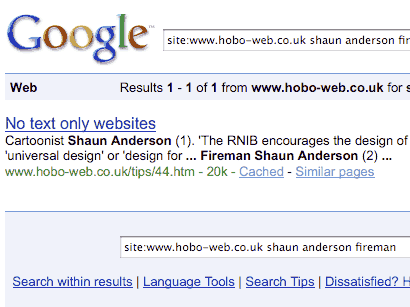 It's not exactly Google terrorism to identify this, so here is the actual test page where you can see the simple test in action.
So today :),  on this site :) in internal links :), Google only counted the first link as far as anchor text transfer is concerned :)
How you can use to your advantage?
Perhaps, you could place your navigation below your text
This lets you vary the anchor text to important internal pages on your site, within the text content, instead of ramming down Google's throat one anchor text link (usually high in the navigation)
Varying anchor text naturally optimises to an extent the page for long tail 'human' searches you might overlook when writing the actual target page text
Of course, I assume links within text surrounded by text are more important than links in navigation menus
It makes use of your internal links to to rank a page for more terms, especially useful if you link to your important pages often, and don't have a lot of incoming natural links to achieve a similar benefit
Works for me anyways, when I'm building new sites, especially useful on longtail searches, and there's plenty of editorial content being added to the site for me to link to a few sales pages.
Note: I would think Google would analyse everything it finds, so it would find it easy to spot spammy techniques we've all seen on sites trying to force Google to take multiple link anchor text to one page.
Does Only The First Link Count In Google?
Does the second anchor text link on a page count?
This is one of the more interesting discussions in the SEO community of late.
Here's some more on the topic;
I think quite possibly this could change day to day if Google pressed a button, but I optimise a site thinking that only the first link will count – based on what I monitor although I am testing this – and actually, I usually only link once from page-to-page on client sites, unless it's useful for visitors.