Welcome to Hobo SEO consulting services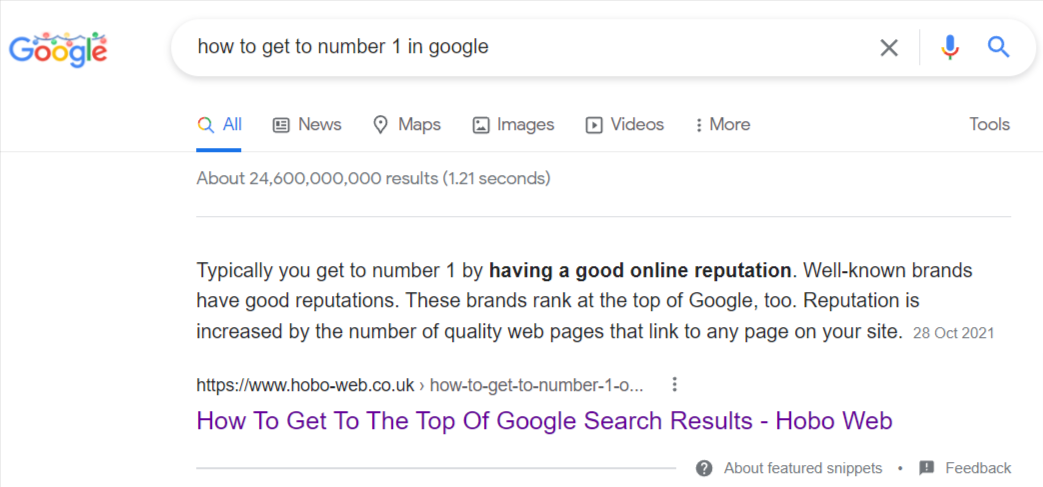 Hobo Web is a UK SEO consultant based in Scotland, (Inverclyde, in Greenock). You can hire Hobo SEO professionals to plan an SEO strategy for your website that results in better Google rankings.
If you are looking for SEO consulting services in the UK, you've come to the right place.
Your SEO consultant
You employ Hobo-Web UK SEO consultants on a per month basis to manage your website development team as they implement a professional SEO campaign for your business website and manage your SEO, link-building, and content marketing strategy.
An SEO audit is the first step in a successful SEO strategy (with a focus on following Google Webmaster Guidelines, Google quality raters guides, Google ads recommendations, and Google's UX best practices).
Hobo SEO specialists then:
prioritise your SEO tasks
direct your web development team
monitor your SEO progress
regular checks of your Search Console data
set-up and monitor your SEO tests
develop your content marketing and link building strategy
Hobo UK SEO professionals follow Google's webmaster guidelines in all decisions taken on your behalf.
You can get your preferred website development team to address the SEO tasks identified by the audits, or Hobo UK SEO providers can fix your website for you.
Find out more about the Hobo SEO audit service.
Your SEO consulting service
Let's say you have an in-house team or remote helpers and you are not making the progress you think you should be:
A web dev,
a copyrighter, and
a link builder.
Simply put, your Hobo Web SEO consultant brings them all together in a joined-up SEO strategy with the aim of achieving better Google rankings for your website.
If you don't have an SEO team to work with during 2022, Hobo Web provides web developers, copywriters, and link builders.
The SEO consulting service will break down like this:
Month 1 – Technical & quality audit/start keyword research
Month 2 – Technical fixes/Formulate content & link building strategy
Month 3 – Deploy content & link building strategy/continual website improvements
Month 1 – This is about finding out what needs to be fixed from a technical point of view. A website developer is fixing website priorities as the SEO campaign proceeds with ongoing SEO checks in the background.
Your link-building strategy is developed alongside this technical SEO work.
Month 2 – This is when your link builder and copywriter are managed by Hobo Web on a daily basis, offering places for them to look for links for example that meet high-quality criteria, or content generation ideas that have a chance of earning links.
By this point you know the links the team is chasing, you know the content the team is producing, and know the prospects they will be chasing for links.
The campaign is entirely focused on getting high-quality links. Some links take a long time to manage the procurement of – Hobo Web plan out how we will be managing this process.
Paid links are always an option for you, but they violate Google guidelines.
The purpose of hiring Hobo Web is to find out everywhere ELSE you should be getting links before you think about buying any.
Month 3 – This is when the team is creating content that matters, and getting links from all obvious link sources (low hanging fruit determined in one instance, by looking at competitor links) and your site should be in good shape from an SEO perspective.
After 3 months and depending on the work that is planned, Hobo Web fees then change to a 3 monthly subscription plan (instead of monthly), as we will be managing and improving the process, not continually building it as we need to in the first 3 months.
By months 4, 5, and 6 of your Hobo Web SEO consultancy, everyone's working together to get what matters and we should be seeing tangible results. Genuine higher-quality LINKS to a very high-quality website. By this point in the campaign, we will very probably be finding other services that fit your needs and complement mine as we develop your marketing strategy further.
The point here is to ensure that EVERY day you are creating content with a purpose and acquire genuine high-quality links to a high-quality website. This will both improve conversions and you will rank higher in Google.
We start with low-hanging fruit links moving on and focusing on getting harder links as the campaign progresses.
We essentially will build and maintain a marketing machine for your site where you know all the working parts.
If no one is planning this for you at the moment, we can start tomorrow.
Your SEO management service
This paid SEO service is specifically designed to accommodate website owners or managers who lead third-party, in-house, or off-shore development teams that need support from an experienced SEO consultant in identifying and prioritizing SEO issues on a website.
When hired, Hobo Web SEO managers provide 24-48 hour SEO consultancy support services through this consultation agreement.
Hobo Web clients employ us as a remote SEO manager via monthly subscription to manage their in-house or third-party teams as they implement SEO tasks Hobo Web give direction on, manage and check.
Where Hobo fits into your organization is entirely dependent on your budget and your current support team setup and the team's employment month to month is 100% in your control.
You can hire Hobo to manage your in-house or international third-party development team when it comes to anything related to SEO.
The aim is to work with you long-term to ensure the success of your business and deliver a professional service at all times.
Day-to-day Hobo SEO service providers work out and prioritize SEO tasks for your web development team and get them focused on the right areas.
With over 20 years of experience in SEO consultancy and online marketing, Hobo provides UK-based SEO services on sites of any size, in most commercial niches, to companies around the world. When you hire Hobo to manage your SEO, you get a remote SEO planner with 20 years of experience managing your SEO campaign for the cost you would pay a graduate out of university.
You get:
SEO task prioritization
advice and direction on the prioritized task at hand from an experienced search engine marketer
an ongoing discussion about your site and SEO strategy
advice and identification of potential risks (Google penalties)
advice on website migrations
advice on off-page on-page SEO
advice on competitors
monitoring of your website and SEO
you or your team can contact us using Telephone, Skype Group (& Email) Support at any time to keep on top of things and to discuss strategy and priorities) – I can naturally use many means to integrate with your team
you can get immediate answers to any SEO questions and any required investigation carried out by me e.g. competitor analysis, site auditing, trends analysis – anything that contributes towards SEO strategy.
You'll get an adaptable, fluid account manager for your project that can integrate seamlessly with your development team across even multiple websites in your portfolio
You'll receive from me prioritization of SEO tasks for your team and I'll manage this through Google spreadsheets to ensure successful collaboration and sharing. (we show your team what to do to hit SEO best practices, and we check they have managed to make the changes correctly)
Hobo Web SEO service is aimed towards optimizing websites to meet Google's quality rater criteria and Google webmaster technical recommendations (otherwise known as ethical or white hat SEO).
The specialist areas Hobo consultants have the most experience in are.
SEO
website accessibility
conversion optimisation
analytics analysis
backlinks analysis
competition reporting and
improving the user experience on websites (desktop and mobile)
planning website migrations
Find out more about the Greenock website development service and Hobo website SEO migration service.
Recent SEO case studies
Case Study 1: (Managing a global team of developers)

Case Study 2: (Managing a global team of developers)

Case Study 3: (Website Migration – Managing an inhouse development team)

.
For more reviews, see Hobo Web SEO testimonials.
How do you pay for Hobo SEO consultancy?
You subscribe to Hobo Web SEO consulting services for a monthly subscription fee. You will be billed monthly as Hobo Web consultants continue to work for you, managing your in-house or remote team.
Once Hobo Web has the first payment confirmed, work starts immediately on your project. Hobo SEO consultants will need 1 week to get up-to-speed with your business, including a Skype telephone conference near the end of the 1st or 2nd week to discuss your primary business goals and pending strategy.
What access do we require to perform SEO analysis?
Google Analytics access
Google Search Console access
Crawling permissions for your website
What does an SEO consultant do?
An SEO is:
QUOTE: "someone trained to improve your visibility on search engines." Google Webmaster Guidelines, 2021
A professional search engine optimisation consultant has an understanding of how search engines like Google generate their natural SERPs to satisfy users' navigational, informational and transactional keyword queries.
An SEO consultant is a professional search engine optimiser who understands how to make a website rank as high as it can in Google for the correct keyword phrases.
An SEO is a person who understands how people search for information (on the web and in other ways) and ensures that their clients are visible in the unpaid listings that are provided by search engines.
Hobo SEO consultants can advise you on any area of organic search engine optimisation.
SEO consultation includes advice on:
Search engine submission
website SEO audits
keyword research
search engine copywriting SEO
local & global search placement
keyword ranking reports
visitor traffic reports
title tags
meta description
SERP snippet SEO
video SEO
website information architecture
Social media marketing
link building strategy
directory submission
online reputation management
eCommerce SEO
duplicate content
competitor analysis
Once Hobo has analysed your website, identified and prioritised SEO work on your website, Hobo consultants can begin to look at managed SEO services to improve your website rankings.
Read this next to find out how Hobo optimises your website –  Hobo Web Professional SEO Services.