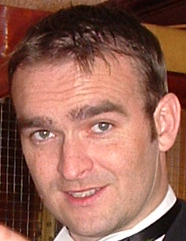 I am Head of SEO at MBSA Marketing LTD and owner (and moderator) of this domain www.hobo-web.co.uk. I am a UK SEO consultant (a Google search engine optimisation specialist), based in Greenock, near Glasgow in Scotland.
I practice and learn daily about SEO, user experience, conversion optimisation, web accessibility and link building. I have worked on hundreds of websites and managed hundreds of online marketing campaigns in many industries over almost 20 years.
I started working in an advertising agency in 1999, and thought up a dedicated website design division of the agency, in 2001/2, and, seeing Google as the future of advertising, went on to start this website in March 2006, and then went on to provide professional SEO audits and SEO services to clients.
My Experience
I have been involved in developing websites and managing search engine marketing projects for;
news sites (with millions of pages)
universities
colleges
charities
corporates
small business
medium-sized businesses
enterprises
finance sites
well-known UK brands
cathedrals
NHS
lawyers/solicitors
automotive sites (with millions of pages)
e-commerce sites (with tens of thousands of pages)
dental practices
lawyer and solicitor practices
and many more…
My blog usually attracts over 100K to 150K visitors a month and has over 40K regular subscribers.
In April 2009, I published a 'Beginners Guide To UK SEO' (updated in 2013, 2015, 2016 and 2018) which has been downloaded hundreds of thousands of times.
Google has sent this over 5 million users since I started blogging in 2007.
I have nearly 20 years experience online and specialise today in search engine optimisation for Google. Before I was obsessed with Google, SEO and link building, my passion was accessible website design – that is, designing websites that are accessible by all. Today, I am a UK SEO specialist.
I'm interested in web usability, user experience, conversion rate optimisation, and landing page SEO.
Things I've done:
Ranked N01 Best UK SEO Blog by Feedspot (2018)
Ranked N05 in "29 Awesome 

SEO

 Blogs to Follow in 2018 (Graded and Ranked)" by Ahrefs
Ranked page 1 in the UK for 'SEO', 'Search engine optimisation' and 'link building' for 4 years (and thousands of other terms)
My 'white hat' content strategy (for this website) made it to the front page of Reddit (May 2015)
Circa 300 endorsements on Linkedin for 'SEO.'
Listed in the search for "The most influential individual in UK search marketing and SEO" by The Drum Magazine (2014)
Nominated for Best SEO Blog at 2012 UK Search Awards
Voted 'Most Influential' UK SEO 2010 in Industry Poll
Voted 60th Most Influential Marketer of 2009
Guest Presenter – Jim Boykin's SEO Class 2008
Official Guest Speaker IWTC Irish Web Technology Conference 2008 (SEO)
Guest Speaker SECC Grow Your Own Business Conference 2008 (SEO)
Best Emerging Business – RUNNER-UP – Chamber Of Commerce Bees Knees Awards 2007 (with Hobo)
GOLD WINNER – SFEU Scottish Colleges Marketing Awards 2006 (for North Glasgow College) with former agency.
Scottish Finalist 'SHELL LIVEWIRE' 1998
FINALIST – Royal Bank of Scotland Marketing Challenge 1998
WINNER – PSYBT Princes Trust Inverclyde New Business Idea Awards 1997
REGISTERED MEMBER – RNIB's Campaign for Good Web Design Supporter
Skill Set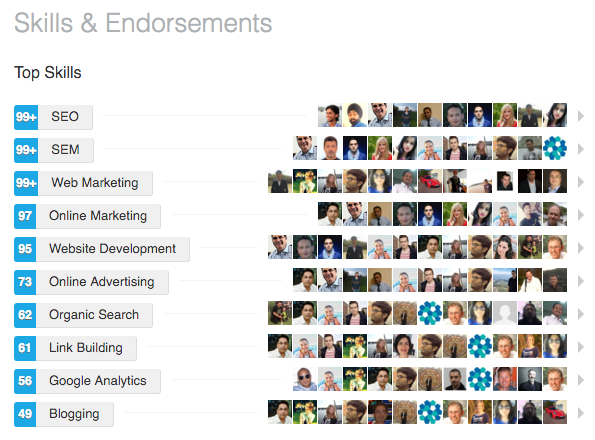 My Top 'Skills' has been voted thus by 3K+ Linkedin connections:
SEO (circa 300 endorsements)
SEM
Web Marketing
Online Marketing
Website Development
Online Advertising
Organic Search
Link Building
Google Analytics
Blogging
According to Linkedin (and voted by third parties), I also know about…
Web Development
Web Analytics
Marketing
PPC
Google Adwords
Keyword Research
Social Media Marketing
Conversion Optimization
Landing Page…
Digital Marketing
E-commerce
Blog Marketing
Search Advertising
CMS
Lead Generation
Content Marketing
Email Marketing
SMO
Google Webmaster Tools
Online Lead Generation
Affiliate Marketing
Website Promotion
SEO copywriting
Internet Strategy
Online Reputation…
Local Search
Search Engine Submission
Social Marketing
Mobile Marketing
Viral Marketing
Google Website Optimizer
SEO Copywriting
Main Focus
I am involved in a large community of individuals that learn and blog about Google SEO. As a result, I have been listed on about 500 Twitter Lists (although I tweet relatively rarely) and this website ranks for a lot of seo-related keywords: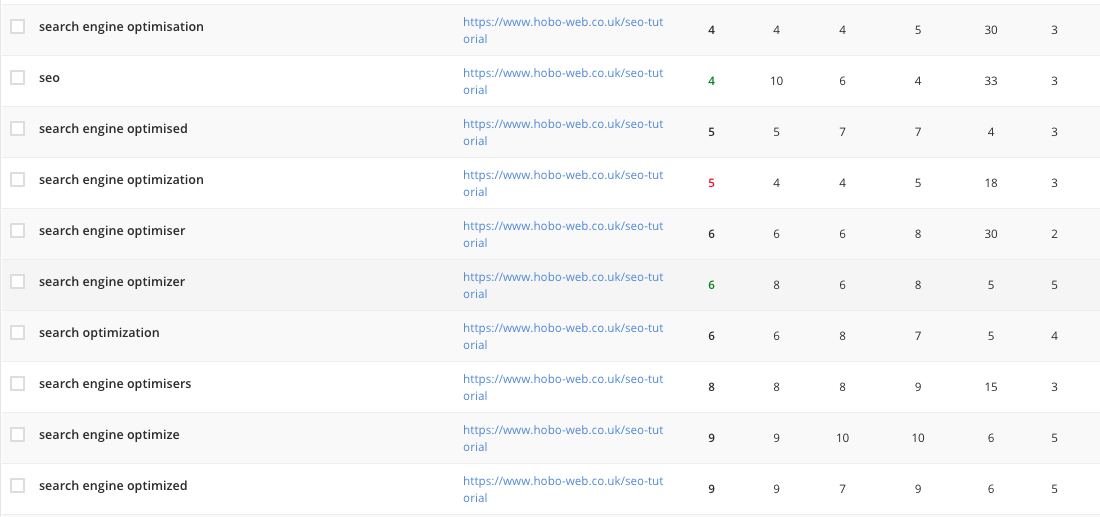 I develop the organic marketing strategy for this site and at MBSA Marketing LTD, and part of that marketing strategy is based on the technical data I can gather and adherence to Google Webmaster Guidelines, where sensible.
I spend a lot of my time organising to collect that data and breaking down challenges in SEO, identifying markers in processes, and illustrating solutions to SEO problems my clients (and most sites have) so that my in-house coding team manager can turn that into the code for my in-house SEO platform.
The rest of my time is spent stress testing, beta-testing, and analysing data reports so that I can help clients prioritise which area to focus their resources on.
My Approach to SEO
I am a white hat SEO by necessity. I manage client websites in the same fashion as I manage the Hobo Web site. Essentially, that means following Google Webmaster recommendations to the letter, when the skills to do that are available, and being very specific about when and where to apply specific methods, and deploy chosen methods in the simplest way possible and as exactly as Google recommends it be done.
A way to interpret modern SEO is that Google demotes your site when it can detect anything unnatural about it, in any area, rather than promotes it. If Google trusts your site, and users like it, then you are in good shape.
As others fall you rise, so avoiding Google's punishment algorithms is a good first step. I also proceed thinking Google is continually raising the 'quality' bar in every area. Low-quality link building is a good example: essential a few years ago, this is now too risky an investment to deploy for real businesses – not with the level of manual quality rating going on.
Google can demote you for user, operational, technical, content or backlink quality issues and that's the stuff you need you identify and fix.
Outside of this technical exactness, I aim for, the theatre of conflict and opportunity is now 'user satisfaction' and 'conversion optimisation', for me, anyway, as opposed to 'manipulation' using outdated SEO techniques that we have trained an AI to identify.
Blogging
I manage and write all the content for this Hobo website. As a result of blogging and activity in my industry, the Hobo site gets about 100,000 new organic visitors from Google every month.
SEO Toolset
The images regarding the Hobo site, above, are from my own tool set I have developed over the years. The aim is to help my team to help prioritise, manage, deploy and track an SEO campaign based on data analysis. I have taken what I have learned over nearly 20 years, and spent the last 4 years bringing it all together in one toolset, that combines manual work with automation and an aim to focus a site regeneration around building the high-quality website Google is demanding in some niches…. as this, I think the trend would indicate, hints at what is coming to every niche, in time.
I created my platform to help me focus a team on fixing important user satisfaction issues across a website, and what is measured gets actioned, so to speak.
Many aspects of SEO are technical and as such can be machine identified, so I automate everything I can so I can check hundreds, if not thousands of individual elements on a site in minutes, so that I can focus a client project on cleaning up in the right areas and ramping up the quality in other areas. For every problem I have encountered, I code a solution for it, so I can check it automatically next time on any site. I also programmatically check a site against common Google Webmaster Guidelines infractions or under-optimisation.
I have used my platform (which connects to many other API) to manage the Hobo site optimisation process over the last few years.
I write my notes about SEO on my blog, and it serves to promote our SEO services.
Tutorials
Feel free to connect with me on any of the channels below: