Shaun Anderson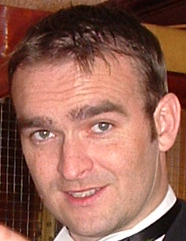 Shaun Anderson is the Head of SEO at Hobo Web and the author of the Hobo SEO Checklist.
Shaun practices SEO daily and has a keen interest in user experience, conversion optimisation, web accessibility, and link building. He has worked on hundreds of websites and managed hundreds of online marketing campaigns in many industries over almost 20 years.
Shaun started as an SEO consultant in his former advertising agency in 1999 and launched the Hobo website in March 2006.
Featured in Search Engine Journal's Top SEO Experts You Should Be Following in 2021
Ranked N01 Best UK SEO Blog by Feedspot (2018)
Ranked N05 in "29 Awesome 

SEO

 Blogs to Follow in 2018 (Graded and Ranked)" by Ahrefs
His 'white hat' content strategy (for this website) made it to the front page of Reddit (May 2015)
Circa 300 endorsements on Linkedin for 'SEO.'
Listed in the search for "The most influential individual in UK search marketing and SEO" by The Drum Magazine (2014)
Nominated for Best SEO Blog at 2012 UK Search Awards
Voted 'Most Influential' UK SEO 2010 in Industry Poll
Voted 60th Most Influential Marketer of 2009
Guest Presenter – Jim Boykin's SEO Class 2008
Official Guest Speaker IWTC Irish Web Technology Conference 2008
Guest Speaker SECC Grow Your Own Business Conference 2008
Best Emerging Business – RUNNER-UP – Chamber Of Commerce Bees Knees Awards 2007 (with Hobo)
GOLD WINNER – SFEU Scottish Colleges Marketing Awards 2006 (for North Glasgow College)
Scottish Finalist 'SHELL LIVEWIRE' 1998
FINALIST – Royal Bank of Scotland Marketing Challenge 1998
WINNER – PSYBT Princes Trust Inverclyde New Business Idea Awards 1997
REGISTERED MEMBER – RNIB's Campaign for Good Web Design Supporter
Experience
Shaun has been the senior SEO consultant at Hobo since 2007 and is involved in managing SEO projects for hundreds of sites, some websites with a few pages and some websites with millions of pages.
Shaun has over 20 years of experience working online and specialises in SEO (search engine optimisation) for Google.
Shaun is experienced in SEO audits, site quality analysis, web usability analysis, user experience, conversion rate optimisation, and landing page SEO.
Skills & Endorsements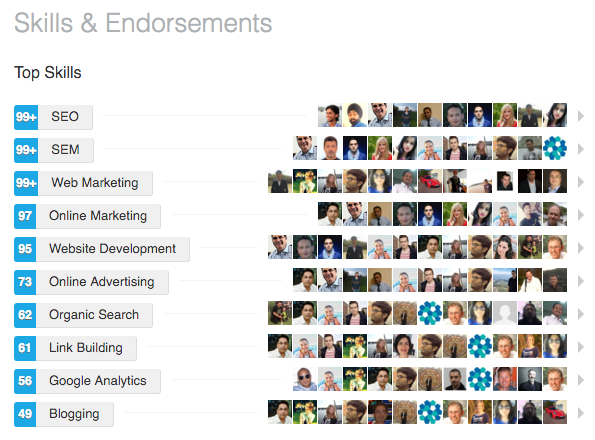 Shaun Anderson's Top 'Skills' has been voted thus by 5K+ Linkedin connections:
SEO (circa 300 endorsements)
SEM
Web Marketing
Online Marketing
Website Development
Online Advertising
Organic Search
Link Building
Google Analytics
Blogging
According to Linkedin (and voted by third parties), he also is knowledgeable about…
Web Development
Web Analytics
Marketing
PPC
Google Adwords
Keyword Research
Social Media Marketing
Conversion Optimization
Landing Page…
Digital Marketing
E-commerce
Blog Marketing
Search Advertising
CMS
Lead Generation
Content Marketing
Email Marketing
SMO
Google Webmaster Tools
Online Lead Generation
Affiliate Marketing
Website Promotion
Copy Writing
Internet Strategy
Online Reputation…
Local Search
Search Engine Submission
Social Marketing
Mobile Marketing
Viral Marketing
Google Website Optimizer
Shaun is involved in a large Global community of other search engine optimisers that practice Google SEO. As a result, Shaun has been listed on about 500 Twitter Lists (although he tweets relatively rarely) and the Hobo Web site also ranks for a lot of seo-related keywords because of his content marketing for Hobo.
Shaun develops the organic marketing strategy for the Hobo Web site.
Shaun spends a lot of his time breaking down challenges in SEO, identifying markers in processes, and coming up with solutions to SEO problems for clients.
The rest of his time is spent helping clients prioritise SEO tasks to focus their resources on.
Shaun is a white hat SEO consultant by necessity. He manages client websites in the same fashion as he manages the Hobo Web site. Essentially, that means following Google Webmaster recommendations to the letter.
Blogging
QUOTE: "For whatever reason, Hobo-web doesn't usually get mentioned on such lists, which is a shame. It's almost certainly one of the best single-author SEO blogs out there. Shaun's posts are few and far between but when he does publish something, you can bet it's worth reading. His posts regularly pass the 5K word mark, and although word count isn't everything, they're well-structured and a pleasure to read. He has 20 years experience in online marketing and it shows." Joshua Hardwick, Ahrefs Testimonials
Shaun manages and writes the content for this Hobo website. As a result of blogging and activity in the SEO industry, the Hobo blog has attracted over 8 million visitors in its lifetime, so far, and boasts over 45K email subscribers.
In April 2009, he published a 'Beginners Guide To UK SEO' (updated in 2013, 2015, 2016 and 2018) which has been downloaded hundreds of thousands of times.
What others say
This is a small collection of reviews and testimonials about Shaun Anderson since 2006:
QUOTE: "Absolutely killer/comprehensive SEO audit template via Shaun Anderson (@Hobo_Web) A paid version exists, but the free version is better than 99% out there. Love that it includes both website + content quality! Probably the most complete you'll ever see." Cyrus Shepard, 2022
QUOTE: "I was thinking of leaving the SEO industry because I was in the Blackhat SEO and in Turkey i have told maybe before but it was COMPLETELY ILLEGAL and people were going to JAIL and there was even real world shootings. I got my way to the Seo by the Sea. By a simple coincidence from here I met Hobo Web. Both Shaun Anderson and Bill Slawski are great importance to me and by the way. Shaun Anderson; I also suggest you to follow him. He doesn't share so much things on Twitter but hobo webco uk is one of the greatest places that you can actually learn real seo and i am not talking about like five quick hacks that you can do or i'm not talking about six shortcuts tips blah blah not these type of idiotic titles they won't appear there and you won't have popular seo names here you will have real world research. Boring things but real things and here i have written  without I wouldn't have found my own company." – Koray Tuğberk GÜBÜR, 2022
QUOTE: "If you ever wanted a checklist of things to do when it comes to search engine optimisation, Shaun Anderson of Hobo SEO has recently produced the best one I've ever seen." Chris Rand, 2022
QUOTE: "I tried reading one of those other sources, and when he told me that I should optimize file names in images to optimize them, and used an underscore between words, I wondered if he had ever done SEO for a client. I believe that Hobo_Web does, because he shows his knowledge."— Bill Slawski  2020
QUOTE: ""Hobo-Web was founded by Shaun Anderson who writes all the content himself. He's certainly qualified with 20 years of online marketing experience ranging from small business to educational institutions to medical and legal practices. It's probably the best single-author SEO blog there is. You get a lot more quality than quantity from him as he only posts once or twice per month. There's not any fluff or substandard content so you know when he does post it's worth a read. The posts are very in-depth, often exceeding 5,000 words." – Tom Scarda, Founder and CEO, The Franchise Academy, 2020
QUOTE: "These in-depth articles from Hobo Web are excellent – well, well worth reading them to build your fundamental SEO knowledge. For Free!" Richard Baxter, Built Visible 2017
QUOTE: "Everything I learned about SEO was from books, videos and by following the work of a select few really good SEO professionals such as Shaun Anderson, Martin Macdonald and Rishi Lakhani." Gordon Campbell, 2013
QUOTE: "Do SEO? Read this now. Great piece by Hobo_Web" Martin Macdonald, 2017
QUOTE: "Shaun and his team know what they are doing – and their level of transparency are amazing." Rishi Lakhani, 2012
QUOTE: "This is an awesome summary of duplicate content and web search" John Mueller, Google 2017
QUOTE: "With over 20 years of experience and some epic pieces of tactical content. There's something for everybody here. Blog posts range from beginner to expert and everything in between." Kevin King, 2019
QUOTE: "You can't make such a list without mentioning Hobo Web Seriously though, this is one of the best single-author SEO blogs out there. Shaun Anderson, AKA Hobo, is an absolute SEO genius, and his insights are highly sought after by some of the most intelligent people in the industry. If you want to learn about SEO from the best, then Shaun Anderson's blog is where you need to be." MediaOne, 2022
QUOTE: "Let us look at the big traders or the warren buffets of this world. Neil Patel, Shaun Anderson, Jacob King are top search results when you type anything related to "SEO", try it! The tips & tricks of these masters influence many websites." StartupHungry, 2014
QUOTE: "The HOBO Web blog is always an excellent source for information on anything SEO-related. But here you'll find an even greater resource in this link building guide that's been adapted and updated for 2016, written by Shaun Anderson. This 31-chapter guide starts from the basics of what link building is, to explaining what natural and unnatural links are, and proceeds to reinforce or dismantle new and old link building techniques. Reading this guide, you can learn what is still valid and what isn't, or whether older techniques are successful again. Definitely a resource worth browsing, for beginners and advanced SEOs alike." Advanced Web Ranking, 2016
QUOTE: "There aren't many "SEO's" that I read or share purely for "SEO" value; an SEO Guide by @Hobo_Web (Most of the site is worth peoples time – and plenty of "SEO Pro's" should read it instead of Backlinko/Patel/Woodard etc. :D)" DarthAutocrat, 2020
QUOTE: "I tried reading one of those other sources, and when he told me that I should optimize file names in images to optimize them, and used an underscore between words, I wondered if he had ever done SEO for a client. I believe that Hobo_Web does, because he shows his knowledge."— Bill Slawski  2020
QUOTE: "There are many SEOs who claim to be good. Most are rubbish to be honest. There are only 2 people on UKBF that I would reccomend. I have been SEOing for 6 years, and I have seen it all and got the T Shirt, and Shaun is the only other SEO I rate on here." UK Business Forums 2007
QUOTE: "For whatever reason, Hobo-web doesn't usually get mentioned on such lists, which is a shame. It's almost certainly one of the best single-author SEO blogs out there. Shaun's posts are few and far between but when he does publish something, you can bet it's worth reading. His posts regularly pass the 5K word mark, and although word count isn't everything, they're well-structured and a pleasure to read. He has 20 years experience in online marketing and it shows." Joshua Hardwick, Ahrefs 2018
QUOTE: "Hobo is still a real page-turner. This blog is really a one-man show, and I'm really impressed by what he has accomplished. Shaun Anderson does a great job of digging deep into what matters in SEO, and Google has rewarded him for his efforts. In fact, I couldn't get away from this blog. For years, Hobo just kept popping up in the search results whenever I did SEO research. This blog boasts thousands of regular readers for a good reason. Just ignore some of Shaun's grammatical errors (he is British, right?), and you will find some real gems for your efforts." Andy Jones 2019
QUOTE: "Hobo was founded by Shaun Anderson in 2007. The site offers long-form articles on every aspect of SEO. I've never seen any articles published on the site to be less than 2,000 words. They just cover all the important details of the topic they write about. If you have the time to read and apply that knowledge to your site, this site is for you." Naven Pillai 2019
QUOTE: "Shaun Anderson is by now a quite well known figure in the SEO industry and beyond partly due to his ongoing efforts of spreading SEO knowledge both within the industry and to the masses. He has published popular SEO resources for beginners and intermediate users both on his site and as an e-book. I've followed Hobo UK over the years and was quite impressed with their track record of contributions to the general understanding of SEO procedures and best practices." Tad Chef 2011
QUOTE: "I received an email this afternoon from a young man who is interested in a career in SEO, and he asked me how to get started, and I thought it was such a good question that I would include my response here on the blog to any others who might want to learn SEO and work with site owners to help them succeed in business online. There are some respected sources about SEO online that are worth reading as a starting point." Bill Slawski, 2017
QUOTE: "This is a blog that, without a doubt, needs more exposure. It is nicely written and provides its audience with an unusual and fresh look at the SEO world. You won't find many posts, and they are all created by the same author – Shaun Anderson." Iskra Evtimova, 2020
QUOTE: "Shaun Anderson is the founder of this amazing SEO blog who has been doing SEO for more than 20 years."  Anil Agarwal, 2021
QUOTE: "One blog I've recently discovered is Hobo. The peculiar thing about this blog is that there are not many blog posts. But all of them are written by one person—Shaun Anderson… and all of the articles are really extraordinary." Databox. 2019
QUOTE: "Shaun Anderson has a great amount of respect in UK's SEO community. He is regarded as one of the top SEO experts in the field. He is currently the "Web Marketing Director" and "Director of SEO and Marketing" at Hobo Web, which is one of the best SEO companies in both UK and Scotland."2013
QUOTE: "Shaun Anderson at Hobo is well respected within the industry for running extensive tests on theories rather than relying guesswork" Datadial, 2011
QUOTE: "Shaun Anderson at Hobo SEO is a very reliable source of information. I've linked to his site many times over the years." Heidi Cool, Web Developer 2018
QUOTE: "Shaun Anderson creates an excellent SEO resource, bringing you up to speed on what's new for the industry in 2014, as well as linking to some valuable SEO videos and guides. Spend some time reading this post for a solid take on search" Alexmillos | 2014
QUOTE: "We constantly update our service through researching industry best practice and recommended techniques from world authorities on SEO including: Matt Cutts – Senior Google engineer, Jacob Nielson – Web Usability Guru, Shaun Anderson – Hobo Web" Intelligent Retail, 2013
QUOTE: "I'm a know-it-all web dev .. and I was pretty convinced that SEO and SEOs were all magic smoke and fraud. I can't remember how I stumbled on Hobo, but it's really made me realize that there exists a sliver of SEO where the people are intelligent and balance logical SEO optimizations against steadily improving content for people. I can't emphasize enough how refreshing it is to be able to read useful, logical tips about SEO that aren't 99% "Google updated and they lowered my PageRank and Google is wrong." Blog Comment, 2012
QUOTE: "I'm sure you hear this all the time but I have to say this is the best SEO blog I have ever seen. I have started my small design company recently and your site/blog helped and helps me a lot." Blog Comment, 2012
QUOTE: "I have to admit I read a lot of seo blogs around the net. I find I keep coming back to this one though. It's by far the most original and informative. So many people recycle the same old stuff. I'll be a regular visitor now, I don't need to go anywhere else. thanks for a providing a great source if information. Keep it coming." Blog Comment, 2012
QUOTE: "Very useful blog and the important thing is you are experimenting something and sharing with us your results…This helps us to understand the working of search engines better and I am sure whoever is in SEO field,bookmarking your blog is must for them!!" Blog Comment, 2012
QUOTE: "Hobo's DIY SEO Guide. At one point I actually thought long and hard about creating my own SEO guide, and then I read Shaun's at Hobo SEO and I realized he had it pretty well covered. How do you know their kung fu is good? (Google's) Matt Cutts gave their new SEO book  a Sphinn…high praise indeed." Joe Ford, Net Vantage Marketing,  2012
QUOTE– "One of my favorite SEO blogs. Very well written! Every post is always extremely informational. Lots of case studies which is great." ClickMinded, 2012
QUOTE:"There aren't many posts on this blog, but the author, Shaun Anderson, has over 20 years of experience in marketing and his articles are truly extraordinary. The posts usually pass the 5K word mark, they are well structured, and they cover every aspect of the given topic. I would definitely recommend this blog to everyone who wants to dive deep into SEO." – Oksana Chyketa, Marketing Specialist, BreathTheWeb.com 2020
QUOTE: "No matter what your level is, I would strongly recommend Hobo Web's SEO blog as it shares technical and in-depth SEO guides to help businesses rank better on search." Mithun, Rankwide 2021
QUOTE: "Notable reviews: "Shaun and his team were great to work with, they met deadlines and really knew their stuff when it came to SEO. Would recommend them again – Client" Hailey Friedman,  2020
QUOTE: "I've read a lot of Shauns work before and he does a good job of testing things at the extreme to find indicators of ranking. Shaun knows what he's doing with markup, as do the majority of folk who read his blog." Sir Earl, UK Business Forums – 2011
QUOTE: "I'm not sure why this one doesn't get more attention. Maybe it's just because the author, Shaun, is UK-based, but this blog is a good place to find long, thorough reads that leverage decades of digital marketing experience." – Dan Gower, Owner, Buddy Gardner Advertising, 2020
QUOTE: "Shaun Anderson from Hobo Web is a particularly entertaining blog. He tends give SEO updates in a "no-bull****" manor and with a touch of humour." Sebastian Cowie, 2011
QUOTE:  "Shaun is an SEO consultant who swears by practicing and learning about SEO every single day. Having worked on hundreds of websites and online marketing campaigns over the last 15 years, he started Hobo Web to provide professional digital marketing services to individuals and companies. In 2012, he was nominated for Best SEO Blog at the UK Search Awards. In addition, Hobo Web was voted Most Influential UK SEO in Industry Poll in 2010 and landed 60th in their Most Influential Marketer list in 2009." 2020
QUOTE: "Hobo Web is an SEO agency that full services SEO packages to businesses in the UK. I have been a frequent visitor to this blog for almost 5 years now. Since 2015, the design hasn't changed even a bit and the content still remains relevant as Shaun updates old content with latest information and data. Hobo Web sports long-form content in the form of tutorials, in-depth guides and technical SEO tutorials. No matter what your level is, I would strongly recommend Hobo Web's SEO blog as it shares technical and in-depth SEO guides to help businesses rank better on search. I believe it to be a single-authored blog, so you will not find that many articles when you compare it with Buffer or SEMRush but all the articles published here are full of high-quality information." 2021
QUOTE: "It seems like this one should get a lot more attention than it does. Maybe it's just because the author, Shaun, is UK-based, so he's not as popular here in the United States. He shares information that will help you master the craft wherever you are, so it's not like these SEO tips only work in Scotland. This blog is a good place to find long, thorough reads that leverage decades of digital marketing experience." Buddy Gardner, 2021
QUOTE: "The top two scores in my random 10 list are Shaun Anderson (@Hobo_Web) and John Chow (@JohnChow) who come from completely different backgrounds. Now I'm sure Shaun would not mind me saying that he lives in a less glamorous location than John, (Scotland and Vancouver respectively) where Shaun writes and comments on the world of SEO, whilst John has made a profession out of his blog and now 'trades' his techniques of doing the same."

"What I found interesting is that although John had a reach to over 33,000 people, whilst Shaun just 633, they had the same Klout score. This brought to my attention the difference in being followed for the sake of it, compared to being a true influencer.

For me, although I cannot take it away from John that he has worked extremely hard to amass the followers and revenue he has, I feel Shaun builds his followers by providing valuable and relevant information and opinions. This is the key element of a successful social media campaign or policy, which is why although Shaun has 52,421 less followers than John, he is still making the same sort of impact on the online community.

Shaun was described by Klout:

'Within your area of expertise your opinion is second to none.' Honcho, 2010
QUOTE: "Want to learn more about search engine optimization? Then you should learn from the top SEO experts…." Danny Goodwin, Search Engine Journal, 2021
Feel free to connect with Shaun on any of the channels below: