If you are the owner of a website who wants more traffic from Google Search, the Google webmaster guidelines SEO Starter Checklist is for you. Perhaps you have a new website, or an old, failing website you want to recover.
This SEO checklist for beginners covers all of Google's webmaster guidelines on how to create a high-quality website.
The checklist is a spreadsheet that is available for you to access for free on Google Sheets, or alternatively, you can subscribe to Hobo SEO Tips and get your checklist as a Microsoft Excel spreadsheet.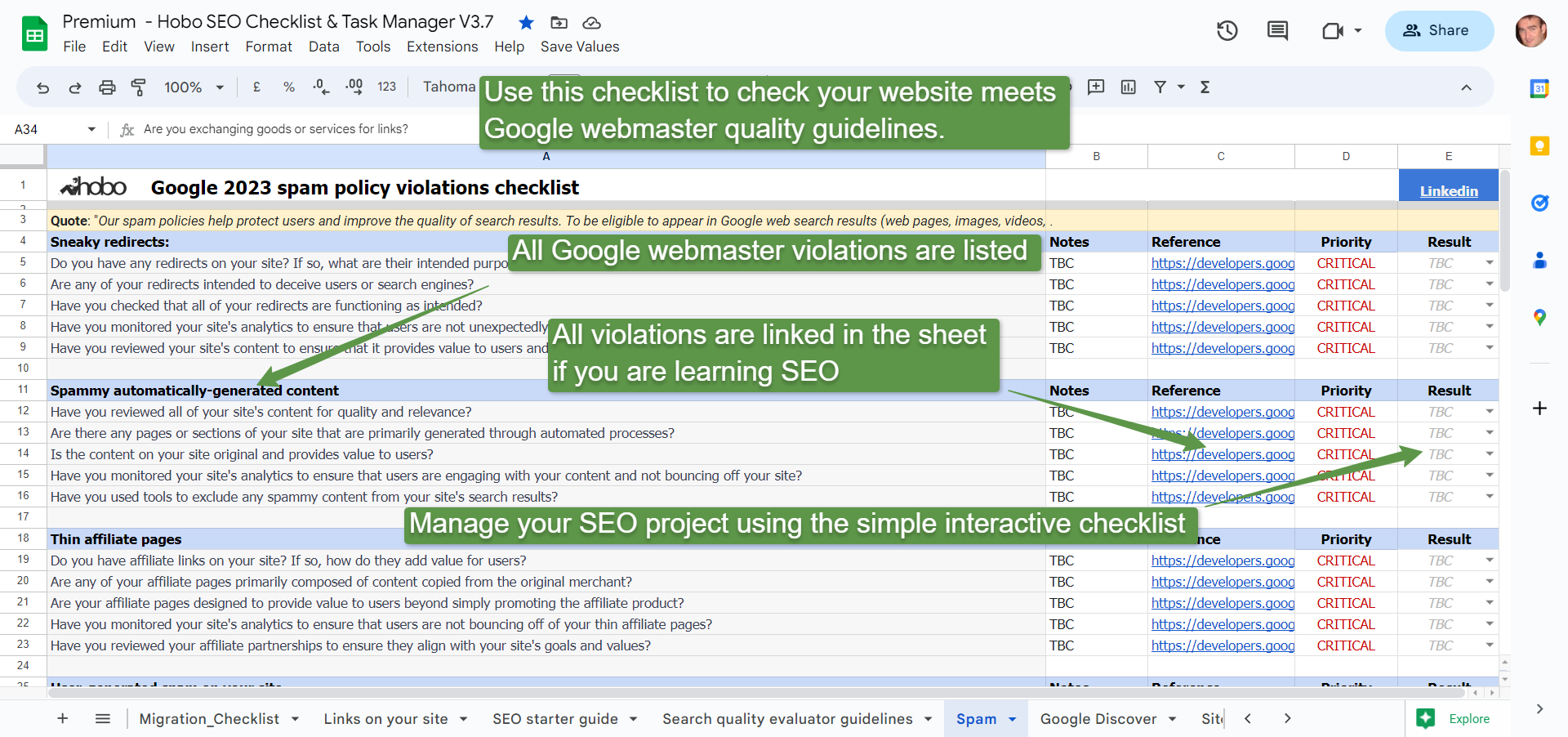 The webmaster guidelines checklist includes advice on:
Submitting your site.
Title tag use.
Meta tag use.
Headings use.
Content quality.
Structured markup.
Mobile SEO.
Website quality.
Keyword research.
SEO tools.
If you do not follow these global recommendations directly from Google, you will not rank high for long in Google's free listings.
Google webmaster guidelines
QUOTE: "The Google Search Essentials make up the core parts of what makes your web-based content (web pages, images, videos, or other publicly-available material that Google finds on the web) eligible to appear and perform well on Google Search" Google Search Essentials 2023
Google insists webmasters adhere to their 'rules' and aims to reward sites with high-quality content and remarkable 'white hat' web marketing techniques with high rankings. Conversely, it also needs to filter or penalise websites that manage to rank in Google by breaking these rules. Google's search engine ranking principles can be summed up as EEAT if you want to learn more.
Google webmaster guidelines, called Search Essentials, are not 'laws', but 'guidelines', for ranking in Google; lay down by Google but take note that some methods of ranking in Google are, in fact, illegal. Hacking websites, for instance, is illegal in most countries in the world.
You can choose to follow and abide by these rules, bend them, or ignore them – all with different levels of success (and levels of retribution, from Google's webspam team).
A White hat SEO follows Google recommendations whereas a black-hat SEO ignores them.
If you want to rank high in Google, you need to follow the webmaster guidelines:
QUOTE: "Basically, we figured that site is trying to game our systems, and unfortunately, successfully. So we will adjust the rank. We will push the site back just to make sure that it's not working anymore." Gary Illyes, Google 2016
and
QUOTE: "Our spam policies help protect users and improve the quality of search results. To be eligible to appear in Google web search results (web pages, images, videos, news content or other material that Google finds from across the web), content shouldn't violate Google Search's overall policies or the spam policies listed on this page. These policies apply to all web search results, including those from Google's own properties."  Google, 2023
These are the main guidelines to avoid falling foul of:
Sneaky redirects:
Do you have any redirects on your site? If so, are their intended purposes user-friendly?
Have you checked your redirects are not intended to deceive users or search engines?
Have you checked that all of your redirects are functioning as intended?
Have you monitored your site's analytics to ensure that users are not unexpectedly redirected to spammy or irrelevant pages?
Have you reviewed your site's content to ensure that it provides value to users and is not solely generated for the purpose of manipulating search rankings?
Spammy automatically-generated content
Have you reviewed all of your site's content for quality and relevance?
Have you identified pages or sections of your site that are primarily generated through automated processes?
Is the content on your site original and provides value to users?
Have you monitored your site's analytics to ensure that users are engaging with your content and not bouncing off your site?
Have you used standards-based measures to exclude any spammy content from your site's search results?
Thin affiliate pages
Do you have affiliate links on your site? If so, do they add value for users?
Your affiliate pages are NOT primarily composed of content copied from the original merchant?
Are your affiliate pages designed to provide value to users beyond simply promoting the affiliate product?
Have you monitored your site's analytics to ensure that users are not bouncing off of your thin affiliate pages?
Have you reviewed your affiliate partnerships to ensure they align with your site's goals and values?
User-generated spam on your site
Have you implemented measures to prevent spammy user-generated content?
Do you monitor your site's public areas for spam and other inappropriate content?
Have you provided clear guidelines for users on what is and is not acceptable content on your site?
Have you implemented tools to allow users to report spammy content?
Have you reviewed your site's terms of service to ensure they clearly outline your policies on user-generated content?
Link spam regarding your website
Are you buying or selling links for ranking purposes?
Are you exchanging goods or services for links?
Are you sending someone a product in exchange for them writing about it and including a link?
Are you engaging in excessive link exchanges?
Are you using automated programs or services to create links to your site?
Are you requiring a link as part of a Terms of Service, contract, or similar arrangement without allowing a third-party content owner the choice of qualifying the outbound
Are you using text advertisements or text links that don't block ranking credit?
Are you engaging in advertorials or native advertising where payment is received for articles that include links that pass ranking credit, or links with optimized anchor text in articles, guest posts, or press releases distributed on other sites?
Are you including low-quality directory or bookmark site links?
Are you embedding keyword-rich, hidden, or low-quality links in widgets that are distributed across various sites?
Are you including widely distributed links in the footers or templates of various sites?
Are you leaving forum comments with optimized links in the post or signature?
Machine-generated Traffic:
Are you sending automated queries to Google?
Are you scraping results for rank-checking purposes or other types of automated access to Google Search conducted without express permission?
Malware
Are you hosting malware or unwanted software that negatively affects the user experience?
Misleading functionality
Are you intentionally creating sites with misleading functionality and services that trick users into thinking they would be able to access some content or services but in reality cannot?
Are you claiming to provide certain functionality, but intentionally leading users to deceptive ads rather than providing the claimed services?
Scraped Content:
Are you copying and republishing content from other sites without adding any original content or value, or even citing the original source?
Are you reproducing content feeds from other sites without providing some type of unique benefit to the user?
Are you embedding or compiling content, such as videos, images, or other media from other sites, without substantial added value to the user?
Cloaking:
Does your website present different content to search engines than to users?
Does your website insert text or keywords only for search engines and not for human visitors?
Does your website use technologies that search engines have difficulty accessing without cloaking?
Doorways:
Does your website have multiple pages or domains with slight variations to rank for specific search queries?
Does your website have intermediate pages that are not as useful as the final destination?
Does your website have substantially similar pages that are closer to search results than a clearly defined hierarchy?
Hacked Content:
Have you checked your website for any unauthorized content placed due to security vulnerabilities?
Have you checked for any code, page or content injection, or redirects that may harm your website visitors or performance in search results?
Hidden text and links:
Does your website use hidden text or links to manipulate search engines and is not easily viewable by human visitors?
Does your website use design elements that show and hide content in a dynamic way to improve user experience?
Keyword stuffing:
Does your website contain lists of keywords or numbers without substantial
Does your website repeat the same words or phrases unnaturally and out of context?
Competitor spam
Is your competitor using a practice listed on this page? Report them directly to Google.
There are many more to know and understand listed in the free webmaster guidelines checklist.
Bing webmaster guidelines
Bing's requirements for quality are very similar to Google's.
If you follow Google's rules for creating high-quality websites, you will rank in Bing.
Bing powers Yahoo and DuckDuckGo so it is worth submitting your website to search engines if your website doesn't already appear in listings.
QUOTE: "Following these guidelines will help with indexing of your site on Bing. It will also help you optimize your site to increase its opportunity to rank for relevant queries in Bing's search results. Please pay special attention to the guidance in the "Abuse section" and examples in the "Things to avoid" section. Following the guidelines will ensure your site plays by the rules and is not found to be spammy, which could lead to demotion or even delisting your website from Bing search results." Bing Webmaster Guidelines, 2023