Migrating your website from one domain to another, or from one content management system to another can be a very tricky business in 2018.
If you require professional website migration assistance from experienced website managers – see my website migration service.
If you are managing this process yourself, read on for some beginner level notes to help you understand the sort of complexities and challenges involved in moving sites.
Good luck!
Table of Contents

Why Should I care About Redirects When I Move Domain?
301 Redirects are an incredibly important and often overlooked area of search engine optimisation. Properly implemented 301 Redirects are THE cornerstone SEO consideration in any website migration project.
If you fail to implement proper redirects when migrating a website from one domain to another you will instantly lose any traffic to your website you currently enjoy, with new visitors often greeted by the dreaded 404 page.
If that's not reason enough, failing to employ redirects will unquestionably impact on any good rankings your site also enjoys.
How Do I Redirect Visitors And Search Engines To My New Site?
You redirect any visitor, including search engines using the same technique: '301 permanent redirects'.
Is It Possible To Transfer Rankings From One Domain To Another?
Yes. If you are planning a rebrand, for example, and need to change website addresses, ensure you redirect all visitors to the new domain (and also redirect any relevant internal pages to internal pages on the new domain).
It is also important to convey your old domain's search engine rankings to the new web address – or your website will effectively be starting from zero visibility, in search engines at any rate.
Are 301 Redirects Complicated To Implement?
Not usually. It takes only a few lines of code to achieve this change of address in some instances. It is usually a simple if sometimes drawn out process.
The time it takes to complete a typical project is dependent on how large and how complex the website is you are aiming to redirect.
Success is often dependent on your access to particular files on your host server, or the CMS your website is constructed with.
How Do You Implement 301 Redirects?
I can discuss my experience on Apache servers where I use ".htaccess" files and 301 permanent redirects.
With a 301 permanent redirect instruction at your server level, the age, authority and reputation of your old website in Google is transferred to this new web address.
With visitors redirected as soon as you apply the 301 redirects, search engines soon notice the change of address. If you have a very large and complex site, it could take a long time for Google to completely forget about your old site.
Upon successful implementation, the new domain ranks where the old domain once ranked.
This method has worked for most professionals for over ten years and still works today.
In 2017, you can also tell Google you've made the change, too, but Google still prefers you to also stick to traditional methods like I describe above as well as registering any change at Google Webmaster Tools (AKA Google Search Console).
How Long Do I Keep 301 Redirects In Place?
Forever. Until you die, or the website does. Whatever comes first. As soon as you remove 301s you break a connection that Google counts on to determine your domain reputation. This is important of course if you HAVE some domain reputation.
Note: A 301 permanent redirect is ONLY permanent as long as the redirect command is in place on the source server. Remove it, and Google will index pages as it did before you implemented the redirects.
Can I Transfer A Google Penalty To My New Domain with Redirects?
YES! Do due diligence on any domain you are redirecting to your main site – you don't want to redirect a site with a toxic link profile to your primary website, for instance. You need to disavow those links first.
Do Pages Need To Be Identical for 301 redirects to work?
NO! But only redirect users and Googlebot to equivalent pages where possible. Google is getting MORE and MORE strict with this guideline, as detailed by Google's John Mueller in a recent tweet:
"301-redirecting for 404s makes sense if you have 1:1 replacement URLs, otherwise we'll probably see it as soft-404s and treat like a 404." John Mueller of Google
A good rule of thumb with any redirects (that you want to get the most benefit from) is to give visitors what they are expecting when they click on a link.
I often redirect many old URLs to one URL – if it's relevant and a good user experience – but I avoid redirecting irrelevant pages to irrelevant destinations.
My general rule of thumb is to make sure the information (and keywords) on the old page are present in the new page copy.Most SEO already know the power of a redirect, and how you can use it to power even totally unrelated pages to the top of Google (for a time – sometimes a very long time).
Most SEO already know the power of a redirect, and how you can use it to power even totally unrelated pages to the top of Google (for a time – sometimes a very long time).
Should I 301 redirect all old expired pages to my home page?
NO. Google classes many improperly redirected links as soft 404s e.g. if you redirect a lot of URLs to your home page, for instance, is an example Google has given us. When redirecting visitors (and treat Googlebot as a visitor), always redirect them to equivalent pages.
For Googlebot – think about the keywords, topics and concepts of the pages you are redirecting to. If they are a good match – Googlebot usually has no problem with that – and will honour your request to redirect rankings.
I always try to find a relevant page to redirect one from another – it's a good user experience, and that's a good thing to focus on if you are trying to rank high in Google this year. NEVER redirect to your home page – always redirect to an internal page, if you choose to redirect at all.
Can I 301 Multiple Out-Dated Pages To A New Higher Quality Page?
YES! Sometimes content becomes stale and you end up with lots of pages that are essentially redundant in Google. This type of content can actually hurt your rankings in Google in 2018.
You can permanently redirect any and all out-of-date content to equivalent new pages that stand a better chance of ranking in Google for important keywords.
Google advises server side redirects are OK for this purpose – and so are CANONICAL LINK ELEMENTS – so I use them.
You can change the focus of a redirect but that's a bit black hat for me and can be abused – I don't really talk about that sort of thing on this blog.
But it's worth knowing. You also need to keep these redirects in place in your .htaccess file going forward. Redirecting multiple old pages to one new page works for me, if the text based information, and especially target key phrase, is mentioned, and represented well,  on the new page.
In my own experience, and confirmed by talking to some people who worked at Google, I can say that a 301 redirect is usually only permanent until Google recrawls the links – so, these redirects CAN be changed later, although if you know the redirect will be temporary, you are recommended (by Google and Bing) to use a 302 Temporary redirect.
I usually employ 301s and have changed them back and forth multiple times over the years, with no issues.
Can I Buy Old Domains And Redirect Them To Get High Rankings?
Sure.
Say you see an old site that is ranking in Google for a lot of terms and there is an opportunity to buy that domain and redirect it to your site – will you keep those Google rankings?
I've not actually bought a domain for a long time myself, but I've redirected plenty. The way I see it, Google ranks pages because of the trust of a particular domain its on, the links that point to it and the content it has on it.
If you keep most of these quality signals intact, buying old domains and redirecting them to similar content shouldn't be a problem. Even when redirecting pages, I usually make sure page titles and content are very similar on both pages if I want to keep particular rankings.
Be careful, though – Google is under no obligation to redirect domains and transfer rankings, and has said as much.
Make sure your new domain isn't already blacklisted in Google for previous web spam violations before you implement any redirects!
Getting loads of unnatural links too fast may invite a GWT Notice of Unnatural Links and eventual penalty, or worse, a Google Penguin 'Penalty'.
Be aware Black Hats know that it is probably better to resurrect a dead site (or dropped domain) that has been gone a while exactly as IT WAS when Google last saw it if you want to get back rankings. Check the WAYBACK Machine, for instance.
Note also that black hats are using 301s and old sites a lot in competitive niches, but I wouldn't compete toe to toe with them using those strategies, as Google does seem to be getting better at dealing with them – and you probably won't be able to compete on that front anyways.
Is There A Limit To The Amount of 301 Redirects Google Will Follow in a 'chain'?
YES. Over my nearly 20 years of experience in this field, I've often heard the limit to be about 5 or 6 although Matt Cutts said it was risky even up at the 4, 5 and 6 hops in the chain.
Google confirmed (2017) that it will follow up to 5 redirects. See the official confirmation in the video below (from John Mueller).
I would NOT rely on that MANY redirect in a chain, though, so try to ensure you have as FEW redirects in any chain of redirects at all times to avoid Google changing how it works in this area – e.g. how many redirects Google will honour in the future. And it does change, often enough in plenty of areas to cause you future challenges.
Does Google treat 302's the same as 301's?
Essentially YES. A 302 Temporary Redirect is not ideal, but Google has said it treats 302 redirects left in place essentially like 301's. John Meuler said in a Hangout that Google also treats 302s in a chain like 301s.
Still – it is better to be as exact as possible with Google to ensure you get the results you need. When permanently redirecting – use a 301.
Should I tell Google About My Change Of Domain?
YES. I've always found it pretty painless although I can appreciate it's easy to screw up if you don't know what you're doing. Now you can actually tell Google about your domain name change in Google Webmaster Tools.
If you've moved your site to a new domain, you can use the Change of address tool to tell Google about your new URL. We'll update our index to reflect your new URL. Changes will stay in effect for 180 days, by which time we'll have crawled and indexed the pages at your new URL. The change of address tool is safe, because only verified site owners can use it. You can check the tool at any time to see the information provided to Google about your domains.
This new tool from Google will be handy for some, though, you'll still need to know your way about some technical aspects to use it. See moving your website to another domain. UPDATE – Also see Google announcing support of the cross-domain rel="canonical" link element.
CASE STUDY: Using 301 Redirect To Keep Google Rankings
I needed to 301 an aging, out-of-date satellite site (or mini-site) into the principal website of the company I was employed by.
The goal was to keep visitors and Google rankings.
Managing multiple sites in a niche usually means some of those sites get neglected.  Often, a lot of the mini-sites won't get the required time and effort it takes to actually convert the traffic earned to leads and sales.
Information on satellite sites can often end up more out-of-date than the primary site. In this case, the decision was made to redirect lower-quality mini sites to the main corporate site to ensure the more conversion friendly corporate site ranked for the competitive term the mini-site had earned.
The image below shows the results when I redirected a mini-site that ranked no1 for a valuable query to the main site.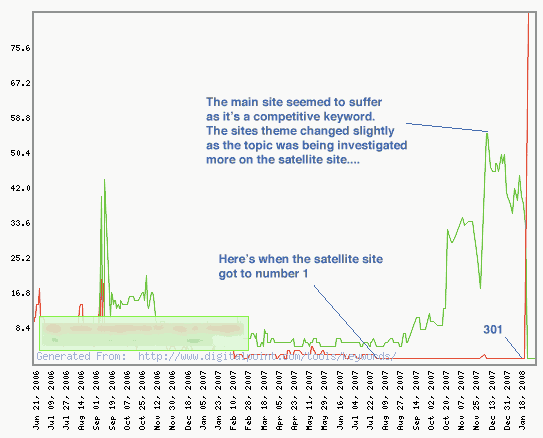 You can see from the illustration above and below when I achieved the no1 position with the satellite site, the actual corporate site was actually heading in a slightly different direction.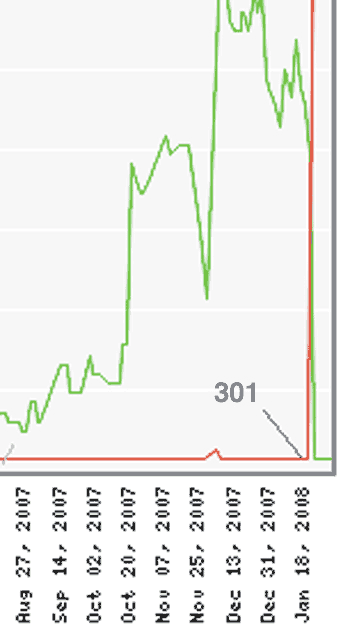 Essentially I wanted to make the main company site (in Green) be the number one result, and basically I wanted the mini-site to disappear from Google but transfer all its good rankings (as well as 600 visitors a day) to the corporate site.
I completed this employing the perfectly white-hat search engine friendly 301 Permanent Redirect in the .htaccess file on the old site (in red) to the corporate site (in Green). redirect 301 /old.htm http://www.example.com/new.htm I ensured the new page on the corporate site was basically very similar in theme to page that Google currently ranked at No1 in the SERPs, so Googlebot wouldn't think I was up to anything other than transfer rankings I had earned.
The end result is always (if done correctly) very satisfying as:
The main site now ranks no1 in Google
The main site now has absorbed the authority and trust of the old page which should help it's overall domain reputation in the search engines.
The page is now branded with the corporate id = better brand visibility
Inexperienced link builders will be scratching their head for a while to come wondering what has happened and how the main site actually ranks at No1 in their attempt to reverse-engineer that particular SERP.
The images illustrate it worked exactly as expected.
The result of this simple strategy was a 'new' no1 position, with better branding and better conversion attributes, and 600 more visitors to the main site each day. It's still like that today.
Things work very much the same in 2018, although Google has raised the quality bar in some instances, and I would be careful.
Use 301 Redirects To Switch Your Website To HTTPS
Like many SEO, I've naturally been telling all my clients to consider switching to HTTPS asap since Google said to a few years back to do so.
NOT because of any claimed ranking boost, but because it is the trend that Google prefers HTTPS – and it is more secure.
Google Chrome Will Mark Your HTTP Website 'insecure'.
Now that Google Chrome is imminently planning on marking your website 'insecure' if it is NOT HTTPS, it is probably time to make switching to HTTPS a priority if it hasn't been up to now.
This is quite a different issue, especially if you sell online, or take people's information, and is just another example of the web evolving to focus on security and quality.
Time permitting, I still think you should clean your site up (e.g. remove redundant pages) before a switch to https to get the maximum benefit from such a move.
That time, though, may have run out.
Obviously, Chrome marking your site insecure could well be a sales conversion killer.
Why Is Google Chrome Marking My Website Insecure?
This goes way back to 2014, and is not unexpected:
Proposal – We, the Chrome Security Team, propose that user agents (UAs) gradually change their UX to display non-secure origins as affirmatively non-secure. We intend to devise and begin deploying a transition plan for Chrome in 2015. The goal of this proposal is to more clearly display to users that HTTP provides no data security. GOOGLE – 2014
and
Chrome pushing forward on marking plain HTTP as outright insecure is an incredibly strong and pro-user move," Eric Mill, a technologist who's been working on web encryption, told Motherboard. "Despite how common plain HTTP can still be today, it *is* outright insecure, and a real and present danger to users and to the open web.
Should You Move To Https Immediately?
Probably.
Do you need to register the HTTPS Version of a Site As A 'Change of Address' in Google Search Console?
No. A Google spokesperson said (2017):
'We treat already automatically propagate signals between HTTP and HTTPS, so a site move request in GSC would be placebo' Gary Illyes
Cleaning Up Your Site Before A Changeover To HTTPS
When I say clean up my site before I move to HTTPS, I mean:
getting rid of redundant pages on my site and sorting obvious low-quality issues before I move to HTTPS
reducing the number of redirect paths to important pages on the site
reducing the amount of broken or misdirected links on pages on the site to lay down a clean, internal linking solution for the future
disavowing all known low-quality backlinks
preparing templates for new internal linking requirements that minimise any redirects
Essentially – I work with sites with a lot of quality issues, and fixing them before you move has benefits in managing the site and anything you need to do in the future.
Moving to HTTPS can add a layer of complexity to some sites, so in some cases, cleaning up before you move makes analysing the impact easier, later.
As an SEO, telling clients to move to https (which is going to probably negatively impact organic traffic levels for up to a few weeks at least (sometimes months)) is not exactly news they want to hear.
This is compounded by the fact that Quality Rating Issues on a site are more important to tackle heads on, than prioritising moving to a secure server for an elusive ranking boost.
Moving to HTTPS is important from a security point of view, of course, but fixing quality issues is more important for me (as that is what I am hired to do).
I think, though, with this (not unexpected) move from Google chrome, migrating to HTTPS is going to have to be up there as a priority too.
Both for security reasons and conversion reasons.
Do I need to Register My Site With Google Search Console?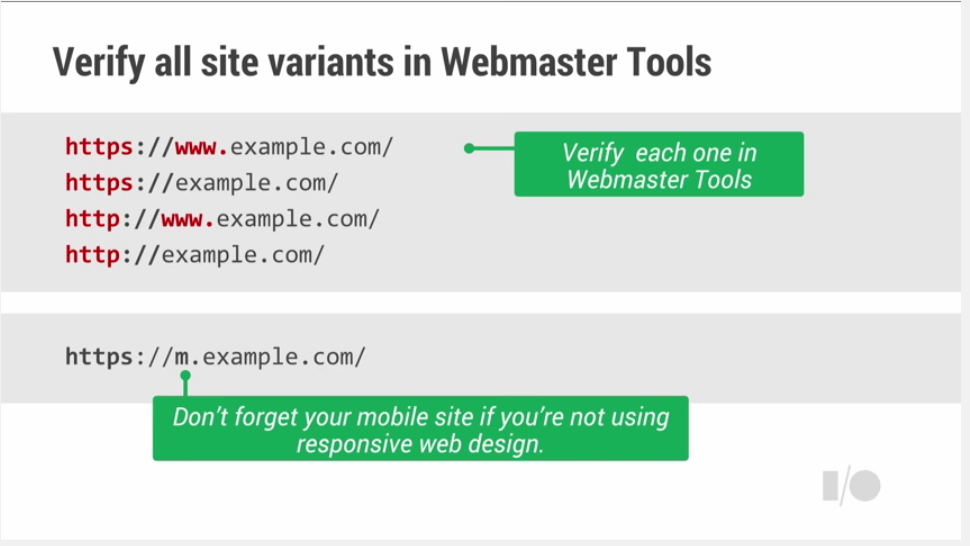 YES. Make sure your site is a manageable shape, then:
Register all versions of your site in Google Search Console (AKA Webmaster Tools) (that's 4 versions at the last count)
Disavow all backlinks pointing to these domains, and upload the disavow file to all domains
Make sure you have preferably 301 redirects on all other versions of the domain, pointing to one canonical version of the domain
I have witnessed fallout in early instances where a disavow was in place on the HTTP site, but not migrated to the https version by Google. Google neglected to point out to us in the beginning that that was necessary.
It could be said that Google prioritises migrating a penalty to another totally different domain over migrating the preventive penalty measures you put in place in good faith in a switch to https on the same domain.
That seems a little unhelpful.
You can ask yourself why we need the unnecessary complication of 4 versions of Webmaster tools, and 4 disavow files to manage all this, to 'optimise' a website in organic listings.
But – I would not switch to https without registering with Search Console first.
Google's Advice on Moving To Https
The following advice is from John Mueller:
Planning on moving to HTTPS? Here are 13 FAQs! help center at https://support.google.com/webmasters/answer/6073543

# Do I need to set something in Search Console? No, just add the HTTPS site there. The change-of-address setting doesn't apply for HTTP -> HTTPS moves.

# How can we do an A/B test? Don't cloak to Googlebot specifically, use 302 redirects + rel=canonical to HTTP if you want to test HTTPS but not have it indexed. Don't block via robots.txt . More about A/B testing athttps://googlewebmastercentral.blogspot.ch/2012/08/website-testing-google-search.html (302 redirects aren't cached.)

# Will the rel=canonical guarantee that the HTTP URL is indexed? No, but it's a very strong signal when picking the indexed URL.

# What's the next step after testing? Follow our site-move documentation (https://support.google.com/webmasters/answer/6033049 ). Use 301 redirects from HTTP to HTTPS, confirm the new version by adding a rel=canonical on the HTTPS page, pointing to itself, and submit sitemaps including both HTTP & HTTPS URLs with new change-dates (in the long run, just keep the HTTPS sitemap).

# What about the robots.txt file? The HTTPS site uses the HTTPS robots.txt file. Check that it's reachable or serves a 404 result code, and check that your HTTP URLs aren't blocked by the HTTP robots.txt file.

# Is it OK to have just some pages on HTTPS? Yes, no problem! Start with a part, test it, add more.

# Should I move everything together, or is it fine to do sections? Moving in sections is fine.

# Will I see a drop in search? Fluctuations can happen with any bigger site change. We can't make any guarantees, but our systems are usually good with HTTP -> HTTPS moves.

# Which certificate do I need? For Google Search, any modern certificate that's accepted by modern browsers is acceptable.

# Do I lose "link juice" from the redirects? No, for 301 or 302 redirects from HTTP to HTTPS no PageRank is lost.

# Will we see search keywords in Google Analytics when we're on HTTPS? This won't change with HTTPS, you can see the search queries in Search Console.

# How can I test how many pages were indexed? Verify HTTP / HTTPS separately in Search Console, use Index Status for a broad look, or the sitemaps indexed counts for sitemap URLs.

# How long will a move from HTTP to HTTPS take? There are no fixed crawl frequencies, it depends on the size of your site, and the speed of crawling that's possible. The move takes place on a per-URL basis.
301 Redirects from Products To Categories Will Probably result in soft-404s
A common challenge for lots of e-commerce and classified sites.
Q: Should you 301 redirect old, irrelevant product pages that are no longer relevant to your site, to an existing category or sub-category page on your site?
A: Maybe not, according to John Mueller of Google in a recent video – at least when it comes to classified listings (although advice is offered on e-commerce sites, too)
"Working on a very large classified website listings with millions of listings that expire every month. What are the best practices for indexation?"
John's response about using EXPIRATION dates for content (that might even still, produce soft 404s at the content level) is not what I am interested in; it is advice on managing expired pages:
301 redirecting to a category, for example, is something we would probably pick up as a soft 404
Q: What about listings, or pages, with "lots of backlinks" from other sites?
If you have an equivalent page that replaces the old one, then redirect to that, apparently.
404 pages are the best practice when you have no exact equivalent content on the site, even when you have backlinks to the URLs in question!
Some Redirects May Be Treated As Soft 404 Error Pages
Can it be surmised that Google might label certain 301 redirects (that DO NOT redirect to VERY EQUIVALENT CONTENT) as SOFT 404 and so devalue all signals associated with them?
Will this be the same for e-commerce sites?
What Are Soft 404 Pages?
From my experience, not all soft 404 are created with enough volume to be a problem on most sites, but some auto-generated pages on some sites can produce soft 404 at a content level that with enough number that can cause indexation challenges.
"Returning a code other than 404 or 410 for a non-existent page (or redirecting users to another page, such as the homepage, instead of returning a 404) can be problematic. Firstly, it tells search engines that there's a real page at that URL. As a result, that URL may be crawled and its content indexed. Because of the time Googlebot spends on non-existent pages, your unique URLs may not be discovered as quickly or visited as frequently and your site's crawl coverage may be impacted (also, you probably don't want your site to rank well for the search query" GOOGLE
You MUST Redirect To Equivalent Content (2017)
The message is out of date content can be a 'bad user experience' (it will depend on the query, of course) and ONLY REDIRECT content to EQUIVALENT CONTENT – ESPECIALLY if you have backlinks pointing to these pages and you want them to count.
OPINION: Should You Adhere to this Advice From Google?
I think you should lean towards what Google says, where possible.
Experienced SEOs redirect pages, of course, to conserve traffic, 'link equity' and 'domain trust' (which is useful metaphorically speaking, but is a metric we are told Google doesn't have, although they DO understand something about the quality, trust, expertise and online business authority they can expect from a domain).
Maybe this 'something' is kind of a quality score (maybe just a big logarithmic number) they have for your domain (after Google algorithms and spam fighters have looked for anything that they should demote you for*). Perhaps your score 'votes' for where your content ranks in Google and is then exposed to proxies for user satisfaction like pogo sticking and the long click that impact this quality score to determine rankings for set periods. Entity optimisation and query re-writing obfuscate all this now, of course. Pure conjecture, of course, that I find myself wondering about.
Sometimes when Google hints at even a slight change in direction as it can end up having a bigger impact much further down the line.
I think the direction I see at least is that Google is hinting at eating away at your sites ability to rank through any technical manipulation (outside of doing technical seo absolutely correctly) .e.g the exactly the same direction they took with Google Panda (promoting resource quality sometimes before keyword matching) and manual unnatural link decision making (link building) – oh, and Penguin.
You certainly don't want to take a chance losing link value, whatever it is, and the best course of action is to listen to Google when they say they are cutting the grass, and minimise your exposure IF they are going to basically just IGNORE some of your redirected links that don't match what Google wants.
So, does that mean links that don't redirect to very equivalent content won't count as much in future? I proceed with that understanding and expectation.
Would it be reasonable to assume you could make a page more relevant to redirected incoming links, by simply adding more keyword specific content that is relevant to the actual links (and the context of the page linking to it)?
Maybe I am reading into that too much, for it would only be useful to know if you had a very old relatively popular site which went through multiple URL structures over many years).
How To Use 301 Redirects Properly To Preserve Rankings in Google in 2018
I've stuck with the same method over the years when it comes to redirects.
If a PARTICULAR CANONICAL HEAD KEYWORD is IMPORTANT (even perhaps a SYNONYM or LONG TAIL VARIANT) and I think a particular 301 REDIRECT has some positive impact on how Google judges the quality or relevance the page, I will make sure the CANONICAL HEAD KEYWORD and SYNONYMS are on the FINAL PAGE I redirect Google to (which is the one that will be rated and cached).
RELEVANT REDIRECTS TO RELEVANT CONTENT.
If I want to boost that pages relevance for that KEYWORD at the centre of any redirects, I will ensure the new page content is updated and expanded upon, if it is of genuine interest to a user.
Also, note, Google have recently said certain redirects to your home page will also count as soft 404.
Here are a few tips when managing internal redirects on your site:
ensure redirects you employ designed to permanently move content are 301 redirects
minimise redirect chains (not only can Google be expected to only follow about 5 redirects in a chain, employing fewer redirects will speed up your site).
avoid redirecting any links to category pages unless extremely relevant, as per advice from Google
avoid redirecting links to NON-equivalent content
re-point existing redirected links to better, more equivalent content (as you are recommended to do this in the Panda document)
ensure redirected domains redirect through a canonical redirect and this too has any chains minimised, although BE SURE to audit the backlink profile for any redirects you point at a page as with reward comes punishment if those backlinks are toxic (another example of Google opening up the war that is technical seo on a front that isn't, and in fact is converse, to building backlinks to your site).
redirect really out of date links (you absolutely want to keep) to pages of secondary importance which are as relevant as possible to your existing content.
to avoid throwing link equity away, you might create HIGH LEVEL IN-DEPTH TOPIC PAGES on your site and redirect (or use canonical redirects) any related expired content that HAVE INCOMING BACKLINKS, to this topic page (and keep it updated, folding content from old pages, where relevant and there is traffic opportunity, to create TOPIC pages that are focused on the customer e.g. information pages)
avoid unnecessary redirects in links in internal pages on the site
don't expect Toolbar Pagerank to pass via https redirects, for instance, as Toolbar Pagerank is dead
a temporary or permanent redirect is only 'in place' as long as the instruction to do so REMAINS in place in, for instance, your htaccess file. Remove your redirect code, and a permanent redirect just became a temporary redirect and you can lose the benefit of the redirect
a 302 redirect left in place usually functions as a 301, although I still would not rely on a 302 to function as a 301, based on previous experience (so I make all my redirects 301)
In my experience, a 301 redirect is what most want to use, if a redirect is necessary
if you have no real reason to redirect a page, and no equivalent content to redirect it to, then serve a 404. or even better, a server response 410 (GONE FOREVER). You should only be implementing 301s if you have some signal of quality pointing to that particular URL that is worth consolidation.
Perhaps Google is giving those who will chase it another element to optimise to keep the traffic you already get, and succeed above others who will not take the measures, in this case, to optimise their redirects.
This may end up being another example where to optimise you need to dig down to a level where you need to learn how to be a htaccess / apache optimiser (which I am not, just as I am not a professional copywriter or CSS or mobile wizard).
Fortunately, you can still get away with keeping (whatever it is) as simple, fast and as canonical as possible and that is what I try and do.
Should I use a 301 or a 302 redirect?
For me I stick with a 301 redirect 99.9% of the time and only use a 302 when someone explains to me exactly why it needs to be a 302 in this instance – that keeps me right:
In short, for 301 redirects or 302 redirects e.g. this image and advice from John Meuller: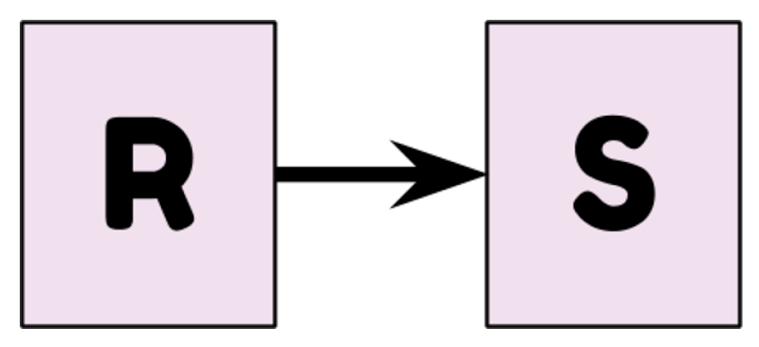 301 (permanent): "S" tends to get indexed, the redirect is cached
302 (temporary): "R" tends to get indexed, the redirect isn't cached
HOW TO PROCEED
Audit, monitor and minimise your redirect chains and any URLs you have pointing at content that is not VERY EQUIVALENT to maximise link equity.
Does Google Promote A Site Or Demote Others In Rankings?
In the video above you hear from at least one spam fighter that would confirm that at least some people are employed at Google to demote sites that fail to meet policy:
"I didn't SEO at all, when I was at Google. I wasn't trying to make a site much better but i was trying to find sites that were not 'implementing Google policies'(?*) and not giving the best user experience." (I can't quite make out what he says there)
I think I see more of Google pulling pages and sites down the rankings (because of policy violation) than promoting them because of discovered 'quality'.
I proceed thinking that in Google's world, a site that avoids punishment algorithms, has verified independent links and has content favoured by users over time (which they are tracking) is a 'quality page' Google will rank highly.
So, for the long term, on primary sites, once you have cleaned all infractions up, the aim is to satisfy users by:
getting the click
keeping people on your site by delivering on purpose and long enough for them to terminate their search (without any techniques that would be frowned upon or contravene Google recommendations)
convert visitors to at least search terminators, returning visitors or actual sales
UPDATE: John Mueller approves this message! (Well, at least, the bit about product pages, which was his recommendation after all!).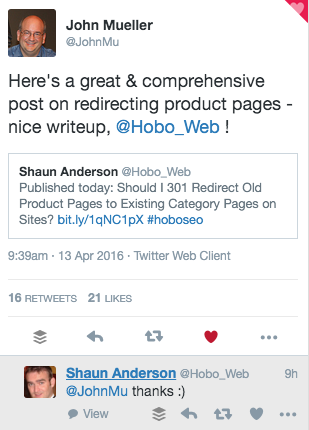 Need Help? Contact Us