Website migration services that transfer SEO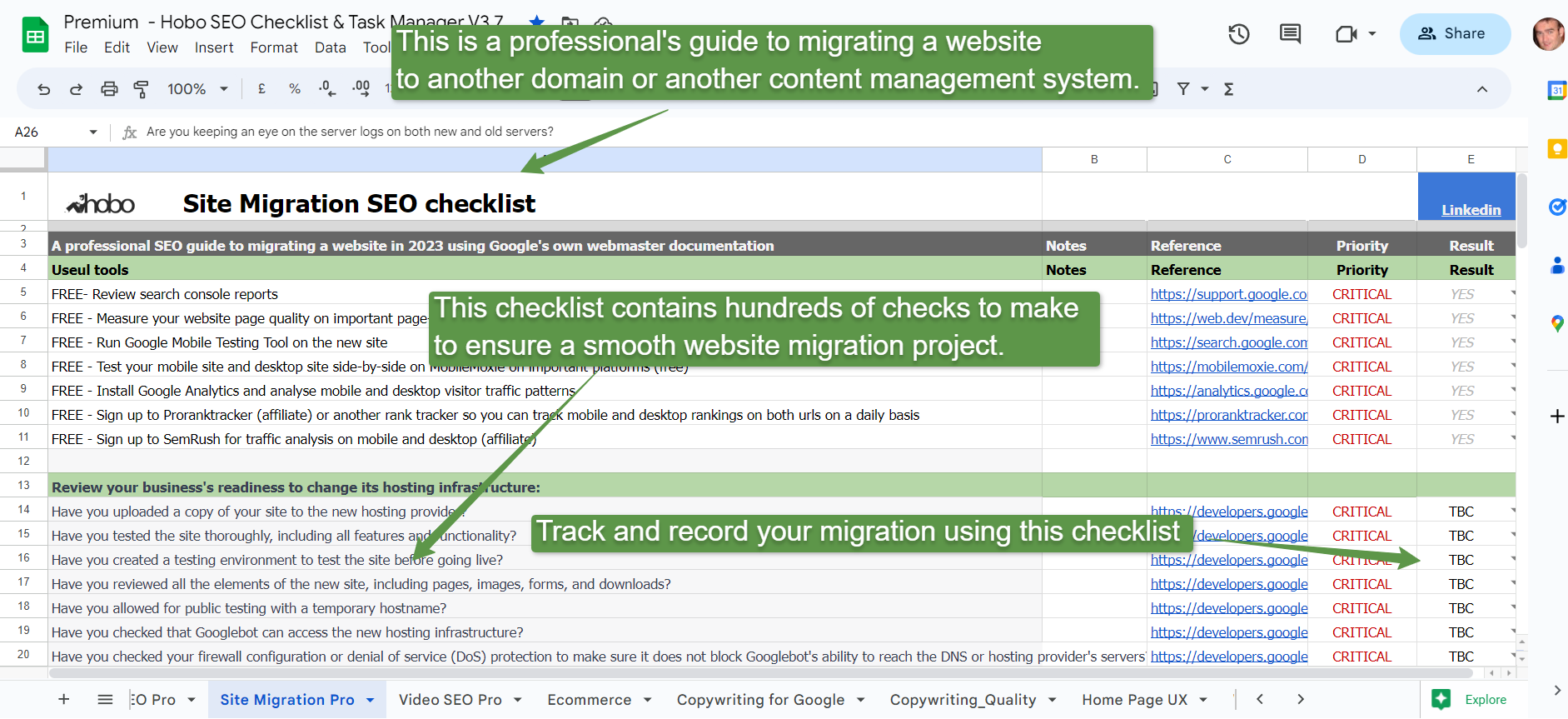 If you are a website owner or website developer planning on migrating your website, the website SEO migration service is for you. Hobo Web is a team of website SEO migration specialists based in Scotland (UK) that specialise in providing website migration services that keep Google rankings when you migrate your website.
We have migrated hundreds of websites as a team over 20 years.
A website migration is when you plan to:
move your website from one domain name to another
move your website to a new hosting provider
change URLs on your site
make the changeover from HTTP to HTTPS
install a new CMS
launch a new website design change
Switching your website to any platform presents unique challenges if the aim is to keep your Google rankings. Hobo Web has many years of experience in creating, managing, and moving websites, between domains or switching between content management systems.
Website migration services include migrating from:
Joomla to WordPress
Drupal to WordPress
WooCommerce to Shopify
WordPress to Magento
Squarespace to Wix
Weebly to WordPress
Drupal to Magento
PrestaShop to WooCommerce
Shopify to BigCommerce
WordPress to Ghost
Joomla to Drupal
TYPO3 to WordPress
Concrete5 to Joomla
Umbraco to Drupal
MODX to Shopify
ExpressionEngine to WooCommerce
Textpattern to Squarespace
SilverStripe to Wix
OpenCart to Magento
osCommerce to BigCommerce
What is a website SEO migration service?
Whatever the SEO migration details the aim of any web migration service is always to keep your website's Google rankings and improve upon them.
Hobo's SEO specialists and website development experts provide the best website migration services for your business at a price you can afford.
If you are changing something significant on your website, you will need to ensure your website migration goes smoothly and that any change you make does not negatively impact your current website rankings and traffic in Google.
Hobo is a specialist website migration company you can employ to migrate your website to WordPress or migrate your website to a new website theme. Our website transfer service is designed to make this as easy as possible with minimum impact on your online Google rankings.
With nearly 20 years of experience in managing website changeovers and SEO migrations, Hobo's team of SEO (search engine optimisation) consultants and website development experts can easily and effectively manage this process for you.
Hobo Web can provide a service that suits small businesses with a small site or for international retailers with large e-commerce sites with thousands or even millions of pages to manage.
How Hobo Web manages your website changeover
Hobo website analysts take a snapshot SEO audit (which involves thousands of checks) of where your current website is in terms of traffic, rankings, and backlinks (which will also identify any obvious website quality issues on your website needing to be addressed).
Hobo plans out redirect maps to the new site or new URLs.
Once the new site is live, Hobo consultants then take another snapshot audit of the new site and identify any new issues that have arisen from the site change-over
Consultancy and reporting is included in our cost, to ensure a smooth changeover.
Why move your site like this?
By taking a snapshot audit at the outset of your project Hobo SEO consultants can then compare this with a second audit at the end of the migration process when the new site is live.
By comparing both reviews, Hobo can effectively monitor the assets on your site that provide your Google rankings and ensure they remain in place during the changeover.
There is a lot that can go wrong.
This process negates the risk of lost Google rankings.
Website migration gone wrong?
Hobo Web has helped many customers whose past website migration has led to lost Google positions and work with many kinds of CMS including, WordPress, Magento, Joomla, Shopify, Drupal, Wix, and BigCommerce.
If your previous website migration service provider failed to successfully manage your changeover, Hobo Web can help you recover those lost rankings.
Hobo SEO consultants are website migration disaster recovery specialists.
You do actually need to act quickly on this matter.
You will need a professional SEO audit completed, first.
Get help
Send the team a note on the size and complexity of your website move, and Hobo will get right back to you with a free quote.