SEO audit services
SEO audit services are services to identify the SEO (search engine optimisation) related priorities on your website so that your website ranks higher in Google. Your website SEO priorities will include technical seo, on-page seo, content quality and user experience tasks to fix. SEO audit services are the first step in your SEO project.
If you are a website owner or website development manager looking for an in-depth SEO audit for your organisation's website, you've come to the right place.
Hobo Web is an SEO audit service provider based in Scotland providing a professional Google SEO audit service.  As an experienced SEO consultant, Hobo has provided SEO audit services to many businesses all around the world, for almost 2 decades.
The SEO audit service is specifically designed for website managers and owners tasked with understanding the SEO priorities on the site. It is a manual review of your website to identify any critical issues with it. The audit document doubles as a training tool for your in-house team (and you) to understand and prioritize SEO tasks on your website. All recommendations are direct from Google.
Hobo Web has 20 years of experience in providing SEO audit services to international businesses.
You can hire the Hobo team on a one-off basis to audit your website SEO to identify the SEO priorities for you (or Hobo) to fix.
You can get your website development team to do the tasks identified, or Hobo Web can do it for you.
The Hobo Web manual SEO audit is ideal for any kind of business.
The final Hobo SEO audit delivered to you is tailored to your business and will be dependent on your circumstances.
Manual SEO audit services include:
Review of your site content and structure
Technical advice on website development: for example, hosting, redirects, error pages, use of JavaScript
Content development advice and error identification
Review of online business development campaigns
Keyword research
Competitor research
Technical SEO review
Competitor SEO review
Ecommerce SEO review
Backlink SEO review
Page Experience SEO review
Google Local SEO review
International SEO review
What is an SEO audit?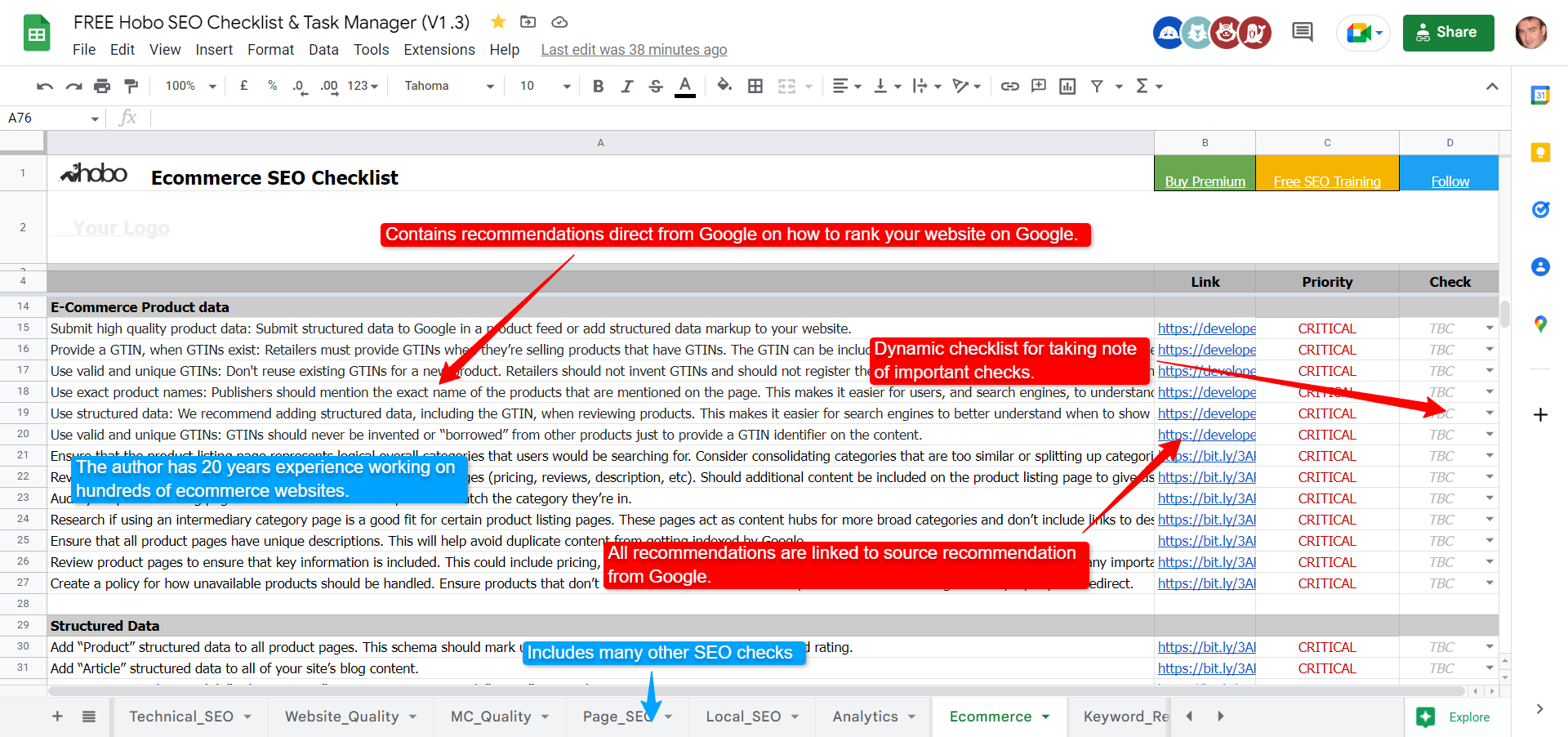 Google has quality algorithms that rate your web pages higher or lower than competing web pages. In short, high-quality websites go up in rankings, and low-quality sites go down in rankings. "Website quality" is communicated to business owners through Google's Webmaster Guidelines. You improve your website quality and thus improve its rankings by fixing lower quality issues on your website.
A professional SEO audit is a manual review of your website SEO and prioritises the key changes that need to be made to your website to meet Google's requirements for a 'high-quality' website.
A successful SEO audit provides direction and a roadmap to improve a website in a practical manner that has ROI for your business.
Hobo Web provides that type of SEO analysis.
In any audit, Hobo SEO consultants first look for anything major that would stunt the growth of your website visibility in Google, before we explore content marketing or link-building opportunities.
Hobo SEO consultants crawl your website, analyze Google Search Console and Google Analytics data for your website and then manually review your website data against Google Quality Rater and Google Webmaster Guidelines.
By meeting Google's requirements on quality as they define it, you can be sure you will rank as best you should. Failing to meet Google's "rules" guarantees over time, less visibility on Google Search.
With knowledge sourced from Hobo SEO audits, a strategy can be formed, with tasks prioritised in a spreadsheet ready for a development team to action.
What do SEO audits look like?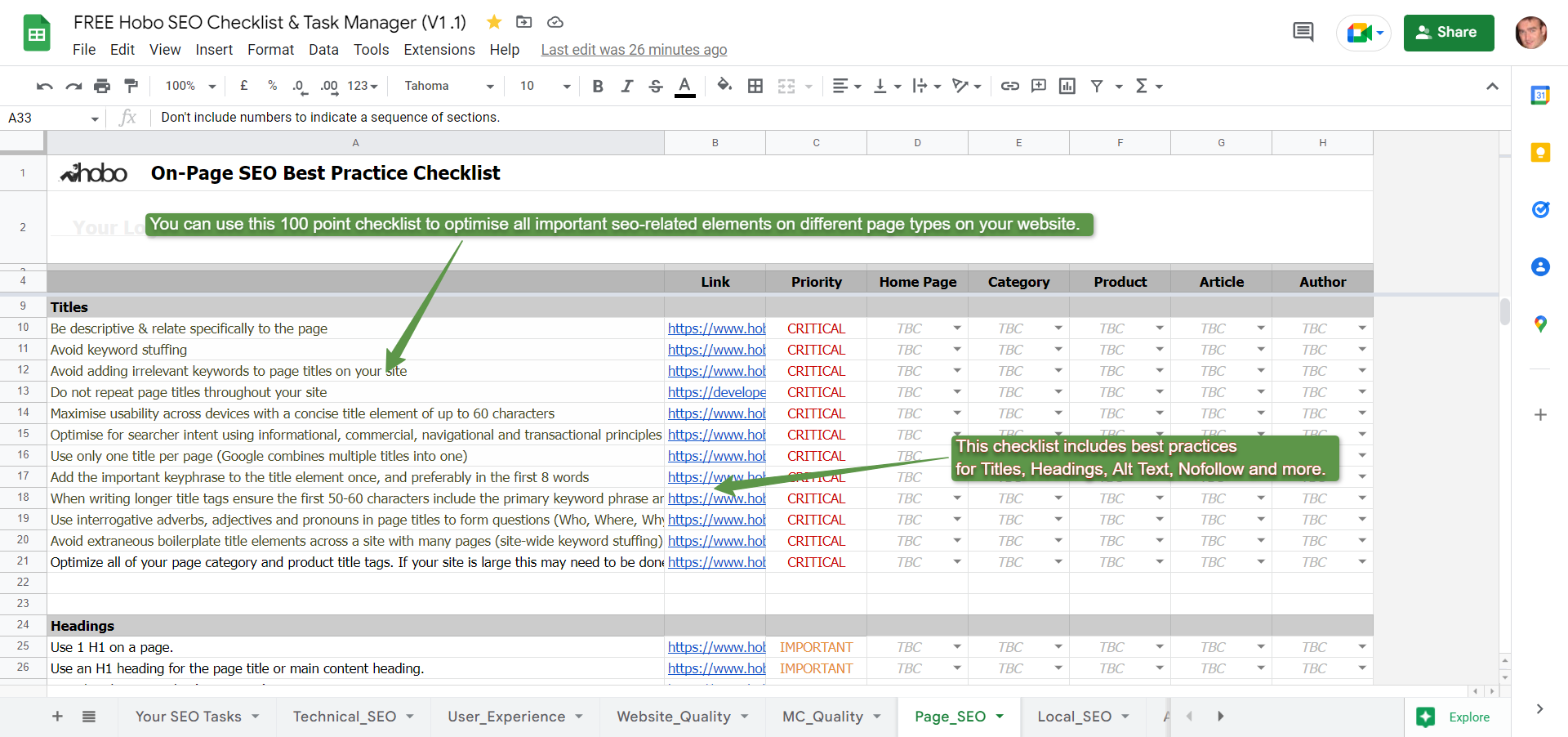 The Hobo SEO audit service is an ad-hoc manual review of your website and analytics data. SEO audits are presented online in spreadsheets and supporting Google docs.
A Hobo search engine optimisation audit is easy to understand and offers practical SEO advice for your business.
In your SEO audit, Hobo will list high-priority website SEO tasks that Google recommends a web developer take action on. All supporting docs and files are all interlinked from a central shared document.
Hobo Web does not produce fancy detailed SEO reports because the ROI is not there for you, the customer. A better ROI for you is that your manual SEO auditor spends all of the available time manually reviewing your website and its crawling and analytics data, and you get a list of practical priorities to focus your developer's future efforts on.
There are a plethora of third-party reporting tools available where you can design your own SEO reports.
What is the purpose of an SEO audit?
An SEO audit service is designed to identify and negate glaring website quality issues. Fixing these issues leads to better rankings and visibility in Google.
The purpose of an SEO audit is to put your best foot forward when it comes to ranking for what you can rank for if your site was effectively optimised.
If there is no real ROI for you in an SEO task, Hobo will not prioritise that task.
You (or your web developer) only need an SEO to-do list of important fixes, in a spreadsheet that lists important high-impact issues.
Hobo develops that SEO to-do list for you.
Google expects search engine optimisers like Hobo to focus on specific areas of SEO and recommends a site comply with its webmaster guidelines.
What to expect from an SEO audit?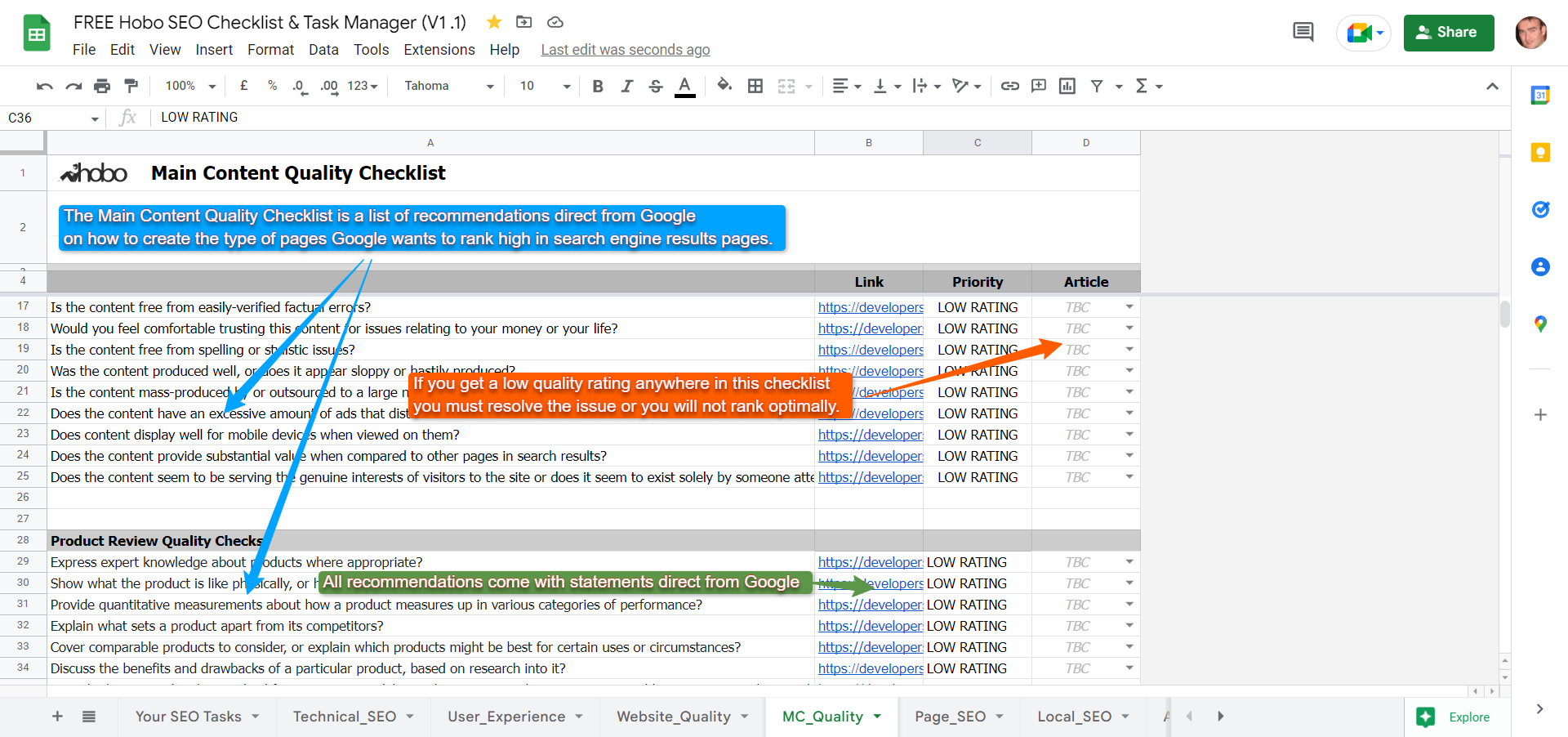 Google has a monumental list of quality and technical requirements it demands websites meet if they are to rank high in Google.
A typical Hobo SEO audit will:
manually check your website against Google best practices
identify reasons for a visitor number decline and
deliver the insight needed to get more visitors from Google.
Here's just a selection of the insights Hobo SEO audits can uncover:
Why is your Google traffic going down? Identify the reasons why visits to your website are on the decline – Our reports are designed for whoever is tasked with getting more traffic from Google. You can clearly identify penalties or algorithm changes in simple formats, and the things that lead to them, and what you need to do to fix the issue fast.
Why doesn't Google like something on your website? Identify pages or practices on your site Google doesn't rate and how to fix them – You can quickly identify the pages causing your site quality issues, and Hobo consultants can help you formulate a plan how to resolve the problem.
Which Google Webmaster Guideline does your site fall foul of?  You can quickly identify the technical issues affecting your website rankings, and quickly identify if your website still produces the type of pages Google dislikes.
Are low-quality backlinks negatively impacting your Google rankings? Google punishes old manipulative SEO tactics like 'unnatural backlinks' – so you will want to disavow these links to protect your site from negative SEO attacks and punitive algorithms (like the upcoming Google Penguin algorithm). Hobo can identify the links that you'll need to review to disavow. We have helped many businesses recover from link penalties, some with severe issues.
Which keywords do you rank for, and what do you not rank for? Hobo can show you what to track and how to track it in the most cost-effective way for your business.
Find out the best keywords that will drive the most traffic to your pages… and once identified, Hobo can help you in various ways to map keyword research to your web pages, if requested.
Find out why your competitors rank where they do. The number and quality of links pointing to a website often are indicative of where it ranks in Google for lots of searches. With this information – you can begin to develop legitimate link-building strategies based on quality content.
How does Hobo do an SEO audit?
Hobo Web consultants use software to crawl your site as Google does then manually review the crawl data, your website, and its content, and report back on any technical problems they find.
Consultants will investigate your website content and gauge how it performs in terms of visits from Google, and offer advice on how to improve your situation, without you spending a fortune.
Hobo then perform a manual review of your website monetisation practices and your Google Search Console data.
It is from this manual activity we prepare your SEO audit.
Do Hobo SEO audit recommendations meet Google Guidelines?
Yes.
You have no choice but to adhere to Google webmaster guidelines if you want stable visitor numbers from Google and Hobo Web optimise websites to get more traffic from Google. To do that without risk, Hobo must adhere to Google's terms of competition for you, and our own protection.
If you ignore Google's guidelines and employ low-quality techniques to promote your website, Google will not trust your website, and that means no free traffic (or very little). Hobo knows that's devastating to a business, so consultants ensure you stick to practices not likely to be devalued anytime soon.
Hobo Web believes in marketing your business online using only legitimate SEO techniques, and Hobo SEO audits focus on improving the quality rating of your website. We believe in promoting a site using ethical marketing techniques and using methods that are not frowned on by search engines like Google and Bing.
Google is a search engine that penalises legitimate businesses for years if it detects manipulation through SEO on an industrial scale and especially if it detects an intent to rank high in Google without using high-quality marketing strategies.
If your site is found to be using black hat SEO techniques then Google will demote your site if you do not take action to fix the issue.
Google has made SEO highly competitive, but if they didn't…. how do you rank billions of pages in a search engine, if not by various 'quality signals'?
The only game in town is to follow Google's guidelines.
Can Hobo audit websites for businesses outside the UK?
Yes.
Hobo professional SEO audit services are tailored for any English language business and can be tailored to small business websites or large, multi-national e-commerce websites.
Hobo has clients of both kinds in the UK (United Kingdom), the US (United States), Canada, Australia, and New Zealand to name but a few.
Hobo also provides technical SEO audits for any business, regardless of the language used on your website.
Google's webmaster guidelines are the same worldwide and Hobo Web has delivered ad-hoc manual SEO audits for clients all over the world since 2006.
Hobo Web professional SEO audit services are suitable for any established or start-up business and can be tailored to small business websites or large, multi-national e-commerce websites.
Manual SEO audit costs
The costs for a manual SEO audit vary depending on the size and complexity of your site.
Customer reviews of the Hobo SEO audit
The Hobo SEO audit changes shape and format year to year, but the insights are always included.
Hobo aims to make SEO audits simple to implement, not complicate matters.
'Excellent'
QUOTE: "Just wanted to say thank you for an excellent technical SEO review. I've purchased a few SEO reviews over the years and this was definitely the best." Nov 2015
'Most Impressive'
QUOTE: "Thanks for this. I did a few of these with a number of companies as a test and the way you have approached it is easily most impressive. As you can see we are a pretty complex beast." Dec 2015
'Superbly done'
QUOTE: "(had) a quick scamper through some of the report and will spend much time going through the rest. There is a great deal here and it will give us much food for thought. Hugely impressed with the organisation of the information. Superbly done. Content is just what we need" Sep 2015
'Worth the money'
QUOTE:  "(the) report looks like a lot more than £500 quid's worth for sure and now I'm reluctant to ask too many questions as it feels cheeky!" Jan 2017
Submit your inquiry below to find out more: