QUOTE: "Thanks for this. I did a few of these with a number of companies as a test and the way you have approached it is easily most impressive. I would like to talk about a larger ongoing relationship to help us build a killer strategy. As you can see we are a pretty complex beast." Client – 2017 – Testimonials
Our professional SEO audit services are tailored for any English language business, and can be tailored to small business websites or large, multi-national e-commerce websites. We have clients of both kinds in the UK, the United States, Canada, Australia and New Zealand to name but a few.
In fact – we recently got this feedback from our audit service on a site with millions of pages:
SEO Audit Costs For 2021
Our prices for SEO Audit services in 2021:
| | | | | | | | | |
| --- | --- | --- | --- | --- | --- | --- | --- | --- |
| | Role/Product | Deliverable | Type | Cost (£) | Cost ($) | Cost (€) | Hours | Timescale |
| 1 | SEO Audit (New/Small Site); Site-Wide Technical / Quality / Traffic/ Backlink Overview | I lay down technical + site quality tasks for developers to focus on by priority. | Adhoc | £495 per site | $695 per site | €575 per site | 6 | |
| 2 | SEO Audit (Large Site); Site-Wide Technical / Quality / Traffic/ Backlink Overview | I lay down technical + site quality tasks for developers to focus on by priority. | Adhoc | £995 per site | $1,395 per site | €1,155 per site | 10 | |
| 3 | SEO Audit (New/Small Site); Ecommerce Review | Ecommerce Check (Best Practices) | Adhoc | £495 per site | $695 per site | €575 per site | 6 | |
| 4 | SEO Audit (Large Site); Ecommerce Review | Ecommerce Check (Best Practices) | Adhoc | £995 per site | $1,395 per site | €1,155 per site | 10 | |
| 5 | SEO Audit; On-Page SEO Review | In-Depth Analysis Of On-Page SEO for Specific Page-Type | Adhoc | £395 per pagetype | $550 per pagetype | €475 per pagetype | 5 | |
| 6 | SEO Audit (New/Small Site); Local Business Optimisation/Checks | A review of your local business setup in search engines like Google. | Adhoc | £495 per site | $695 per site | €575 per site | 8 | |
| 7 | SEO Audit (Large Site); Local Business Optimisation/Checks | A review of your local business setup in search engines like Google. | Adhoc | £695 per site | $975 per site | €825 per site | 8 | |
| 8 | SEO Audit; Internationalisation Audit/Planning | A plan to internationalise your site by country, region or language. | Adhoc | £995 per site | $1,395 per site | €1,155 per site | 8 | |
| 9 | SEO Audit: Competitor UX Comparison Audit | In-depth review of your competor | Adhoc | £695 per site | $975 per site | €825 per site | 8 | |
See our complete SEO costs.
How To Hire An SEO
Google recently released the video above. It's a useful guide and goes into some detail about why we need to perform an SEO Audit at campaign start.
For those who require it is a useful introduction to the content on this page and the technical website review service I provide.
What is a SEO Audit, and How Can It Help Your Business?
A technical SEO Audit should clearly highlight the changes that need to be made to your website to meet Google's demands for a 'high-quality' website.
We provide that type of analysis.
Meeting these demands is the first step in successfully driving more traffic and sales via your website from Google organic search results.
If you fail to meet Google's requirements your company website may not gain long-term traction in Google search engine results pages.
Google organic search has sent this Hobo site around 5 million new visitors, for free, since I launched Hobo in 2006. That's a result of Google.co.uk ranking us on the first page or thereabouts of organic listings out of millions of competing pages for terms like 'SEO' and 'link building'- to name a few of the keywords we rank high for.
We also hit the front page of Reddit, not that long ago and as a result of our own successful content marketing strategy.
Our rankings and content marketing strategy are interlinked, and to achieve those results, we had to jump through a lot of hoops.
We use content marketing, search engine optimisation and natural link building strategies to drive 'free' or, more accurately,  'unpaid' Google (and Bing) organic traffic – as this type of activity is exactly what Google says, on record, wants to reward. Bing, also, has very similar quality guidelines that should be met.
As a result of this strategy, we have never had to use any method of traditional paid advertising to drive traffic to this site in ten years.
Getting a substantial amount of unpaid traffic from Google, despite the search engine giant's constant algorithm changes, is no simple feat.
We provide this strategy, experience, knowledge and my data reports (which I use to coordinate projects) as SEO audit services to businesses all around the world that need it.
Why You Are Here
If you've come to this page, you're looking for expert SEO advice how to make your site rank higher in Google, so you can make more profit from your business on the web. For that to happen, you'll need a snapshot of your current web marketing efforts, compared with your competition for the key phrases you want to rank high for.
You'll need to know the signals of quality and relevance that are missing from your site, the quality signals that Google looks for when deciding which page to rank above another page in its SERPs (Search Engine Results Pages).
You need a 'search engine optimisation audit' or what Google calls in the video above, a Technical & Search Audit.
And not just a generic SEO report – you need one tailored specifically to YOUR site and YOUR niche.
We can deliver that report for you in around 10 working days, dependent on site size, and offer very clear instructions on the changes that need to be made to your website and individual pages to improve organic, or natural, unpaid traffic from Google.
My team can cost and deploy a project for you based on this analysis, OR your in-house team can carry out the work, with our support, and our online reports, if need be.
We can help your business make more money from your web marketing efforts by helping you understand how Google judges the quality of your website based on extensive analysis of your website and wider marketing activity (a 'reflection' of which can be found online).
We optimise websites to get more traffic from Google. To do that without risk, we must adhere to Google's terms of competition for you, and our own protection, and we aim from the very outset to ensure you fully understand HOW we legitimately drive that unpaid organic traffic to your site.
If you would like to learn more about some of the advice contained in my audit, read on.
And for full transparency, I've laid down on this page just SOME of the work we do to drive more and better traffic to a website.
Example: When A SEO AUDIT goes right:
We have a long history of delivering insightful advice: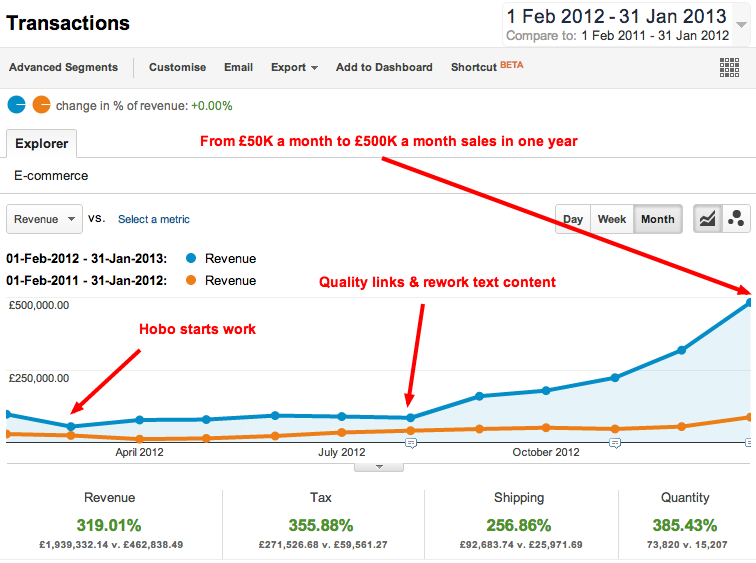 The above example is a consultation we were involved in, where we worked as part of a team and where we advised a customer on exactly what to do to their site to make it more search engine friendly. It took the client some time to implement our changes, but you can see from the analytics results, it was 6 months of sensible investment.
Here is a more recent example:

Why does it take so long to implement changes? Well, not every item you need to check and tweak is an easy task to drive through on a website. It has been designed that way by search engines. Professional SEO for businesses is not about tricks anymore.
To get that result pictured above, we carried out detailed keyword research that uncovered exactly the keywords that the client was missing out on, unlocking more traffic and sales from Google.
We encouraged the customer to get the right content on the site, identified authority links they SHOULD have had already, based on the quality links their competition had earned, and helped optimise content that would generate new links from the new websites.
Adhering To Google Webmaster Guidelines
We believe in marketing your business online using only legitimate techniques, and our audits focus on improving the quality 'score' of your website. We believe in promoting a site using ethical marketing techniques and using methods that are not frowned on by search engines like Google and Bing.
Google is a search engine that penalises legitimate businesses for YEARS if it detects manipulation through SEO on an industrial scale and especially if it detects an INTENT to rank high in Google WITHOUT using high-quality marketing strategies.
We DO NOT hack sites and we DO NOT spam sites to make your site rank high in Google because it is against the rules as laid down by Google.
The SEO industry is in a transition period at the moment – because Google is forcing it to evolve. SEO are in a transition period because Black hat SEO still works in areas of Google, but real businesses cannot use it.
If your site is found to be using black hat techniques then Google will demote your site – and real businesses are often effectively penalised in Google – often for years – if you do not take action to fix the issue.
It is too risky to sell that stuff to clients and have any respect for myself, and it's hard to hire a good black hat these days – because the good ones are hard to find, for a reason.
I'll stop selling SEO services when Google makes white SEO redundant – and Google doesn't want to do that. It doesn't want to turn us all into black hats just yet – so it rewards Webmasters that strive to meet Google's ever rising quality requirements to rank high based on merit, and that as a result produces remarkable and relevant content and – above all – a satisfying user experience for Google's users.
They have made effective white hat SEO REALLY, REALLY hard, but if they didn't…. how do you rank billions of pages in a search engine, if not by 'quality signals'?
If you ignore Google's guidelines and employ low-quality techniques to promote your website, Google will not trust your website, and that means no free traffic (or very little). We know that's devastating to a business, so we ensure we stick to practices not likely to be devalued anytime soon.
That means investment in quality content, and quality links, if you want stable traffic levels from Google.
Google recommends we focus on specific areas and demands a site complies with its web marketing guidelines.
The typical focus for a professional SEO agency (taken directly from Google's guidelines) include :
Review of your site content or structure
Technical advice on website development: for example, hosting, redirects, error pages, use of JavaScript
Content development
Management of online business development campaigns
Keyword research
SEO training
THAT is explicitly what we focus on.
We make your website content accessible and relevant and build your 'trust', as far as Google is concerned. I have been building processes and tools to do this for over 15 years.
Don't get us wrong. We can't do it alone. We need support from you to achieve results – and we will tell you what we need.
Our own website earns a lot of unpaid traffic from search engines, and mainly Google, making us one of the most visited search engine optimisation blogs in the UK, with over 20,000 subscribers, making us one of the most popular SEO blogs in the world.
We promote customer websites the same way we promote our own site – highly tuned sites and compelling, useful website content is at the very heart of our strategy.
We Help You Make More Sales
We put your business in front of people looking for it, it's products and services, when they type into Google a keyword query to find *something*. To do that, we must compete with other businesses doing the exact same thing to win that free Google traffic.
To win that battle, we must be more creative than your competitors, and we must be able to do it FASTER than them. If that's not enough, we must do it all within Google's strict competition guidelines, who also want a piece of your business, and even keep on top of competitor sabotage. I'd imagine you want it as cheap as possible too.
First, we find out how customers look for your business, and which keywords they use. We look at the popularity and relevance of these keywords. We determine the intent behind particular keyword combinations to find valuable opportunities. We focus in on crafting pages around keywords that make your business money.
It's called keyword research and keyword analysis. Our bespoke tools give us a great capacity to quickly generate keyword ideas for your business. We'll help you discover what potential customers are typing into Google for your business, products or services, and we'll share all this valuable insight with you. Our tools can help take what used to take weeks to do and do it in seconds.
A Methodology Based on High-Quality Techniques
Our methodology of focusing on user experience, relevance and reputation gets fantastic results – and it's exactly how Google wants you to optimise your site.
Maximise opportunities by focusing on building a quality destination for Google's users, not by finding flaws in how Google ranks pages, that it will fix 6 months down the line and penalise everyone using the flaw to rank.
Our bespoke tools, which take a lot of effort to maintain and upgrade, let us do many, many hours of work in a fraction of the time, that help you identify exactly what you need to do to rank in Google for any keyword search.
We Give You Clear Advice
We produce an easy to understand task list of actions to take to optimise your website. If you follow our advice, you'll make your page more accessible, user-friendly, relevant and reputable – it's this combination that will get your page ranking in Google (and Yahoo and Bing!). We do all the hard work – all that's needed to do is make the changes to your site (which we can naturally help with).
We examine your site on a page by page basis and tell you exactly what to do to each page to improve rankings in search engines. We'll share our recommendations with you, so you know exactly what we are doing, and we'll track the performance of everything we do.
We Help You Get More Traffic
Let's get this clear. This is what we do – we create new text content, and we repackage existing content on your site, to maximise the traffic Google will send you. We take under-performing pages and rework them to create compelling content that satisfies Google's users. That's what it is all about, first and foremost. When visitors are satisfied, often they will share it on social media, and that often leads to activity Google will base your reputation on. The higher your reputation, the more traffic you will get, if you have a great website.
While we optimise your websites to focus on particular keywords, we optimise your site for HUNDREDS of potential key phrases, not just a few.
What You Can Expect From Our Audits
Google has a monumental list of quality and technical requirements it demands web sites meet if they are to rank high in Google.
Our incredibly detailed audits:
check your website against Google best practices
identify reasons for a traffic loss and
deliver the insight needed to get more free traffic from Google.
We can analyse your site within  10 working days from only £495.
Here's just a selection of the insights our audits uncover, and just 8 reasons to buy a report today:
1. Identify Why Your Site Gets Less Google Traffic than it used to
Our reports are designed for whoever is tasked with getting more traffic from Google. We check and track HUNDREDS of metrics. You can clearly identify penalties or algorithm changes in simple formats, and the things that lead to them, and what you need to do to fix the issue fast.
2. Discover which pages on your site Google doesn't rate anymore, and how to fix them
You can quickly identify the pages causing your site quality issues, and we can help you formulate a plan how to resolve the problem.
3. Discover which Google Webmaster Guidelines your site falls foul of
You can quickly identify the technical issues affecting your website rankings, and quickly identify if your website still produces the type of pages Google dislikes.
4. See The Backlinks Pointing To Your Site Holding Back Your Rankings
Google punishes old manipulative SEO tactics like 'unnatural backlinks' – so you will want to disavow these links to protect your site from negative SEO attacks and punitive algorithms (like the upcoming Google Penguin algorithm).
We clearly identify the links that you'll need to review to disavow. We have helped many businesses recover from link penalties, some with severe issues.
5. Track and explore how important pages performs on key metrics like traffic and rankings
You can track and monitor your rankings for important keywords in Google to help you focus on keywords that will deliver ROI for your business.
6. See how successful your SEO efforts have been on a page level, over time, in context with major algorithm updates.
You can see how well your pages are performing on a page-to-page level.
and on a keyword level across your site:
7. Find out the best keywords that will drive the most traffic to your pages
… and once identified, we can help you in various ways to map keyword research to your web pages, if requested.
8. Find out why your competitors rank where they do
The number and quality of links pointing to a website often is indicative of where it ranks in Google for lots of searches. You will be able to see the links pointing to your competitors websites. With this information – you can begin to develop legitimate link building strategies based on quality content.
We can also review your site and have your report ready in around 5 business days. We can handle e-commerce sites of most sizes. Audits are tailored to the size and scope of the site.
We Look At Your Site Like Google Will
We crawl your site, kind of like Google does, analyse it's content and structure and report back on any technical problems we find. We'll also investigate your website content and gauge how it performs in terms of visits from Google, and offer advice on how to improve your situation, without you spending a fortune.
We Offer Easy To Understand Instructions
From our analysis, we (or you) can optimise your entire site to industry standard best practices. We IGNORE low ROI opportunities and focus on getting the most bang for your buck.
How We come Up With That Advice?
To come up with an accurate task list of what to do to SEO your pages, we have to crunch a LOT of data, FILTER and SORT it, then prioritise tasks generated from this research so you get the most ROI from your investment. You don't want to be spending money on unnecessary tasks, or tasks with a low priority or low ROI!
We aim to MAXIMISE your budget – whatever it is. We develop an action plan for deployment on all primary pages of your website.
Simple mistakes can make the difference between a successful campaign and a failed one. We check your website against best practice guidelines and offer advice NOT TO SPAM GOOGLE, but to BUILD A MORE RELEVANT, MORE TRUSTED and MORE REPUTABLE website that will rank high in free Google listings and NOT GET PENALISED.
This is not rocket science – ALL we are doing is looking for opportunities to make your website perform better.
We Audit Your Website
We forensically analyse your website and work out how to best optimise it for the keywords you need to rank for. Our technical SEO audits are among the most comprehensive reports you will see about your website.
(The following image – and all the images on this page – are from an old audit to protect our latest data and we check a lot more than a few years ago).
We Find Keywords Your Customers Are Using
An experienced SEO understands how people search for things using Google.
We look at how potential customers search for keywords related to your page, and from this data we can decide how to optimise your current pages, and what new content may be needed to compete.
The more relevant the page is for a query, the better it will perform over the next year or two.
We Identify The Most Valuable Keywords
We scour multiple sources to identify opportunity.
We check how many people are typing in keywords to find your business, and check which of these keywords are already on your page, and which are not. If you want to rank in Google for a keyword, you're probably going to have to have it on your page.
We Find THE Most Relevant Keywords To Focus On
We'll break down this analysis so you can focus on the most important keywords driving traffic in your niche…
 We Examine Keywords Related To Your Business
…and look into related niches to find out if there is actually more opportunity than in the area of your original focus.
We Identify Any Historical Ranking Success
It's important to know which keywords are performing for your business. We look to improve this where possible, and we certainly don't want to unpick anything that is already working for your business.
Complete Keyword Research
Collecting keyword research is one thing. Compiling it and prioritising is another. You CAN"T rank for EVERYTHING – we help you pick the battles you can win.
Keyword Research = SEO Success
When you know the keywords customers are using to find your service, you can then optimise your website. We lay down EXPLICIT ADVICE how to prepare your page to make it AS RELEVANT as possible to Google WITHOUT breaking any rules. The MORE relevant you are to a query, the more traffic you will get. We advise on what pages to address first, what keywords to have on the page, what key phrases to have on the page, how to build internal links to the page and how to optimise your page titles to maximise the chance of attracting visitors.
We'll Track Performance Of Our Work
We'll evaluate current performances and any opportunities you may have missed, on the page:
We'll Track How The Website Performs
We'll evaluate current performances and any opportunities you may have missed, across the entire website:
We Dig Deep To Look For Opportunity
It's important to know which keywords are actually driving traffic. Combining analytics data and cross-referencing with keyword research, we can identify strengths and weaknesses in your current marketing efforts. We can identify the terms driving traffic to individual pages, and entire websites.
We Check That EVERY important keyword is present
We'll advise exactly the keywords and key phrases you should be focused on to maximise traffic and sales.
We Carry Out Deep Analysis Of Your Website
We pull a lot of information together to give us a complete picture of your page, and why it performs in Google. We look at inbound links to the page, internal and external. We analyse who you link to, and how you link out.
We Can Tell You Who Links To You
We'll review your backlinks to determine where we are starting from. It's also incredibly important you review your backlinks and deal with any risky links pointing to your site that me be having a negative effect on your rankings in Google.
We'll find out exactly who is linking to you.
We Will Risk Assess Your Backlinks
We analyse your back links, we'll carry out a risk assessment. Google's algorithm changes are designed to devalue old style SEO and link building techniques. If you have a lot of low-quality backlinks pointing at your site, you may find it hard to rank for anything popular and valuable in Google. We'll risk assess your current link profile, and report back if you have any serious issues. We can manually identify any potentially bad links and can handle any disavow and reconsideration request, although this process will be priced separately, depending on the number of domains linking to your site (which we can identify).
Over the last few years, we've manually reviewed over 100,000 domains, and have built a very accurate database of low-quality sites.
PLEASE NOTE – A full backlink analysis is dependent on the number of links pointing at your site – and is out with the cost of an entry-level search engine optimisation audit I provide here – but we will be able to advise on the risk status of your backlink profile – and focus on it if asked.
We Identify & Re-Engage Broken BackLinks To Your Site
If your site is a few years old, and undergone a few redesigns in its life, chances are you have some broken back links you are not getting credit for. We check this as a good practice, just in case.
We'll Help You Identify Your Competitors
We analyse your competitors to see how they are getting top ranking in Google. We ONLY focus on finding quality links and normally this is like finding a needle in a haystack. We look for any quality back links that your competitors have earned that that your business could benefit from too – and then we chase them down. A BIG part of ranking in Google is how REPUTABLE your website is – and that is based on the reputation of other sites linking to you.
During our analysis we'll also uncover the tactics your competitors are using to rank in Google.
We'll examine the competitors who are currently enjoying high rankings in Google to identify strategies that you can employ to compete.
We'll Help You Identify Your Competitors' Top Content
We'll help you identify the top performing content on these top sites, to identify the types of content that will be needed to generate links in your niche.
We'll Help You Identify Your Competitors' Top BackLinks
We'll help you identify the very best links in the niche, based on a unique set of quality signals we are looking for. We're looking for good, powerful, trusted domains that link to your competitors, so we can see if we can get those links too, or links like them.
We'll Help You Identify Your Top Performing Content
Our tools plug into Google Webmaster Tools, AKA Search Console, and we can create custom reports depending on client needs, that offer insight into website performance.
We'll Spot Opportunities To Rank Better
We monitor rankings to get a feel for how Google is treating your site and it's content. We can quickly identify which keywords in your niche you are not ranking for.
What Are The Top Keywords Driving Traffic To My Site?
We track performance of the keywords you want to focus on, so we can see how Google is treating your content.
Who Do You Link To?
Who you link to and how you link to them is INCREDIBLY important if you want Google to trust your site as much as possible. We can quickly see and monitor who you link to and risk assess.
How Does Google See My Site?
We show you (kind of) how Google sees your site, from a purely technical point of view.
We look at Many Sources To Get The Data Needed
We compare Analytics, Webmaster Tools and Technical Information, and information we get in our crawl side by side to look for opportunity for you to make Google trust you more.
We'll Identify Poorly Optimised Pages
We'll quickly and easily identify the content on your site that is under performing, and come up with a plan to maximise the future performance of that content – because THAT is how you get more traffic from Google without breaking the rules. There are many reasons pages perform. It may be that page titles are poorly optimised or that the content is below par.
Identify Underperforming Pages For Consolidation Purposes
Kill two birds with one stone. Reduce the amount of low-quality pages on your site receiving NO visits from Google, and combine that content with pages that ARE getting traffic, for a legitimate ranking boost with the same content. The image below shows my target page (orange) and the combined traffic of all the pages on a particular topic (about 20) – and what happened to traffic once these pages were consolidated in an intelligent way.
We identify that content.
Rank Sampling
We track your rankings to get a complete picture of your performance.
Google Analytics
We look to see what the effect of all this activity is having on traffic levels from your site, and use this to identify where your site is underperforming.
Our aim is to drive MORE RELEVANT TRAFFIC to the site.
We do that by detecting obvious areas of potential opportunity.
100% Transparency 
We are 100% transparent on how we come up with our advice. You know your business better than us. We want you to see all the data we looked at so you can ensure we are focused on the same goals as you. When optimising a site, you want to know everything about the page in question.
We highlight everything we've analysed, from the source code up.
SEO Training Modules
Don't worry if you're not SEO literate – our reports are designed to be a training help for people new to SEO – so your in-house team learn fast!
Our technical report comes complete with training modules explaining to you why we need to address particular items, so you are never in the dark as to what we are doing, and why we are doing it.
Multi-Purpose Reporting
A real benefit of choosing Hobo as your SEO audit provider, is how we can quickly mash all this data together and pick out the insight you need to get more visitors from Google.
We focus on the most important areas FIRST.
On Demand SEO Reporting
Our on-demand tools give us a unique ability to get exactly the data we know we need to create a successful marketing campaign for you.
We love what we do
You do not rank high in Google without using high-quality techniques. If you search for our services online, chances are you will see us on the front page of Google for THE most competitive terms in our very competitive industry.
We manage to stay there, or thereabouts while competitors using low-quality ranking techniques come and go.
Let's finish on the type of company we are not. We do not guarantee rankings (no company can) and we do not work with just any business who contacts us.
Get the plan so you can make more sales from Google
Make Your Website Rank Better In Search Engines. Actionable insights from a trusted source. No fluff included.
Best of all – this is all done with techniques encouraged by search engines like Google. With a focus on the RELEVANCE of your text content and REPUTATION of the sites that link to you, we ensure your site attracts the customers you need to survive.
We provide you with a tailored SEO report that tells you in simple language how to get more traffic and sales from Google, Bing and Yahoo search engines.
You'll receive an easy to understand report telling you exactly why your website does not rank in search engines – and more importantly – how to get it ranking and turn it into a lead generation machine. With our world-class in-house reporting software you'll never be in the dark again about your SEO campaign.
Get a simple plan of action to make your site rank better
We supply the most detailed SEO and website analysis report you'll have seen to date, with all the data you need to help you make more sales online through natural search engine listings. We include keyword research, backlink data, issues to action on your site, competitor analysis and text to add to your pages.
The online report you'll receive is an actual SEO training guide – tailored to your site. We've been told "other agencies charge thousands" for this sort of thing.
We have the tools to get this data fast. Typically you'll have your report the next working day, with all the support files.
The next step is to get the work done. You can give our data to your web developer who can easily follow our recommendations – or you can invite us to cost the work.
If you want to work with us on an ongoing SEO project following the audit then we will reduce the costs of the project by the price of the initial audit purchased.
It starts here.
Hobo expertise. No monthly contracts. No hidden costs. No fluff.
We provide professional website SEO audit services and white label SEO reports available using our unique reporting software.
*Please note – We reserve the right to decide to not audit any website. Screenshots of our actual tool data are for illustration purposes, have changed, have been modified and are subject to change. Organic traffic illustrations on this page have not been modified or manipulated. We aim to provide your SEO audit in 5 normal business days but it might be slightly longer for more complex websites. Audits are tailored to sites and may not contain every example function above.