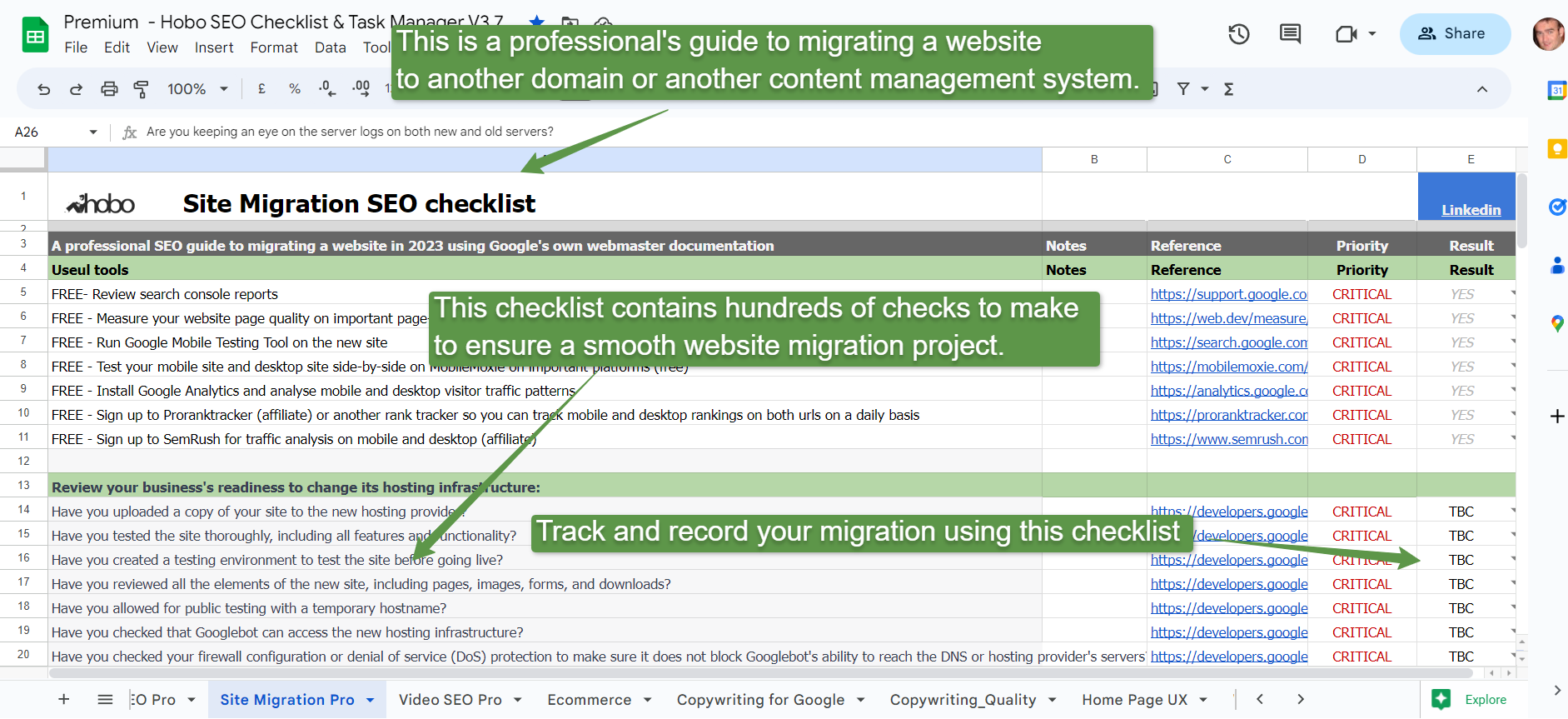 If you are a website owner planning on migrating your website from one domain to another, or from one CMS to another, this comprehensive website migration SEO checklist is ideal for your purposes. You are wanting to ensure the transition between the old and new site is as smooth as possible to ensure there is no negative impact on your current rankings in Google.
This is a website migration SEO checklist for in-house or outsourced website managers, designers, and developers to manage the migration process.
The professional website migration SEO checklist is now available as part of the Hobo SEO Premium SEO checklist.
This SEO checklist contains many recommendations from Google itself on how to manage and prosper from your website migration.
The website migration SEO checklist covers:
Redirects.
Pre-migration checks.
Post-migration checks.
Technical SEO checks.
Site Migration tools
SEO starter guide.
Site quality checklist.
Site content quality checklist.
Analytics checklist.
Task manager system.
This paid-for migration checklist is designed to be all you need to successfully migrate your cms or website from one domain to another in line with Google's webmaster guidelines.
Suitable for any website migration, the checklist is included as part of the Premium SEO checklist, the free version you may have seen here.
The migration SEO checklist helps you migrate from:
Domain to domain.
Joomla to WordPress.
WordPress to Magento.
Drupal to Shopify.
Shopify to WooCommerce.
Squarespace to Wix.
Weebly to Drupal.
Wix to Shopify.
Magento to BigCommerce.
WooCommerce to PrestaShop.
BigCommerce to Squarespace.
WordPress to TYPO3.
Joomla to Ghost.
Drupal to Umbraco.
Shopify to MODX.
WooCommerce to ExpressionEngine.
Squarespace to Textpattern.
Wix to SilverStripe.
Magento to OpenCart.
Weebly to PrestaShop.
BigCommerce to osCommerce.
If you need a professional SEO involved in your migration visit website migration services for more information.