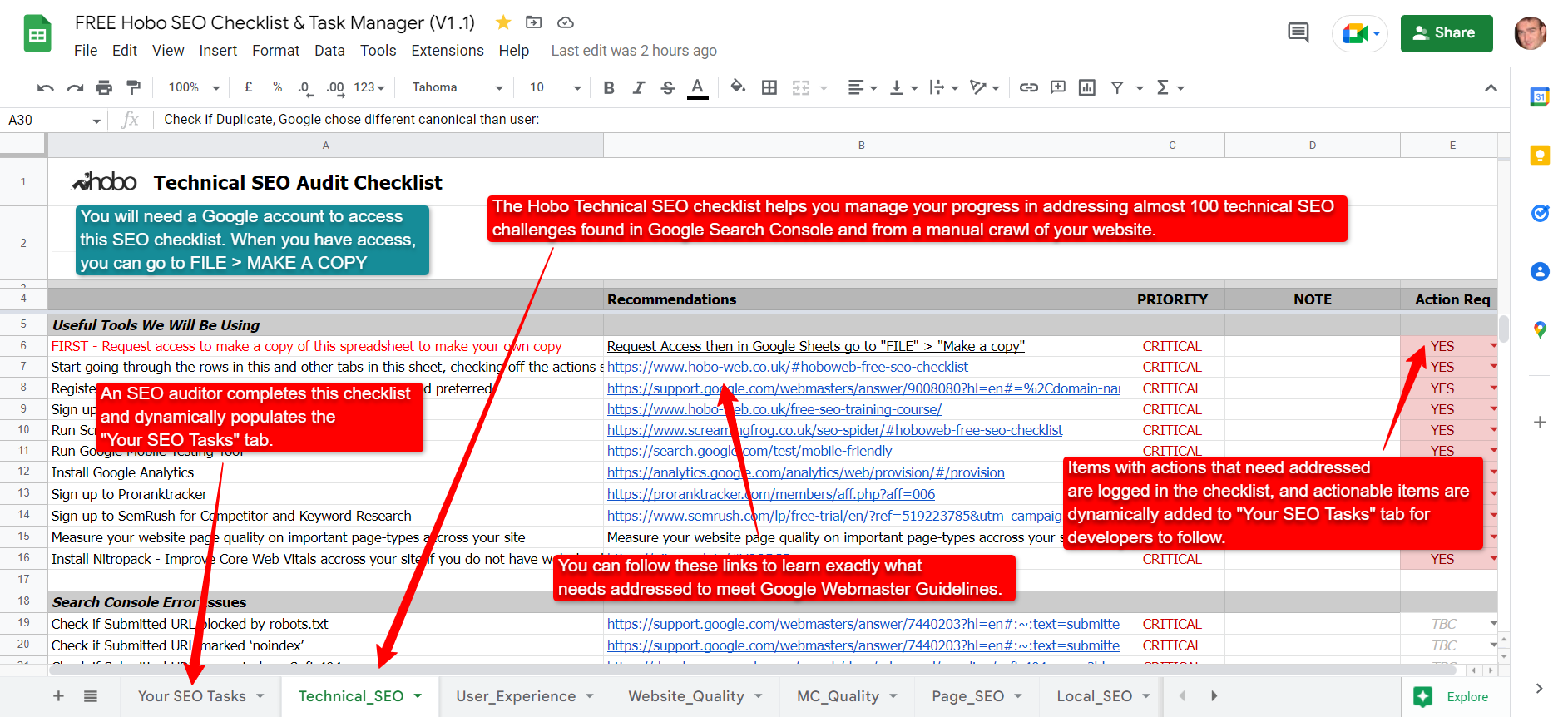 If you are a website owner or website development professional you can purchase a Premium Hobo SEO Checklist (with early adopters earning a lifetime update to future versions of the checklist and lifetime membership of the Hobo SEO premium newsletter) for £180.
It may be that your own website developer or website designer can do this themselves. This entry-level product gives them that chance, with advice to keep your developer on the right track when it comes to maximising Google traffic (and all based on Google guidelines and tested by Hobo SEO consultants over 20 years).
As a business owner or website development professional this checklist contains key information points for you about SEO that your developers, designers or copy editors need to learn and understand. It contains both a non-technical and technical checklist too. This is a business process checklist for your company when it comes to SEO. The Hobo SEO Premium Newsletter delivers to you privately key SEO information to help you further focus on what gives you ROI in 2022.
This SEO checklist and the newsletter are intended for website owners, SEO managers and students of SEO alike.
Purchase the premium Hobo SEO checklist here for £180.
The Hobo SEO Checklists
Absolutely killer/comprehensive SEO audit template via Shaun Anderson (@Hobo_Web)

A paid version exists, but the free version is better than 99% out there. Love that it includes both website + content quality!

Probably the most complete you'll ever see: https://t.co/9J1pwfXk5c pic.twitter.com/mFNsS0STIH

— Cyrus – Zyppy SEO (@CyrusShepard) July 1, 2022
I've audited thousands of websites over 20 years as a professional SEO.
The Hobo SEO Checklist & Task Manager is a collection of online spreadsheets to help you manage your SEO project from both a site-wide level and a page-level perspective. Altogether, the tabs in the sheet map out an SEO project in a manner that leaves no critical element overlooked.
It is a 1000+ point reference of Google's own recommendations on how to rank your site on Google. If you ignore these rules, you WILL get demoted in core algorithm updates in future. You will NOT recover past traffic levels until you address these quality issues on your site, and you certainly do not want to introduce any of these website quality issues to your site in future.
By completing a 1000+ point CHECK of any site, you can produce a quality checklist of items Google is probably demoting you for. This series of checklists take you through the steps you need to do to identify issues and maximise your website potential.
You can review the free SEO checklist before you buy.
The PREMIUM SEO Checklist
The premium version of this sheet unlocks all included spreadsheets and checklists. All early adopters of the premium checklist receive lifetime updates of the premium version of the sheet, and any other sheet I produce.
You own your own copy. You can edit it and make copies of it for your own private use.
Features include:
The quality of your website copywriting determines which keywords you rank on Google for. You can use this 150-point SEO Copywriting Checklist to examine your copywriting quality against Google's own recommendations.
Featured snippet optimisation is a sure-fire way for you to leapfrog your competitors who rank above you. You can use this Featured Snippet Checklist to optimise your own pages.
If you have an international website, you can use this International SEO Checklist to check your website meets Google's guidelines.
If you are planning a website migration you can use the SEO Migration Checklist to check everything is correct and in line with Google's Webmaster Recommendations.
The Key Page SEO module is a template that rolls a lot of these spreadsheets into one useful spreadsheet for you to SEO any page.
As I add more spreadsheets to the premium version you will receive lifetime updates and access to the new sheets that are developed.
You purchase a Premium Hobo SEO Checklist (with early adopters earning a lifetime update to future versions of the checklist and lifetime membership of the Hobo SEO premium newsletter) for £180.
The Premium SEO newsletter
The premium SEO newsletter that comes with the Premium spreadsheet cuts through the myriad of Google guidelines to highlight for you the most important SEO tactics that work in 2022.
When you purchase the premium Hobo SEO checklist, you receive lifetime updates to the document and you are automatically subscribed to the Hobo Web Premium SEO Newsletter, all for only £180.
Good luck with your SEO in 2022!