The checklist comes in 3 parts:
Public version (free)
Pro version with training course (£49)
Premium (£180)
This SEO Checklist is setting a new standard, especially with its detailed e-commerce guide. It's got everything I needed, all in line with Google's rules. For anyone in the e-commerce space, this is a tool that genuinely helps! 👍

— Adriana (@AdrianaVlas_Ro) August 10, 2023
What's in the public SEO checklist?
The public checklist launched in 2022 is a free version in Google Sheets you can use if you are just starting out in SEO, and learning what you need to focus on to get more traffic from Google.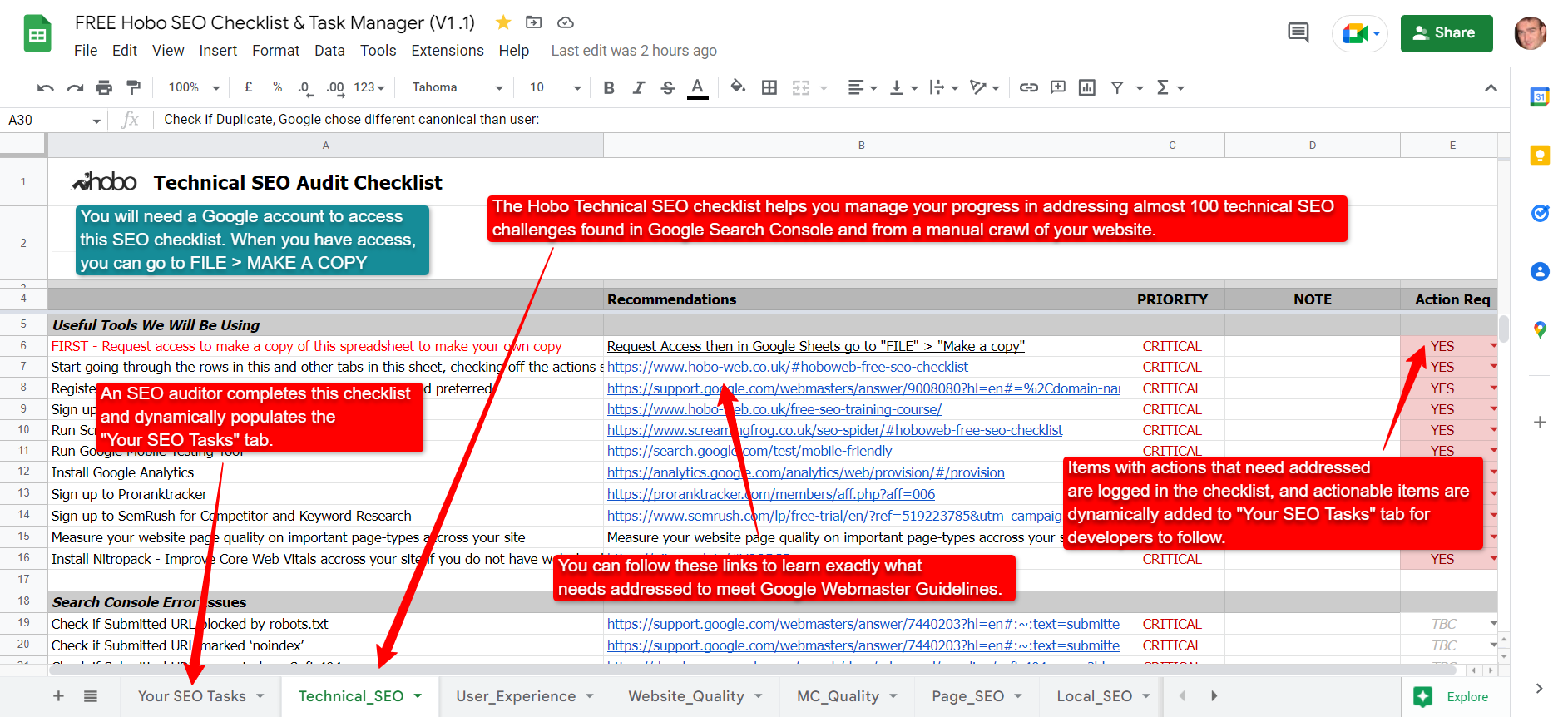 Absolutely killer/comprehensive SEO audit template via Shaun Anderson (@Hobo_Web)

A paid version exists, but the free version is better than 99% out there. Love that it includes both website + content quality!

Probably the most complete you'll ever see: https://t.co/9J1pwfXk5c pic.twitter.com/mFNsS0STIH

— Cyrus – Zyppy SEO (@CyrusShepard) July 1, 2022
This public sheet contains limited versions of the checklist, designed for beginners to SEO, and includes:
Technical SEO audit checklist
User Experience checklist
Website Quality checklist
Main Content Quality Checklist
Page Level SEO checklist
Local SEO checklist
Links on your site checklist
Keyword research checklist
Competitor research checklist
Spam checklist
Google Webmaster guidelines
SEO starter guide
This is designed to be a cost-effective introduction to SEO.
It is also designed to prepare you for what is included in SEO for businesses.
What's included in the Pro SEO checklist?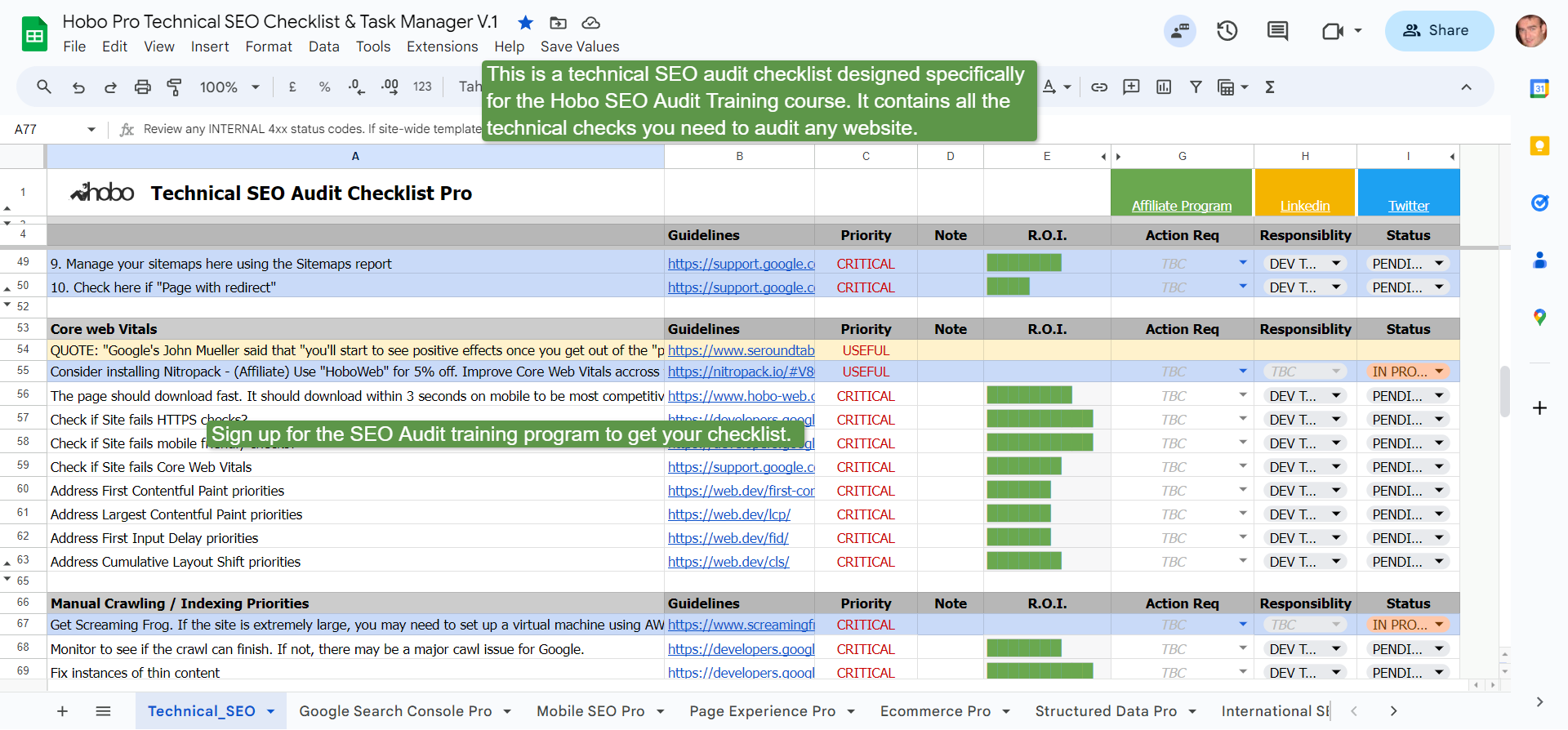 The most thorough and in depth technical checklist I've ever seen, without a doubt.

A true reflection of how incredible @Hobo_Web is. Thank you 🙏

— Matt Barnes (@MattBarnesSEO) August 10, 2023
If you are working on the SEO of a business website, this checklist has all the technical SEO checks you need to make to get the most traffic from Google.
This is a professional-level checklist focusing on the technical aspects of SEO. This checklist (and the 12-week email course included) is designed to help you audit any website's technical SEO.
Technical SEO audit checklist
Google Search Console checklist
Mobile SEO checklist
Page Experience checklist
E-commerce checklist
Structured Data checklist
International Setup checklist
Structured Data checklist
Meta tags checklist
Crawl Management checklist
Javascript checklist
Canonicalization checklist
XML Sitemaps checklist
Robots.txt checklist
Video SEO checklist
Links on your site checklist
SEO Starter Guide checklist
Buy Pro Checklist & Course (£49)
What's included in the Premium SEO checklist?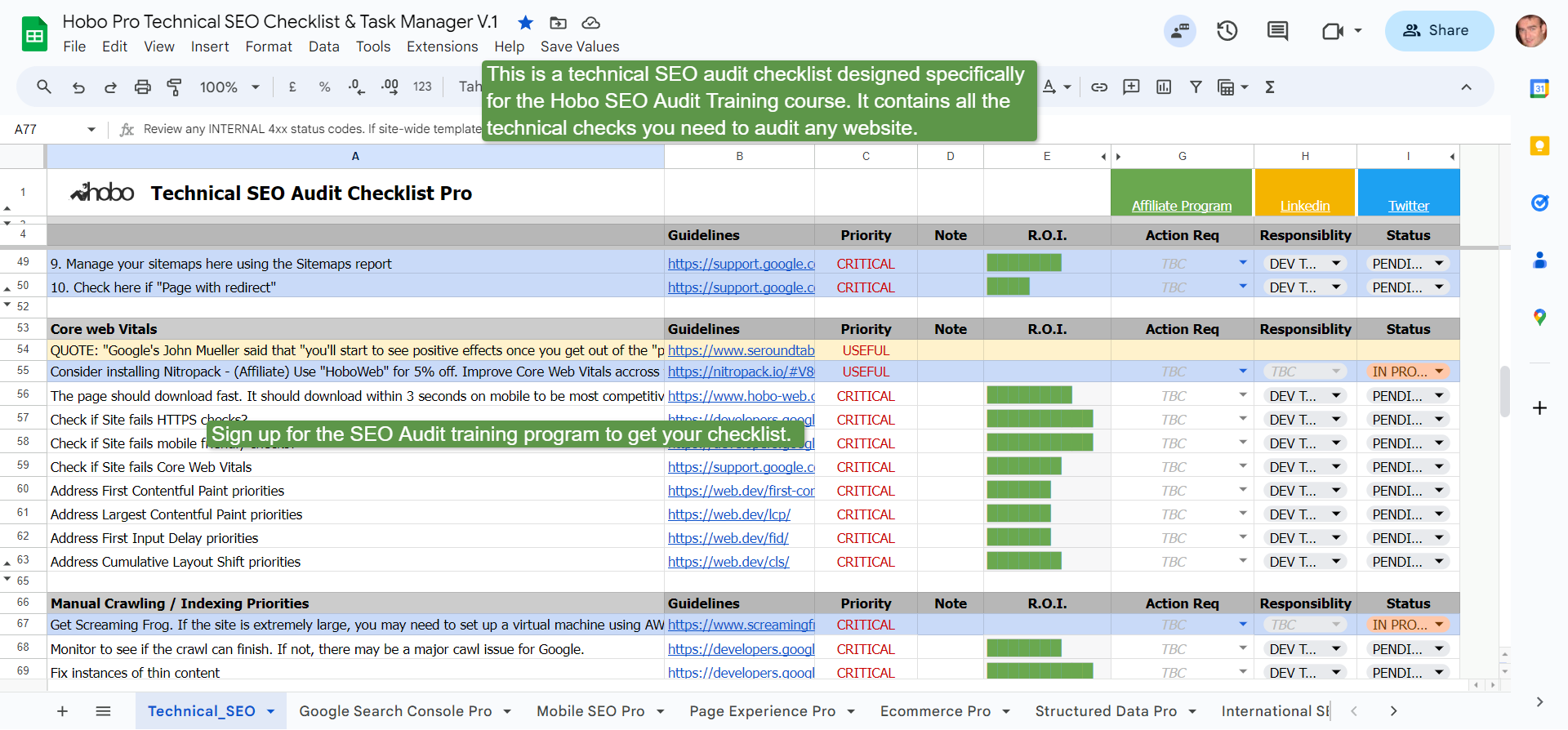 QUOTE: "This is an – end-to-end blueprint – for building and running a Tier 1 TechSEO agency – for the Enterprise. A living document that Shaun is constantly updating. Even the free version (also regularly updated) is more than enough to outperform the majority of the competitors. Arguably Shaun is a "hidden" Gem(which makes no sense given his command of the Tech SEO art, as … stated in the past). Paid version: Way underpriced." Peri Papanikolaou, 2023
The Premium SEO checklist contains all pro-level checklists, and goes beyond the technical:
Google Business Profile checklist
Google Merchant Center checklist
E.E.A.T. SEO checklist
E-commerce checklist
Technical SEO audit checklist
Google Search Console checklist
Mobile SEO checklist
Page Experience checklist
Structured Data checklist
International Setup checklist
Structured Data checklist
Meta tags checklist
Crawl Management checklist
Javascript checklist
Canonicalization checklist
XML Sitemaps checklist
Robots.txt checklist
Video SEO checklist
Links on your site checklist
User Experience checklist
Website Quality checklist
Main Content Quality Checklist
Page Level SEO checklist
Local SEO checklist
Links on your site checklist
SEO starter guide
Keyword research checklist
Competitor research checklist
Spam checklist
Google Webmaster guidelines
Copywriting checklist
Google Discover checklist
Home Page UX checklist
Analytics checklist
Ai Integration (Beta)
SEO Starter Guide checklist
This is designed for website managers and business owners managing an entre website, from technical SEO, website content, UX and website quality.
Buy Premium SEO Checklist (£180)
What's included in the Pro SEO Audit training course?

"QUOTE: "LOVE the links straight to GSC. Every email is straight to the point, tackles one problem, very good, easy to read – I look forward to receiving them, that's good!" Hobo Pro SEO Audit student 2023
The Pro SEO Audit course, run by myself, an SEO of over 20 years who performs many audits as my main job, is designed to show you how to perform an SEO audit on any website using Google Search Console and other SEO tools.
This is a live course, so I am teaching on live seo audits performed right now to show students how to perform a professional SEO audit for a business website.
Students can also submit their sites for reviews.
As a student after my course, you will be in a position to confidently audit any business site to find problems with the site that negatively impacts traffic from Google search.
This is an incredibly useful skill set for you to gain:
12-week course delivered by email
Real examples of the types of problems in SEO audits
Instant access to the Pro checklist
Audit search console
Audit your website
This is a unique, living course.
There's nothing like it out there.
I work with real examples and your own examples.
This course was only launched a week ago and already over 50 people in 30 countries have signed up.
Don't miss out on this time-limited offer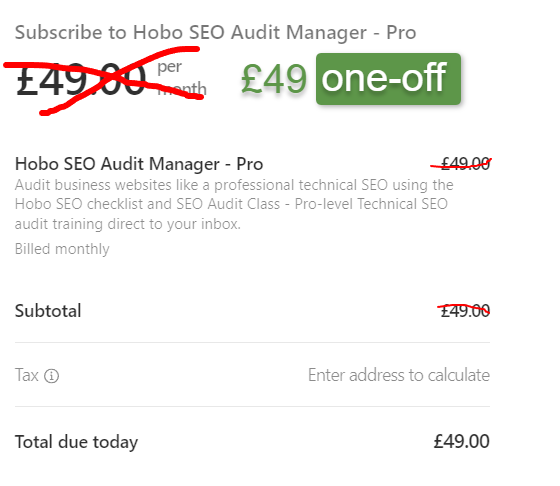 In summary
| | | | |
| --- | --- | --- | --- |
| | Public | Pro | Premium |
| | Learn the basics of SEO audits. | Learn how to do Technical SEO Audits for any website. | Manage the SEO project on a large project, agency or enterprise website. |
| SEO Checklist; | Public Edition. | Pro Edition. | Premium Edition. |
| Lifetime updates*; | Yes | Yes | Yes |
| SEO Audit Training; | Yes | Yes | Yes |
| Email support; | Yes | Yes | Yes |
| Training Course included; | Yes | Yes | TBA |
| Cost; | Free | £49 | £180 |
|  Buy | Free | Buy Pro £49 | Buy Premium £180 |
*Lifetime updates apply to the checklist itself. Not any course. Cancel anytime. The Pro course is supplied via email over 12 weeks. Includes emails, videos and webinars.