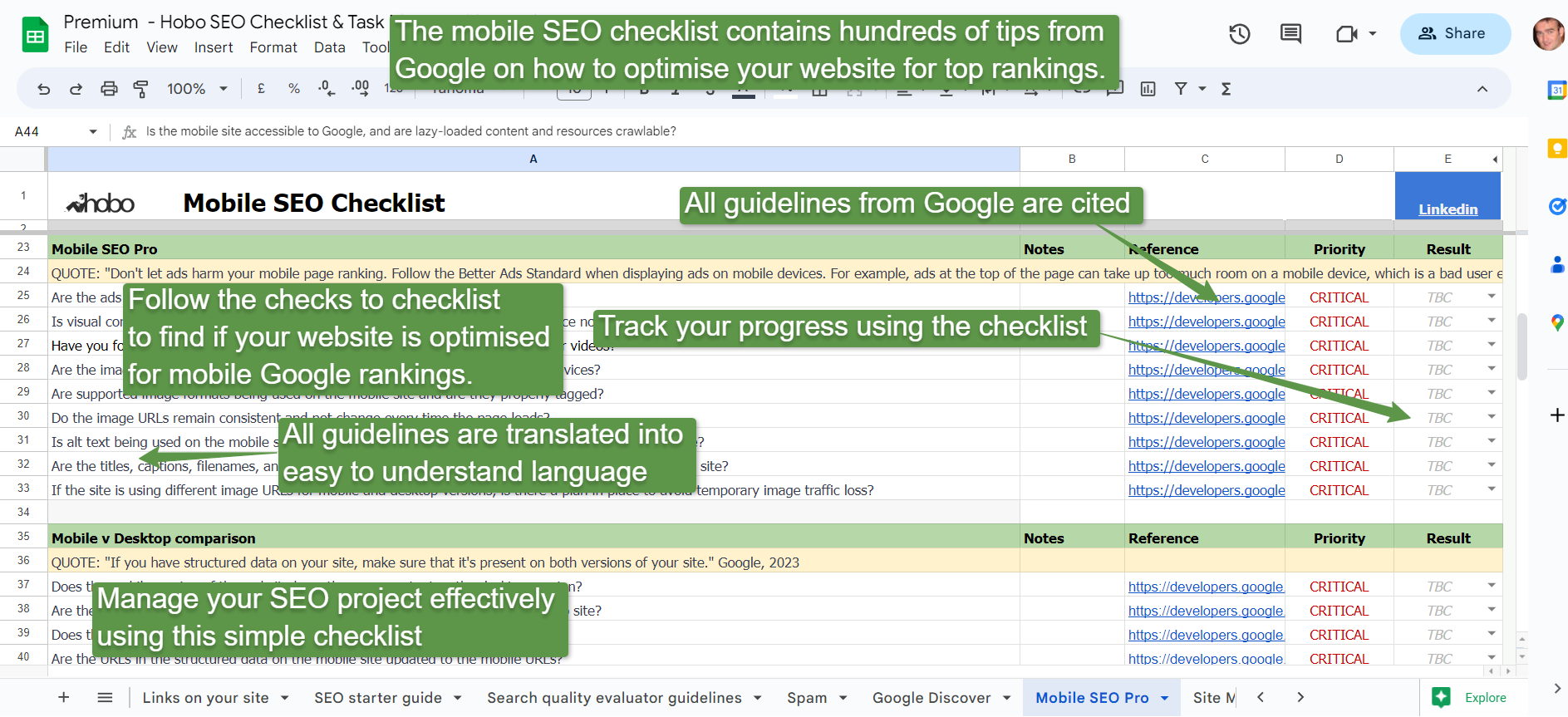 If you are a professional website developer in search of a comprehensive mobile SEO checklist, you are in the right place.
The Mobile SEO checklist is an SEO (search engine optimisation) checklist for in-house or outsourced website managers, designers, and web developers.
This step-by-step SEO checklist goes beyond the standard "optimise for mobile" and "create useful content".  It includes many recommendations from Google itself on how to SEO your mobile website.
This paid-for SEO checklist in Google sheets is designed to be all website managers need to edit a mobile website to align with Google's webmaster guidelines and so rank optimally in Google. Know that if you do not follow these guidelines, your mobile website is demoted in Google search results.
The mobile SEO checklist contains a:
Mobile SEO checklist
Technical SEO checklist
SEO starter guide checklist
Site quality checklist
Site content quality checklist
Sitewide on-page SEO checklist
Analytics checklist
Task manager system
The author has audited many mobile sites over 20 years as a practicing, professional SEO. Mobile SEO is the same wherever you are in the world (be your website situated in the UK, Europe, the US, Australia, or Canada, to name but a few, as Google's guidelines are global.
This checklist is available now to purchase as part of the Premium SEO checklist.
Mobile SEO FAQ
Why is mobile SEO important?
More than half of website traffic comes from mobile devices. Google's algorithm favours mobile-friendly websites in search results. Mobile optimisation can improve your user experience and lead to higher conversions.
How does mobile SEO differ from desktop SEO?
Your mobile site requires a different approach to content and design. Your mobile site needs to load quickly and be easy to navigate on smaller screens. Mobile-specific ranking factors, such as page speed and responsive design, are considered in mobile search results.
What are the benefits of mobile SEO?
Your mobile site can benefit from higher visibility in mobile search results. Increased traffic and engagement from mobile users. Improved user experience and lower bounce rates. Competitive advantage over websites that are not optimised for mobile.
What are some common mobile SEO mistakes to avoid?
How can you improve your mobile SEO?
Use responsive design to ensure your mobile site is optimised for all screen sizes. Optimise images and minimise file sizes to improve page load times. Implement structured data to enhance search visibility and user experience. Focus on user intent and create content that answers their questions and solves their problems.