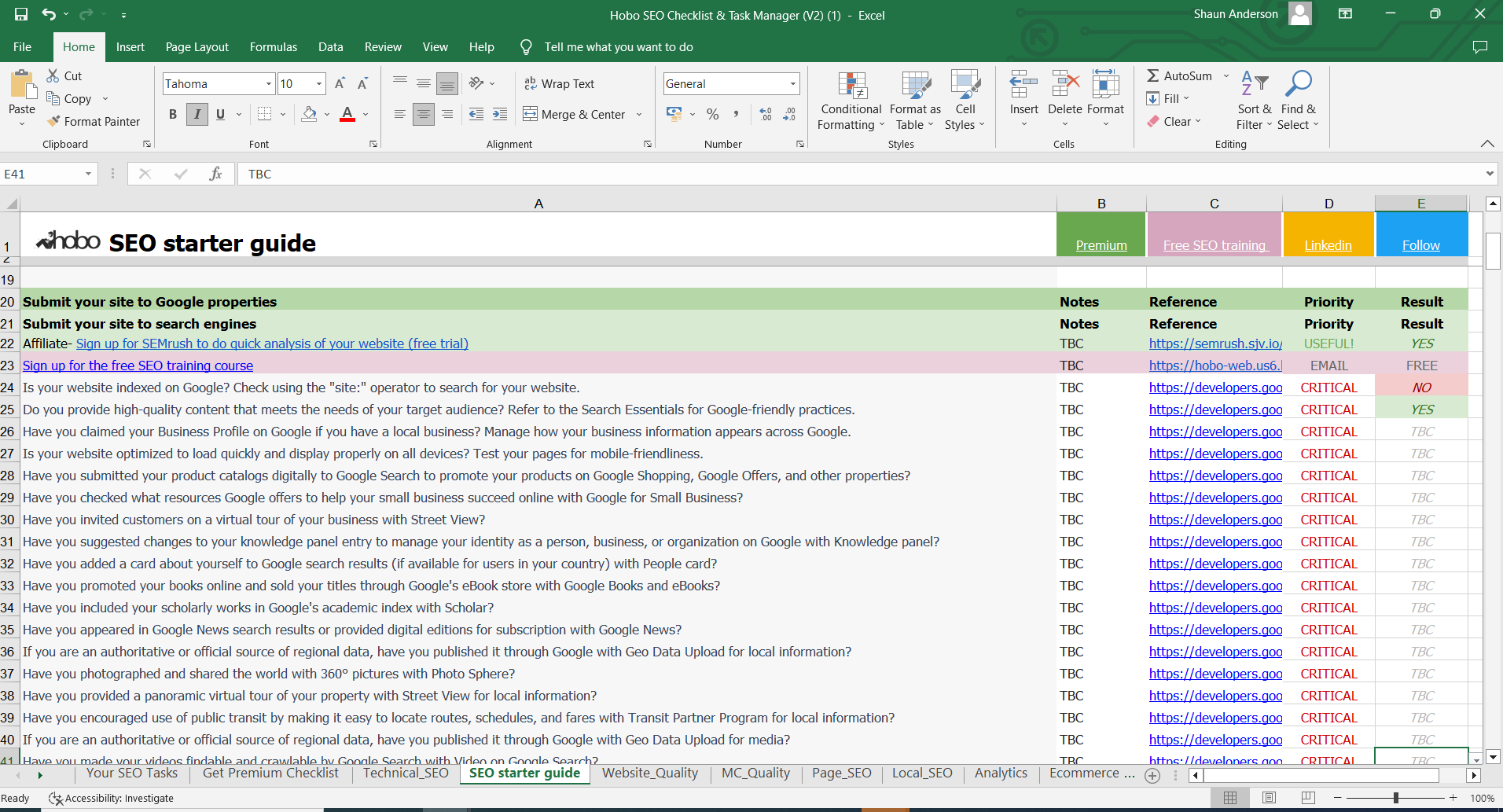 If you are a website owner or website development manager looking for a free SEO checklist in Excel, look no further. The SEO Checklist in Excel is an excel spreadsheet to help you manage your SEO (search engine optimisation) project from both a site-wide level and a page-level perspective.
Altogether, the tabs in the SEO Checklist in Excel map out an SEO project in a manner that leaves no critical element overlooked.
Check out the Premium version of the checklist in the following video:
You can use the SEO checklist in the Microsoft excel spreadsheet to manage your SEO project from start to finish.
The author has audited thousands of websites over 20 years as a practicing, professional SEO.
You can download the Microsoft Excel spreadsheet and get free SEO training using the spreadsheet when you subscribe to Hobo SEO Tips.
The SEO checklist in excel contains a:
Technical SEO audit checklist
SEO starter guide checklist
eCommerce audit SEO checklist
Site quality audit checklist
Site content quality checklist
Sitewide on-page SEO checklist
Keyword research checklist
Content quality checklist
You can also view the free SEO checklist in Google sheets.
Absolutely killer/comprehensive SEO audit template via Shaun Anderson (@Hobo_Web)

A paid version exists, but the free version is better than 99% out there. Love that it includes both website + content quality!

Probably the most complete you'll ever see: https://t.co/9J1pwfXk5c pic.twitter.com/mFNsS0STIH

— Cyrus – Zyppy SEO (@CyrusShepard) July 1, 2022