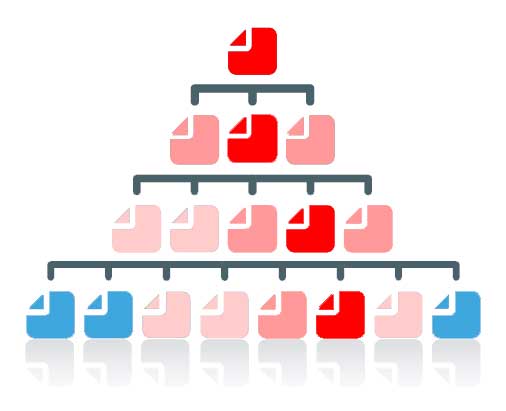 Internal Linking – Link To Important Pages In Your Site – Often
I've mentioned this before. Onsite, one of the most important things you can do, is link to important pages often. I used a 'links-are-lasers' analogy last year which I still use today.
Links Are Lasers
Linking To A Page Heats Up A Page
Pages Get Hot Or Cold Depending On Number & Quality Of The Links To It
Cold Pages Don't Rank For Sh*t
Hot Pages Rank!
In the diagram above, this is how I optimise sites. I focus on the main pages in the structure, the pages we need to rank at any one time (esp on a new site). I make sure I link to these pages more than any other – and it appears, by doing so, Google does see these as important pages on my site.
You can achieve this with secondary navigation arrays and links in content, but I would err on the safe side, and vary your anchor text as much as possible. And don't just link for linking sake.
Remember, links from other websites also heat up pages. Make sure you link to other relevant pages from these hot pages, to spread the heat throughout the site.
I'd go one step further and say link to your important pages from your home page.
Thinking About Your Website Structure
How I visualize seo (note I said visualise – this is not "how it works" as nobody knows "how it works") and note, this is how I ensure my sales pages get enough Google Pagerank 'heat' or 'Google-juice' or 'link equity' to get into the primary index of Google and then rank. Please bear in mind, a page only needs Page Rank to get into this index – that's all Google PR is good for.
SEO Gurus talk about PageRank, ToolBar Page Rank, Link Equity, Topical Relevance, Hub, Neighbourhood, Co-Citation, Link Flows, Link Juice, PR Leaks, Conduits….the list goes on. I have listened to many theories and always will – it's definitely one of the things I enjoy about search engine optimization.
I have a slightly different view on seo, one that seems to help me get the results I aim for. I say seems because in the end, nobody can really pinpoint exactly why a site enters the top spot for a very competitive term – I can always put it down to a cascade of decisions and choices, the right content and the right links.
I don't pretend to understand the mathematics – actually I ignore the mathematics for as long as I can!
SEO Theory – How I visualize it all in my head so my head doesn't burst
OK so everybody knows it's about the links. Trying to figure out why it is the links, and which links, can make me go a little mad. And yes, I know Google sees a link as a vote and all that in a big "democratic"world wide web of information.
Trying to understand the interlinking structure of any network or site and the back and fro of the actual measurements a search engine makes, could again, make you a little mad.
Thinking of it in terms of "Google-Juice" as I have for the past few years, can again get me a bit mixed up.
A Heating System
I forget about the links when I'm trying to look at the big picture and think of a heating system, one that's been calculated for me. I don't need to calculate anything – I just need to observe.
Links are like lasers. When you link to a page, you heat the page you are linking to. If your site was measured in heat, you could see the heat-map of your site pages, once all the links have been accounted for.
This is manageable. You control this by which pages you you choose to link to and from which pages you link from – it's a simple premise which seems to get me results.
Get past all the interlinking of links. Once you have created a search engine friendly navigation system for your website and Google has crawled and indexed, it's been calculated, and now you must have "hot" and "cold" pages for whatever Google is wanting a hot or cold page for (To Get Into The Main Index In The First Place! Trust? Authority? Relevance? Neighbourhood?).
Hot pages are created when you link to them. The more you link to them the hotter they get. The more links to a page from the others, the hotter that page. (This is where the analogy of PR is put aside, because it doesn't matter if you overheat a page in terms of PR. Many think Google PR is just a means to get a page into the main index, the whole point of PR is to spread it about as many pages as possible – a PR 5 is not going to rank above a PR1 on every occasion).
Typically, you're home page is hotter than the rest of the site, and indeed this is generally the hottest page on the site. In my example, I only have a couple of real sales pages – the rest is just introductory pages to hopefully my sales pages – these are generally a bit more targeted and generally geared to the theme of this site – seo. Any body interested in my services or looking to hire the company will definitely want to read these pages so i make sure I tell Google, for instance, these are important pages I'd actually like the visitor to be presented with.
In the model above, I wanted to ensure my sales pages were the hottest pages on the site, so made sure my site tells the search engine this. If I can't be bothered telling a search engine what's the most important pages on my site, can I expect Google, Yahoo or MSN to figure it out for themselves? Actually, Google wants you tell them what's the hottest pages on your site in Webmaster Tools these days.
Then I wanted to make sure I took the rest of the heat and use it to warm up as many of the other pages on my site as is possible before it left in a natural way via external links.
As of last month, I don't link out to other sites from the Hobo home page. I'm greedy with my heat. I want all my pages to be toasty before I pass on the rest. I now don't link out together sites from my category pages or my sales pages either. I think your hottest pages should really be for heating up your own site.
Sure you can share the heat. I do, and some of these links are quite "hot" relatively but now from pages I designate and not at the expense of the Hobo site. I could go one further and add a lot of links on my single pages to further dilute the heat "transfer" externally, and I might.
Sure, you want as many pages in the main index as possible. A new site however doesn't have a lot of heat to spread around, so ensure your sales pages are optimized properly and are the hottest pages in your structure, because odds are some pages will be marked "cold" and threw into the supplemental results.
Cooler pages can be drawn into the main index by increasing the heat of your site root by getting links from other websites – other hot spots.
You can heat up a cold page by linking to it from the home page.
I make sure my "hot pages" are as optimized as possible for the type of serps I'm chasing at any given time.
It's a little uncool to admit it but I am a SERPS chaser. I'd rather have ten people visit my site in one week because of some keyword I targeted in Google and have two people by my product than have 5,000 people hit my website because of something I wrote for a bit of fun 6 months ago to test out an idea for a site map (this page is currently getting "Stumbled" and has been all week).
We actually get a couple of hundred visitors a day to this site and a couple of leads per day. For a 4 man team trying to work out how to manage a company never mind a growing one, that's far too many leads, and the reason we don't have a sales team. We've never "asked" for work in our existence.
It's worth noting that every site, every neighbourhood is different. The above structure suits me, as we only sell a couple of products, and we have a good amount of heat to circulate. A shopping cart might want to drive all that heat down and spread it out to as many sales pages as possible possibly through a category > sub-category > products hierarchy. If you don't have a lot of heat to start off with though, you may find that a thankless task, for a while, so you may want to rethink this strategy and focus your internal links on products you want to promote quickly.
At the beginning of projects, I like to get a handle on which pages are or need to be hot, especially with new sites or sites without a lot of link-love. You can't control much but this you can do.
I like to structure my site so I don't need to "nofollow" a lot of internal links to target heat – but I have no problem using this method. I'm thinking of a page by page process – pages I am "nofollowing" will get some link at some point to heat it up a little.
Thinking like this when I am thinking about navigation helps me, I think, build a site for visitors, which is the ideal scenario. I want visitors to see my sales pages. Same with Google.
Once you've optimized a site, it's time to get those hot pages optimized for your main keywords and get some links from other sites.
Which sites? Hot sites, of course, or at least sites with some sort of heat signature. Thinking in this way makes me think neighbourhood (if you want heat in a particular neighbourhood you've usually got to join it by linking to it) and relevance and hub is just a natural phenomenon following this heat about, and the above diagram helps me visualise a neighbourhood of sites too.
If I could take a link today from a Hot! site / page or a very relevant page that looked cold and had little chance of getting hotter…. er I'd take the Hot link if the site was authoritative and in some way "trusted". Probably get more click through traffic too.
With this in mind, Hot sites could rank for anything if optimized to do so. This is what I see in many cases. Want to see a hot site with hot pages optimized to rank for a term – try Google. They are at the top, and you'll probably notice a couple of pages in there that don't seem very relevant at all too – hot sites all though as far as Google is concerned and until some manual or algorithmic relevance filter kicks in.
So there you have it. A bit of seo theory bunkum I sometimes use to visualise things.
Sensible & Descriptive Links To Relevant Pages
I silo any relevance or trust mainly though links in text content and secondary menu systems and between pages that are relevant in context to one another.
I don't worry about perfect silo'ing techniques any more, and don't worry about whether or not I should link to one category from another, as I think the 'boost' many proclaim is minimal on the size of sites I manage.
Sometimes I will ensure 10 pages link to 1 page in a theme, and not reciprocate this link. Other times, I will. it depends on the PR google juice I have to play with and again, if it feels right in the circumstance to do so, or the size of the site and how deep I am in the structure.
There's no set method I find works for every site, other than to link to related internal pages often and where appropriate – it's where I find some creativity.
Sensible Connections
I've been talking to someone recently about internal linking, pagerank, RSS & xml sitemaps – and how they all hang together –  and I thought I'd just share how I think about it – especially on sites with lesser domain authority.
Remember Google uses Pagerank, to determine "the importance of a page" so:
Pinging Google blogsearch (still my favourite way of getting pages into Google results fast ) and XML sitemaps may help Google discover your pages and include them in search results, but they still aren't the best way at all of helping Google determine which of your pages to KEEP or EMPHASISE or RANK or HELP OTHER PAGES TO RANK (ie the importance of a page), as time goes by. While XML sitemaps goes some way to address this with the:  attribute (The priority of this URL relative to other URLs on your site. Valid values range from 0.0 to 1.0. This value does not affect how your pages are compared to pages on other sites—it only lets the search engines know which pages you deem most important for the crawlers – www.sitemaps.org) – I certainly wouldn't ever just rely on xml like that….. the old ways work just as they always have – and often the old advice is still the best especially in SEO.
Keeping your pages in Google and getting them to rank is controlled by linking (Pagerank) – links from internal pages and from other sites to the page in question.
Every page need to be linked to other pages for Pagerank (and other ranking benefits) to flow to other pages – that is the traditional, and I think accepted theory, on the question of link equity.
Some sites can have short circuits – internal PR is prevented from filtering to other pages because Google cannot 'see' or 'crawl' that fancy menu system you're using on deep pages. SEE here how Google sees your site.
If you don't have a lot of links, have poorly optimised (ORIGINAL) content found on other websites, and if you are starving a page of internal link equity – you will probably always have ranking problems for that page.
The larger a site becomes, the more these problems become apparent, and you'll probably need to start siloing content via categories OR tags etc – how you interlink your pages on your site my be the first indication which pages are useful to Googlebot.
You can't emphasise everything, so ensure you emphasise the pages that are of most importance to you, by linking to them with descriptive text where relevant – but DO NOT OVER DO IT.
In short, rely on the 'newer' protocols for discovery purposes, and the old tried and trusted way of building a site to get it ranking properly over time.
Broken Links Are A Waste Of Link Power
The best piece of advice I ever read about creating a website / optimising a website was years ago:
make sure all your pages link to at least one other in your site
This advice is still sound today and the most important piece of advice out there in my opinion. Yes it's so simple it's stupid.
Check your pages for broken links. Seriously, broken links are a waste of link power and could hurt your site, drastically in some cases. Google is a link based search engine – if your links are broken and your site is chock full of 404s you might not be at the races.
Here's the second best piece of advice in my opinion seeing as we are just about talking about website architecture;
link to your important pages often internally, with varying anchor text in the navigation and in page text content
…. especially if you do not have a lot of Pagerank to begin with!
Check For Broken Links On your Site
From observations I've made, broken links could well be the difference between you ranking well or rankings taking a tumble. No matter what you think, from a usability and best practice point of view, a site with broken links is just well, unfriendly, and professional. I recommend Screaming Frog or Integrity for Mac if you want to check for broken links and dead links on your website.
Does Google Count Internal Keyword Rich Links To Your Home Page?
One time (at band camp) I manipulated first link priority to the home page of a site for the site's main keyword – that is, instead of using 'home' to link to my home page, I linked to the home page with "insert keyword"). Soon afterwords the site dropped in rankings for it's main term from a pretty stable no6 to about page 3 and I couldn't really work out exactly any other issue.
Of course, it's impossible to isolate if making this change was the reason for the drop, but lets just say after that I thought twice about doing this sort of seo 'trick' in future on established sites (even though some of my other sites seemed to rank no problem with this technique).
Confused as to the best practice?
So was I.
So I formulated a little experiment to see if anchor text links had any impact on an established home page (in as much a controlled manner as possible).
*****Setup – I EDITED THIS A BIT: Basically the search term (anchor text) I was looking for was "'keyword1 (not present on the target page) + 'keyword2 '" -(minus) 'keyword3 also not on target page but a common word that would accompany keyword1 '" – I did this to get rid of a lot of noise in the serps for more relevant pages to the original keyword phrase. Also this keyword (keyword1) appeared in anchor text  on only ONE internal link on a static page which had no other links to the home page).*****
Result:
Well look at the graph below.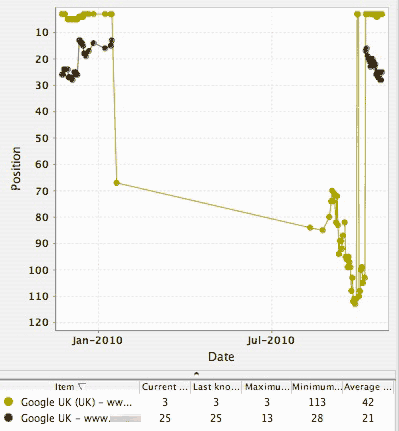 It did seem to have an impact.
However that massive drop for months is kind of worrying.
From Jan to July the site was nowhere for the phrase. Although it has just jumped 105 places back to no3 for the test term (which was a geographic location – not a made up word).
This change could be down to other reasons as I said – Google is always tweaking things. Perhaps this ranking drop would not have happened if the keyword was present on the target page.
It's very posible linking to your home page with keyword rich anchor text links (and that link being the ONLY link to the home page on that page) can have some positive impact in your rankings, but it's quite possible attempting this might damage your rankings too.
Trying to play with first link priority is for me, a bit too obvious and manipulative these days, so I don't really bother much, unless with a brand new site, or if it looks natural, and even then not often, but these kind of results make me think twice about everything I do in seo.
I kind of stay away from the more manipulative onsite seo stuff these days – and I suggest you do to.
I thought I'd share and let you decide on the potential risk or reward.
How Many Links Is Too Many In A Website Dropdown Navigation System?
I'm intending to take part in Google Webmaster Forum a bit more but I chipped in an answer the other day about how many links in a dropdown are best:
The question was:
Building a new site with over 5000 product pages. Trying to get visitors to a product page directly from the homepage. Would prefer to use a two-level drop-down on homepage containing 10 brands and 5K products, but I'm worried a huge source code will kick me in the pants.Also, I have no idea how search engines treat javascript links that can be read in HTML. Nervous about looking like a link farm.
I answered:
Hobo – I'd invest time in a solid structure – don't go for a java script menu it's too cumbersome for users. Sometimes google can read these sometimes it can't – it depends on how the menu is constructed. You also have to remember if google can read it you are going to have a big template core code (boilerplate) on each and every page vying alongside flimsy product information – making it harder for google to instantly calculate what the individual products page is supposed to rank for.

I would go for a much reduced simple sitewide navigation in the menu array,

Home page links to categories > Categories link to products > Products link to related products

when you go to category links the links relevant in that category appear in the menu. Don't have all that pop down in a dropdown – not good for users at all. Keep code and page load time down to a minimum…

 JohnMu (Google Employee) + 2 other people say this answers the question:
I thought seeing as somebody from Google agreed, it was worth posting on my own blog as I don't really touch on navigation systems in this way.
The most important thing for me when designing website navigation systems is:
Make it easy for the user to navigate
Make it easy for Google to get to your content and index your pages
Many will go on about what is the best way to create a site structure (which comes in the main from your sitewide navigation) – use categories etc.
In terms of navigation from a landing page (all your pages are potential landing pages) what do you think the benefits are of giving people 5000 navigation options. Surely if the page meets their requirements, all you need is two buttons. Home, and buy now! :)
in terms of site structure – to be honest – I do not think categories in a site structure (on anything but the largest site) helps your product pages OR BLOG PAGES rank BETTER (I mean, where is the evidence for that, really although every seo in the land tells you that? I have TESTED THIS OVER AND OVER AGAIN – note i don't have categories on this blog but all my pages rank very well – it's far more important JUST TO GET AS MANY OF YOUR SITE PAGES INDEXED AS POSSIBLE and RANKING HIGH IN GOOGLE OVER AS MUCH TIME AS POSSIBLE – forget about making your 1,000 products rank better via an internal navigation system by making them more relevant by passing through category or tag pages, just get them to rank with the keyword phrase you want to rank for in your navigation system). Be aware how Google might treat links with a first link priority.
Once you realise getting your product pages indexed is the key, don't go for a mega-menu just because you think this is a quick way to solve your indexing problem. Again, if you look at the Hobo site, I go for a minimal sitewide navigation system and prefer to use contextual links (links within my content) and links to related pages as a way Google can find content. Using this system I keep over 600 pages indexed in Google all with good pagerank.
The tree system I mentioned above is a good quick and easy system of getting a site like a e-commerce website indexed but never use a mega menu – you don't need to (why do you want to obscure your content either at any time with a drop down menu?). I've considered in the past too that obscured links in drop down tags (
or) could well be devalued by Google (it's an easy way to hide unimportant links). I've not had time to test that thoroughly though.
With a site structure, it's all about getting your content indexed. That's it. Depending on how much pagerank you have, you might need to ensure you are linking to your product pages you NEED to rank in Google OFTEN FROM MANY PAGES WITH PR to ensure these pages have enough Pagerank to GET INTO GOOGLE'S MAIN INDEX. Think about that. If you can't be bothered tell Google what your most important pages are on your site via your own internal navigation structure, why should Google bother ranking it at all or assigning it pagerank?
I test a lot with this site, but that's not to say it's perfect. I'm aware too, I have a decent amount of real PR to play with which many wont. I don't think there is a perfect system, just a sensible one.
For instance, I know I need to make my call to action button clearer, and i'm not satisfied with how I bring to attention the amount of information on this site. I have a few ideas (like my seo page for beginners) but unfortunately I'm too busy to implement at the moment.
PS – A basic HTML site map is an old friend.
Use CSS Drop-Down Navigation Arrays for SEO Friendly Menus
You can create a dynamic dropdown menus on your site that meet accessibility requirements and is seo friendly and then link your pages together in a Google friendly way.
Just be sure to employ a system that uses CSS and Javascript (instead of pure javascript & HTML tables) and unordered lists as a means of generating the fancy drop down navigation on your website.
Then, if javascript is disabled, or the style sheet is removed, the lists that make up your navigation array collapses gracefully into a list of simple links.
Just be sure and include that 'skip links' link if your lists are long or repeated page to page and appear above the content..
Remember, with Drop down menus:
Drop-down menus are generally fine but the JavaScript triggering them can cause some problems for users with screen readers and screen magnifiers.
A <noscript> alternative is necessary.
The options offered in a drop-down should be repeated as text links on the same page, so use unordered lists with CSS to develop your menu.
Interested in SEO? Check out our SEO Blog, or our DIY SEO Cheat Sheet!
Use a "Skip Navigation" link on large mega menu systems
Add a skip navigation link that brings the reader straight down to the main content of the page if you have a large menu system on every page .This allows users to skip the navigation array and get immediately to the page content. You won't want this on your visually rich page, so some simple CSS will sort this out. You can hide it from the visual browsers, but it will display perfectly in text and some speech browsers.
I don't like mega menu systems for websites, at all. Too many options promotes indecision.
The 3 Click Rule of Website Design
Many have written about the Three Click Rule. For instance, Jeffrey Zeldman, the influential web designer, wrote about the three click Rule in his popular book, Taking Your Talent to the Web. He writes that the three click Rule is "based on the way people use the Web" and "the rule can help you create sites with intuitive, logical hierarchical structures".
On the surface, the Three Click Rule makes sense. If users can't find what they're looking for within three clicks, they're likely to get frustrated and leave the site.
However, there have been studies into the actual usefulness of the 3 click rule by useability experts, generating real data, that basically debunks the rule as a gospel truth. That is, if a task takes more than 3 clicks to complete, a visitor will not manage to complete the task successfully.
The 3 click rule is the oldest pillar of accessible, usable website design, right there beside KISS.
The 3 click rule, at the very least, ensures you are always thinking about the website navigation system, but apply it in the following way:
"Don't put important information on your site that is more than 3 clicks away from an entrance page"
This way you'll ensure visitors see the important content on your website before they leave.
The Benefits of A Consistent Website Navigation & Page Layout
A key element of accessible website development is a clean, consistent navigation system coupled with a recognised, usable layout.
Don't try and re-invent the wheel here. A clean, consistent navigation system and page layout allows users to instantly find important information and allows them to quickly find comfort in their new surroundings especially if the visitor is completely new to your website.
Visitors don't always land on your home page – every page on your website is a potential landing page. Ensure when a visitor lands on any page, they are presented with simple options to go to the pages you want them to go to. Simple, clear calls to action that encourage a user to visit specific pages. Remember too, that just because you have a lot of pages on your site, that does not mean you need a mega-menu. You do not need to give visitors the option to go to every page from their entry point. You do not need a massive drop down menu either. Spend the time and invest in a simple site navigation menu and a solid site structure.
A traditional layout (2 or 3 columns, with a header and a footer) is excellent for accessible website design, especially for information sites.
Remember to use CSS for all elements of style, including layout and navigation.
UK Government recommendations:
Presentation, content and navigation should be consistent throughout the website
Guidelines for UK Government websites
Illustrated handbook for Web management teams