A Definition Of SEO
Hard to define as it's a skill-set that relies on a wide ranging set of sub skills, the art of seo, at its heart, is an understanding of how people use search engines.
What is a SEO?
That's the just the person doing it.
SEO is an understanding of how search engines like Google generate their natural search engine results pages (serps) to satisfy users':
NAVIGATIONAL
INFORMATIONAL (the VAST majority of activity) and
TRANSACTIONAL
…keyword queries.
It's an understanding of the short term and long term risks involved, and an understanding of the type of content and sites Google (especially) WANTS to return in it's natural serps.
There are a lot of opposing definitions of website SEO (spelled Search engine optimisation in the UK, or search engine optimization in the US) and a lot of argument over whether it's a science, an art or a scam, but that aside, for me, in 2015, it's STILL about getting free traffic from Google, the most popular search engine in the world.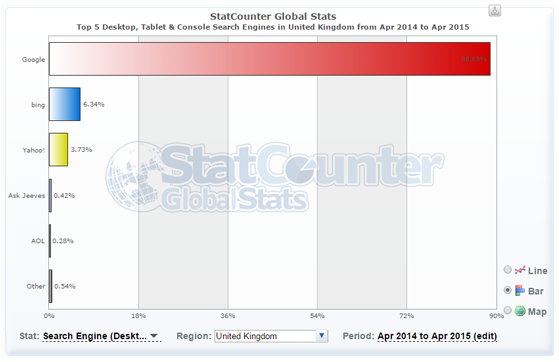 Search engine optimisation is the art of getting a website to work better with search engines like Google (and Bing & Yahoo – but mainly Google), and to look for achievable, profitable, ranking opportunities through keyword research and other opportunites.
It is a quest for increased visibility in search engines via relevant copy, quality links, domain trust, social popularity and search engine connectivity. Today it's about delivering on the user experience signals Google will reward.
There are rules to be followed or ignored, risks to be taken, gains to be made, and battles to be won or lost.
Google themselves called themselves 'kingmakers', and that's no lie. Ranking high in Google is VERY VALUABLE – it's effectively 'free advertising' on the best billboard in the world.
Traffic from Google natural listings is STILL the most valuable traffic to a website in the world, and it can make or break an online business.
Google own the VAST majority of the UK search traffic (with Bing and Yahoo amongst the others), and there's an always-increasing amount of customers looking online to buy your wares.
The state of play STILL is that you can generate your own highly targeted leads, for FREE, just by improving your website and optimising your content to be as relevant as possible for a customer looking for your company, product or service.
As you can imagine, there's a LOT of competition now for that free traffic – even from Google (!) – and that's where search engine optimisation comes in.
S.E.O. (I use the term in it's broadest setting) can be successfully practiced in a bedroom or a workplace, but it involves mastering many skills, not limited to but including
website design
accessibility
usability
user experience
website development
php, html, css etc
server management
domain management
copywriting
spreadsheets
back link analysis
keyword research
social media promotion
It takes a lot, in 2015, to rank on merit a page in Google in competitive niches, and the stick Google is hitting every webmaster with (at the moment, and for the foreseeable future) is the 'QUALITY USER EXPERIENCE' stick.
The 'quality' stick, for short.
If you expect to rank in Google in 2015, you'd better have a quality offering, not based entirely on manipulation, or old school tactics. Is a visit to your site a good user experience? If not – beware MANUAL QUALITY RATERS and BEWARE the GOOGLE PANDA algorithm which is looking for signs of poor user experience and low quality content.
Google raising the 'quality bar' ensures a higher level of quality in online marketing in general (above the very low quality we've seen over the last years).
Success online involves HEAVY INVESTMENT in on page content, website architecture, usability, conversion to optimisation balance, and promotion.
If you don't take that route, you'll find yourself chased down by Google's algorithms at some point in the coming year.
This 'what is seo' guide (and this entire website) is not about churn and burn type of Google seo (called webspam to Google). For that – you'll need to go elsewhere.
What Is A Successful Strategy?
Get relevant. Get trusted. It's is no longer just about manipulation. It's about adding quality. It's about pages meeting a PURPOSE that deliver USER SATISFACTION.
If you are serious about getting more free traffic from search engines, get ready to invest time and effort into your website and online marketing.
Google wants to rank QUALITY documents in its results, and force those who want to rank high to invest in great content that attracts editorial links from other reputable websites.
If your willing to add a lot of great content to your website, and create buzz about your company, Google will rank you high. If you try to manipulate Google, it will penalise you for a period of time, and often until you fix the offending issue – which we know can LAST YEARS.
Google search engine optimisation is about KEYWORDS and LINKS. It's about RELEVANCE and REPUTATION. It is about VISITOR SATISFACTION – a good user experience. Side with the USER – and you find yourself siding with Google, in rhetoric at least.
Ranking in Google is down to a web page being relevant enough for a query, and on a website that is 'trusted' enough to rank for it. Success, for me in 2015 at any rate, is about ranking for popular keywords for the long term, on merit, in amongst a variety of competitors, some of whom will be using web spam techniques, that Google will always be messing with, and which will often get in your way.
You can play by 'white hat' rules laid down by Google, or you can choose to ignore those and go 'black hat' – a 'web spammer' – and reap the rewards and risks that go with both. MOST ranking tactics and techniques still work, for some time, on some level, depending on who's doing them, and how it's deployed.
Backlinks in general, for instance,  is STILL weighed FAR too positively by Google. That's why blackhats do it – and they have the business model to do it. It's the easiest way to rank a site, still today. A blackhat link builder who spends all his times dealing with links will not know the very rewarding nuances of Google SEO because links (that pass real pr and reputation) trump every other signal – for a while.
Whichever route you take, know that if Google catches you trying to "modify your rank", then they will class you a spammer, and your site may be penalised (you wont rank for important keywords) depending on the level (and length, possibly) of manipulation Google is confident you've been involved in.
Google does not want you to try and modify your rank. They would prefer you paid PPC to do that. The problem for Google is – free traffic from organic listings is valuable. REALLY valuable. And FREE, remember – and you should remember that, as I think that is Google's main business aim – to increase the cost of organic optimisation and reduce the confidence and roi from it.
In 2015, you REALLY need to be aware that what works to improve your rank for the short term can also get you penalised (faster, and a lot more noticeably) for a long time.
In particular, Google is currently waging war on unnatural links and manipulative tactics if it detects them. If you are thinking of competing with webspam using webspam techniques, don't do it with your main site, would be a sensible move.
If you want to practice organic seo for a website you don't want to 'burn and churn', check out my online search engine optimisation tutorial for beginners. I have also listed my favourite tools here.
Fundamentals
The fundamentals of successful optimisation while refined have not changed much over the years – although Google does seem a LOT better than it was at rewarding pages with some reputation signals and satisfying content / usability.
You can be creative, especially in terms of optimizing a website structure,  keyword research and placement, and earning links, but in 2015, I recommend focusing on investing time and effort in making your site more user friendly, rich in informational content, free from irrelevant pages, sensibly managed if dealing with user generated content and acquiring only high quality links as part of any link building campaign.
Google isn't lying about that – despite what some claim. If they were I would be a black hat full time. So would everybody else trying to rank in Google.
The majority of small to medium businesses do not need advanced seo strategies because their direct competition generally has not employed these tactics either.
Most strategies are pretty simple in construct, so beware any sales people who can't clearly explain to you how they intend to improve the rankings your site.
I took a medium sized business to the top of Google recently for very competitive terms doing nothing but ensuring page titles where optimised, the home page text was re-written, one or two organic links from trusted sites.
This site was a couple of years old, a clean record in Google, and a couple of organic links already from trusted sites.
This domain had the authority and trust to rank for some valuable terms, and all we had to do was to make a few changes on site, improve the depth and focus of website content, monitor keyword performance and tweak.
There was a little duplicate content needing sorting out and a bit of canonicalization to resolve, but none of the measures I implemented I'd call advanced.
A lot of businesses can get more converting visitors from Google simply by following basic principles and best practices:
always making sure that every page in the site links out to at least one other page in the site
link to your important pages often
link not only from your navigation, but from keyword rich text links in text content – keep this natural and for visitors
try to keep each page element and content unique as possible
build a site for visitors to get visitors and you just might convert some to actual sales too
create keyword considered content on the site people will link to
watch which sites you link to and from what pages, but do link out!
go and find some places on relatively trusted sites to try and get some anchor text rich inbound links
monitor trends, check stats
bend a rule or two without breaking them and you'll probably be ok
…. once this is complete it's time to … add more, and better content to your site and tell more people about it, if you want more Google love. OK, so you might have to implement the odd 301, but again, it's hardly advanced.
I've seen simple seo marketing techniques working for years. You are better off doing simple stuff better and faster than worrying about some of the more 'advanced' techniques you read on some blogs I think – it's more productive, cost effective for businesses and safer, for most.
Beware Pseudoscience 
Pseudoscience is a claim, belief, or practice posing as science, but which does not constitute or adhere to an appropriate scientific methodology…
Beware sales people trying to bamboozle you with science.
You see I have always thought that optimisation was about:
looking at Google rankings all night long,
keyword research
observations about ranking performance of your own pages and that of others (though not in a controlled environment)
putting relevant, co-ocurring words you want to rank for on pages
putting words in links to pages you want to rank for
understanding what you put in your title, that's what you are going to rank best for
getting links from other websites pointing to yours
getting real quality links that will last from sites that are pretty trustworthy
publishing lots and lots of content (did I say lots? I meant tons)
focusing on the long tail of search!!!
understanding it will take time to beat all this competition
I always expected to get a site demoted by:
getting too many links with the same anchor text pointing to a page
keyword stuffing a page
trying to manipulate google too much on a site
creating a "frustrating user experience"
chasing the algorithm too much
getting links I shouldn't have
buying links
Not that any of the above is automatically penalised all the time.
I was always of the mind I don't need to understand the maths or science of Google, that much, to get a view on the idea behind the result a Google engineer might want to see, and especially not when nobody else is competing on that level.
The biggest challenge these days are to get really trusted sites (or online entities/brands) to link to you, but the rewards are worth it. To do it, you probably should be investing in some sort of marketable content, or compelling benefits for the linking party (that's not just paying for links somebody else can pay more for). Buying links to improve rankings WORKS but it is probably THE most hated link building technique as far as the Google Webspam team is concerned.
I was very curious about about the science of optimisation I studied what I could but it left me a little cold. I learned building links, creating lots of decent content and learning how to monitise that content better (whilst not breaking any major TOS of Google) would have been a more worthwhile use of my time. Getting better and faster at doing all that would be nice too.
There's many problems with blogs,too, including mine. Misinformation is an obvious one. Rarely are your results conclusive or observations 100% accurate. Even if you think a theory holds water on some level. I try to update old posts with new information if I think the page is only valuable with accurate data.
Just remember everything you read about organic search engine optimisation anywhere is THEORY and just like in every other sphere of knowledge, 'facts' can change with a greater understanding over time or with a different perspective.
There is No Magic Bullet, No Secret Sauce.
There is no magic bullet in white hat seo, at least, no secret formulas or strategies to achieve number 1 ranking in Google, Yahoo and Bing. There will always be those who would believe in such a thing, but it's probably nothing more than wishful thinking. There is no such thing as a magic bullet, so don't believe a company who tells you different. Good positions in the search engines take hard work whether it be creating a website Google likes or promoting a finished site nobody knows about to search engines and social media networks in a proper manner.
There are a few lest talked about tricks and tactics that are deployed by some better than others to combat Google Panda, for instance, but there are no big secrets (no "white hat" secrets anyway). There is clever strategy, though, and creative solutions to be found to exploit opportunities uncovered by researching the niche.
If anybody had the magic bullet, they'd have used it by now, and Google would have been on them faster than a hobo on a hot sandwich (I can say that can't I). As soon as Google sees a strategy that gets results… it usually becomes 'out with the guidelines' and something you can be penalised for – so beware jumping on the latest fad.
Here's a presentation the Google team actually gave on what search engine optimisation is:
The biggest advantage any one provider has over another is experience. A culmination of knowledge is what is needed. The knowledge of what doesn't work and what will actually hurt your site is often more valuable than knowing what will give you a short lived boost. Getting to the top of Google is a relatively simple process. One that is constantly in change. SEO is more a collection of skills, methods and techniques. It is more a way of doing things, than a one-size-fits all magic trick.
After over a decade practicing and deploying real campaigns, I'm still trying to get it down to it's simplest , most cost effective processes. I think it's about doing simple stuff right. From my experience, this realised time and time again. Good text, simple navigation structure, quality links. To be relevant and reputable takes time, effort and luck, just like anything else in the real world, and that is the way Google want it.
If a company is promising you guaranteed rankings, and has a magic bullet strategy, watch out. I'd check it didn't contravene Google's guidelines.
What Are SEO Services?
Google says:
SEO is an acronym for "search engine optimization" or "search engine optimizer." Deciding to hire an SEO is a big decision that can potentially improve your site and save time, but you can also risk damage to your site and reputation. Make sure to research the potential advantages as well as the damage that an irresponsible SEO can do to your site. Many SEOs and other agencies and consultants provide useful services for website owners, including: 1. Review of your site content or structure 2. Technical advice on website development: for example, hosting, redirects, error pages, use of JavaScript. 3. Content development. 4. Management of online business development campaigns. 5. Keyword research. 6. SEO training.
That pretty much sums what we do as a seo services company.
Typical Considerations
An optimiser wants to make your site as accessible, as content rich and as relevant and reputable as possible to satisfy Google. It is really all about building QUALITY into your online marketing in 2015 – this is what Google wants to reward. Google is very aggressive when it comes to discovering manipulation, and they are very good at it.
If you want to learn more about this exciting marketing opportunity, you can check out our online tutorial , or our free PDF EBook, or have a look at one of our primers to some of the areas I am asked most about, including search engine submission, Pagerank, title tags, meta tags, header tags, keyword use, keyword density, internal links, redirecting non-WWW to WWW, ALT tags, search engine friendly urls, keywords in bold or italic, valid HTML & CSS, 301 redirects, duplicate content and broken links. You should also be aware about Google policies on unnatural links pointing to your site. I go on a bit as you can see.
You can also quickly test your site using our free seo tool.
Choosing An Agency
Do Due Diligence.
Find out how long they have been operating, look on Google for mentions of their business or staff, look for Google Authorship validation, look for social proof, have a look at their Twitter profile or Facebook pages. Find out if the seo company you are investigating is a real company, or nothing more than a sales vehicle who will outsource your work, sometimes at the expense of any quality control, which is very risky in 2015.
Finding an seo expert on Google, even in organic results, is not without it's problems, as many agencies are using blackhat techniques to rank their site for a few months until Google finds them breaking the rules and removes them (by which time, you have paid for a campaign which is not suitable for your site, and might very probably get you penalised, and the seo agency has a new website.
You might not want a company who ranks top in Google ONLY OR MOSTLY because it has links from client sites (even though they might, at last, be blogging now).  A company who ranks just because of links from client sites) won't be able to bring those guns to bear for your site… ever.
I would stay stay well clear of Google News, though, and stay clear of the 'award winning' companies you discover publishing very low quality press releases.
A lot of web design and development companies offer search engine marketing services, and while a lot of good web designers can handle the technical aspects of optimising a website, the real art of improving rankings in Google (without PR) is looking for opportunity using keyword research and sifting through competitor backlink analysis – if your web design company is doing website optimisation for you, ensure they are looking in these critical areas. A good web design company can build a good, search engine friendly website, but that is only the very start of marketing your business online, as you'll understand.
Avoid Pitfalls
I would avoid a company who cold calls you without a good reason (do ethical companies cold call you these days?) We've never asked anybody ever for work and good online marketers don't need to employ such tactics. The only time this is not the case, Id wager, if it's a freelancer, or new business venture. I'd cut those guys some slack, but I still think a good online marketer uses the web to generate enough leads without resorting to cold calling. I would BEWARE unsolicited emails offering  services as most are little better than confidence trickster spam. Even Google says this is what to do. There's little satisfaction in any guarantees in this game.
If I couldn't find the agency at all on Google, or their site was very thin in content and passion, I'd question the passion or expertise they will bring to your site. That's a personal one for me, as I am passionate about this. I'd question if they know enough about generating decent links to compete in the wild wild west of the search-related keyword terms vertical. If they are nowhere on there, they haven't taken the opportunity to prove their metal in an obvious competitive arena. The Hobo site is a test bed – I experiment a lot on it, and without that experimentation, I just wouldn't know how to optimise a site on very granular levels, or build an audience for myself.
Be careful making decisions based on advice you've seen in forums, as a lot of this may be out of date. Remember some of the people who shout loudest in forums are those looking for business. I'd be wary of any one who claimed to be better than anybody else, or privately criticised another company because frankly, most companies don't know the workings of any other company. It's a sign of desperation for me. So is publicly outing a competitors strategy, just for the out. That comes with experience though i think. I'd be careful going on reviews on one or two sites, too. Dig down past those excellent reviews and nearly all the time you'll find exactly why they needed those good reviews added.
Pay on Results
I would avoid pay-per-performance campaigns and low quality link building packages. A search engine optimizer should be able to give you some form of real testimonials, if your unsure, and you should make contact with these people. It is easy to rank a site in Google, but hard to keep it there if it was achieved with low quality techniques. You dont want to rank high in Google for a few months, and then disappear with a penalty, long after you have paid for cheap pay on results services.
You can always choose to find companies in sponsored ads. I always thought a search engine optimiser should be able to compete in natural, organic listings, to prove at least a passion for their work – which is why we do, and how you found this page (probably).
It is truly search engine marketing these days and there are lots of ways to get into Google results and lots of ways to improve traffic levels. It's not just about getting better positions on narrow terms, though sometimes it is, depending on what you're getting paid to do.
I'd spend time trying to find those in the industry with a passion for the art, and of course, to correctly identify those, you might even need to be a geek in it. Even then, those who are social in the industry don't necessarily make the best seo (but who you know in the industry can get you the best links and advice – just as in the real world).
If you are looking to hire a company or individual, educate yourself and make sure you have reasonable expectations about what to expect, and especially, how much risk it takes to get where you want to go.
How long does it take to see results?
The truth is, you need to expect some strategies to take 6 months to see the benefit. Google WANTS these efforts to take time as they want fast Google ranking to be a feature of ADWORDS.
Search engine optimisation is not a quick process, and a successful campaign should be judged on months if not years. Beware providers offering fast rankings and money back guarantees or guaranteed rankings. Most successful, fast ranking website optimisation techniques end up finding their way into Google Webmaster Guidelines – so be wary.
It takes time to build quality, and it's this quality that Google rewards. It takes time to generate the data needed to begin to formulate a campaign, and time to deploy that campaign. Progress also depends on many factors. How old is your site compared to the top 10 sites? How many back-links do you have compared to them? How is their quality of back-links compared to yours? What the history of people linking to you (what words have people been using to link to your site?) How good of a resource is your site? Can your site attract natural back-links (e.g. you have good content) or are you 100% relying on your agency for back-links (which is very risky in 2015)? How much unique content do you have? Do you have to pay everyone to link to you (which is risky), or do you have a "natural" reason why people might link to you?
Google wants to return quality pages in it's organic listings, and it takes time to build this quality and for that quality to be recognised. It takes time too to balance your content, generate quality backlinks and manage your disavowed links. Google knows how valuable organic traffic is – and they want webmasters investing a LOT of effort in ranking pages. The higher the cost of SEO, the better looking Adwords becomes, but Adwords will only get more expensive. At some point, if you want to compete online, your going to HAVE to build a quality website, with a unique offering to satisfy returning visitors – the sooner you start, the sooner you'll start to see results. If you start NOW, and are determined to build an online brand, a website rich in content with a satisfying user experience  – Google will reward you in organic listings.
ROI

Web optimisation, is a marketing channel just like any other and there are no guarantees of success in any, for what should be obvious reasons. There are no guarantees in Google Adwords either, except that costs to compete will go up, of course. That's why it is so attractive – but like all marketing – it is still a gamble.
At the moment, I don't know you, your business, your website, it's resources, your competition or your product. Even with all that knowledge, calculating ROI is extremely difficult because ultimately Google decides on who ranks where in it's it's results – sometimes that's ranking better sites, and sometimes (often) it is ranking sites breaking the rules above yours.
A reputable company will make your website better and you'll get more visitors to your site and with that you should get more leads via your site. Nothing is absolute in search. There are no guarantees – despite claims from some companies. What you make from this investment is dependant on many things, not least, how suited your website is to actually convert into the sales, the extra visitors you get.
Every site is different.
Big Brand campaigns are far, far different from small business seo campaigns who don't have any links to begin with, to give you but one example. It's certainly easier, if the brand in question has a lot of domain authority just waiting to be shared – but of course that's a generalisation as big brands have big brand competition too. It depends entirely on the quality of the site in question and the level and quality of the competition, but smaller businesses should probably look to own their niche, even if limited to their location, at first. Local SEO is always a good place to start.
How much does it all cost?
Costs are based on budget or billable hours spent doing something useful, not £100 per month auto submission programs, that will only get you penalised in the future. The more budget you have, the more hours you will get, the better and faster results you can see. A first phase strategy can be conceived in a few hours but could need 100 hours to deploy it.
If your serious about wanting to rank high in Google using techniques not frowned on by Google, feel free to contact us and we'll get right back to you with a proposal, or alternatively, you can purchase a roadmap for success for your site today.
Good Luck!