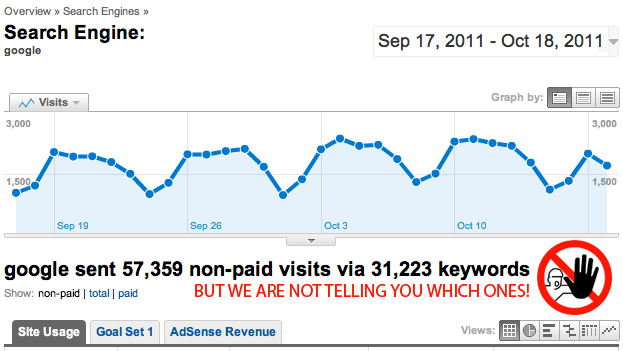 Hmmm…. this isn't good.
Google will now begin encrypting searches that people do by default, if they are logged into Google.com already through a secure connection. The change to SSL search also means that sites people visit after clicking on results at Google will no longer receive "referrer" data that reveals what those people searched for, except in the case of ads.
Google has finally decided to stop telling us which keywords are sending traffic to our sites from the search engine. That's right – there could well be a time in the near future where you can't visit Google Analytics to see which keyword sent you the most visits to a page (from Google anyway). Apparently – it is to improve 'privacy'……
Google Analytics will instead display – keyword "not provided".
In Google's new system, referrer data will be blocked. This means site owners will begin to lose valuable data that they depend on, to understand how their sites are found through Google. They'll still be able to tell that someone came from a Google search. They won't, however, know what that search was. SearchEngineLand
Don't panic quite yet. At the moment – only Google.com is affected – and it's been reported that this first roll out is for users signed into Google, and at the beginning, this will only affect a small % of search queries - but it is may well roll out to other regions, like the UK, in the near future.
This is what I call hypocrisy at work. Google cares about your privacy, unless they make money on you, then they don't. The fact is that due to this change, AdWords gets favored over organic results. Once again, Google gets to claim that it cares about your privacy and pulls a major public "stunt". The issue is, they don't care about your privacy enough to not give that data to their advertisers. SEOBook
… apparently ADVERTISERS will still get the data through Google Adwords. Hmmm…. so the 'privacy' thing is utter bollocks, then. If we pay money we get the data.
You can still get some of this data if you sign up for Google Webmaster Tools which, lets face it, (prepare for a wildly speculative comment) is probably used against you when handing outdoorway page penalties and the like (E.G when you have multiple sites double-dipping organic listings).
Cutts stressed that Google Webmaster Central shows the top 1,000 queries that a site appeared for at Google — as well as was selected for — over a 30 day period, and that you can even pick any particular day over that period for downloading.
But it still shakes things up for SEO if this does become the norm. I have been getting into conversion optimisation of late too….. I wonder how this change – if rolled out – will shake up this, perfectly legitimate, area of web marketing?
It's not the end of seo by a long shot, but IT'S A GOOD TIME TO BE AN EXPERIENCED SEO, I will say that.