What Are Google Sitelinks?
When Google knows a fair bit about the history of a website, it will display what are called  sitelinks under the domain of the website in question. This is normally triggered when Google is confident this is the site you are looking for, based on the search terms you used.
At one time in the past you could activate for these for some generic terms based on building links to the domain (or if the site had a lot of domain authority), but in 2015, site links are usually reserved for navigational queries with a heavy brand bias, a brand name or a company name, for instance, or the website address.
I've tracked the evolution of Google sitelinks in organic listings over the years, and they are seemly picked based on a number of factors, a few of which I have observed.
How To Get Google Sitelinks?
Pages that appear in the blue sitelinks are often popular pages on your site, in terms of internal or external links, or even recent posts that may have been published on your blog. Google likes to seem to mix this up a lot, perhaps to offer some variety, and probably to obfuscate results to minimise or discourage manipulation. Sometimes it returns pages that leave me scratching my head as to why Google selected a particular page appears.
If you don't HAVE site links, have a bit of patience and focus on other areas of your web marketing, like adding more content, get some PR or social activity focussed on the site. Google WILL give you sitelinks on some terms, ONCE it's convinced your site is the destination for most people typing that term in. That could be a week or months, but the more popular the site is, the more lily Google will catch up fast.
Sitelinks are not something can be switched on or off, although you can control to some degree which pages are presented as sitelinks. You can do that in Google Webmaster Tools.
Sitelinks are not something to worry about.
Check out my how to seo guide if you are just getting started, or my page on link building strategy, or on unnatural links – much better places to start learning about Google seo.
Google Mega Sitelinks
If you are lucky – perhaps you'll get new mega site links, like the ones keen Webmasterworld visitors recently spotted…… mega site links is a pretty decent name for them – it's what I immediately thought. Google is at least testing these new site-links in some countries, presumably to ensure you hit the right site when you perform navigational queries….
and that's as opposed to:

I'd imagine this sort of mega site links could really help you out if a business has a crap online reputation in which case it could push a lot of negative media below the fold….. then again, you'll need to have quite a lot of domain authority to get handed these I would imagine.
From a website owner it's a great thing – but for a Google user?
I'd imagine if a company has a terrible press –  as a user it is useful to see that bad pr on the first page of Google as well…. I wonder if this one will stick.
Update 1 – Mega Sitelinks For Everybody?
Aug 12, 2011
Mega sitelinks have been spotted in Google searches by web masters for some navigational queries. Google started testing these a few days ago – and I see it rolling out to other sites as of today – although it's clear it hasn't rolled out everywhere.
These enhanced search listings might be here to stay……
Did you get Mega Sitelinks?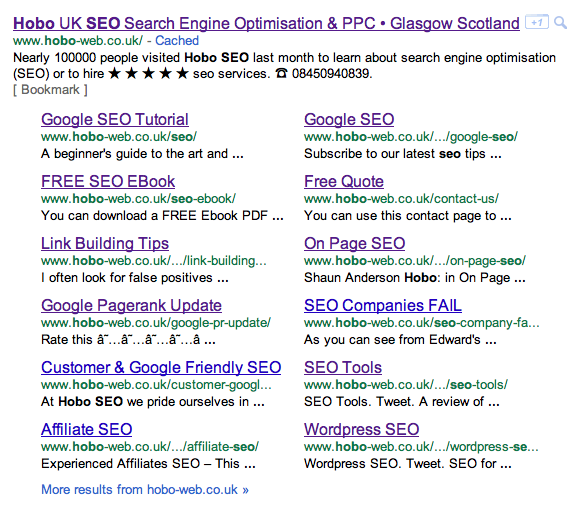 UPDATE 2 – How Fast Do Google Sitelinks Update? INSTANTLY – If You Are Lucky!
Oct 3, 2011
Check this out: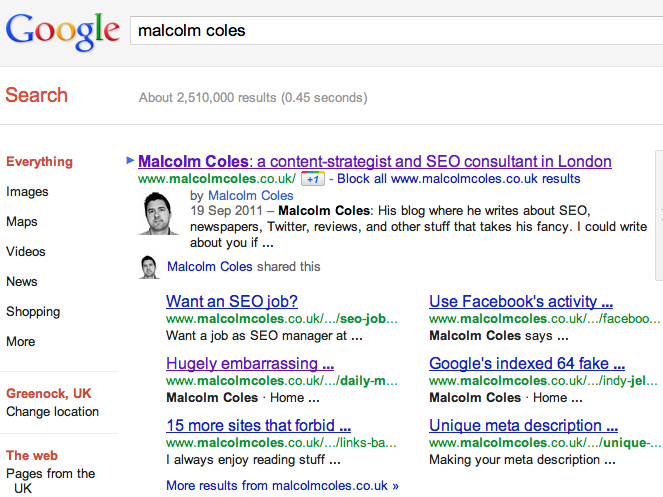 Yup – That's Google updating my friend's Malcolm's sitelinks nearly INSTANTLY with a story he was lucky enough to publish a few moments (p*&^%!!) before me about the Daily Mail's Fake Amanda Knox Story…. which of course they then deleted. :D
Want Better Google sitelinks? Well…. break some news and get popular. :)
PS – When I say *lucky* I mean the Google sitelinks – not Malcolm beating me to the scoop lol. That was a job well done. Next time I think I will just create a fake story beforehand – just in case :D