UPDATE – Google Authorship is officially….. DEAD as we know it.

In a (totally not surprising) move, Google is dumping the authorship photo from organic desktop and mobile listings and now will not be showing profile pictures as part of search engine snippets. UPDATE – Google Authorship pictures were completely removed from the search results in the UK at 12:00 AM Saturday 28 June.
The cynical amongst us might think that having big eye-catching photos in what's meant to be dull, drab ORGANIC search results was never going to last. The most cynical would probably imagine that all the eye catching fancy stuff will eventually find it's way…. over to the sponsored listings of search results.
Shame though – it was nice to see your pic on Google.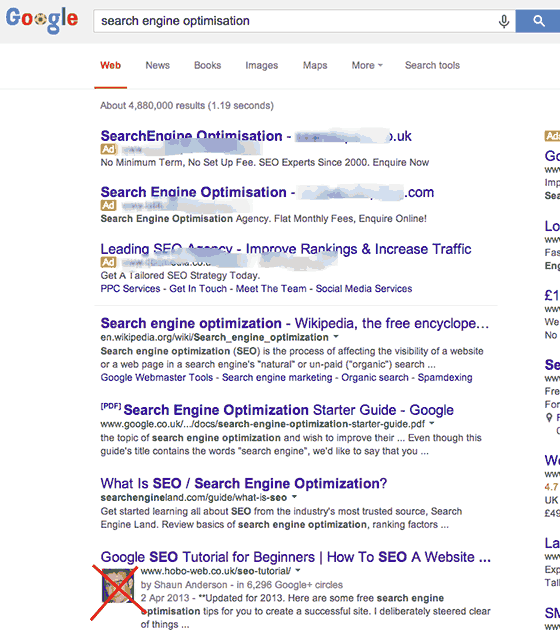 The announcement was made today: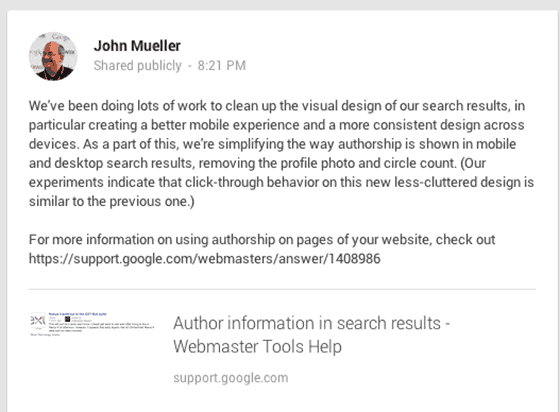 'Authorship will still be important to Google as it tightens it's grip on web publishers, but a big obvious incentive of actually having authorship (for the uninitiated) seems to have gone completely.
SEO expect Authorship in some shape or form to be impactful in Google ranking (it is already used in In-depth Articles from what we've been told) and so the recommendation still is to configure Google Authorship and feed the Google beast to ensure you get whatever benefit there is, while there's a benefit.
Maybe my take IS too cynical.
Here's another view:
And that's why this doesn't come as a huge surprise to me. Google has been telling us (and signalling by much of what they've done) that the game for the future of search is now to be won or lost on the mobile playing field. But with the addition of a street band's worth of bells and whistles on the SERPs these past few years, they had set themselves up for a very wobbly and inconsistent search experience. In short, mobile users want things simple and clean.
A reasonable premise, but doesn't quite justify pics not appearing on desktop pcs, for me. The desktop Google will always look different.
I liked authorship pics, and see losing the pic and circle count as a loss, but like most things in Google – use is subject to change – and Google likes to change things just when we get used to them.
There was a lot of what could be seen as testing over the last few months – with many – including myself – noticing the randomness with which Authorship triggered on some searches. Perhaps it was related to that click thru comment from John Mu.
I don't like Google bashing that much – too many people already do it. Everybody always thinks Google is always involved in a Machiavellian manoeuvre to control the world and everything they do is to that end. I've seen various Googlers actually delivering in some areas recently – but you never hear too much about that.
Saying that – there are some interesting takes on this news already, meaning this is a story that will probably grow legs:
I am frustrated @JohnMu saying that it will not cost CTR. Either Google lied about the increase in CTR with photos, or they're lying now.

— Rand Fishkin (@randfish) June 25, 2014
A 2012 study published by Google offers a slightly different view:
Based on past research on social information seeking, we have certain intuitions about how users should behave around social annotations: they should find them broadly useful, and they should notice them. Our results indicate that, in reality, users behave in a more nuanced way."

"The more counterintuitive result from our first study was that subjects did not notice social annotations. From our second experiment, we were able to conclude that this unawareness was mainly due to specialized attention patterns that users exhibit while processing search pages. 

Users deconstruct the search results: they pay attention to titles and URLs and then turn toward snippets and annotations for further evidence of a good result to click on. Moreover, the reading of snippets and annotations appears to follow a traditional top-to-bottom reading order, and friend pictures that are too small simply blend into snippets and become part of them. These focused attention behaviors seem to derive from the task-oriented mindset of users during search, and might be explained by the effect of inattentional blindness [28]. All of this makes existing social annotations slip by, unnoticed."
It's funny actually. Google doesn't now want to put our faces on our own website listings any more – but if we are lucky – others might see our mugs on shared endorsements in ads for other people. :)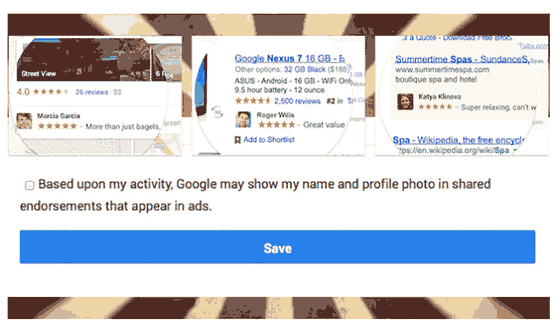 Has your Google Authorship photo disappeared yet?