If you are planning a rebrand, and need to change website addresses, you want to ensure you redirect all visitors to the new domain, and also transfer your old domain's search engine rankings to the new web address.
It takes only few lines of code to achieve this change of address in some instances.
It is usually a simple, if sometimes drawn out process. The time it takes to complete a typical project is largely dependant on how large a site is and how complex the present situation is.
Success is often dependant on your access to particular files on your host server.
While you can use different methods to redirect visitors and rankings to achieve the same goal, for the purposes of this article I can discuss experience my on Apache servers and using htaccess.txt instructions.
With a 301 permanent redirect instruction by your server, the age, authority and reputation of your old website in Google is transferred to this new web address.
I usually just add 301 instructions in an htaccess.txt file and, within a few weeks, largely dependant on how authoritative your website is, the process is complete.
The new site ranks where the old site once ranked.
This has worked for me for over ten years and still works today.
In 2015, you can also tell Google you've made the change, too, but Google still prefers you to also stick to traditional methods like 301s as well as registering any change at Google Webmaster Tools.
Already No1 In Google? – 301 Redirect To Keep Rankings
A search engine friendly 301 Redirect (Moved Permanently) will transfer domain authority, visitors and also your rankings in Google, and can be used to consolidate link equity and text content within a site to provide a better end user experience.
A good rule of thumb is to give people what they are expecting.
EXAMPLE SEO Redirects A few years back (when I first wrote this article) I decided to 301 an unbranded satellite site (or mini site) into the main site of the company as I was fast falling out of love with the mini-site strategy for this client.
This example shows what happened when I decided to redirect a minisite that ranked no1 for a valuable query, but I wanted to kill the mini-sites and redirect everything to the main site.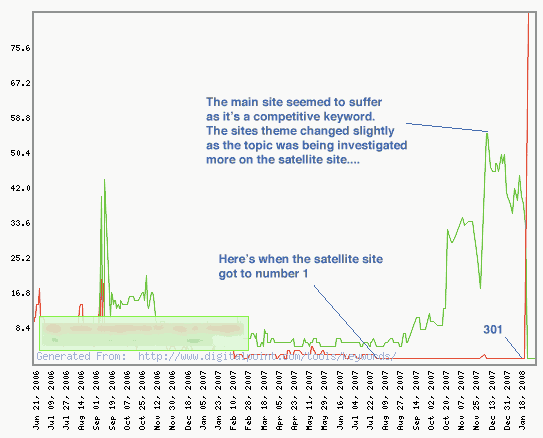 Creating lots of mini sites as part of a crowd-out search engine optimisation strategy for one niche is a bit harder to do in 2015, but it is still possible and can still bring limited rankings successes (especially in local listings).
I don't do it any more, the last time being a year or three ago when I accidentally had the first 30 results in Yahoo for the term, which was a bit much, and not exactly flying under the radar.
I've always preferred having one main site to seo  and be tasked to improve that sites authority, reputation and trust in Google listings, and recent changes in Google certainly encourages you to invest more time in quality to earn rankings.
I always found that managing multiple sites in a niche usually means a lot of the secondary sites wont get the time needed spent on them to actually convert the traffic earned to leads and sales.
Information on satellite sites is often out of date, for instance. I often redirect lower quality mini sites to the main corporate site to ensure the more conversion friendly corporate site ranked for the competitive term the mini-site had earned.
You can see from the illustration above and below when I achieved the no1 position with the satellite site, the actual corporate site was actually heading in a slightly different direction.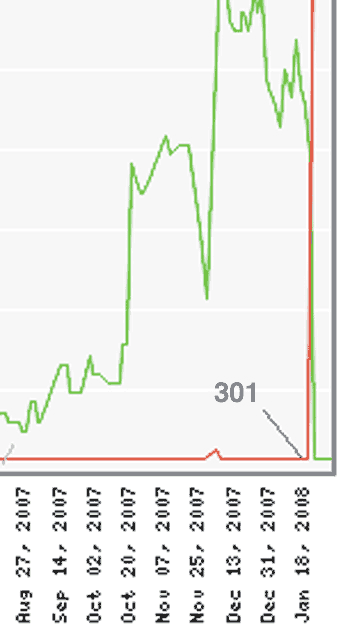 I wanted to make the main company site (in Green) be the number one result, and basically I wanted the mini-site to vanish, but transfer all it's Google juice / Google 'heat' and good rankings (as well as 600 visitors a day) to the corporate site.
The diagram shows it worked exactly as expected and that was back in 2009. Things work very much the same in 2015, but Google has raised the quality bar in some instances, and I would be careful.
Do due diligence on any domain you are redirecting to your main site – you don't want to redirect a site with a crappy link profile to your money site, for instance.
I completed this employing the perfectly white-hat search engine friendly 301 Permanent Redirect in the .htaccess file on the old site (in red) to the corporate site (in Green). redirect 301 /old.htm http://www.example.com/new.htm I ensured the new page on the corporate site was basically very similar in theme to page that Google currently ranked at No1 in the SERPS, so Googlebot wouldn't think I was up to anything other than transfer rankings I had earned largely through organic links and 'ninja' linkbaiting & linkbuilding on the old site.
The end result is always (if done correctly) very satisfying as:
The main site now ranks no1 in Google
The main site now has absorbed the authority and trust of the old page which should help it's overall domian trust score in the search engines.
The page is now branded with the corporate id = better brand visibility
Inexperienced linkbuilders will be scratching their head for a while to come wondering what has happened and how the main site actually ranks at No1 in their attempt to reverse-engineer that particular serp.
It took about 2 days to actually see the old site disappear in Google and for the redirect to take effect.
The result of this simple strategy was a 'new' no1 position, with better branding and better conversion attributes, and 600 more visitors to the main site each day. It's still like that today.
301 Old Pages To New Internal Pages
I do this a lot. Rather than tell Google via a 404 or some other command that this page isn't here any more, I have no problem permanently redirecting an old internal page to a relatively similar but recently updated internal page to consolidate any link power that page might have.
I have no problem redirecting lots of urls to one url – if it's relevant and a good user experience – but I avoid redirecting irrelevant pages to irrelevant targets.
I don't recommend just redirecting all links to the home page, for instance. I always try to find a relevant page to redirect one from another – it's a good user experience, and that's a good thing to focus on if you are trying to rank high in Google.
My general rule of thumb is to make sure the information (and keywords) are contained in the new page – stay on the safe side. Most professionals already know the power of a redirect, and how you can use it to power even totally unrelated pages to the top of Google (for a time – sometimes a very long time).
Google advises server side redirects are OK – so I use them.
You can change the focus of a redirect but that's a bit black hat for me and can be abused – I don't really talk about that sort of thing on this blog.
But it's worth knowing. You also need to keep these redirects in place in your htaccess file going forward. Redirecting multiple old pages to one new page works for me, if the text based information, and especially target key phrase, is mentioned, and represented well,  on the new page.
In my own experience, and confirmed by talking to some people who worked at Google, I can say that a 301 redirect is usually only permanent until Google recrawls the links – so, these redirects CAN be changed later, although if you know the redirect will be temporary, you are recommended (by Google and Bing) to use a 302 Temporary redirect.
I usually employ 301s and have changed them back and forth multiple times over the years, with no issues.
Buying Old Domains And Redirect Them To Get High Rankings?
Say you see an old site that is ranking in Google for a lot of terms and there is an opportunity to buy that domain and redirect it to your site – will you keep those Google rankings?
I've not actually bought someone else's domain for a long term myself, but I've redirected plenty. The way i see it, Google ranks pages because of the trust of a particular domain it's on, the links that point to it and the content it has on it.
If you keep most of these in tact, buying old domains and redirecting them to similar content shouldn't be a problem. Even when redirecting pages, I usually make sure page titles and content are very similar on both pages if I want to keep particular rankings.
Be careful though – Google is under no obligation to redirect domains and transfer rankings, and has said as much, as plenty of folk have been involved in bait and switch strategies.
AND I would keep such things under the radar as possible, and I'd also worry about changing the real registrants' name on the domain in case it's reset.
I'd also make sure my new domain isn't already blacklisted in Google for previous web spam violations.
Be careful with this tactic.
Getting loads of unnatural links too fast may invite a GWT Notice of Unnatural Links and eventual penalty, or worse, a Google Penguin 'Penalty'.
Be aware that it is probably better to resurrect a dead site (or dropped domain) that has been gone a while exactly as IT WAS when Google last saw it. Check the WAYBACK Machine, for instance.
Note too that black hats are using 301s and old sites a lot in competitive niches, but I wouldn't compete toe to toe with them using those strategies, as Google does seem to be getting better at dealing with them.
Once you've redirected your site, tell Google.
I've always found it pretty painless although I can appreciate it's easy to screw up if you don't know what you're doing. Now you can actually tell Google about your domain name change in Google Webmaster Tools.
If you've moved your site to a new domain, you can use the Change of address tool to tell Google about your new URL. We'll update our index to reflect your new URL. Changes will stay in effect for 180 days, by which time we'll have crawled and indexed the pages at your new URL. The change of address tool is safe, because only verified site owners can use it. You can check the tool at any time to see the information provided to Google about your domains.
This new tool from Google will be handy for some, though, you'll still need to know your way about some technical aspects to use it. See moving your website to another domain. UPDATE – Also see Google announcing support of the cross-domain rel="canonical" link element.