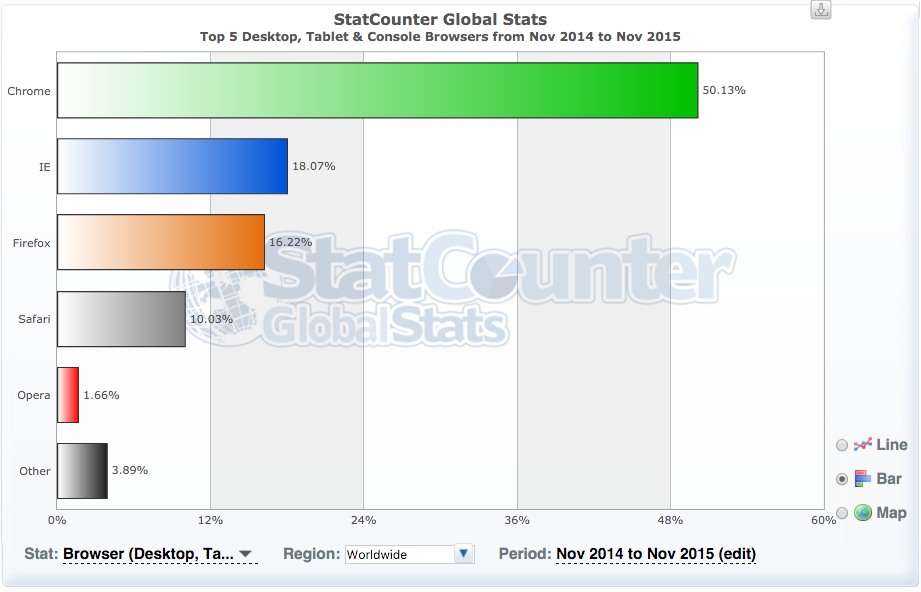 Check How Website Looks in Different Versions Of Internet Explorer, Chrome, Firefox, Android & Safari Browsers
Site owners and beginners to web design should know from the start that your site will not and cannot look the same in all browsers and operating systems and some visitors on certain devices will run into some sort of difficulty on your site.
Your website CAN'T look the same in ALL of these browsers, but if it looks poor in most of the popular browsers, then you might have a problem.
In fact – Google specifically state in their Webmaster Technical Guidelines that you should:
Test your site to make sure that it appears correctly in different browsers.
When it comes to browser compatibility, Google has 4 main tips:
Test your site in as many browsers as possible.
Write good, clean HTML.
Specify your character encoding.
Consider accessibility.
If you are a website designer, you might want to test your web design and see how it looks in different versions of Microsoft Windows Internet Explorer.
You'll especially want to test how your new web page looks in IE, Firefox, Chrome and Safari across multiple operating systems including Android, Windows for PC and Apple Mac OS, desktop and mobile versions.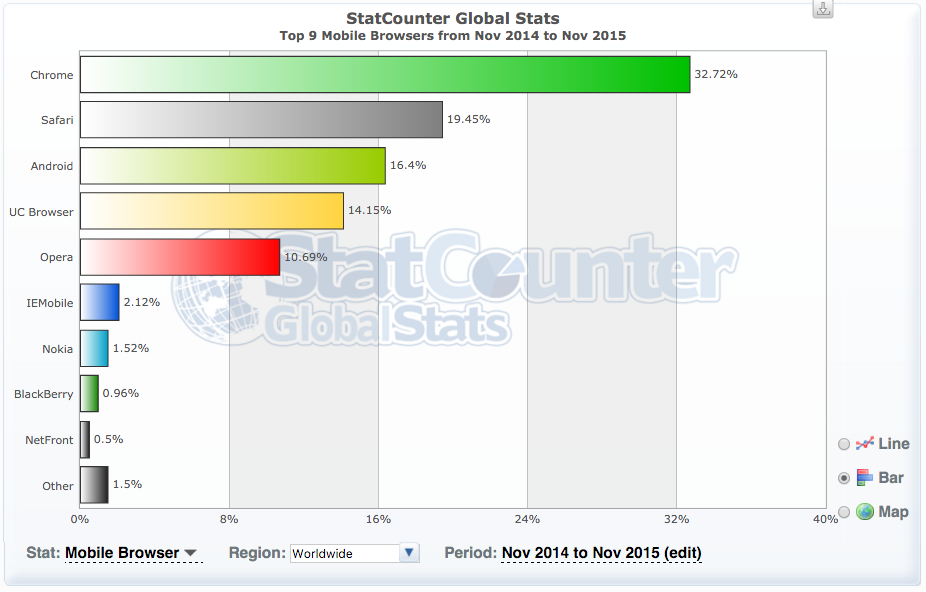 The most common versions of IE include IE 11.0, IE 10.0, IE 9.0, IE 8.0 and IE 7.0.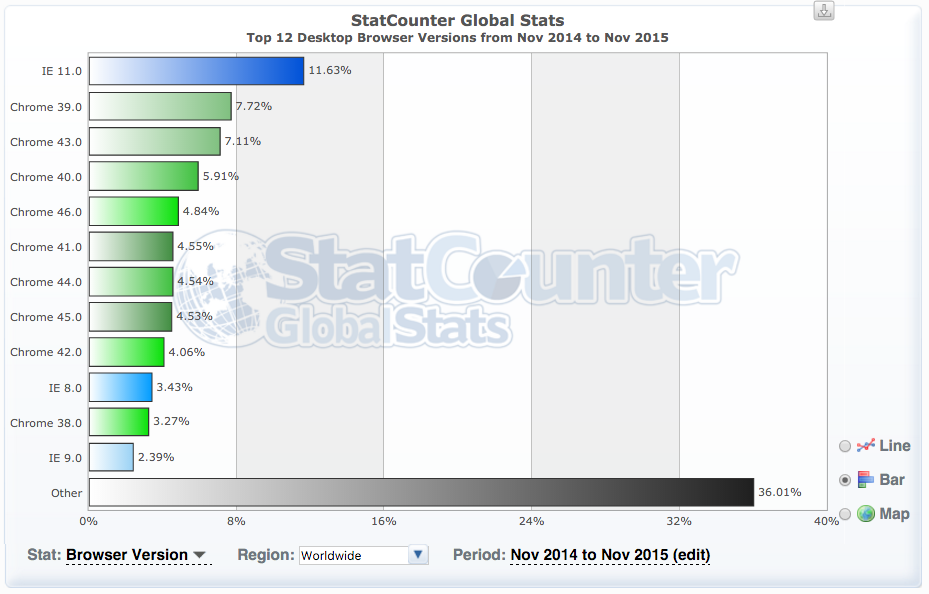 The following online test sites enable you to view your website using multiple computer setups including windows and mac Internet Explorer, Chrome, Firefox, Safari:
Test IE NetRenderer (free online tool)
IE NetRenderer allows you to check how a website is rendered by Internet Explorer 11, 10, 9,8, 7, 6, or 5.5, as seen from a high speed datacenter located in Germany.
Browser Shots (free online tool)
Browsershots makes screenshots of your web design in different operating systems and browsers: Arora, Chrome, Dillo, Epiphany, Firefox, Konqueror, Iceape, Iceweasel, Links, Luakit, Lynx, Opera, Rekonq and Seamonkey browsers for Linux; Chrome, Firefox,MSIE (Microsoft Internet Explorer) and Opera browsers for Windows; and Chrome, Firefox and Safari browsers for Apple mac operating systems.
Using Browser Shots is an excellent way of testing how your website design looks across different browsers and screens / platforms.
Browser Stack (paid service)
Live, Web-Based Browser Testing
Google Analytics
Google Analytics is a great place to see the browsers your visitors are actually using. Remember – to design for YOUR TARGET AUDIENCE FIRST. I can see looking at my stats a few unexpected browsers like Maxthon, Amazon Silk, Yabroswer and Camino (an old favourite of mine, actually!)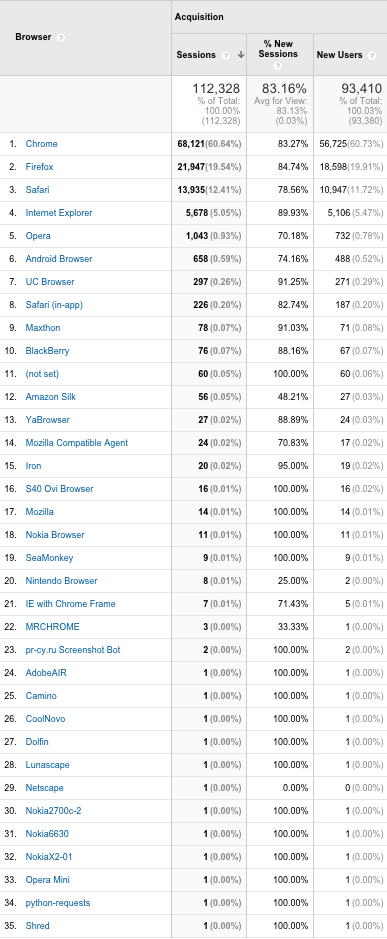 It is worth pointing out – I have a very tech audience – more likely to have modern operating systems with the latest browsers.
You may not.
It is an essential element of good website design that you test your website and how it looks or 'renders' in as many web browsers as possible – though it is worth remembering it is impossible to design a website to look exactly the same in all browsers.
Recent Global Trend in Screen Resolutions (2014-2015)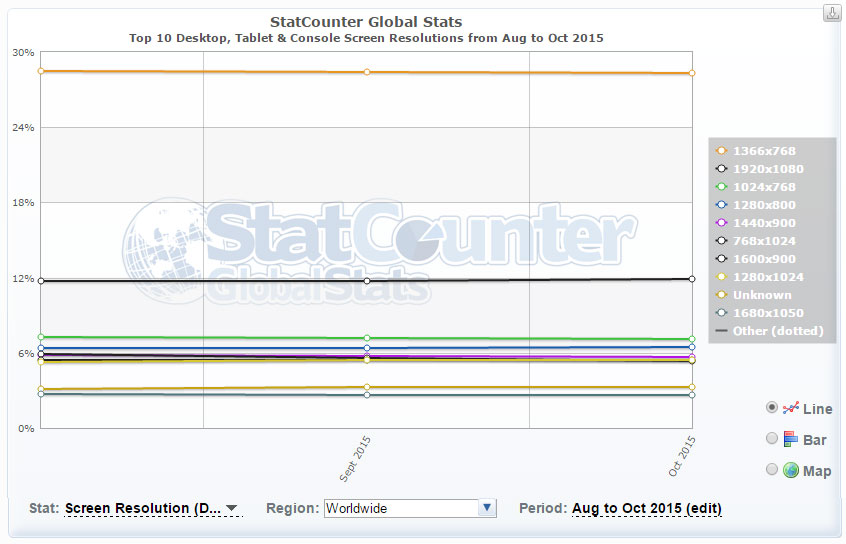 Check out our page on best screen sizes to design for the web in 2017 for more information.