It's been an interesting 2008 so far. Recent Hobo blog posts proved to be popular in the search marketing world, and a secondary benefit was that all of a sudden this site was was getting 'Stumbled' (it is still).
As a one time prolific 'link-whore', of course I had heard of StumbleUpon, used it, enjoyed it and I think abused it in the very early days (isn't that what every seo is supposed to a newly popular network?) but it didn't hold my interest as much as my first love, Google. I did always like the Toolbar, though. As that I have thousands of visitors currently stumbling the Hobo blog, I wanted to know more about this swarming visitor phenomenon, and what to do with all those peepers on my site.
I surmised, perhaps there was a Stumbleupon Guru, willing to let me assimilate all his knowledge, (much in the same way I successfully assimilated all of Jim Boykin's link-building nous and all of Sebastian's Robot's txt knowledge recently) and educate me in the art of Stumbling.
Only one guy sprung to mind. That guy with the friendly Avatar…. Tim Nash, of Venture Skills! His reply to my Sylar-like approach was…..
"Sure what would you like to know :) "
This interview would be easy and save me a lot of time…. :)
Hobo – Hello Tim! OK so I know 'any' website can be 'Stumbled' – that it's indicative of a sign of quality posts – and it leads to a 'traffic burst' of visitors to parts of a site – but who's doing it? Tim, WTF is StumbleUpon all about?
StumbleUpon is a social media community with a difference – it is much less about the StumbleUpon website – and more about the StumbleUpon Toolbar. To get started you are going to need a browser. Sadly, they do do a version for IE but ideally use Firefox and then grab that plugin. Stumblers also need to create a Stumbleupon account to use the toolbar at which point it asks for some interests' web development, knitting and that sort of thing.
I didn't know you were into Knitting, Tim
I suppose its as good a time to admit the knitting thing, of course I'm in good company :) Lucia (Big Bucks Blogging) is a known knitter plus it gets you the ladies and keeps you warm all at the same time :)
You digress….
Once the Toolbar is installed you are presented with a range of buttons the two useful ones for most stumblers are the stumble and thumb buttons. Hitting the stumble button takes you to a seemingly random web page if you like the content on the page you thumb it up if you don't you thumb it down.
Behind the scenes StumbleUpon is choosing sites based on your previous stumbles (what you thumbed up or down) those interests you told StumbleUpon about. StumbleUpon sends visitors to a site based on a number of factors but the important one is how many times people thumb up the content, the more thumbs up the more people StumbleUpon will send.
OK – So somebody discovered one of my stories and gave it a thumb's up?
Web site owners normally notice they are getting traffic when their stats start to go off the wall, StumbleUpon sends traffic in waves anywhere from 10 to 10k at a time. 10k visitors crashing on to your server over a period of an hour can be quite an ordeal so for some lucky people the first sign of StumbleUpon traffic is their hosting company phoning.
It's easy to track what stories have traffic, there are numerous plugins out there but the simplest way is to have the StumbleUpon toolbar installed, visit a page and click the little speech bubble this will bring up a page indicating who thumbed up the story and any reviews they left.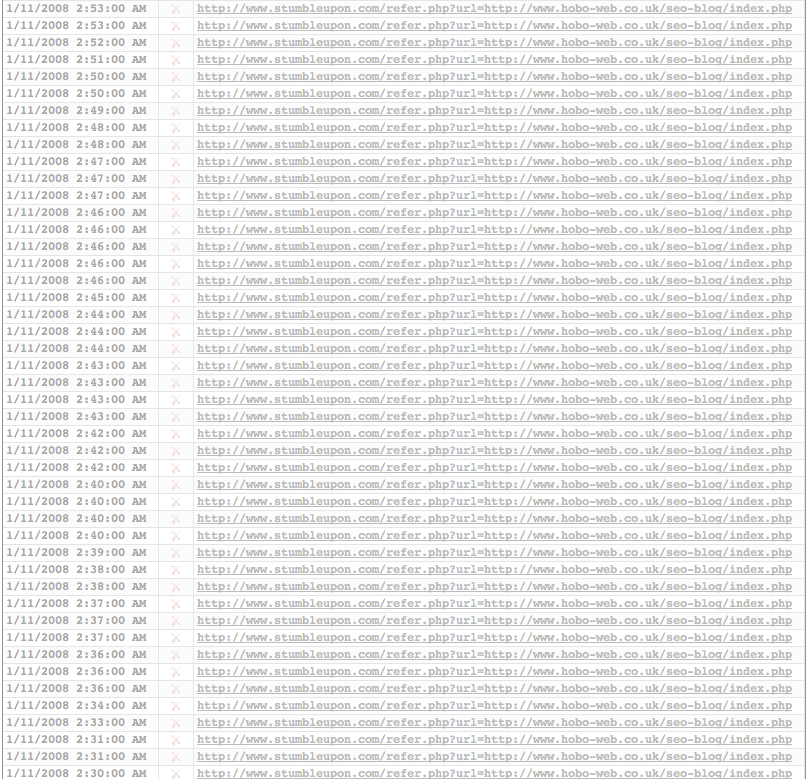 Alternatively in your stats package you should see referrals looking something like: http://www.stumbleupon.com/refer.php?url=http://www.mydomain.com/page
Quite obviously the second part refers to the page currently on StumbleUpon
Is there rhyme or reason to Stumbleupon? Didn't you "work out" the algorithm, Tim? Can StumbleUpon be gamed?
StumbleUpon uses several factors to determine how much traffic to send to a website my self and a crack team of slave researchers studied and modelled stumbles to create a "model" that reflects historical data. It wasn't quite reverse engineering and I have no more or less of an idea of what will be popular then you but we can with some accuracy model historical stumbles within a small error margin.
The results of this experiment were simplified to the point of being passed via normal human conversation and not uber geek and made available on the Venture Skills Blog as the popular StumbleUpon Mathematics.
Great article! What's The Most Important Thing To Take Home About StumbleUpon?
The important things to take away is every Stumbler has an audience score this score determines how many visitors they on their own would send if they were the first stumbler, every stumbler that follow brings more visitors based on their own score.
The audience score itself is based on a mix of popularity (number of fans) and number of pages stumbled. The research showed that the first Stumbler and their relationship to the site is pivotal to how many stumbles you receive.
StumbleUpon has a pretty robust anti-gaming system, that's not to say it can't be done or is not done just you have to be more subtle then simply buying thumbs from people.
What's better – getting a 'thumbs up' or a 'review'?
A thumb. A review does not effect the amount of traffic StumbleUpon sends through the toolbar, rather it shows on the reviews favourites page on their profile and on the reviewers friends home page which can often bring in a few more visitors.
Another feature that gets misused is the "Send To" button which allows you to send a page to friends (Like 'shouts' on Digg) but if you have not first thumbed up the page you are sending it can cause the page to be stumbled with no initial stumbler which results in little or no visitors. Its also worth noting that Send to's no longer carry any weight so use it wisely – one of the more popular tactics has been to use it as a global vote box.
Is there a key to success in Stumbleupon, apart from good content? Or is it just a popularity contest?
Good content is always a good start, you have about 15 seconds at most to impress, so you need to get a hook early on. Pictures and movies do well as do the standard ubiquitous lists it always helps having few friends pushing your content as well. Though people thumbing up content on the same domain over and over cause diminishing results so your friends are no substitute for good content!
Is everybody looking for free stuff on Stumbleupon? What's the traffic like for converting visitors to sales, and whats the benefits of getting stumbled?
Like all social media sites its difficult to sell things to stumblers, many however are bloggers and so it's a great place to garner links it's also good stomping ground for user testing. Where Stumblers vary from diggers is they are passive if you imagine a party a Christmas party they would be the Carol singers standing at the door while Diggers would be gate crashing your Christmas gathering and dancing with your nan!
Stumblers tend to comment less but when they do they tend to be more polite making 1000s of them on your blog or site a less scary prospect.
You've wrote about Stumbleupon on your blog haven't you?
Far too much :D I have been trying to write about other social media pieces as well but people seem to have me pinned down as 'the StumbleUpon guy'.
I think I was lucky – it seemed natural to write about the traffic, and in turn, this increased my traffic! Does being nice about Stumbleupon drive more traffic, or can being nasty about it still deliver results?
Stumblers love StumbleUpon and love learning about StumbleUpon so on the whole writing about your experience will return positive results. There is a small but growing vocal minority who troll and write negative reviews but you get that everywhere.
WTF Are you any way Tim – Where do you work?
I'm a partner at Venture Skills a reputation management and SERP Control Company.
Tim, you sound as if you eradicate vermin!
I also sneak into universities and attempt to educate people in the ways of search engine optimisation and social media. My academic interests are based around my fascination with social media.
Which music do you blog to?

Pink Floyd has to be my all time favourite band but I have a wide range of tastes everything from Jazz through to Celtic rock.
Hobo – Ah Yes! I do like some of the more popular Floyd stuff, and I've spent a lot of evenings (in fact, a lot of mornings, afternoons and evenings – days I suppose) listening to Floyd with a lot of very, very chilled out pals. Wonder what that's about? I'm more of an indie guy, the Stone Roses my top band of all time, the Charlatans, Happy Mondays etc – scumbag music. The View, The Kaisers and The Enemy are quite good these days…..
Where do you hang out?
Well I blog on my own blog as well as Venture Skills blog, PaymentBlogger and Collective Thoughts which is a group blog with some noted friends. When not blogging, Sphinning, Stumbling and I can be found at Clicks Marketing Forum and David Castles Forum I tend to avoid the bigger forums such as DP but can be found hiding in some of the seedier corners such as wickedfire or syndk8.
Who do you read?
Apart from yourself, I have nearly 350 feeds in my reader, but my current favourites include Andy, Sebastian, Brian, Shana, Tad, Marty, Patrick, Joost, Wiep, Brendan.
Though I'm sure I could list many many more who are absolutely great!
Tad? He's the mad megalomaniac linkbuilding powermonger with the white funny hat and p*rn moustache? Yeah, I like his attitude. I know most of those you cited, but there's a couple I'm not familiar with. I'll have a look! Watch out for Sebastian . I nearly had a mental breakdown assimilating him.
I gave up gaming Stumbleupon ages go – is it any good for SEO purposes, today?
Many stumblers are bloggers so if they like your content they may well link to you, the StumbleUpon site itself extensively uses Nofollows and even though it has popular lists for each tag few scraper sites pull those lists. Being popular on StumbleUpon doesn't automatically result in links unlike a front page on Digg for example but I think possibly it does provide higher quality links but given most users use more then one social media site to promote their content its hard to tie down links.
How Can I play nice with Stumbleupon?
Become a Stumbler, press the stumble button, vote up things you like, make friends find new interesting content that people will be interested in and build up a profile. The thing not to do is submit every page on your site to StumbleUpon for 2 reasons;
your account or site will eventually be banned
it won't bring any traffic and will ruin the possibility of future traffic on that domain. Let others thumb up your pages and then only give them a thumb up if you come across them organically (i.e by pressing the stumble button and the page returning) for maximum effect.
As if I would!? I'm a marketer, what's The Campaign feature on StumbleUpon all about and is it any good?
The campaign feature allows you to put your page in front of users, it provides a way to create a dedicated marketing campaign. This basically guarantees a certain number of viewers to your page it's a great way to judge how popular a piece is going to be. It's also a great way to target a very tight demographic but this has to be handled with care. One of my favourite techniques is to run a $10 campaign to see how many negative thumbs it will receive (only through the advertising features are these statistics available to you) as well as up votes this will give you a general idea of how much promotion to put behind a piece.
You recently wrote about shady seo companies – as did I – get a lot of that down your way? ;)
Thankfully the onslaught education campaign seems to slowly working and we are getting less requests for help with reinclusion into Googles index. However there are still some snake oil sellers out their peddling their ebooks and where possible I try to reach to both them and their customers to help educate them, this is very much mining country so we have our own unique education system should that fail ;)
My perfect job would be to work at SETI looking for the next WOW signal. That's right, unending funded research with no deadlines. What is your perfect job? Where do you want to be this time next year?
I think I probably have it, though I keep my eyes open for an SMO/SEO at the BBC but I'm not sure I could work for some one else again.
Did you know you once helped me out, about a year ago, when I was building a Digg clone with Drupal? I remember because you were surprisingly open and helpful!
As I recall you were racing off to parties in between emails, I remember having a social life once.
That's sad you remember parties I went to a year ago – although they probably did rock (I obviously can't remember). What's the use of working 20 hours a day on this stuff when you get the chance not to party till you drop? Live the dream.
Playstation 3 or Xbox 360?
I haven't played on a Playstation 3 so will have to go Xbox 360, though I don't game as much as I use to I still have a long running Civ 4 game going online which has been running for over a year with some friends the highlight of which was a near nuclear holocaust about 4 months ago.
I'm a bit of an obsessive – I just about went mad the last 2 years during my (ever increasing) study of Google (as bad as looking at the SERPS for 6 hours when I should have been doing something constructive) which only got worse as 2007 drew to a close.
You name it, I've been addicted to it.
Should I stay away from StumbleUpon?
Yes! Its incredibly addictive and you will find your self stumbling, thumbing and reviewing everything. You start worrying when people stop reviewing your profile and get excited when someone befriends you even if you never met or seen them before. It's quite sad really.
Apparently only pretty ladies have been considerate enough to review me. (Thanks, Shana & Sexy)
What was the last thing you were addicted to?
StumbleUpon.