An observation I think that links on duplicate posts which have been stolen – duplicated and republished – still pass anchor text value (even if it is a light boost).
Take this Cheeky beggar…. –  he nicked my what is seo post I did in 2007 and stripped out all my links (cheek!) and published the article as his own (well, haven't we all…).
Well he stripped out all the links apart from one link he missed:
---
---
Yes, the link to http://www.duny*.com.pk/ is actually still pointing to my home page. (Hey, maybe this guy is just complying with my copyright license ;) )
This gave me an opportunity to look at something…..
The article itself wasn't 100% duplicate – there where a small intro text as far as I can see. It's clear by looking at Copyscape just how much of the article is unique and how much is duplicate.
So this is a 3 yr old article republished on a low quality site with a link back to my site within a portion of the page that's clearly dupe text.
I would have *thought* Google just ignored that link.
But no, Google will return my page for the following query: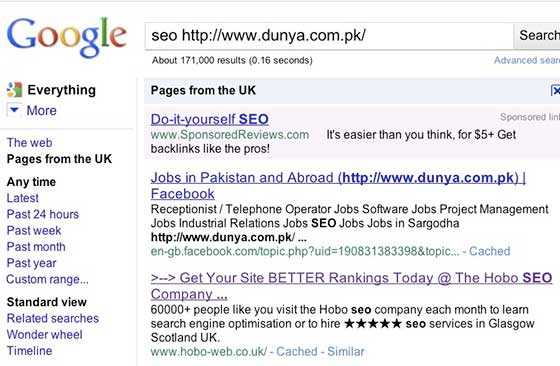 This Google Cache tells fibs, but is pretty accurate this time:

… which looks to me as Google will count links (AT SOME LEVEL) even on duplicate articles republished on other sites – probably depending on the search query, and the quality of the SERP at that time (perhaps even taking into consideration the quality score of the site with the most trust?).
How to take advantage of this?
First, you get an idea of just how much original text you need to add to a page for that page to pass some kind of anchor text value (perhaps useful for article marketers). And in this case, it's not much! Kind of lazy though.
It seems, syndicating your content via RSS and encouraging folk to republish your content will get you links, that count, on some level it seems (which might be useful for longer tail searches). I still always make sure even duplicate (in essence) press releases and articles we publish are 'unique' at some level.
Google is quite good at identifying the original article especially if the site it's published on has a measure of trust – I've never had a problem with syndication of my content via rss and let others cross post…. but I do like at least a link back, nofollow or not.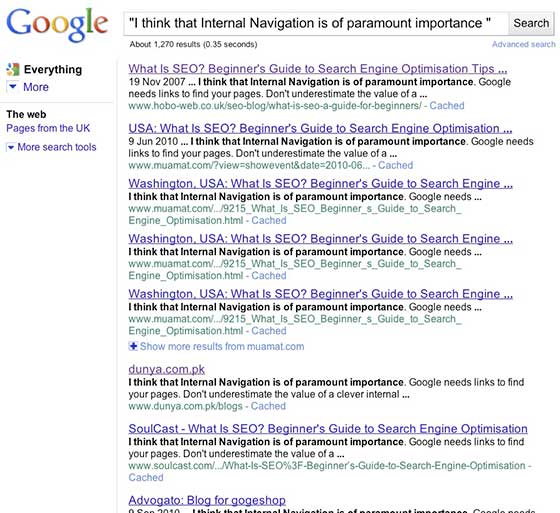 Want to republish my content? Please. Do. :)
ACTUALLY – In 2013 – I don't allow people to syndicate my content on other blogs in full. It can result in my work featuring on low quality blogs – which is something Google does not like in 2013!