I thought I would share the results of another simple test I did to see how Google treats internal links.
What does Google count, when it finds two links on the same page going to the same internal destination page.
I surmised:
Google might count one link, the first it finds as it indexes a page
Google might count them all (I think unlikely)
Google might count perhaps 55 characters of ALL of the available links (could be useful)
OK – From this test, and the results on this site anyways, testing links internal to this site, it seems Google only counted the first link when it came to ranking the target page.
In much the same method as my recent seo test where I tested how many words you should put in a link, I relied on the "These terms only appear in links pointing to this page" (when you click on the cache) that Google helpfully shows when the word isn't on the page).
Again, I pointed 2 everyday words at a page that don't appear on the page or in links to the page, and searched for the page in Google using a term I knew it would rank high for (Shaun Anderson) and added my modifier keywords. I left it for some time, and checked every now and again the results.

Searching for "shaun anderson" + "Keyword 1″ returned the page (cache shown above).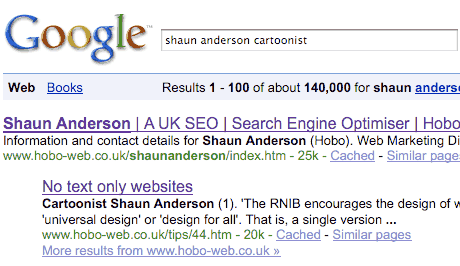 Searching for the term "shaun anderson" + "keyword 2″ did not return the page at all, only the page with the actual link on it, further down the SERPS.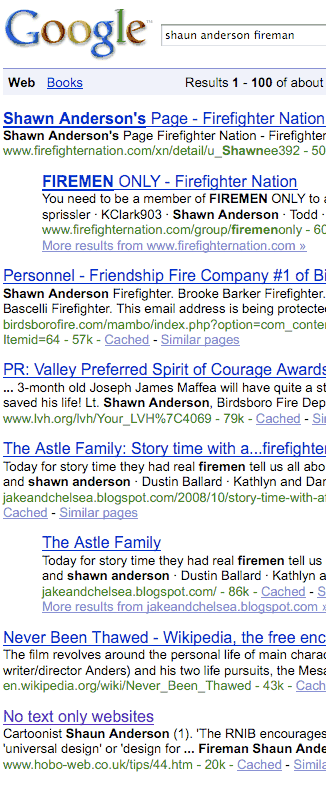 Not even in a site search.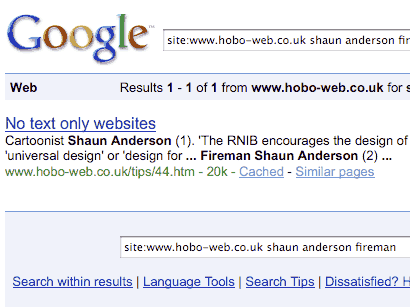 It's not exactly Google terrorism to identify this, so here is the actual test page where you can see the simple test in action.
So today :),  on this site :) in internal links :), Google only counted the first link as far as anchor text transfer is concerned :)
How you can use to your advantage?
Perhaps, you could place your navigation below your text
This lets you vary the anchor text to important internal pages on your site, within the text content, instead of ramming down Google's throat one anchor text link (usually high in the navigation)
Varying anchor text naturally optimises to an extent the page for long tail 'human' searches you might overlook when writing the actual target page text
Of course, I assume links within text surrounded by text are more important than links in navigation menus
It makes use of your internal links to to rank a page for more terms, especially useful if you link to your important pages often, and don't have a lot of incoming natural links to achieve a similar benefit
Works for me anyways, when I'm building new sites, especially useful on longtail searches, and there's plenty of editorial content being added to the site for me to link to a few sales pages.
Note: I would think Google would analyse everything it finds,  so it would find it easy to spot spammy techniques we've all seen on sites trying to force Google to take multiple link anchor text to one page.
What do you think?