A Small Business Online Marketing Plan: Finding Ideas With Free Keyword Research Tools
If you are a small business, you should realise that getting traffic from Google comes down to, without being over-complicated, two things.
A marketing plan based on:
Content on your website, and
Links from other websites to yours
The latter, linkbuilding, can be fraught with risks and involve a lot of effort. The former requires even more of an effort, and you need to plod along publishing tons of content on your site while your competitors apparently take the top spots in Google for valuable one and two keyword phrases. It's worth pointing out i am an SEO, and with this site, I choose a content strategy with this site, because I could see the longevity of it as a defensible strategy.
Words on Webpages
At a very basic level, it's words in your page titles and words on your web pages determine what traffic you will get from Google.
Identifying Your Target Audience
I know there's two different visitors visiting this page at least from Google. Those looking for someone to do it for them, and those looking to to it themselves. The latter will find out how to it regardless of wether I publish or not. The former won't have much of a chance of finding us if I don't. These folk we help might share the page on Twitter, or Facebook, and help the page pick up editorial links, so in time, it ranks in Google for something like 'small business marketing plan' or whatever. For sure, I will pick up one or two sales from this page, over it's lifetime, so it's worth spending a few hours writing it.
Google Suggest
Keyword research is an art when considering the level of opportunity for a term, but at the very least, a quick look at even Google search box activates a wealth of information for the small business (I'll use the term 'small business' to show what I mean).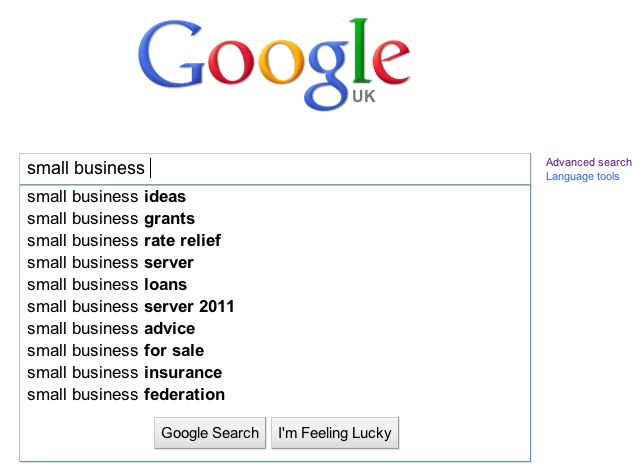 As you type, Google Suggest returns search queries based on other users' search activities. These searches are algorithmically determined based on a number of purely objective factors (including popularity of search terms) without human intervention. All of the queries shown in Suggest have been typed previously by other Google users. The Suggest dataset is updated frequently to offer fresh and rising search queries. In addition, if you're signed in to your Google Account and have Web History enabled, you'll see search queries from relevant searches that you've done in the past.
A quick over at Bing can also produce ideas based on what people are searching for: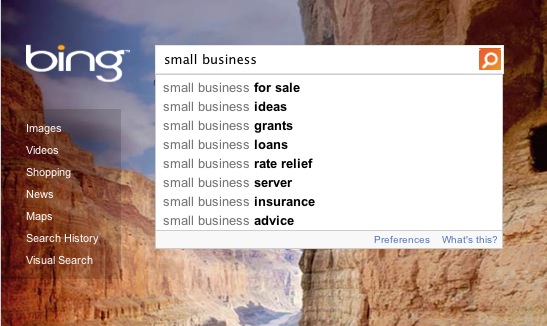 I'll use Google to illustrate, but when you refine your search, you will also get refined keyword ideas for your small business.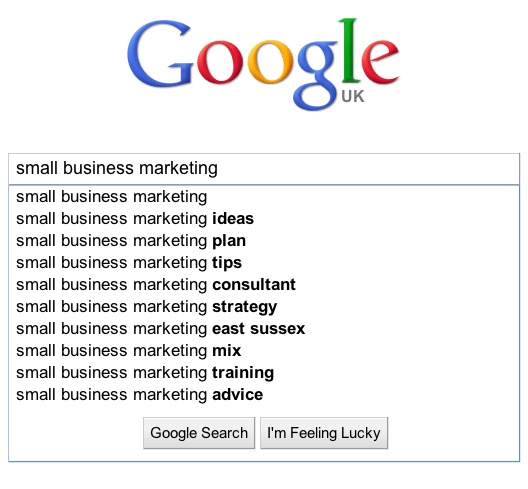 Using the Google Keyword Tool you can quickly determine a more stable set of keywords, and while the numbers are probably far from accurate, they are usually listed by some sense of popularity.
Of course, I am interested in targeting more small business marketing phrases, so a quick check of the keyword tool and I can see the sort of keywords driving the most traffic, those that might be valuable, and those that might be very relevant to my site or otherwise.Here's where realisation might hit.
There's usually stiff level of competition for every single keyword on that list, and if you want a real chance of ranking for those keywords, the keywords need to be in your page title. Now, Google probably only counts about 8-12 words in any title, and to rank well, a page needs to have plenty of related terms in the actual text on the page – and generally, it needs to be original text.
Everybody who's anybody online is writing about that stuff because of the sometimes inordinate about of trust Google allows some sites, wether to make money from display advertising, or to sell related services. Some terms are quite obviously irrelevant and these can be removed, but it's safe to say, creating decent content around these terms, and adding them to your site, will get some traffic from Google.
If you have a new site, or even a site, like this one, with some measure of domain authority, you would need to sit and work out a content marketing plan based on:
What my current pages can rank for, with a bit of tweaking
The chance of new content ranking on my site with a page on each relevant keyword I want to target
If you have a 10 page site, you can quickly calculate those ten pages won't facilitate getting the best out of those keywords.