Scenario – I had a post a few years old on a blog that got a decent amount of search traffic every month. It received @200 on topic relevant visits every month for a year. It would be nice if this page (if still relevant advice) got 500 visitors a month I thought. That's what i thought so I had a look at the post and had a think about how I get more out of the post without a manipulative link building campaign to increase ranking for a specific keyword.
There was 8521 words on the page (including comments) – the actual article was 5683 words long – perfect for the long tail of search and ideal article to test this out on. Comments where closed the entire duration of the graph below: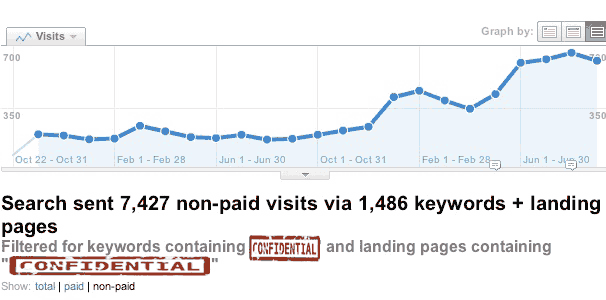 Here's the simple steps I took to get a post that averaged @200 visitors to a post that last month got @700 visitors from organic (natural) search (mostly from Google).
It was a blog post, so the title was kind of short and snappy, with the keyword once.
Title length was under 70 characters so it could be read easily in Google. It had picked up some good relevant links, and was on a mildly trusted domain, and continues to pick up natural links from forums etc.
This is the perfect type of post to do this with.
I have the content, but what keywords are used by folk to search for that content. The Google Keyword Tool might not be 100% accurate, but I used it to quickly identify what Google says is the most popular searches relevant to my post. I use SEMRUSH usually for more indepth analysis.
What keyword traffic am I already getting to that page? I looked at the traffic the page was already getting, using Google Analytics, and identified the keyword phrases searchers were using to find this post.
Looking for keyword phrases that drove traffic that I might rank for. I took all these keywords and put them in a rank checker, and over some time identified the top 50-100 referring keyword phrases from both the above sources THAT THE PAGE WASN'T ALREADY NO1 for. At the same time I could see terms I was no1 for that got very little traffic.
Important keyword Phrases In The Page Title. I optimised the front of my title tag for the two top performing keyword phrases
Long Page Titles. I used a LONG TITLE ELEMENT and basically didn't write 'best practice' for search engines, I wrote a massive title with all the best performing keywords I could find in Google analytics (THAT I WASN"T ALREADY NUMBER 1 FOR). I did make the beginning of the title readable, but heavily weighted towards what the actual keyword phrase Google said was popular. Title length ended up being over 150 characters – but relevant, and plain English, so not too spammy either IMO
Content Tweaking. I modified the content, making it more 'relevant', and introducing the odd word here and there that my analysis hinted at there might be more traffic if I was higher up ( like to ensure the exact phrases i am targeting on the page is on the page, for instance)
Internal Links. I made sure in my internal navigation I linked to the page with the best performing key phrase opportunities from my analysis to introduce them into my link profile (once – just to get them in there – old habit).
Simple stuff for more traffic.