Disclosure: "These reviews are my own opinion based on almost 20 years in marketing. They are not advertisements. Every tool I review I reviewed because I used the tool first without compensation or encouragement. Affiliate links are marked ("AD) which means I have signed up to the affiliate program. The tools here have merited a mention in my reviews based on my satisfaction. If I prefer any tool, I add a review of it to this page. If the tool has an affiliate programme, I usually sign up to it and make commissions on sales via my links. Having an affiliate programme is not a requirement to make it on to this page. Ive kept them to a minimum on this page. Disclaimer." Shaun Anderson, Hobo
No ONE SEO tool does it all. You don't need many tools to do SEO.
Here's my list of the best seo tools for beginners:
I've reviewed a lot of professional SEO tools over the last 20 years or more. I've built my own, too.
Here's my thoughts on the tools professionals use:
1. Screaming Frog SEO Spider
Screaming Frog SEO Spider (For Mac & PC) is a web crawler tool for analysing the structure of a website.
This is a PC-based site crawler tool for experienced and professional technical SEO and web developers. You can use it to find technical and user experience issues on a website. Beginners can glean a lot of information from it too. This is, in all my years' experience, my favourite technical tool. This is a paid yearly subscription and well worth it.
It's a tool for website managers, and web developers. SF spiders a site in a similar way any search engine spider would. You will need to understand technical SEO and have a firm grasp of HTML to get the most from this tool.
It is an excellent program to audit your website from a technical point of view, and with it can promptly collect a lot of the necessary information you need to help optimise your site.
This program is available for PC and Mac. As a Mac user, I'm often confronted with software that slows my mac down a little, so it was a pleasure to see this thing run in the background in a quiet, efficient manner.
Run the spider and it will grab information on your pages. Links, page titles, redirects, 404s, heading tags, status codes, attribute lengths, anchor text, alt text and numbers of internal backlinks, numbers of external links on each page. Quickly identify click depth, see canonical link information or meta-refresh directives. And more.
You can also output this report to CSV.
Screaming Frog spider comes highly recommended for SEO and web designers everywhere. I have used it on small and enormous websites (using a cloud computer to maximise its efficiency).
SF is just about the best SEO software you can buy to investigate site structure and for quick log file analysis IF you are technically minded.
Get a free version too to test it out, before you buy it.
2. Clicky Web Analytics
Disclosure: "I am an affiliate of Clicky. This review is editorial opinion. This review is not sponsored." Shaun Anderson, Hobo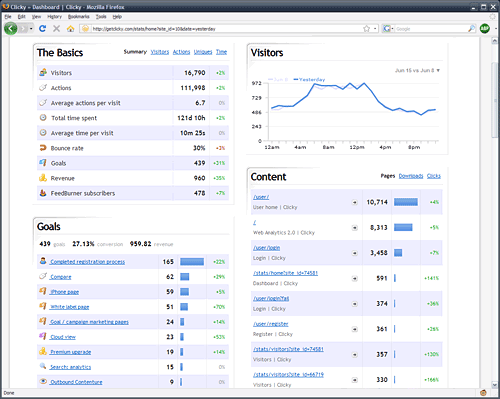 Google Analytics is the de facto analytics software, and the only tool for checking lots of data – but I find I log into my Clicky account more than I do GA these days – if all I want is a quick and dirty analysis of a page or keyword.
When I find a simple tool I like I usually stick with it forever. I'm amazed at the simple things Clicky does so effortlessly. The control panel seems so much more intuitive than for instance Google Analytics. Instantly accessible.
I tried a few real-time web stats analytics packages out (I like software with a free trial) and I must say, Clicky is brilliant.
See who is on your site at that very moment
See where traffic is coming from AND track outbound visitors too
See your valuable incoming links in action
See a more accurate bounce rate for your pages
Too much good stuff to mention
…and best of all, Clicky might very well be FREE if you don't have more than 3,000-page impressions a day – ideal for small businesses.
They even give you an easy affiliate link to promote the software if you like it – which I very much do (so I am using that affiliate link).
Telling you. Try Clicky PRO out. Excellent analytics, and easy to install too.
3. ProRankTracker Rank Tracker Software
Disclosure: "I am an affiliate of ProRankTracker. This review is editorial opinion. This review is not sponsored." Shaun Anderson, Hobo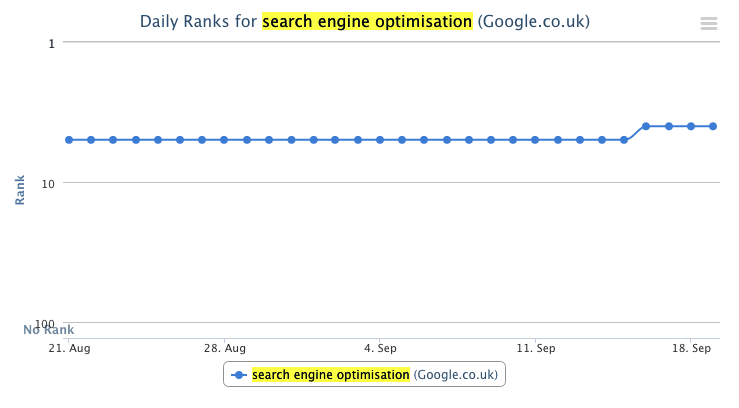 ProRankTracker is a simple, easy to use and accurate cloud-based rank checker suitable for most needs.
I use Pro Rank Tracker daily and I am signed up for the API, too.
I have been a customer and affiliate of Pro Rank Tracker for almost 5 years now.
4. SEMrush
Disclosure: "I am an affiliate of SEMrush. This review is editorial opinion. This review is not sponsored." Shaun Anderson, Hobo
SEMRUSH IS MY FAVOURITE ALL-ONE SEO TOOL. It is a Site Auditor, Keyword Research & Competitor Analysis Tool.
I have enjoyed using SEMrush for over the last (almost) 10 years.
Semrush is a keyword research tool for, well, professional keyword research, site analysis and competition analysis. This tool does a lot of things. Much more, since I started using it many years ago.
I had, in the past, steered clear of most of these types of tools as I had traditionally found them while useful, very U.S. centric (I am based in the UK).
I like it!
This tool lets you see:
which keywords seem to be popular in your niche,
related keywords, phrases and terms you might consider weaving into your content and link building strategies
gives you an idea (when you aggregate the data) which natural listings in Google are providing competitors unpaid traffic
lists top ranking sites competing for those keywords
shows you on average how much a click on this keyword is worth in Google Adwords (although it would be nice to see that in Sterling (£) rather than dollars
illustrates how competitive this term is (in Adwords at least, by number of competition)
how many (on average) times the keyword or phrase is typed into the UK version of Google
you can get a cool firefox plugin as well and export research data to usual formats
…and more
You can really do some neat stuff if you are a keyword monkey. SEM rush has databases for US, UK, Spain, Germany, France, Spain and other geographic regions.
5. Google Search Console
Google Search Console – This is a free web analytics console from Google. GSC (also known as 'Webmaster Tools') is a must-have toolset with limited but sometimes invaluable insights about your own site and messages about your site health direct from Google. Connect it with Google Analytics to get the most data about our site you can get (for free). For most small businesses, you are crazy not to register your domain with this system.
This is a must have tool to perform SEO these days.:
QUOTE: "You can submit your website and verify it in Google Search Console. The procedure to connect your website is very simple with a little technical knowledge." Shaun Anderson, Hobo 2020
6. PageSpeed Insights
Test your load time using Google's Pagespeed Insights.
7. Redirect Path
Redirect Path for Chrome is a highly recommended on-page tool and valuable little plugin that can help you quickly identify the number and type of redirects if any, that brought you to a page. This is incredibly useful for page migrations and site clean-ups. I use this little extension every day to check on the number of chains in a redirect to a page.
QUOTE: "We follow up to five redirect steps in a redirect chain if it's a server-side redirect." John Mueller, Google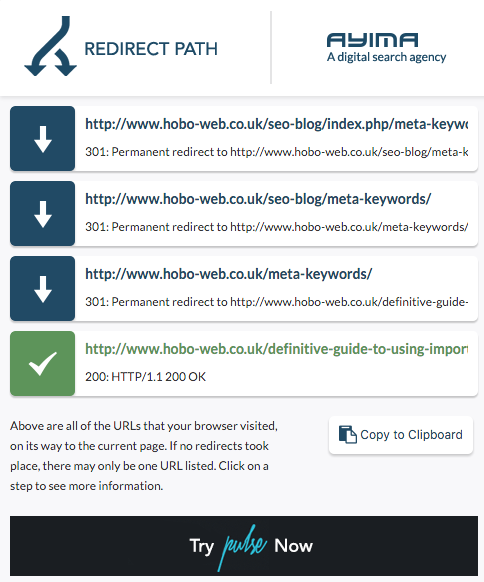 8. Majestic (Formerly Majestic SEO)
I use competitive link analysis:
to look for any obvious short-cuts to take advantage of – it's always nice to impress new clients immediately, and get them involved (I should do this more, in fact)
to see which competitors are really spamming it up and getting away with it
for ideas about posts for a client site that attracts links
to see which newsworthy items pick up links from the press for instance
to identify when the site pushes for traffic via link building
to pick out the links from quality, respected sites that I might have problems getting –  for discussion with client's marketing department
to get an idea the type of sites that will link to a competitor
to look at the soup of links that a no1, no2 and no3 site especially can get away with and still rank top in Google
to LEARN how other sites have got where they are.
to learn a bit about the client's industry and competitors
to tell clients the task at hand (yesterday I noticed a competitor of my clients had links from The Wall ST Journal, NYTImes etc – it helped me point out to the client his main competitor was REMARKABLE, actively engaged in successful online marketing ALREADY – a player. Another client noticed from my Competitive Link Analysis once a PR7 that linked to his competitor, was actually a site his GOOD FRIEND OWNED. I wonder what happened to that link…
Often, I use competitor backlink analysis to gather historical and real-time data to recommend to a client or show them how they SHOULD be marketing their business to achieve online popularity, while I set about making them popular online.
I love Majestic – it's the first place I look when looking at the backlinks of a competing website. It's been the BEST link building tool available for as long as I can remember – way before Yahoo Site Explorer was mothballed. Majestic seems to be built into everything these days – but standalone it is still a brilliant link prospecting tool.
Hat tip to Open Site Explorer, too (though I've not used the MOZ tools for a while).
I do also use AHrefs if I really want to double-down, so to speak, on backlink research for a site and ensure I am getting the most available links to a site (after I have looked at Majestic data, of course).
9. Answer The Public
This is a very simple and free keyword research tool to help you if you are creating content around a specific topic. You can use this to find out the type of questions people have about particular topics.
A great research tool for looking for the questions that surround a topic you may be writing about. But these days, you really should know what you are writing about to rank high in Google for competitive terms. You can also use Google Keyword Planner for keyword research.
The Google Keyword tool is still useful. It's changed a lot over the years since I used the public version every day. I've even picked up some links after I spotted some changes to it. I believe you need to be signed in to an Adwords account to get the most of it. I have developed my own SEO toolset that works with several Tool APIs so I don't use the Google Keyword Tool at all.
I do not think it is as useful as it once was, though, unless there have been changes I am not aware of. Beginners might find it easier to use one of the third-party keyword research tools I list below.
If I want competitive keyword data quickly – I, like a lot of other professional SEO, usually get it from SEMRush these days. There are a couple of other options I go into below, too.
10. Google Analytics
While the alternatives are useful to have, Google Analytics is still my analytics of choice. API access is also a must to get the best out of it.
Other Tools In No Particular Order
URL Profiler
Disclosure: "I am an affiliate of URLProfiler. This review is editorial opinion. This review is not sponsored." Shaun Anderson, Hobo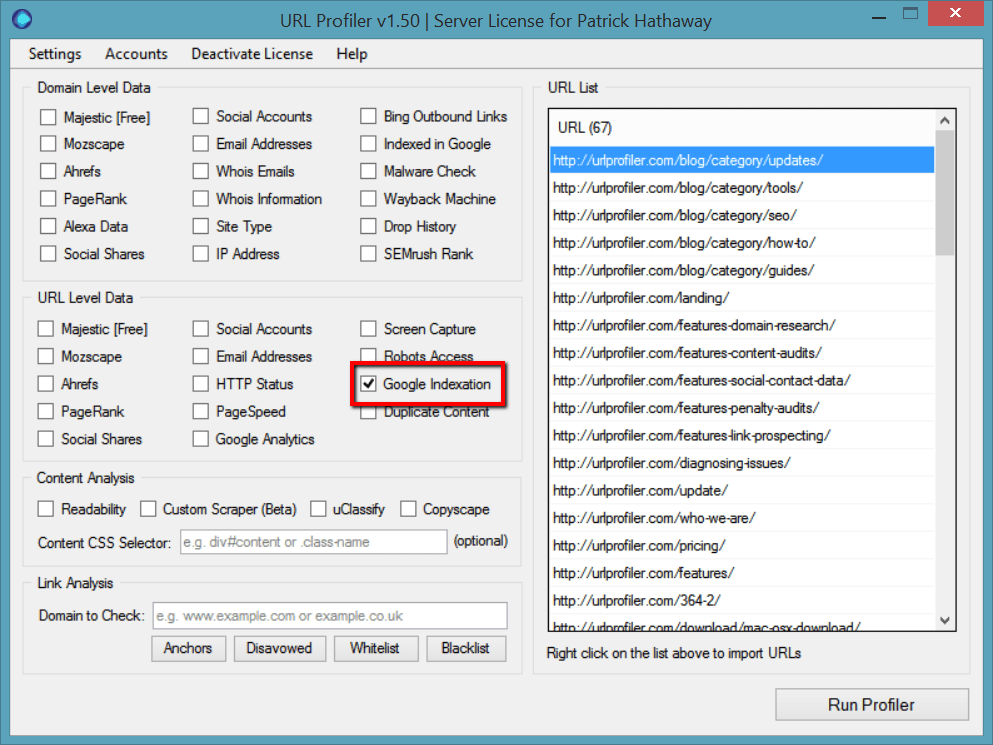 URL Profiler is a multi-task tool that can be easily configured to grab data from any URL.
This is desktop software for PC and Mac and is developed more for the technically minded SEO. This is a handy tool for checking if your URLs are indexed in Google, for instance, or if you want to quickly grab social and backlink data for any URL.
Highly recommended for the technical SEO.
Hunter
Finds you emails associated with a website.
SiteBulb
Disclosure: "I am an affiliate of Sitebulb. This review is editorial opinion. This review is not sponsored." Shaun Anderson, Hobo
Sitebulb is a new easy to get to grip with website crawler and auditor.
The Sitebulb Audit includes analysis, insight and guidance on the technical and content requirements of modern SEO.
The reports are quick and the results are easily interpreted with actionable insights The main features/benefits are summarised below.
The core function of the tool, it performed well on the sites I tested.
It is easy to configure and there is a range of advanced options for including or excluding URLs and tailoring the crawl rate for specific site or server environments.
The Audit process is easy to configure and reasonably quick to run (depending of course on the size of the site).
It's easy to re-run crawls at any time and the because the data is stored locally in its own database structure, you have the benefit of easily comparing data over time, which takes analysis to a much deeper level.
Further information & instructions on the audit process can be found in the Resources section of the Sitebulb website.
Overall Sitebulb looks to be a great 'allrounder' in the site audit category, and its flexibility will be useful for experienced SEO's and newbies alike (some understanding of SEO practices is required).
As a crawler, while it's perhaps not as fast as Screaming Frog, it has a better UI and it's storage method means it's less local resource intensive.
As a site auditor it does a pretty good job, particularly from a technical point of view, however, it's error reporting and resolution advice is not yet as comprehensive as SEMRush for example (with which it shares a number of similarities), but it is, however, cheaper and is not does not share the same restrictions on usage.
It's unclear if it is as good at handling 'monster' sites as Deepcrawl, but it is certainly more accessible and with unlimited projects (in theory) cheaper to run.
I would imagine we will see this crawler and auditor turn into a very popular website crawler tool.
Website Auditor Software (For Mac & PC)
Disclosure: "I am an affiliate of SEOPowersuite. This review is editorial opinion. This review is not sponsored." Shaun Anderson, Hobo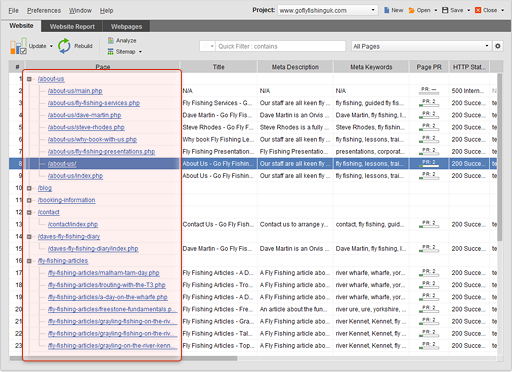 I paid for a copy of Website Auditor to have a play about with and I liked it.
Website Auditor a tool for spidering, checking and evaluating the links and pages on your site. It's ideal for SEO and web developers alike, tasked with maintaining a website.
I like it to get an idea of the structure of a site – to see how many pages have the least/most links, which pages have external links and finding broken links. It can do a lot more, though.
Website Auditor powerful, and can unquestionably help you audit a site.
WebSite Auditor will help you easily find and fix the following problems:

Broken links
HTML code errors
Duplicate content
404 and other server response code errors
Not indexed webpages
Missing or too long titles and meta description
I found Website Auditor pretty easy to get to grip with, and it does have a few powerful features:
Site architecture and internal linking analysis
Most linked-to and linked-from webpages
Google PageRank distribution across all pages
Link Value that each webpage can pass per link
When each page was indexed and cached in major search engines
Not indexed webpages
Complete website SEO health check
Domain's and each webpage's performance in search engines and social media sites
Keyword density and prominence in each page element on your site and among top 10 competitors
Most popular keywords and keyphrases used by your site and top 10 competing sites
It has a fresh REPORTS feature that will even let you print a client-friendly report if you need it.
I like this tool. The only downside for me is the actual reporting function. NOT the reporting function itself – that is cool. I just use slightly different metrics.
It suffers the same shortcomings as most other tools available. Reporting focuses on a few metrics and scores them in a way I don't think is as valuable as it could be to the overall SEO process.
But then again, effective SEO is not as machine-friendly as some SEO software companies would hope it to be.
All in all a solid SEO tool for auditing your website structure. Available for Apple Mac and PC.
P.S. A review of Rank Tracker is below – that's good as well. You get that with this software as part of the SEO Powersuite
Oncrawl
Another highly recommended tool.
I've had a chance to play about with OnCrawl and it is a super-useful cloud-based crawler. Excellent tool for much larger websites.
Deep Crawl
Deep Crawl is a great online SEO tool and an ideal solution when crawling larger sites, or if you need your crawler in the cloud. This tool is very useful for large site migrations, and it can easily check hreflang tags are set up correctly.
Basically, it's similar to Screaming Frog (above), but has the benefit of remote crawling, saving you having to do it yourself.
Another benefit is Deep Crawl carries out some pre-analysis for you to identify obvious technical problems with your website.
Highly recommended for larger sites, and one of the best online SEO tools you can buy.
Integrity For Mac Only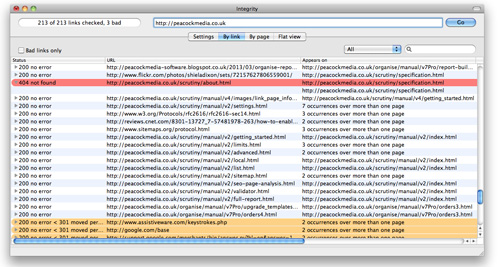 You can also find broken links on your site with this free tool for Apple IOS computers.
Broken links are a pain in the backside, a waste of Pagerank, and a bad user experience.
Integrity for Mac users is a cool little tool to identify those.
Unless you enjoy clicking every single link on your site followed by the back button, then you'll need to use a website crawler like Integrity!
Integrity a free desktop tool for mac SEO and website designers that spiders your website and picks out broken links.
It will also extract URLs from a website to a CSV.
It's perfect for checking a small site once complete for any broken links or missing images without having to dig through it manually.
It can generate an XML sitemap suitable for submission to Google too, and help check a site for unique page titles. Apart from this, for SEO, you can see at a glance links with 301 redirects, or canonical issues, or even old links to dev servers, etc.
Another significant addition is the ability to see at a glance your most linked-to pages and how many links EXACTLY they have, and from where.
Not bad at all. Especially for Apple Mac designers.
If you are a PC user, check out Xenu Link Sleuth. It's free and still reliable.
Long Tail Pro
Disclosure: "I am an affiliate of LongTailPro. This review is editorial opinion. This review is not sponsored." Shaun Anderson, Hobo
Long Tail Pro is a keyword research tool that includes some clever competitor analysis to help you target the right keywords on your website.
This tool can quickly analyze the top 10 results in Google for each of your keywords, saving you boatloads of time.
This tool also checks important SERP data points like keyword usage in the Title Element and Meta tags, Domain & Page Authority, Moz Rank, Number of Backlinks, Domain Age etc.
This is a great tool for keyword researchers, and I know a few colleagues who like it too.
I can recommend Ubersuggest for quick Google Autocomplete research, too, and also I've found Answer The Public to be very useful, too, when investigating what QUESTIONS are being asked on Google by users about a certain topic.
SearchMetrics Suite
Disclosure: "I am an affiliate of SearchMetrics. This review is editorial opinion. This review is not sponsored." Shaun Anderson, Hobo
The Searchmetrics Suite is designed to help marketers working for enterprises and agencies plan, execute, measure and report on internet marketing strategies.
It has a free account where you can see some information of how your site performed over the last 6 months.
It's useful for competitor keyword analysis and to get a quick overview of any site that already has some visibility in Google.
SearchMetrics has LOTS of data and that places it amongst the best seo reporting software you can buy.
SpyFu
Disclosure: "I am an affiliate of SpyFu. This review is editorial opinion. This review is not sponsored." Shaun Anderson, Hobo
SpyFu is also a great tool for competitive keyword research, and while I don't use it that often, many of my colleagues and peers really like this tool so it may be worth giving it a test drive.
I was recently impressed by the accuracy of this tool in judging actual traffic trends to a site: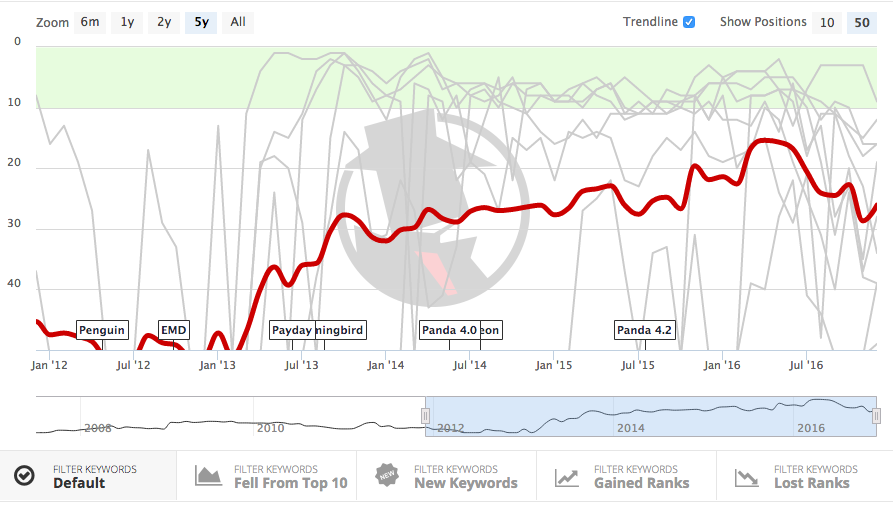 Hat Tip to Sistrix, too. I've played about with this tool in the past and was impressed, and I have heard good things about it recently.
Crawlers & Broken Link Checker Tools
Google crawls the web looking for content to index and present to its users.
SEO Crawler tools mimic 'Googlebot' (in a limited way, it must be said) and crawl and list elements that can be 'optimised' to make your pages easier to crawl and index properly.
Advanced Web Ranking
Disclosure: "I am an affiliate of Advanced Web Ranking. This review is editorial opinion. This review is not sponsored." Shaun Anderson, Hobo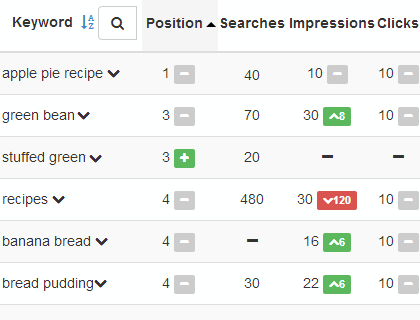 I've tried a lot of ways to check rankings in search engines over the years and generally speaking I've been disappointed with most if not all of them.
Advanced Web Ranking is one of the best.
So much so, that we've resorted to many clients to manually checking them / and or developing our own tools to ensure the results we get are what the customer is seeing too. The problem with this type of rankings check is how much time it consumes in the studio. The problem with a lot of automatic website rank checkers, of course, is that they could well be software packages that violate Google Webmaster guidelines for instance.
It automatically runs a ranking report checking keyword positions in Google, and automatically sends me a keyword rank check report via email with details of each keyword position (and over time, this generates a cool graph of ranking activity).
It's a pretty comprehensive tool and it certainly seems to perform very well, with a good support forum too to ask any questions.
A very neat feature if you run one site is the sheer number of search engines you can track your rankings on too (thousands of them from what I can see) – not that I bother with search engine submission at all these days of course.
The keyword position reports too are quite comprehensive and you can run as many search engine ranking reports and projects (multiple websites and rank checks) as you wish.
It's fairly intuitive and easy to set up and use after you play about with it.
The software also can check your Pagerank and Alexa traffic stats too (if either of those metrics are important to you) and can keep an eye on competitors rankings too.
If you want to trial the cloud version FREE, you can access it here.
Note – I'm still not that obsessed with individual keyword rankings – I'm much more interested in creating good content on a site and acquiring backlinks as naturally as possible to build domain trust – and then unlocking that domain authority by publishing even more content, but in competitive sectors where the 'linkerati' seem to be thin on the ground, for specific keyword phrases, link building is still a must of course.
I've been testing out the rank check tool AWR Website Ranking on a small personal site (after being advised it does not break Google's guidelines – although, if you go by the letter of the law, I wonder if that is wishful thinking, by ALL rank checker tool providers):
First of all, I would like to put one thing aside. There is no way that Google or any other search engine can ban you for using our software'  And this is because for Google, AWR looks like a regular web browser. We send the EXACT data web browsers send. There is no way for Google to find out that you are using a tool like AWR.'  And even if they knew, they have no way of knowing your website domain. AWR sends queries that only contain the Keywords, NOT the URL. It then searches the URLs in the results Google sent back.  This means they have no way of making a connection between the IP address of your computer, where AWR runs from, and your website.  If this was possible, then I could fake this information to look like my competitor domain and then get him banned!
It works as expected, and plays nice with my Mac Book Pro.
Link Assistant Rank Tracker Software
Disclosure: "I am an affiliate of SEOPowersuite. This review is editorial opinion. This review is not sponsored." Shaun Anderson, Hobo
I purchased a copy of SEO Powersuite to have a play about with and for review purposes, and I like it. I reviewed its stablemate Website Auditor above, which is bundled with Rank Tracker in SEO Powersuite, and I like that too.
Limitless keyword tracking: you can track rankings in over 590 search engines with no keyword or domain limits
Auto-pilot tracking: set the tracking tool once and run rank checks automatically for set dates and time
Historical rank tracking: every time you check your rankings, Rank Tracker charts the all ranking changes for each individual keyword and your site's overall SERP visibility
Rank Tracker is pretty simple to set up, and as accurate as it can be, when checking your websites search engine rankings for multiple keywords, on multiple engines.
Use:
pick a website
pick your search engines you want to monitor, and
tell it which keywords you want to track
find out the number of searches and competition for a particular keyword or phrase
schedule it to check for keywords at any set time of the day
schedule reports to print or export to web, pdf or CSV etc
It can also check the competition for the key terms and track your competition if you are interested in that.
You can schedule when it checks your rankings, and you can schedule reports to publish when you want, too.
It tracks everything about your keyword so you can see its performance over time.
It looks ideal for small businesses to track rankings if you prefer a piece of software you run on your pc or mac rather than a hosted solution.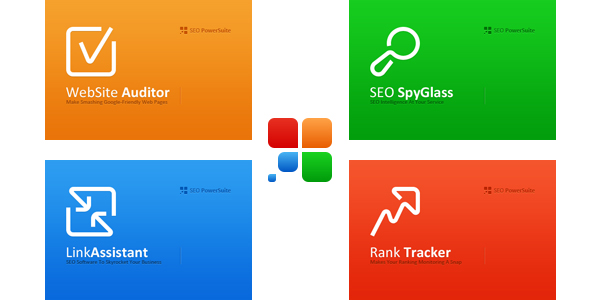 Powersuite (LinkAssistant.com)
Disclosure: "I am an affiliate of SEOPowersuite. This review is editorial opinion. This review is not sponsored." Shaun Anderson, Hobo
SEO Powersuite is definitely one of the best all in one desktop SEO packages available for Mac and PC. Check your rankings, your competitors, backlinks and crawl your website. It's a great tool for beginners.
I use this toolset to have a poke around but my favourite out of the tools is Rank Tracker to run quick ranking audits which come on its own, or with SEO Powersuite.
Link Research Tools
Link Research Tools, is also one of the very best link research tools available. In fact, having these tools running in the background is a bit like having an extra member of staff.
If you are into fancy charts, they are there. If you just want the data for export, you can do that too. I usually just want the data for my own purposes – and the Backlink Profiler Tool is probably my favourite. The Common Backlinks Tool is pretty useful too. I should say the tools are REALLY easy to use as well. Link Research Tools connects with the other well-known tools on the market so you can grab a lot of data for lots of pages. The more data, the better.
I will point out while these tools are GREAT, it's how you interpret the data, and how you go about making this data relevant to your business, that will see you succeed in your own link building efforts. I don't agree with every measurement made by these tools, or with every result they provide. You don't need the same links as your competitors to rank, remember.
If you are a creative marketer, you don't need any tools to be a 'link builder' – I hate that term.
But…. if you want to see how the other guys are doing it, have an easy job where all you need to do is collect the data, or are looking for a bit of backlink-inspiration, or needing a backlink profile you can be proud of – the tools above are a good place to start.
Link Prospector
Majestic is GREAT for getting link building ideas – but a tool like Link Prospector can REALLY expand upon those ideas, once you've identified a particular type of link you'd like to focus on. Link Prospector (a part of Citation Labs) is a brilliant tool for doing this.
With this tool, you can look for links pages, guest posts, directories, forums and blogs out there, that there is a high probability you could get a link from. It's a mountain of data you get back, so make sure you use this tool in a very focused manner.
Used properly, Link Prospector (and the other great tools that come with it) can save you HOURS of work. Expect to spend some time in an excel spreadsheet after you get the data – but it is worth it!
I spent a weekend playing with this tool and the amount of excellent link data it spat out for me was astonishing. I tested around 10 niches, and it didn't disappoint in any of them. There are no affiliate links of any sort in this independent review.
In short, Link Prospector is a link building tool to help you find places you can get links from other websites. It helps you narrow prospects in a niche based on keywords you want to focus on. You can find link opportunities like guest posts, links pages, directories, and forums, to name but a few – essentially websites that link to 'your sort of thing'.
The tool REALLY delivers (or it did, when I last used it) – scanning a well-sized data-set and outputting a mountain of link prospects in the niche you are interested in.
It's easy to use too, though I have seen some other reviewers talk about data overload, and that deep down, the results you get are a little messy.
True – it can get a little messy if your data mining is too broad. But if you really focus on the types of links you are looking for – once you export that data to excel and have a play with some filters, you can really dig up a lot of opportunities.
If you are wise enough to know that you need links, Link Prospector is just about the best tool out there for helping you identify more places to get these links.
TIP – In a post penguin world, its online marketing ideas you are looking for. You do not want to be using the exact same methods as everybody else.  You can use Majestic to get a handle on why the top competition ranks where it does. If you take some of those ideas to Link Prospector and look for more of those types of link opportunities, it can deliver some really good opportunities.
Highly Recommended – Link Prospector is a great tool for finding where you can get links. If you are serious about link building, you are crazy not to give this tool a go. Enough said.
*Link Prospector also has some great support tools!
Kerboo (Formerly Link Risk)
Disclosure: "I am an affiliate of Kerboo. This review is editorial opinion. This review is not sponsored." Shaun Anderson, Hobo
If you need a quick overview of the quality of your backlink profile – KERBOO is my tool of choice. I can vouch for the experience of the team behind this tool, and expect it will get better and better.
If you know anything about SEO, you will know that your rankings can be severely impacted by low-quality links pointing to your website from other sites on the net.
This tool aims to calculate the inherent risk found within a website's backlink profile. It can be used for disavow file management and proactive link profile management via a daily imports feature.
KERBOO is a powerful manual penalty and penguin recovery tool.
Cheap too, considering the time it saves you.
Grammarly
Disclosure: "I am an affiliate of Grammarly. This review is editorial opinion. This review is not sponsored." Shaun Anderson, Hobo
I know my grammar is lacking and it is something I've always aimed to address.
I doubt grammar is an influential ranking signal today, but, correctly constructed sentences should make reading this blog a better user experience.
Also, translations would be more accurate.
A greater grasp of the English language and a wider vocabulary is a real advantage to an SEO.
So I am cleaning up my blog and all future posts.
I installed Grammarly.
Grammarly is a free Chrome browser extension that helps identify and fix grammar and spelling errors and it's now also one of my favourite SEO tools.
I love the way Grammarly alerts you when you are using repetitive words and offers you synonyms to replace them.
That's a great assist if you have a feel for what you are doing.
It's useful because, often, the number of unique keywords on a page is closely proportionate to the number of keyword-based searches a page can (usually) rank for in Google.
Easy to install, Grammarly works in the background in Chrome browser on my Mac and integrates efficiently with WordPress.
Highly recommended!
P.S. I used Grammarly to write this post.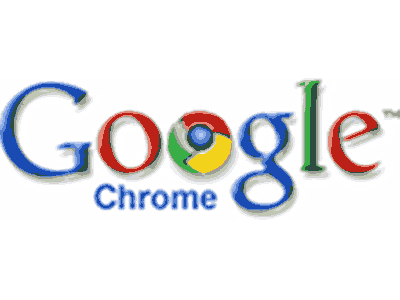 I don't really like third-party toolbars – but I do have the odd plugin installed. Chrome Notepad is a free tool for Chrome browser – ideal for taking quick notes – and FREE.
Nofollow For Chrome
QUOTE: "Paid links: A site's ranking in Google search results is partly based on analysis of those sites that link to it. In order to prevent paid links from influencing search results and negatively impacting users, we urge Webmasters use nofollow on such links. Search engine guidelines require machine-readable disclosure of paid links in the same way that consumers online and offline appreciate disclosure of paid relationships (for example, a full-page newspaper ad may be headed by the word "Advertisement")."
Find paid links on the page and check that links that should be nofollow are nofollow. I have on-page tool NoFollow for Chrome installed. This browser extension is excellent for quick page hyperlink analysis. it highlights rel=nofollow links on the fly which I find useful.
Awesome Screenshot Minus
Capture those magic moments for posterity.
I capture screenshots day-to-day (useful for SEO like me) and I use this simple to use and free on-page tool Google Chrome Add-On called Awesome Screenshot Minus.
On my Mac to take a picture of, for instance, small parts of a screen – I normally use the keyword command Command-Shift-4 (I don't know how PC users do it) but where this software comes in useful is if I want to take a picture of an entire web page that is too big to fit in your browser window.
Woorank
Woorank is an impressive on-page tool 'freemium' tool that does offer a lot of quick functionality in the free version. Check it out. We have a free tool on the Hobo site that does a lot of the same on page SEO checks.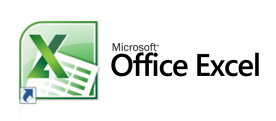 I have spent a lot of my time in Excel spreadsheets, more so in the last few years. Google Spreadsheets are cool too…. but with too many limitations for me to make it a daily tool. Excel lets you automate just about everything – and I do these days.
There's nothing more satisfying than taking 30 days work and automating it. You can manage entire sites with an excel spreadsheet – and if you're not on some level, you're missing out big time.
SEO Tools For Excel
If you're not running your own functions with Excel – Excel Tools For SEO is a great place to start(I also have URL Tools installed). SEO Tools for Excel is a fantastic toolset – once you start with this stuff you can't live without it unless you build your own tools, of course).
Great for combining Adwords data with page specific data and looking for opportunities like under-optimised page titles etc. Tip – Get a Google Adwords API.
Hidemyass
Disclosure: "I am an affiliate of Hidemyass. This review is editorial opinion. This review is not sponsored." Shaun Anderson, Hobo
If you are using a desktop rank tracker or any other rank tracker software you'll need a VPN/Proxy. This thing is so easy even I got it working.
You can set up one computer to run ranking queries via rotating proxies (every few minutes or so) using a desktop rank tracker of your choice and a proxy like Hidemyass and save the results to a Dropbox folder to look at it when necessary (from another machine).
I would also recommend you sign up with a service like LOGMEIN or my new tool of choice – Team Viewer- so you can remotely sign into the rank checker computer in case you need to restart the application. Also good for visiting sites you don't want tracking you, or incognito scraping (hat tip to Scrapebox BTW).
I don't use it for soul-destroying nefarious purposes like spamming or anything like that but lots probably do.
Google Webmaster Tools and Bing Webmaster tools can provide useful insight to your site, but I only really look into these when I am digging deep, or looking for links I am not getting the benefit from.
Other Popular SEO Tools – SEObook, Moz & Raven have good online offerings these days – some more aimed at reporting to clients. While I do have accounts for all, neither is something I visit daily. I have found tools from these sites tools to be VERY useful on the ODD occasion, though – and I know some people swear by them.
I suppose it depends on what you're employed to do, which should influence which tools you invest in.
Beware
There are a lot of tools out there that are a total waste of your time, and some are an out and out scam. I've had direct experience with all the tools I have reviewed here and nearly 20 years experience in search engine marketing.
If you are thinking of buying any software, remember, there are little 'cheats' these days in SEO for the beginners – a good tool with only give you work to do.
Keep in mind:
Competitor Backlink tools can give you ideas where and how to get links but remember you don't need the same links as your competitors, you just need, well, credible links from reputable websites
Keyword density is not something you should be focusing on at all if you are writing your articles after doing some basic keyword research.
Page relevance tools – whatever they might key off of, it's probably not what Google is. It's incredibly important to create a semantic and contextually relevant page but you just need a keyword tool (again, probably pretty inaccurate at least when it comes to the numbers)
Search engine Webmaster tools – I use them for identifying if a search engine has any difficulty accessing particular content on a site and some backlink analysis
If you have a WordPress blog (you should be using the Wordpress SEO plugin).
The tools I use most often are Majestic (for historic link reports at the beginning of a project), SEMRush for quick keyword research, Advanced Web Ranking or Pro-Ranktracker for checking rankings on a few sites, Clicky for real-time website stats, Google Analytics for quick traffic analysis. I also use a couple of different tools for spidering a site and checking syntax.
Rich, accessible, relevant content and editorial links from reputable sites are what you need to get more visitors safely from Google.
You should be thinking things like 'how am I going to make my site better', or 'how am I going to keep people on my site longer', or and 'just where is my next quality link coming from'?
Analysis paralysis is pretty common with any toolset, so watch out, and good luck.
Some tools are total garbage! The tools on this page are certainly not.
These are time-saving tools I use, have purchased, trialled or can recommend, with almost 20 years experience in internet marketing. These reviews include paid and free browser extensions and plugins; cloud-based online tools with monthly subscription packages and paid desktop software packages.
The best SEO tools will save you valuable time, can provide you with insight and can help you quickly explore challenges and opportunities. The caveat being, of course, you will need some degree of experience to get the very best out of most of the tools.
Tools like these help you make a better website and increase user satisfaction and user experience. That is very important if you want to rank high in Google, for the longer term.
Your competition is using these tools and others like them. I use them too. You might find use for them, too.
I am a bit stuck in my old ways, and I don't rely on too many tools but the ones I do, I use regularly and often, for years.
These are 'white hat' SEO tools.
I don't list blackhat tools on this page..
Disclaimer
Disclaimer: "I do not accept paid placement on this page. Affiliate links are marked (AD) which means I have signed up to the affiliate program. All external links on this page have rel=nofollow to more easily comply with search engine webmaster guidelines, US and UK advertising standards. Where there is no label beside links I am not affiliated. I have been in this industry a long time and do have communications with many tool providers on this page.

Buy at your own risk, I can't guarantee satisfaction for 3rd party tools I've reviewed. Hopefully this affiliate program disclosure illustrates transparency and complies with advertising standards. Tool providers can of course send me freebies (which will be disclosed).

The author does not vouch for third party sites or any third party service. Visit third party sites at your own risk. This article is a personal opinion of research based on my experience of almost 20 years. It is not advice. I am not directly affiliated with Google or any other third party other than via affiliate programme. This website uses cookies only for analytics and basic website functions. This article does not constitute legal advice. The author does not accept any liability that might arise from accessing the data presented on this site." Shaun Anderson, Hobo