Disclosure: "These reviews are my own opinion based on over 20 years in marketing. They are not advertisements. Every tool I review I reviewed because I used the tool first without compensation or encouragement. Affiliate links (marked as Aff) are included on this page." Shaun Anderson, Hobo
If you are a developer new to SEO (search engine optimisation) and looking for the best SEO tools you can use to optimise your website, this article is for you. This article lists a number of SEO tools you as a beginner can instantly derive value from.
You should know that no ONE SEO tool does it all.
You also don't need many tools to do SEO.
As a beginner, you want to ensure you're not spending a lot of money on unnecessary tools. All the tools I list on this page have free options and trials. You also want to ensure you get some actionable insights, and these tools are ALL guaranteed to provide that.
Here's my list of the best SEO tools for beginners:
If you are interested in using these tools to help with your SEO, you can use this free technical SEO checklist to manage your project.
Best SEO Tools
I've reviewed a lot of professional SEO tools over the last 20 years or more. I've built my own, too.
Here are my opinions on the best SEO tools professionals use and you can too.
Google Search Console
Google Search Console is a free web analytics console from Google. GSC (formerly known as 'Webmaster Tools') is a must-have tool set with invaluable insights about your own site and messages about your site health direct from Google.
Connect it with Google Analytics to get the most data about our site you can get (for free).
This is a must-have tool to perform SEO these days:
QUOTE: "You can submit your website and verify it in Google Search Console. The procedure to connect your website is very simple with a little technical knowledge." Shaun Anderson, Hobo 2023
PageSpeed Insights
Test your load time and Core Web Vitals using Google's Pagespeed Insights. Run the test, and get a developer immediately to increase your scores.
Again, this is a must-have SEO tool in your toolkit.
SEO Spider
Screaming Frog SEO Spider (For Mac & PC) is a web crawler tool for analysing the structure of a website.
This is a PC-based site crawler tool for experienced and professional technical SEO and web developers. You can use it to find technical and user experience issues on a website. Beginners can glean a lot of information from it too.
Screaming Frog SEO spider is, in all my years of experience, my favourite technical SEO tool.
This is a paid yearly subscription and is well worth it.
It's a tool for website managers, and web developers. SF spiders a site in a similar way any search engine spider would. You will need to understand technical SEO and have a firm grasp of HTML to get the most from this tool.
SF is an excellent program to audit your website from a technical point of view, and it can promptly collect a lot of the necessary information you need to help optimise your site.
This program is available for PC and Mac. As a Mac user, I'm often confronted with software that slows my mac down a little, so it was a pleasure to see this thing run in the background in a quiet, efficient manner.
Run the spider and it will grab information on your pages. Links, page titles, redirects, 404s, heading tags, status codes, attribute lengths, anchor text, alt text and numbers of internal backlinks, number of external links on each page. Quickly identify click depth, see canonical link information or meta-refresh directives. And more.
You can also output this report to CSV.
Screaming Frog spider comes highly recommended for SEO and web designers everywhere. I have used it on small and enormous websites (using a cloud computer to maximise its efficiency).
SF is just about the best SEO software you can buy to investigate site structure and for quick log file analysis IF you are technically minded.
Get a free version too to test it out, before you buy it.
ProRankTracker Rank Tracker Software
Disclosure: "I am an affiliate of ProRankTracker. This review is editorial opinion. This review is not sponsored." Shaun Anderson, Hobo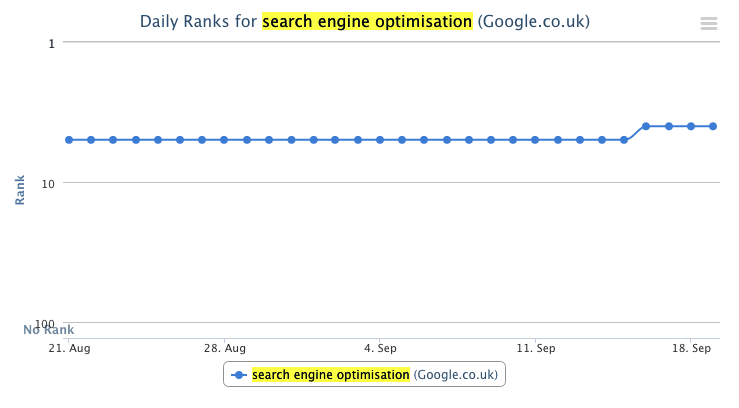 You really do need to use some third party to analyse your rankings on individual keywords if you want a true idea of how your page performs in Google.
ProRankTracker is a simple, easy-to-use, and accurate cloud-based rank checker suitable for most needs. I use Pro Rank Tracker daily and I am signed up for the API, too. I have been a customer and affiliate of Pro Rank Tracker for almost 10 years now. There is a free version.
SEMrush
Disclosure: "I am an affiliate of SEMrush. This review is editorial opinion. This review is not sponsored." Shaun Anderson, Hobo
SEMRUSH IS MY FAVOURITE ALL-ONE SEO TOOL for beginners. It is a Site Auditor, Keyword Research & Competitor Analysis Tool.
I have enjoyed using SEMrush for over 10 years.
Semrush is a keyword research tool for, well, professional keyword research, site analysis and competition analysis. This tool does a lot of things. Much more, since I started using it many years ago.
which keywords seem to be popular in your niche,
related keywords, phrases, and terms you might consider weaving into your content and link building strategies
gives you an idea (when you aggregate the data) which natural listings in Google are providing competitors unpaid traffic
lists top-ranking sites competing for those keywords
shows you on average how much a click on this keyword is worth in Google Adwords (although it would be nice to see that in Sterling (£) rather than dollars
illustrates how competitive this term is (in Adwords at least, by number of competition)
how many (on average) times the keyword or phrase is typed into the UK version of Google
you can get a cool firefox plugin as well and export research data to usual formats
…and more
You can really do some neat stuff if you are a keyword monkey.
SEMrush has keyword databases for US, UK, Spain, Germany, France, Spain and the rest of the world.
The beauty of SEMrush is that it is a great place for beginners to start looking at the performance of their site versus competitor sites.
Redirect Path
Redirect Path for Chrome is a highly recommended on-page tool and valuable little plugin that can help you quickly identify the number and type of redirects if any, that brought you to a page. This is incredibly useful for page migrations and site clean-ups. I use this little extension every day to check on the number of chains in a redirect to a page.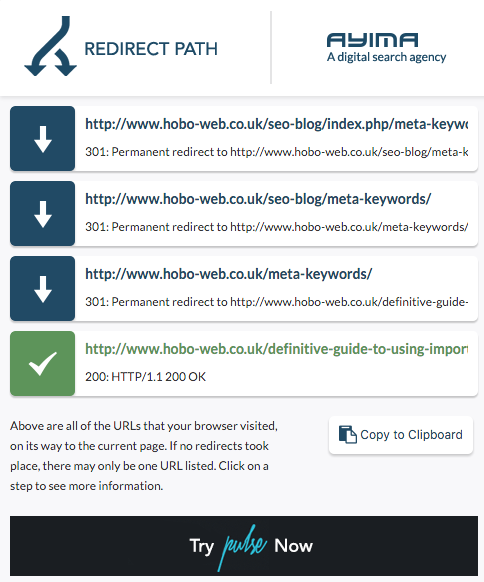 Answer The Public
This is a very simple and free keyword research tool to help you if you are creating content around a specific topic. You can use this to find out the type of questions people have about particular topics.
A great research tool for looking for the questions that surround a topic you may be writing about. But these days, you really should know what you are writing about to rank high in Google for competitive terms. You can also use Google Keyword Planner for keyword research.
If I want competitive keyword data quickly I usually get it from tools like this and SEMRush.
Google Analytics
While the alternatives are useful to have, Google Analytics is still my analytics of choice. API access is also a must to get the best out of it.
It depends on what you're employed to do, which should influence which tools you invest in.
Clicky Web Analytics
Disclosure: "I am an affiliate of Clicky. This review is editorial opinion. This review is not sponsored." Shaun Anderson, Hobo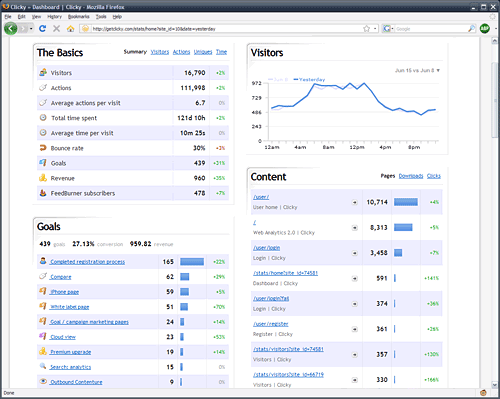 Google Analytics is the de facto analytics software, and the only tool for checking lots of data – but I find I log into my Clicky account more than I do GA these days – if all I want is a quick and dirty analysis of a page or keyword.
When I find a simple tool I like I usually stick with it forever. I'm amazed at the simple things Clicky does so effortlessly. The control panel seems so much more intuitive than for instance Google Analytics. Instantly accessible.
I tried a few real-time web stats analytics packages out (I like software with a free trial) and I must say, Clicky is brilliant.
See who is on your site at that very moment
See where traffic is coming from AND track outbound visitors too
See your valuable incoming links in action
See a more accurate bounce rate for your pages
Too much good stuff to mention
…and best of all, Clicky might very well be FREE if you don't have more than 3,000-page impressions a day – ideal for small businesses.
Try Clicky PRO out. Excellent analytics, and easy to install too.
If you are a beginner, this is a good analytics tool.
Majestic (formerly Majestic SEO)
For more complicated backlink analysis, Majestic has long been my go-to.
I use competitive link analysis:
to look for any obvious short-cuts to take advantage of – it's always nice to impress new clients immediately, and get them involved (I should do this more, in fact)
to see which competitors are really spamming it up and getting away with it
for ideas about posts for a client site that attracts links
to see which newsworthy items pick up links from the press for instance
to identify when the site pushes for traffic via link building
to pick out the links from quality, respected sites that I might have problems getting –  for discussion with the client's marketing department
to get an idea of the type of sites that will link to a competitor
to look at the soup of links that a no1, no2, and no3 site especially can get away with and still rank top in Google
to LEARN how other sites have got where they are.
to learn a bit about the client's industry and competitors
In some cases, I use competitor backlink analysis to gather historical and real-time data to recommend to a client or show them how they SHOULD be marketing their business to achieve online popularity.
Google Search Console is the first place to look at links. Majestic is the second, especially if you are cleaning up spammy links in a disavow process.
Beware
There are a lot of tools out there that are a total waste of your time, and some are out-and-out scams. I've had direct experience with all the tools I have reviewed here and nearly 20 years of experience in search engine marketing.
Keep in mind:
Competitor Backlink tools can give you ideas about where and how to get links but remember you don't need the same links as your competitors, you just need, credible links from reputable websites
Keyword density is not something you should be focusing on at all if you are writing your articles after doing some basic keyword research.
Page relevance tools – whatever they might key off of, it's probably not what Google is. It's incredibly important to create a semantic and contextually relevant page but you just need a keyword tool (again, probably pretty inaccurate at least when it comes to the numbers)
Search engine Webmaster tools – I use them for identifying if a search engine has any difficulty accessing particular content on a site and some backlink analysis
If you have a WordPress blog (you should be using a WordPress SEO plugin for some basics, but do not rely on them entirely).
Rich, accessible, relevant content and editorial links from reputable sites are what you need to get more visitors safely from Google.
You should be thinking things like 'how am I going to make my site better, or 'how am I going to keep people on my site longer, or and 'just where is my next quality link coming from?
Analysis paralysis is pretty common with any toolset, so watch out, and good luck.
Some tools are total garbage! The tools on this page are certainly not.
These are time-saving tools I use, have purchased, trialed, or can recommend, with almost 20 years of experience in internet marketing. These reviews include paid and free browser extensions and plugins; cloud-based online tools with monthly subscription packages and paid desktop software packages.
The best SEO tools will save you valuable time, can provide you with insight, and can help you quickly explore challenges and opportunities. The caveat is, of course, you will need some degree of experience to get the very best out of most of the tools.
Tools like these help you make a better website and increase user satisfaction and user experience. That is very important if you want to rank high in Google, for the longer term.
Your competition is using these tools and others like them. I use them too. You might find a use for them, too.
I am a bit stuck in my old ways, and I don't rely on too many tools but the ones I do, I use regularly and often, for years.
These are 'white hat' SEO tools.
I don't list blackhat tools on this page and I would avoid them if I were you!
Disclaimer
Disclaimer: "I do not accept paid placement on this page. Affiliate links are included which means I have signed up to the affiliate program. All external links on this page have rel=nofollow to more easily comply with search engine webmaster guidelines, US and UK advertising standards.

Buy at your own risk, I can't guarantee satisfaction for 3rd party tools I've reviewed. Hopefully this affiliate program disclosure illustrates transparency and complies with advertising standards.

The author does not vouch for third party sites or any third party service. Visit third party sites at your own risk. This article is a personal opinion of research based on my experience of almost 20 years. It is not advice. I am not directly affiliated with Google or any other third party other than via affiliate programme. This website uses cookies only for analytics and basic website functions. This article does not constitute legal advice. The author does not accept any liability that might arise from accessing the data presented on this site." Shaun Anderson, Hobo