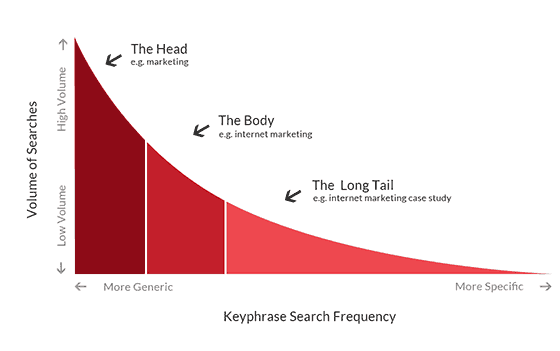 Keyword research is one of the most important aspects of SEO.
But do you know what makes it so significant?
Your customers use various words and phrases to find products or services you offer.
But how customers search for your service could – will – be different from what you'd use to describe it, in text content on your website.
Where you think you sell "cool widgets", your customers might be searching Google for "funny widgets".
And they won't find you unless YOU optimise for the phrases THEY use. Sometimes – you might not rank AT ALL in Google for a specific phrase HIGHLY relevant to your business – just because you do not have ONE specific word on the page. In some SERPs, you will not rank UNLESS you have the specific keyword phrase on the page.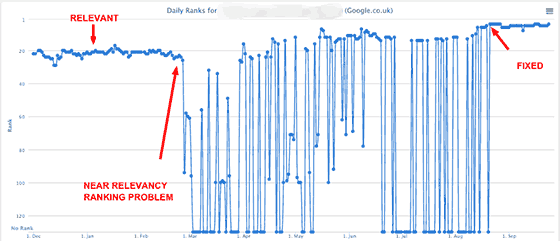 Just adding 'original content' is not enough and it won't ever be. As long as a search engine displays organic results based on KEYWORDS and LINKS and the search engine is intent on manipulating results on a very granular level like this (and MANY other ways)  – a search engine optimiser can always get more traffic out of any page over time.
That's what keyword research helps you discover – the very keywords your audience is going to use to find you. It can help you find out about what topics to write about, or what keywords to add to a primary topic page you already have on your website.
You can use Relevance Optimisation it to steal a competitor's rankings, traffic and sales, if you have the Quality Score – Expertise, Authority & Trust –  to match them in Google SERPs.
And in this guide I'll quickly show you how to do it using SEMRush (Affiliate) – a popular tool used by professional SEO all over the world.
In this guide you'll learn:
the most important keyword research terms.
the difference between various keyword types.
how SEMRush – an all-in-one online marketing suite of tools works.
a Step by step guide through the keyword research process.
how to use SEMRush to find relevant keywords.
how to establish keyword difficulty.
how to use SEMRush to discover keywords your competitors optimise for.
Keyword Research Glossary
Before we begin researching keywords, we need to discuss some of the most common terms you'll come across in this guide.Knowing them will make it easier for you to understand different aspects of the keyword research process.
Knowing them will make it easier for you to understand different aspects of the keyword research process.
Keyword: A word or string of words user enters into a search engine in order to find relevant information.
Traffic Volume. The average number of searches a keyword receives in the last 12 months. This metric helps to establish how popular a keyword is.
Organic search. All search result page listings apart from paid ads.
Paid search. Paid search engine listings.
Phrase match. A variation of a keyword that appears when someone searches for an exact keyword or variation of it.
Related keywords. Different keywords that relate to the original topic you specify in keyword research.
A volume of searches a keyword receives in the last 12 months.
Average CPC. Average cost for bidding a paid Adwords ad for a given keyword. It helps to establish how popular but also competitive a keyword is.
Competition Density. How many advertisers bid for a given keyword. It helps to establish the conversion opportunity per keyword.
Results: The number of URLs displayed in organic search for a given keyword.
Different types of keywords
If you look closely at how you search, you'll notice that you use different keywords depending on what you're looking for and why.
Sometimes you simply type in a single word into the search box. Other times you ask a question or describe a product in detail.
These different keywords help you in your customer's journey. In general we divide keywords in two ways.
By keyword length
There are three types of keywords in this group: head, body and long tail.
Head keywords typically contain a single word describing a topic a searcher's looking for, i.e. "shoes". They are generic and often don't discern what the person's really looking for. Even though they receive huge amounts of traffic, they typically offer very little opportunity for conversion.
Body keywords extend the head term with additional information i.e. "running shoes" yet can still be quite generic.
Long tail keywords describe what the user's looking for in great detail i.e. "best running shoes for men" and are often used by searchers who are looking to buy.
By buying intent
The other way to categorise keywords is by their role in the buying cycle. There are 4 types of keywords in this category:
Informational
Searchers use these keywords to find information and answers to their questions. You can recognise informational keywords by such words and phrases as "how to", "where", "when".
Navigational
Customers typically use these keywords to find a business location or contact details. Often these keywords include just a brand or company's name.
Commercial
These keywords help customer's research and compare solutions before buying them. They might include words like "best", "compare" etc. (i.e. "best Kindle cover", "compare kindle covers").
Transactional
The last group is keywords customers would use to find products they want to purchase. These keywords often include terms like "buy" or "cheap" etc.
Why is this information important?
Being able to recognise different keywords will help you to:
Pick better keywords. A single keyword research can generate hundreds, if not thousands of potential keywords. Not all of them, however, can help you achieve your goals. Being able to distinguish different keyword types will help you pick the phrases that best match what you're trying to achieve.
Create better content. Knowing why customers use certain keywords will help you write better content to deliver to their needs and increase your website's relevancy.
Conducting Keyword Research with SEMrush
In the previous section, we've covered all theoretical information you need to know. Now it's time you learn how keyword research works.
For this process, we're going to use SEMrush (you get a free trial for 14 days with that link), an all-in-one suite of digital marketing tools popular among professional SEO. It includes almost every tool you'd need to manage a successful organic online marketing campaign.
Before we begin, if you don't have an SEMrush account yet, go to the site and register for free: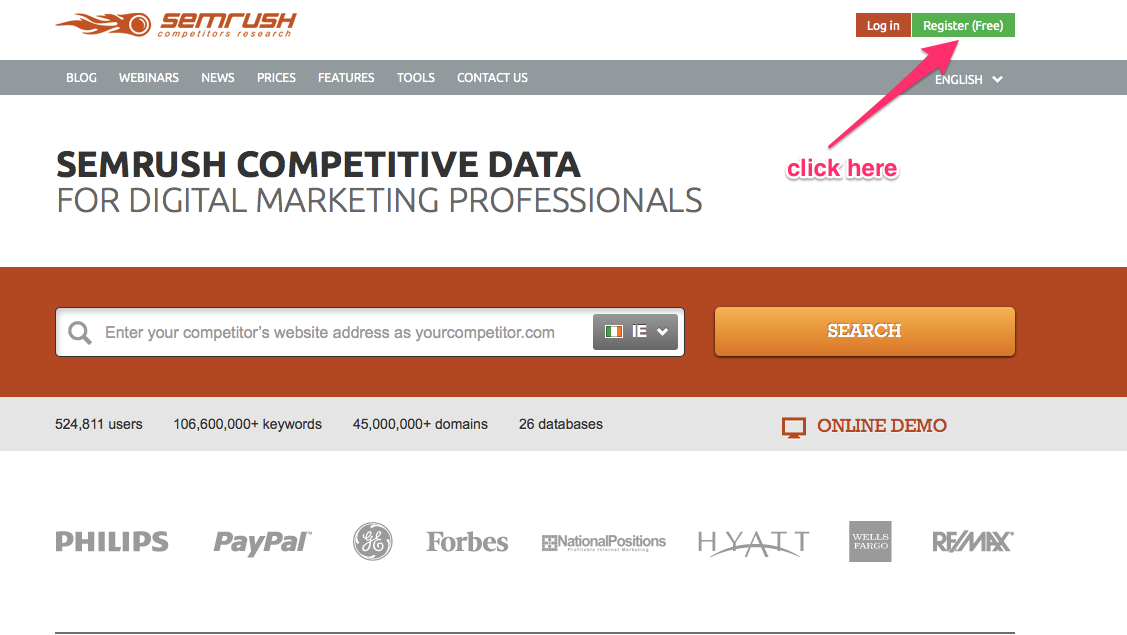 Once you're logged in, use links in the left side column, scroll down to Keyword Research section and click Overview: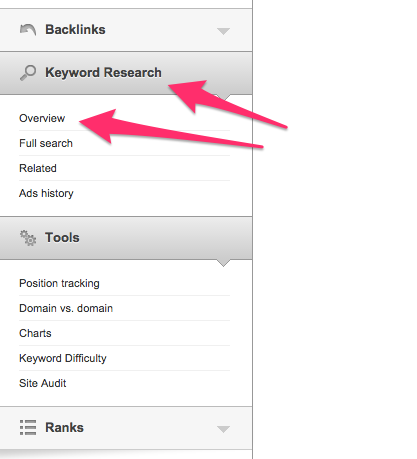 Don't worry if there is nothing displaying on the screen right now. We haven't started the process yet and so the tool has no information to show us.
Let's change that then.
Step 1. Make a list of topics or themes that best describe what you do
To begin think of any terms or topics describing what your business offers.
When thinking of those topics, put yourself in your customers' shoes. How would they call what you do? Think of your sales interactions, how did your prospects referred to your business or products?
If you run a clothing company, these topics could include "t-shirts" or "hoodies" for instance.
Step 2. Input each of these topics into SEMrush
Your generic topics or themes will serve us as a great starting point to research new keywords.
You'll also have a chance to use SEMrush now.
Go back to the tool, in the left side column navigate to Keyword Research section and click Overview.
Then type one of your topics into the search box on the top of the screen and hit SEARCH.
Note: You will notice two more options inside the search box, one says (keyword) and the other lists a region (US in this case but it DOES have a good UK database I work with more):

The first of those options denotes the tool currently being used – keyword research. Don't click it off, as doing so will reset the tool.
The other allows you to specify what regional search engine you want to see the results from. Even though you reside in one country it doesn't mean that you can't retrieve search data from another. This option allows you to specify that.
Once your hit SEARCH the tool will display overview of various data on theme you've selected. Following the example of a clothing company, I'm going to use "t-shirts" as my theme.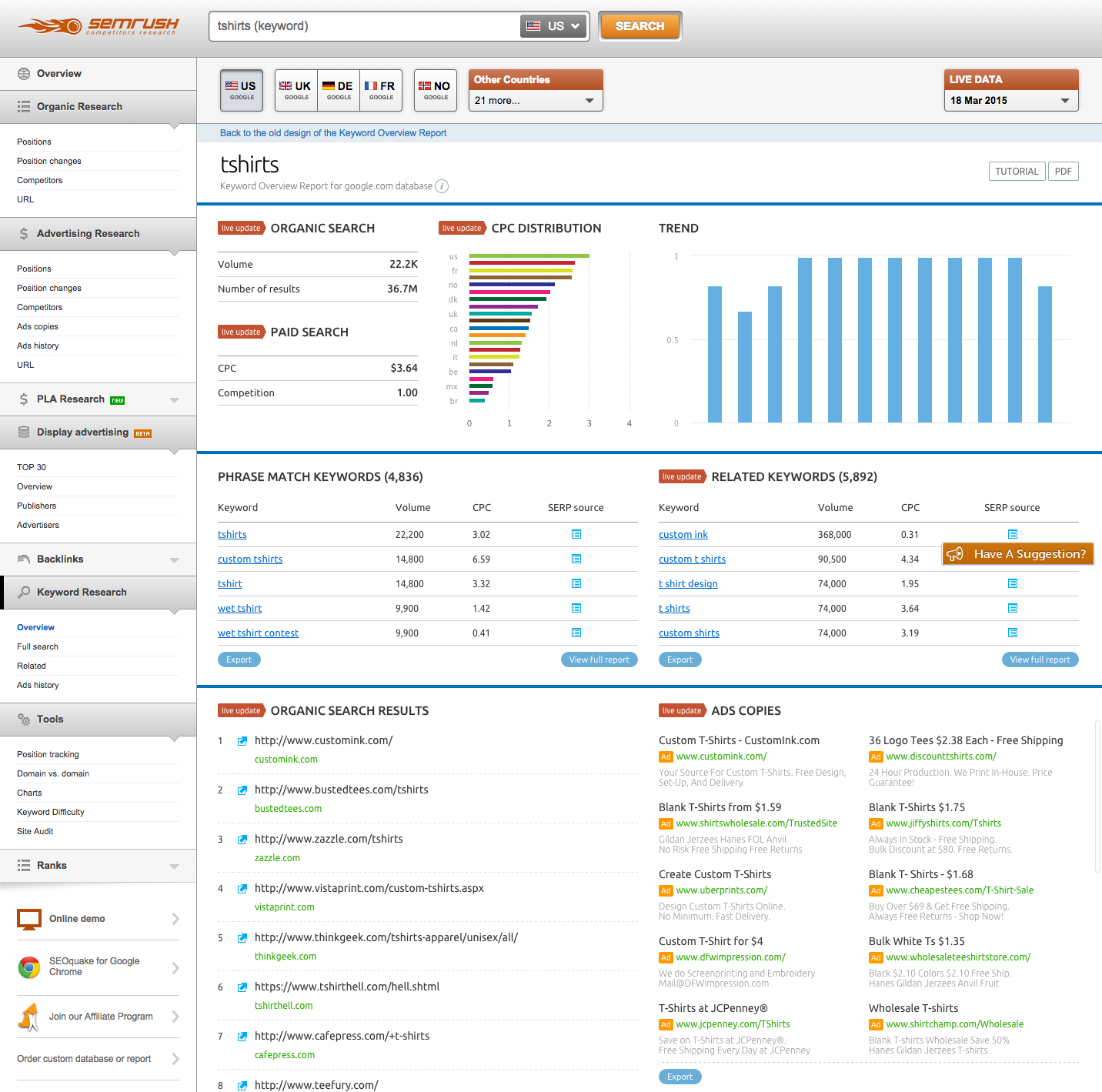 (A keyword overview report in SEMrush)
Let's look at the information that important to keyword research in the report:
Organic Search. This section displays data relating to organic traffic this keyword receives. Volume indicates average monthly number of searches for this keyword. Number of results shows how many URLs compete for this keyword.
Paid Search. This section presents the paid traffic data – cost per click and competitor density.
Trend indicates monthly distribution of search volume for the keyword. This metric is ideal if you want to establish keyword seasonality.
Phrase match keywords and Related Keywords
These two reports are the heart and soul of keyword research.
Phrase match keyword shows variations of the main keyword you specified that customers might use to search for a product or service.
Related keywords report shows different keywords that relate to the main keyword in one way or another.
We're going to be working with those two reports.
Click on "View full report" under Phrase match keyword report.
This will give you access to a full list of phrase match keywords SEMrush had found for the topic. In my case, the tool generated 4836 results. Not bad!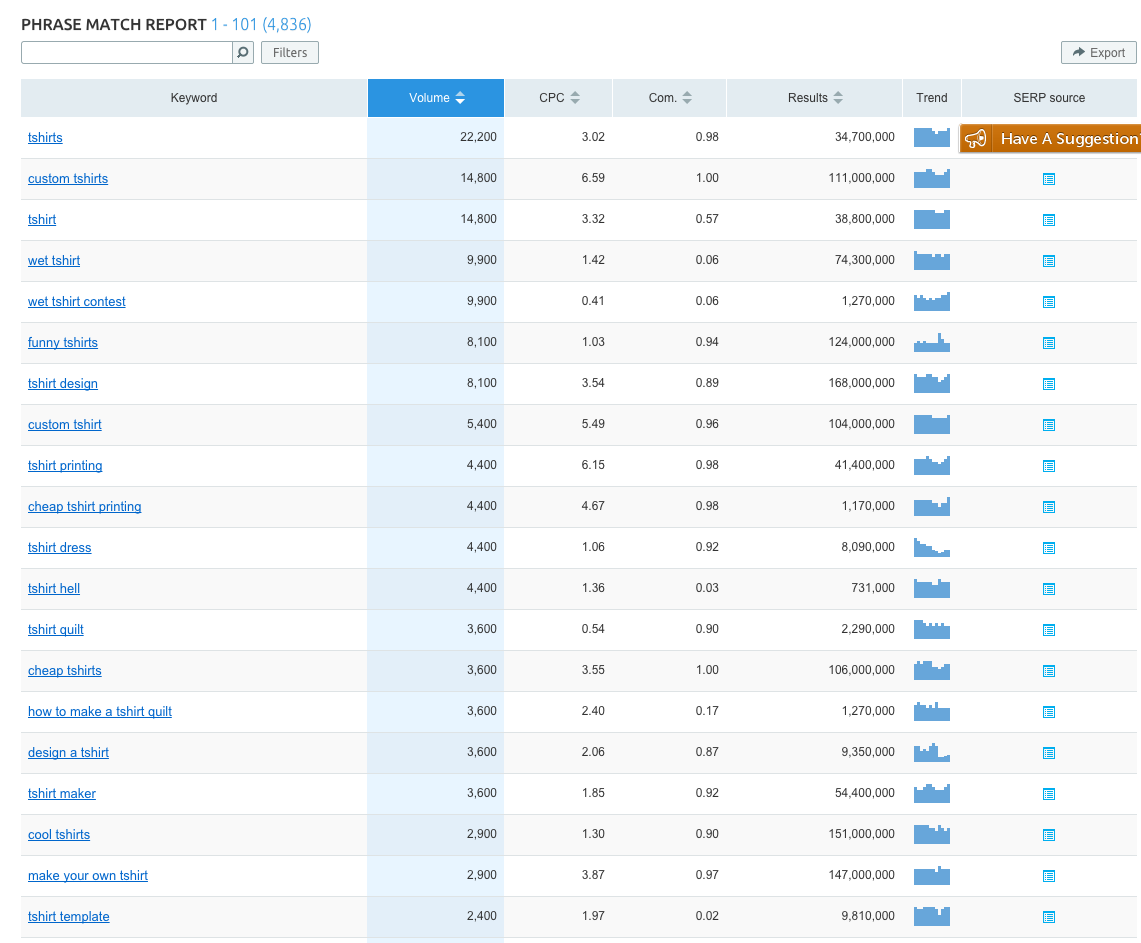 As you can see, apart from the list of keywords the tool also displays information that can help me better assess those keywords:
Traffic Volume.
Average CPC.
Competition Density.
Of Results.
Trend
It also lets me to see the cached SERP (search engine results) page for each keyword.
By analysing this data you can assess which keywords might be worth targeting with your SEO efforts.
Now do the same for Related Keywords.
Click on Related in the left sidebar, under Keyword Research section.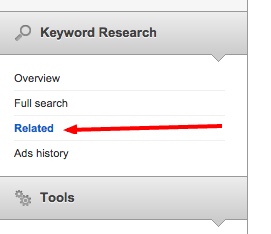 The tool will now display a list of keywords related to your main topic.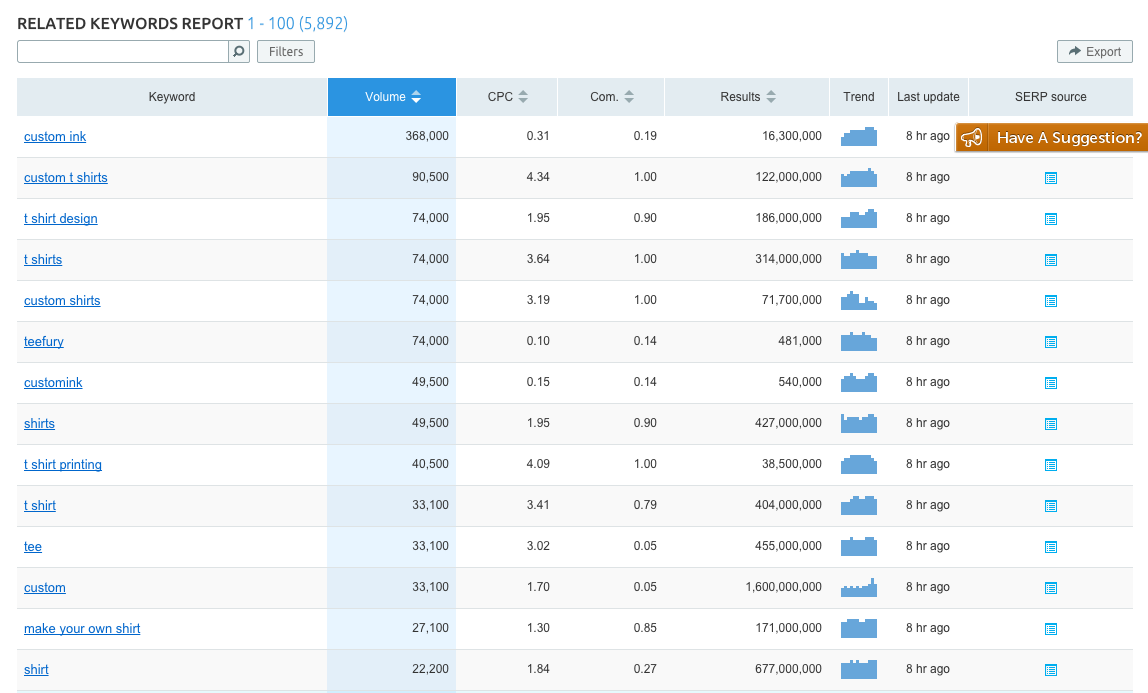 (Related keywords report in SEMrush)
Notice that this time these keywords are not as closely tied to the main keyword. For instance, my search for "t-shirts" also revealed such phrases as "custom ink" or "make your own shirt".
That's because related keywords report widens the search and displays not only closely relevant but also related terms. This report is useful when you're trying to spread out your content and attract new audiences to the site. With the Related Keywords report can identify keywords you could use to build related content on.
Repeat the whole process for every other topic you listed to find other sets of relevant keywords.
But having those long lists of keywords is one thing.Figuring out which ones to try and rank for is another.
Figuring out which ones to try and rank for is another.
Here are few other reports that can help you with that.
Step 3. How To Work Out Keyword Difficulty
SEMrush's Keyword Difficulty tool allows you to find out how difficult it would be to seize a competitor's positions in search rankings for a given keyword. This is all relative, and a propriety calculation by SEMRUSH – it's never going to be exact – so use the data it provides accordingly.
The tool analyses other domains ranking for a keyword and gives a % estimate of how difficult a keyword is to rank for.
Here's the result for analysing few t-shirts related keywords.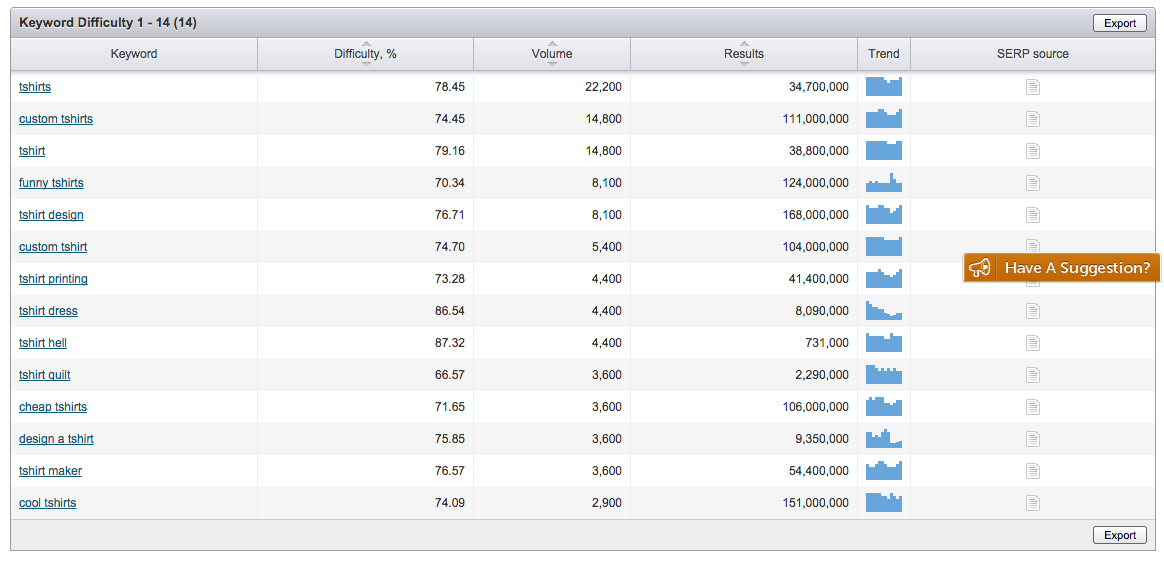 As you can see, these keywords are quite competitive. Don't get discouraged by such results. Instead, use it to estimate and plan your SEO strategy ahead.
To use the tool, go to Tools section in the left side column and click on Keyword Difficulty.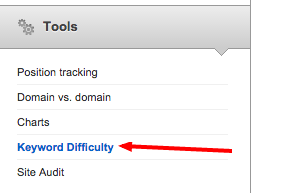 Type one or more keywords into the Keyword Difficulty one keyword per line and click "Show difficulty"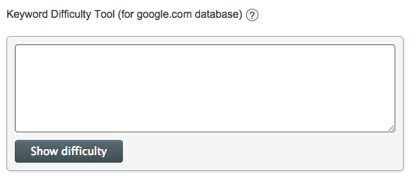 The tool will output a report similar to the one shown above to help you quickly establish your keywords' competitiveness.
Step 4. How To Research Competitors' Keywords
SEMrush also allows you to take a peak at keywords your competitors use and even compare phrases you optimise for with them.
SEMrush includes a tool called Domain vs. Domain which basically allows to compare up to 5 domains to see common and unique keywords for each domain.
To use it, navigate to Tools section of the sidebar column and then click Domain vs. Domain.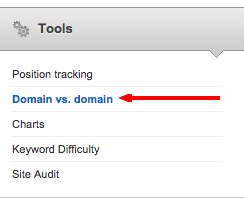 In the tool, specify up to 5 domains, select Organic, Paid or PLA (Product Listing Ads) to choose what data to compare and click GO.

Since we're researching organic keywords, I recommend that while studying this tutorial you select Organic traffic.
In my example, I'm comparing two t-shirts companies – bustedtees.com and tshirthell.com.
The tool displays results in two ways:
It shows a table view of keywords domains you specified rank for, along with additional information.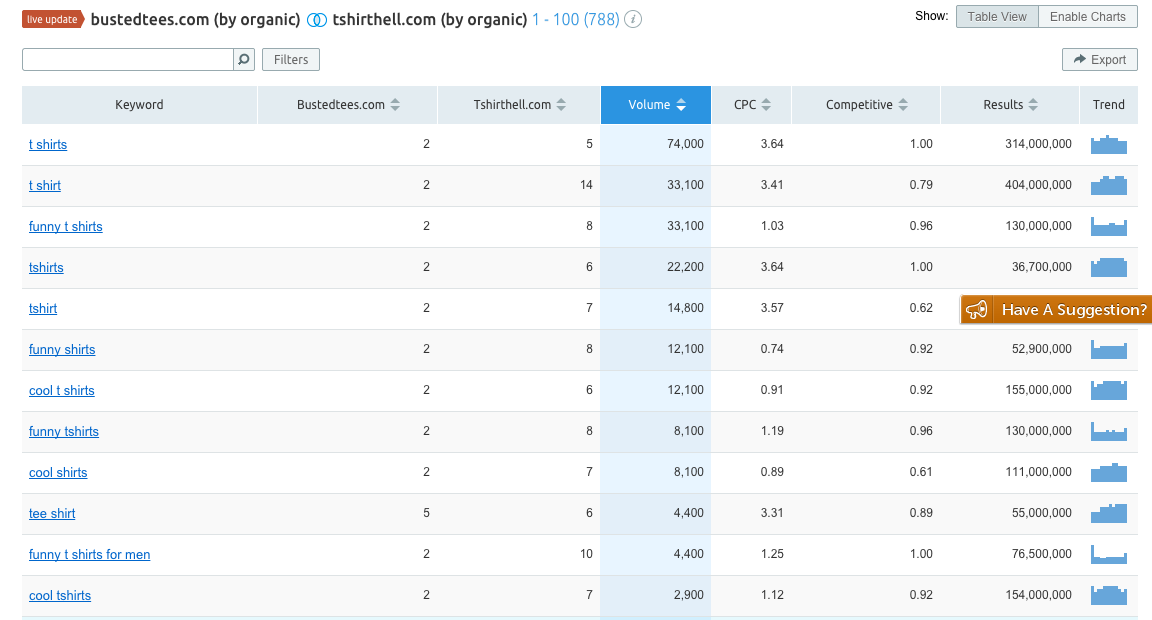 From this report you can tell current ranking position each domain sports per keyword along with typical data on each keyword (volume, average CPC etc.)
But it's the other method of displaying data that's interesting – the chart view.
The chart view
This report uses a Venn diagram to present common and unique keywords per domain. Here is how it looks for the two t-shirt stores I specified earlier on.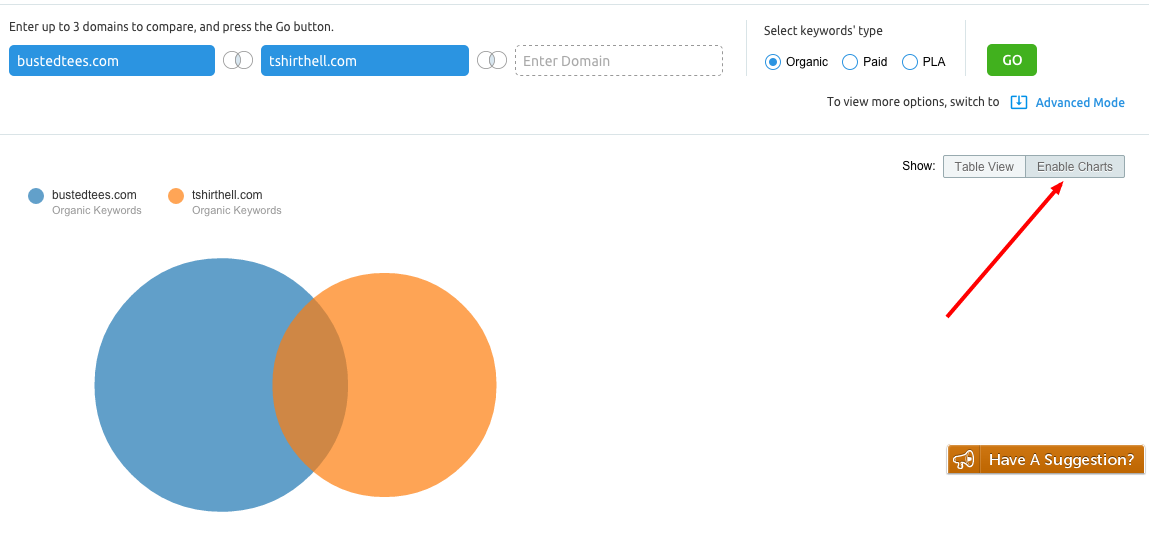 From this diagram you can instantly see that bustedtees.com is optimised for more keywords than Tshirthell. What's more, you can also see that both domains share only a small number of common keywords.
Comparing your domain to competitors this way can quickly reveal great keyword opportunities to avail of.
Bonus. Rank Tracking In SEMRush
Selecting keywords and optimising pages for them is just part of the process. You should however also track your rankings to measure your success.
In SEMrush you can use a Position Tracking tool to monitor where your domain ranks for keywords you optimise for.
To launch the tool, go to Tools section of the sidebar again and click Position Tracking.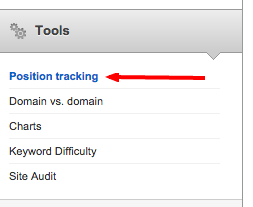 Follow simple steps to set up a campaign, include keywords you want to track and the tool will report on your current rankings for those keywords every day.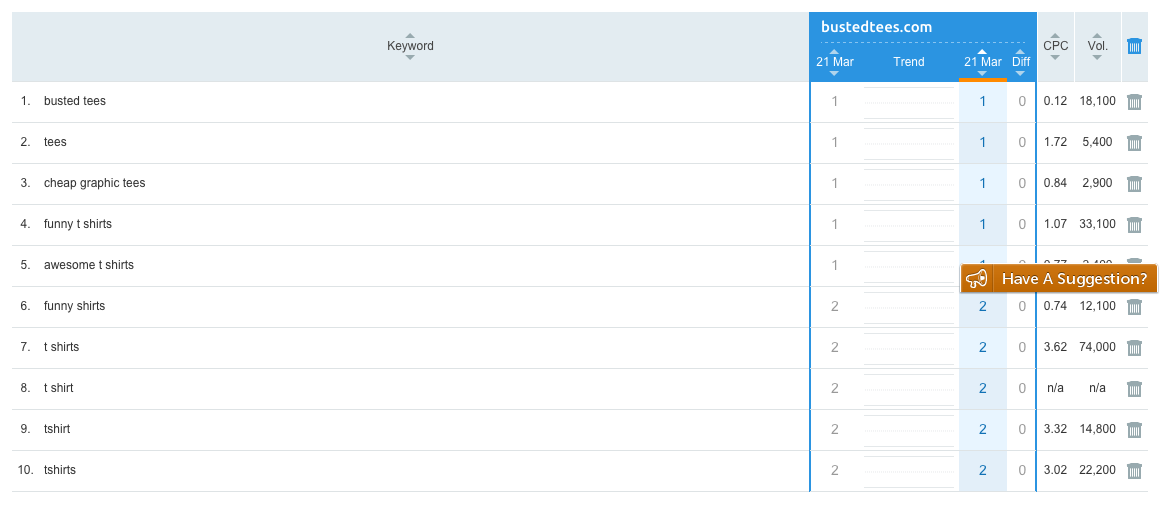 And, that's it!
That's essentially the entire keyword research process with SEMrush in a nutshell.
What you do with that keyword data, how you interpret it and how you map and deploy it to your pages is what separates the wheat from the chaff in Google's search engine results pages.
I've been a customer and affiliate of SemRush for many years now – it's always a good place to have a quick look at how a website is performing against its competitors.
If you are a small business owner looking to improve the visibility of your website in Google – click here.