Another simple observation for discussion about how Google seems to operate at a very granular level using the same sort of scenario as yesterdays post.
Q: Does Google Count A Keyword In The URI When Ranking A Page?
The anwser to wether a keyword in the URI makes a difference to whether a page ranks or not for a query, is YES.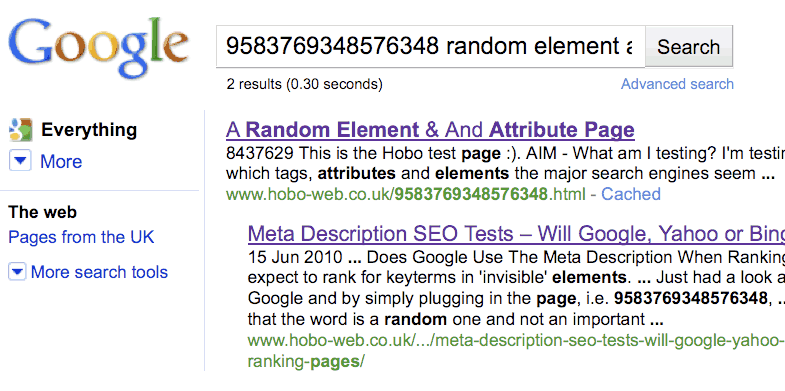 And it's it may be IMPORTANT from what I can see with other observations I have made.
Perhaps very important from a relevance point of view – though that is NOT WHAT MOST SEO SEEM TO THINK OF THIS – I didn't until I looked for myself.
Think of it though – that makes sense. It's the name of a whole document. It might be more important than the keyword on the page in plain text – that is, it might be more RELEVANT to Google. See my next screen shot.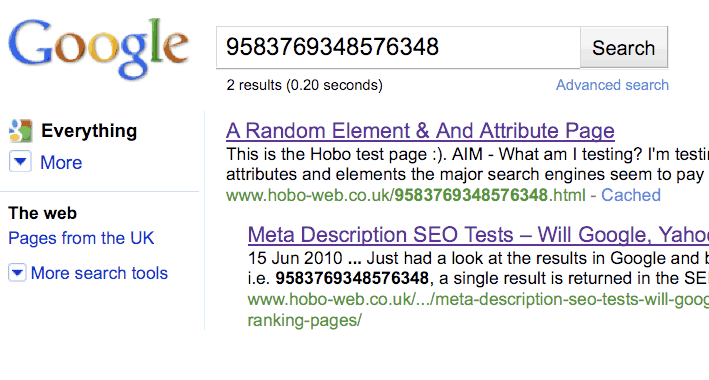 Observation – the keyword in the URI outranks a page with the keyword in the text content. Of course, this is just one test page, and positions can change with time due to any number of things. Why it's important is another matter. For instance, does Google count this as a link – it IS cited on another document, albeit not in the anchor text of that link? Or is it just the keyword use itself?
Anyways – placing keywords in your URI is important as well all know, but the keywords in the URI – ie the filename of the document – don't need to be on the page at all.
Does Yahoo count the keyword in the URI? Apparently so….

And so does Bing by the look of it……

Takeaways
Google, Yahoo & Bing SEEMS to consistently rank a page in a search for a keyword that is only present in the file name (URL) and not present on the page itself or anywhere else, and that's what I am seeing in a lot of places.
I've a few more I will publish. The aim of this is geek fun – it's a search to find out how to make a page AS RELEVANT AS POSSIBLE so Google will rank it well, on a very basic level.
I already know how to make a page relevant, and I don't sweat the small stuff. But I always like to keep an eye open for little hints like this observation MAY illustrate – because it is not JUST ALL ABOUT INCOMING BACKLINKS for a search engine demanding relevance.
Don't just take my word for this or the recent meta description observation. See if this is true with your pages.
Of course – you don't NEED to have a keyword in the URI. But search engines will count them if you do. Perhaps search engines place more emphasis on other regions of a page if keywords are not used in a URI. Who knows….?