The BNP (British National Party) as featured on the UK BBC Question Time last night, use Alexa traffic rank badges on their site as a metric for success against all the other political parties – basically proclaiming that their website is more visited than all the other political parties in the UK – I wish my clients were happy using alexa traffic rank data as a metric and I hope the BNP get their other statistics from more reliable sources :P
Alexa Traffic rate is well screwed and innacurate. The MORE POPULAR YOUR SITE IS ON SOCIAL NETWORKS, in my experience, hurts your alexa ranking. Yes, I know. It's as if Alexa penalise successful social media savvy sites, while rewards sites with traffic Alexa obviously values more – ie search engine visitors.
How do you increase your alexa ranking? By getting more search traffic and staying away from sites like Stumbleupon, Digg and other social network sites, who are frankly easier to manipulate than, for instance, Google. And that's leaving out the pointless Alexa Toolbar and the fact if you write for a more tech savvy audience, you may very well have a higher Alexa rating..
On a side note, the Hobo site is tanking the BNP in Alexa rank - maybe we should start a political party :)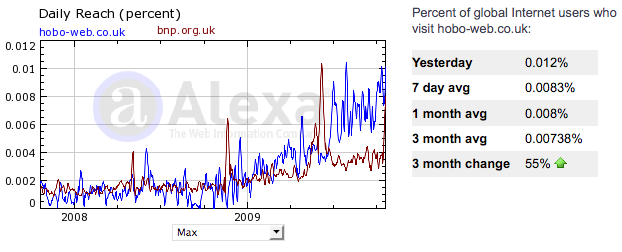 Of course, they'll undoubtedly generate a lot of traffic – controversy always does – but I don't know of any (respected) professional search marketer that uses Alexa Rank as a measurement of ranking success above others (although I am open to debate on the subject).
Why the BNP is using it, I'll leave up to you :)