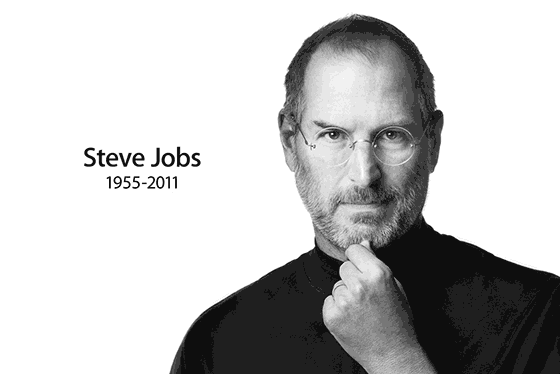 Remembering that I'll be dead soon is the most important tool I've ever encountered to help me make the big choices in life. Because almost everything — all external expectations, all pride, all fear of embarrassment or failure – these things just fall away in the face of death, leaving only what is truly important. Remembering that you are going to die is the best way I know to avoid the trap of thinking you have something to lose. You are already naked. There is no reason not to follow your heart.
A lot of companies have chosen to downsize, and maybe that was the right thing for them. We chose a different path. Our belief was that if we kept putting great products in front of customers, they would continue to open their wallets.
Be a yardstick of quality. Some people aren't used to an environment where excellence is expected.
Design is not just what it looks like and feels like. Design is how it works.
I think we're having fun. I think our customers really like our products. And we're always trying to do better.
I want to put a ding in the universe.
Innovation distinguishes between a leader and a follower.
Sometimes when you innovate, you make mistakes. It is best to admit them quickly, and get on with improving your other innovations.
The people who are doing the work are the moving force behind the Macintosh. My job is to create a space for them, to clear out the rest of the organization and keep it at bay.
To turn really interesting ideas and fledgling technologies into a company that can continue to innovate for years, it requires a lot of disciplines.
You can't just ask customers what they want and then try to give that to them. By the time you get it built, they'll want something new.

"I was worth over $1,000,000 when I was 23, and over $10,000,000 when I was 24, and over $100,000,000 when I was 25, and it wasn't that important because I never did it for the money."

Being the richest man in the cemetery doesn't matter to me … Going to bed at night, saying we've done something wonderful… that's what matters to me."
We think the Mac will sell zillions, but we didn't build the Mac for anybody else. We built it for ourselves. We were the group of people who were going to judge whether it was great or not. We weren't going to go out and do market research. We just wanted to build the best thing we could build. When you're a carpenter making a beautiful chest of drawers, you're not going to use a piece of plywood on the back, even though it faces the wall and nobody will ever see it. You'll know it's there, so you're going to use a beautiful piece of wood on the back. For you to sleep well at night, the aesthetic, the quality, has to be carried all the way through.

Creativity is just connecting things. When you ask creative people how they did something, they feel a little guilty because they didn't really do it, they just saw something. It seemed obvious to them after a while. That's because they were able to connect experiences they've had and synthesize new things. And the reason they were able to do that was that they've had more experiences or they have thought more about their experiences than other people.

The broader one's understanding of the human experience, the better design we will have.
That's been one of my mantras — focus and simplicity. Simple can be harder than complex: You have to work hard to get your thinking clean to make it simple. But it's worth it in the end because once you get there, you can move mountains.

Look at the design of a lot of consumer products — they're really complicated surfaces. We tried to make something much more holistic and simple. When you first start off trying to solve a problem, the first solutions you come up with are very complex, and most people stop there. But if you keep going, and live with the problem and peel more layers of the onion off, you can often times arrive at some very elegant and simple solutions. Most people just don't put in the time or energy to get there. We believe that customers are smart, and want objects which are well thought through

This is not a one-man show. What's reinvigorating this company is two things: One, there's a lot of really talented people in this company who listened to the world tell them they were losers for a couple of years, and some of them were on the verge of starting to believe it themselves. But they're not losers. What they didn't have was a good set of coaches, a good plan. A good senior management team. But they have that now.
The problem with the Internet startup craze isn't that too many people are starting companies; it's that too many people aren't sticking with it. That's somewhat understandable, because there are many moments that are filled with despair and agony, when you have to fire people and cancel things and deal with very difficult situations. That's when you find out who you are and what your values are.

The system is that there is no system. That doesn't mean we don't have process. Apple is a very disciplined company, and we have great processes. But that's not what it's about. Process makes you more efficient. But innovation comes from people meeting up in the hallways or calling each other at 10:30 at night with a new idea, or because they realized something that shoots holes in how we've been thinking about a problem. It's ad hoc meetings of six people called by someone who thinks he has figured out the coolest new thing ever and who wants to know what other people think of his idea. And it comes from saying no to 1,000 things to make sure we don't get on the wrong track or try to do too much. We're always thinking about new markets we could enter, but it's only by saying no that you can concentrate on the things that are really important.
When you're young, you look at television and think, There's a conspiracy. The networks have conspired to dumb us down. But when you get a little older, you realize that's not true. The networks are in business to give people exactly what they want. That's a far more depressing thought. Conspiracy is optimistic! You can shoot the bastards! We can have a revolution! But the networks are really in business to give people what they want. It's the truth.
Here's a great anecdote from Hacker News…
Jobs imagines his garbage regularly not being emptied in his office, and when he asks the janitor why, he gets an excuse: The locks have been changed, and the janitor doesn't have a key. This is an acceptable excuse coming from someone who empties trash bins for a living. The janitor gets to explain why something went wrong. Senior people do not. "When you're the janitor," Jobs has repeatedly told incoming VPs, "reasons matter." He continues: "Somewhere between the janitor and the CEO, reasons stop mattering." That "Rubicon," he has said, "is crossed when you become a VP.
Of course it was impossible to connect the dots looking forward when I was in college, but it was very, very clear looking backwards 10 years later. Again, you can't connect the dots looking forward. You can only connect them looking backwards, so you have to trust that the dots will somehow connect in your future. You have to trust in something–your gut, destiny, life, karma, whatever–because believing that the dots will connect down the road will give you the confidence to follow your heart, even when it leads you off the well-worn path, and that will make all the difference.
Sometimes life's going to hit you in the head with a brick. Don't lose faith. I'm convinced that the only thing that kept me going was that I loved what I did. You've got to find what you love, and that is as true for work as it is for your lovers. Your work is going to fill a large part of your life, and the only way to be truly satisfied is to do what you believe is great work, and the only way to do great work is to love what you do. If you haven't found it yet, keep looking, and don't settle. As with all matters of the heart, you'll know when you find it, and like any great relationship it just gets better and better as the years roll on. So keep looking. Don't settle.

Your time is limited, so don't waste it living someone else's life.
RIP Steve Jobs – an inspiration:
Bill Gates'd be a broader guy if he had dropped acid once or gone off to an ashram when he was younger.