Welcome to Hobo SEO services
Hobo Web provides professional SEO (search engine optimisation) services to businesses all over the world. Hobo's expert SEO team has optimised hundreds of websites spanning over two decades.
If you are looking for a professional SEO service, you have come to the right place.
Contact the team to find out more about SEO consulting services and Hobo link-building services. If you are looking for an ad-hoc SEO review performed on your site, check out the Hobo SEO audit service.
If you are planning a website changeover, check out Hobo's website migration service or if you have a manual action, visit Google penalty recovery services.
Read on to find out more about how Hobo does SEO for your business, or learn more about Google SEO.
What is SEO (search engine optimisation)?
SEO is an anagram of search engine optimisation if you are in the UK (or search engine optimization, if you are in the US).
QUOTE: "(SEO) is the process of getting traffic from the "free," "organic," "editorial" or "natural" search results on search engines." Search Engine Land, 2020
Professional search engine optimisation (SEO) is a technical, analytical, and creative process to improve the visibility of a website in search engines.  In simple terms, SEO is about getting free traffic from Google, the most popular search engine in the world.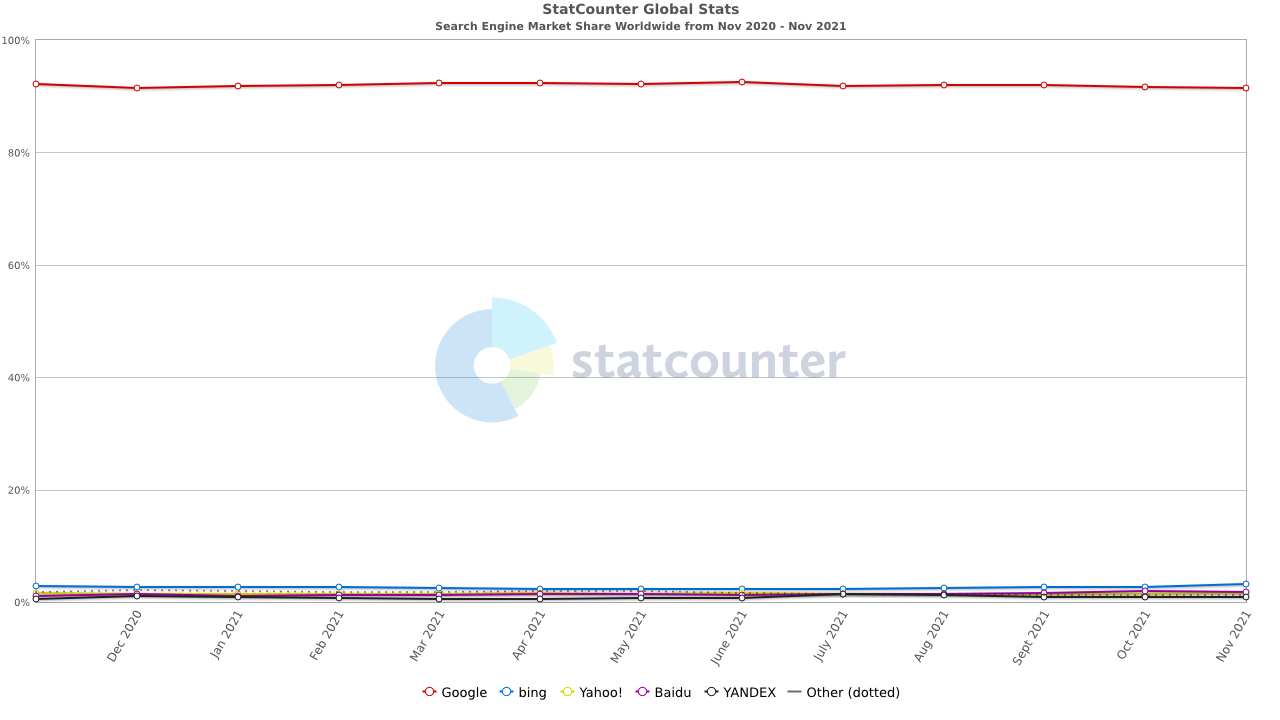 What is the value of SEO?
QUOTE: "Google is "the biggest kingmaker on this Earth." Amit Singhal, Google, 2010
A Mountain View spokesman once called the search engine 'kingmakers', and that's no lie.
Ranking high in Google is VERY VALUABLE – it's effectively 'free advertising' on the best advertising space in the world.
Traffic from Google natural listings is STILL the most valuable organic traffic to a website in the world, and it can make or break an online business.
The state of play is that you can STILL generate highly targeted leads, for FREE, just by improving your website and optimising your content to be as relevant as possible for a buyer looking for what you do.
As you can imagine, there's a LOT of competition now for that free traffic – even from Google (!) in some niches.
You shouldn't compete with Google.
You should focus on competing with your competitors.
SEO is a long-term investment.
It takes a lot to rank on merit a page in Google in competitive niches, due to the amount of competition for those top spots.
What is professional SEO?
Hobo Web's Google search engine optimisation services involve making small modifications to your web pages:
QUOTE: "When viewed individually, these changes might seem like incremental improvements, but…. they could have a noticeable impact on your site's user experience and performance in organic search results." Google Starter Guide, 2020
The SEO process itself can be practiced, successfully, in a bedroom or a workplace, but it has traditionally always involved mastering many skills from website development to copywriting.
A professional SEO has a firm understanding of the short-term and long-term risks involved in optimising rankings in search engines.
When it comes to SEO, there are rules to be followed or ignored, risks to take, gains to make, and battles to be won or lost.
The aim of any SEO campaign is more visibility in search engines and this would be a simple process if it were not for the many pitfalls.
An experienced SEO helps your business avoid these risks.
Google supports SEO when they take a technical approach, supports us when we improve the web for users and focus on:
QUOTE: "site content or structure – Technical advice on website development: for example, hosting, redirects, error pages, use of JavaScript – Content development – Management of online business development campaigns – Keyword research – …training – Expertise in specific markets and geographies." Google Webmaster Guidelines, 2020
What is a successful SEO strategy for your website?
QUOTE: "high quality content is something I'd focus on. I see lots and lots of ….blogs talking about user experience, which I think is a great thing to focus on as well. Because that essentially kind of focuses on what we are trying to look at as well. We want to rank content that is useful for (Google users) and if your content is really useful for them, then we want to rank it." John Mueller, Google 2015
A successful SEO strategy helps your website get relevant, get trusted, and get popular.
Success in search engine optimisation comes from adding high-quality keyword-relevant content to your website that meets user needs.
SEO is no longer about manipulation of Google SERPs beyond what Google expects from your website.
If you are serious about getting more free traffic from Google, get ready to invest time and effort in your website and online marketing.
Be ready to put Google's users, and yours, FIRST, before Conversion, especially on information-type pages like articles and blog posts.
Help a visitor complete their task and do not annoy them.
Do not put conversion rate best practices before a user's interaction with the page content. That is, do not interrupt the MC (Main Content) of a page with ADs (Adverts) or CTA (Adverts for your own business).
Google has decided to rank HIGH-QUALITY documents in its results and force those who wish to rank high to invest in higher-quality content or a great customer experience that creates buzz and attracts editorial links from reputable websites.
These high-quality signals are in some way based on Google being able to detect a certain amount of attention and effort put into your site and Google monitoring over time how users interact with your site.
These type of quality signals are much harder to game than they were in 2011, for instance.
QUOTE: "Another problem we were having was an issue with quality and this was particularly bad (we think of it as around 2008 2009 to 2011) we were getting lots of complaints about low-quality content and they were right. We were seeing the same low-quality thing but our relevance metrics kept going up and that's because the low-quality pages can be very relevant. This is basically the definition of a content farm in our in our vision of the world so we thought we were doing great our numbers were saying we were doing great and we were delivering a terrible user experience and turned out we weren't measuring what we needed to so what we ended up doing was defining an explicit quality metric which got directly at the issue of quality it's not the same as relevance …. and it enabled us to develop quality related signals separate from relevant signals and really improve them independently so when the metrics missed something what ranking engineers need to do is fix the rating guidelines… or develop new metrics." Paul Haahr, Google 2016
Essentially, the 'agreement' with Google is if you're willing to add a lot of great content to your website and create a buzz about your company, Google will rank you high above others who do not invest in this endeavour.
If you try to manipulate Google using low-quality SEO practices, Google will penalise you for a period, and often until you fix the offending issue – which can LAST for YEARS if not addressed.
QUOTE: "Google's John Mueller said … that in rare situations some sites can get stuck in some sort of algorithmic penalty limbo ….. and not be able to recover because Google stopped updating that algorithm. He said this can lead to some sites not being able to recover for several years." Barry Schwartz, 2021
If you are a real business that intends to build a brand online and rely on organic traffic – you can't use black hat SEO methods. Full stop.
It can take a LONG time for a site to recover from using black hat tactics and fixing the problems will not necessarily bring organic traffic back as it was before a penalty.
QUOTE: "Cleaning up these kinds of link issue can take considerable time to be reflected by our algorithms (we don't have a specific time in mind, but the mentioned 6-12 months is probably on the safe side). In general, you won't see a jump up in rankings afterwards because our algorithms attempt to ignore the links already, but it makes it easier for us to trust the site later on." John Mueller, Google, 2018
Recovery from a Google penalty is a 'new growth' process as much as it is a 'clean-up' process.
How long does it take to see results from SEO?
How long it takes to see results from activities depends on many factors.
Sometimes you can see the results from SEO in days.
Optimising a larger site will take more time, naturally.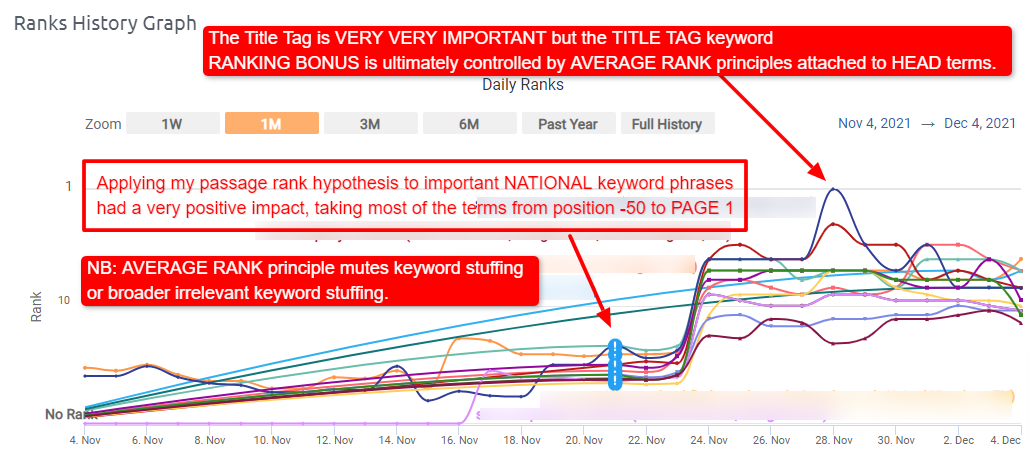 We have been told it:
QUOTE: "will need four months to a year to help your business first implement improvements and then see potential benefit." Maile Ohye, Google 2017
Some results can be gained within weeks and you need to expect some strategies to take months to see the benefit. Google WANTS these efforts to take time. Critics of the search engine giant would point to Google wanting fast effective rankings to be a feature of Googles own Adwords sponsored listings.
If you are recovering from previous low-quality activity, it is going to take much longer to the see the benefits.
QUOTE: "Even if you make big changes with the design and the functionality, and you add new features and things, I would definitely expect that to take multiple months, maybe half a year, maybe longer, for that to be reflected in search because it is something that really needs to be re-evaluated by the systems overall.. Low-quality pages tend to be recrawled much less frequently by Googlebot – it is not unusual for six months to go by between Googlebot crawls on low quality pages or sections of a site. So it can take an incredibly long time for Google to recrawl and then reevaluate those pages for ranking purposes." John Mueller, Google, 2020
SEO is not a quick process, and a successful campaign can be judged on months if not years. Most techniques that inflate rankings successfully end up finding their way into Google Webmaster Guidelines – so be wary.
It takes time to build quality, and it's this quality that Google aims to reward, especially we are told during Core Updates:
QUOTE: "There's nothing wrong with pages that may perform less well in a core update. They haven't violated our webmaster guidelines nor been subjected to a manual or algorithmic action, as can happen to pages that do violate those guidelines. In fact, there's nothing in a core update that targets specific pages or sites. Instead, the changes are about improving how our systems assess content overall. These changes may cause some pages that were previously under-rewarded to do better."  Danny Sullivan, Google 2020
It takes time to generate the data needed to begin to formulate a campaign, and time to deploy that campaign. Progress also depends on many factors
How old is your site compared to the top 10 sites?
How many back-links do you have compared to them?
How is their quality of back-links compared to yours?
What is the history of people linking to you (what words have people been using to link to your site?)
How good of a resource is your site?
Can your site attract natural backlinks (e.g. you have good content or are known for what you do) or are you 100% relying on a third party for back-links (which is very risky)?
How much unique content do you have?
Do you have to pay everyone to link to you (which is risky), or do you have a "natural" reason people might link to you?
Google wants to return quality pages in its organic listings, and it takes time to build this quality and for that quality to be recognised.
Managed SEO services
Hobo Web is a professional SEO services company. Hobo's affordable website SEO services are designed to earn your website more traffic and sales from Google organic traffic in a legitimate way and for the long term.
You earn increased traffic from Google first by submitting 'high-quality' sites to Google that meet their technical and quality rater standards. Google can penalise sites that do not meet accepted quality requirements.
Hobo consultants check your website against these search engine requirements and take appropriate action to ensure you do meet them in the future.
SEO services costs for any project are dependent on the size of your website, the type of work required to fix anything and how much time said work would take to implement.
Every website is unique, so every SEO campaign needs to be unique, too, in terms of work deployed and project timescales.
Generally, Hobo can:
perform this SEO service for you and we base our costs on the challenges we can quickly identify, or
work with another party, if you have an in-house or third-party web development team, and we can consult with them to ensure all technical quality guidelines are met and monitor their progress change-by-change on your website
Hobo Web offers specific ad-hoc UK SEO services and a broader contracted UK-Based SEO campaign management and deployment service. We find the balanced marketing approach that gets your website the most from Google, without getting you penalised by Google!
Hobo SEO specialists focus on building reputation and keyword relevance satisfaction – which is the KEY to successful search engine optimisation. Basically – that means making you the highest quality, most relevant option for Google when it comes to ranking pages for its search engine service.
Hobo focus on improving the performance of your website, improving the relevance of your website content, the accessibility of its information, and the reputation of your backlink profile, to help you get more visitors from search engines like Google, Bing & Yahoo.
Our SEO packages start with a fixed price audit, and then we quote for any work agreed upon.
In this audit, Hobo consultants analyse your current website, and competition, to give you clear recommendations on what needs to happen on your site to get more traffic from Google, and to avoid their punitive algorithms.
You can also hire us for one-off projects to advise on what specifically to do to your website to improve traffic from Google. If you are concerned about unnatural links to your site, we can help you with that too.
If you have a budget you can work with every month, and want us to quote for your work, you can use the form at the bottom of this page.
Over the course of a managed project, all our contract (per month) search engine optimisation packages typically include:
Detection of Google penalties (including Penguin and Panda)
Manual review, investigation & detection of "unnatural links"
Investigation & detection of "negative SEO" attacks
Disavow of toxic or unnatural links (costed separately if large backlink profile)
Help and management of Google Reconsideration Request process
Removal of toxic links (costed separately IF required)
Technical SEO audit of your website
Technical SEO audit of the most important pages on your site
In-depth keyword research for your niche, services and products
Competitor research
Competitor spam detection
Quality back-link identification in the niche & advice on how to build quality backlinks
Site-wide review of your website from a Google perspective
Advice on how to proceed to avoid future Google ranking issues
Advice on content marketing and other link building activities
The only difference between campaign to campaign is studio hours and how quickly these items can be addressed. EVERY campaign will cover the items detailed above through the course of the project – the difference in costs come down to hours in the studio and how many hours can be assigned to the project through the month.
Hobo addresses PRIORITY items as early as possible in the campaign, as this is normally more affordable for customers, and Hobo consultants avoid SEO techniques that Google will penalise you for in the future.
If you wish for the services to be completed in a shorter period i.e. 1-2 months Hobo can schedule the work with the contract fee paid over this shorter timescale.
Introduction to SEO
QUOTE: "Re: Hobo Web: This is by far the most complete free SEO tutorial for beginners I can find online." Mathew Woodward, SEO Blogger, 2020
The best way to learn SEO is to practice making optimisations for a real website. You edit a website that ranks in search engines and record how Google responds to your changes.
As an SEO, you monitor organic search engine traffic and track keyword rankings for individual keyword phrases and pages.
You do lots of SEO tests.
But note:
QUOTE: "There aren't any quick magical tricks…. so that your site ranks number one. It's important to note that any …. potential is only as high as the quality of your business or website so successful SEO helps your website put your best foot forward." Maile Ohye, Google 2017
What really matters is the SEO you prioritise today so that in 3-6 months you can see improvements in the quality of your organic traffic, as we:
QUOTE: "will need four months to a year to help your business first implement improvements and then see potential benefit." Maile Ohye, Google 2017
You will need to meet Google's webmaster guidelines and search quality recommendations in every area by serving the user high-quality, useful, and up-to-date website content.
There are no shortcuts to SEO.
QUOTE: "I don't think there's one magic trick that that I can offer you that will make sure that your website stays relevant in the ever-changing world of the web so that's something where you'll kind of have to monitor that on your side and work out what makes sense for your site or your users or your business." John Mueller, Google 2019
Expect your website to go up and down in rankings when you perform Google SEO.
The Hobo SEO tutorial is a beginner's guide to SEO and an introduction to SEO best practices.
Any Hobo SEO tutorial steers clear of SEO techniques that might be 'grey hat' SEO, as what is grey today is often 'black hat' SEO tomorrow, or at least 'shady practices', as far as Google is concerned.
QUOTE: "Shady practices on your website […] result in a reduction in search rankings" Maile Ohye, Google 2017
No one-page SEO guide can explore this complex topic in full.
QUOTE: "My strongest advice ….. is to request if they corroborate their recommendation with a documented statement from Google" Maile Ohye, Google 2017
You will find Hobo Web does.
Most of the recommendations you will find on Hobo Web SEO tutorials can now be corroborated with a verified statement from Google.
For more information Hobo Web's SEO Tutorial: How to get Google to crawl and index your website fully.
Check out Hobo's SEO best practices next or check out Your site has no URLs with a good page experience?
Who is in charge of your SEO strategy now?
Ranking in Google is mostly about creating relevant content, a great user experience, and earning high-quality backlinks.
A website needs great content and a content marketing strategy. But, without a backlink opportunity review at the very beginning is really a shot in the dark.
And what about those backlinks you already have acquired? Are they maximized to their full potential? Have you looked? Has, anyone?
Does your content manager know what to write about, or does your link builder know what links won't get you penalized next year?
Are practices on your website demoting you in Google?
How do you know?
If it is someone who is struggling to deliver results from SEO for you, then Hobo Web can help. No doubt your in-house or external team spends a lot of wasted time on less important optimisations that might not directly positively impact your ROI from SEO.
Hire Hobo and that will change.
Every day, your team or Hobo's team will be following a daily plan – a plan you'll know about.
SEO services FAQ
What do SEO services cost?
Hobo Web creates a bespoke SEO service package for you tailored to your business needs and your marketing budget.
SEO service costs are dependent on hours needed to complete the tasks involved, and this is dependent on many factors Hobo SEO service providers can only determine once they know the full picture of your web marketing activity, after auditing your website.
Do we carry out SEO work on your website?
Yes.
You can hire Hobo SEOs per month to carry out the necessary SEO work, or we can work with your own website developer.
Hobo Webs' bespoke SEO (search engine optimisation) service is designed to clean a site up and running, get it optimised, and prepare the website for a higher quality web marketing program in the near future (which we can help organise and implement).
SEO performance and ranking reports are available on request. The third-party tools we have access to alone could potentially save you hundreds of pounds a month just to pay for access to.
Hobo's professional SEO services are designed to get your business site optimised to get the most out of Google's natural listings. You do this by meeting Google's requirements in terms of how it rates the quality of your website against other competing sites.
SEO service costs are dependent on the size of the challenge and the hours that Hobo consultants can spend on the project through the period selected – a larger budget means more hours to focus on priority items.
NOTE: If your site has a Google manual action or is penalised, Hobo address this first and foremost.
Does Hobo give honest feedback on your business model?
Yes, Hobo consultants need to be bearers of bad news where it is appropriate to ensure your ROI.
Hobo Web not the type of SEO services company to just take your money and then not advise you on the return-on-investment of your current business model.
We will tell you if your current business model is outdated, and advise you if you should rethink your business strategy.
A real business can always get the full benefits from a legitimate search engine optimisation campaign, but SEO is not a viable strategy for the long term for those businesses who ignore Google guidelines.
Some affiliate websites, for instance, will need to perform very well in certain areas if they hope to gain traction in the long term.
We advise you on these areas and aim to do so to save your investment in time, resources, and budget.
Does Hobo review your site manually?
Yes.
We perform a very detailed manual review and SEO audit on your site to work out what's been happening with your site to date. We check to see if your site is failing to comply with Google's Webmaster Guidelines in any area and also review your site looking to see if the website fails to comply with Google Quality Rater Guidelines.
The first step to ranking high for the long term is to meet Google's recommendations. If your site fails to meet quality guidelines, your site will be negatively impacted by Google quality updates which happen more and more frequently.
Does Hobo find and fix technical SEO errors on your site?
Yes.
We first set up a technical monitoring system where all important changes to the site architecture are now monitored and recorded henceforth, so you can see a record of exactly what technical work has been completed on your website.
After an audit and review of your website, we apply any technical fixes to your website that brings it into line with Google's guidelines on a high-quality user-friendly website.
We use Google Search Console, the best SEO tools available, and our own tools and processes to identify these issues.
From here we can either:
perform this SEO service for you and we base our costs on the challenges we can quickly identify, or
we can lay down a strategy and plan for your website, based on a page-by-page, and section-by-section review of your website.
if you have an in-house or third-party web development team, we can consult with them to ensure all technical quality guidelines are met and monitor their progress change-by-change on your website
These technical challenges may include:
fixing sub-optimal pagination setup on your pages
resolving poor indexation management on the site
untangling improper canonicalisation practices on the site
simplifying improper or suboptimal redirects
giving Google access to important elements on your site
fixing broken links on your site
removing elements on your site that will annoy visitors
identifying and removing doorway pages
applying sensible best practice approaches
Does Hobo fix Google manual actions and ranking 'penalties'?
Yes, within reason.
If you are a real business, we can fix any manual action or ranking penalty that is impacting your site. These are often caused by technical problems, inexperienced online strategy or using old-style SEO tactics that Google now frowns upon (tactics that can be cleaned up).
Does Hobo fix website speed issues?
We can, yes, if you do not have a preferred developer.
We include a review of your current website speed and usability scores. We take benchmark recordings of your website speed now and after we improve it so we can report back to you on your improved ratings in this area.
From here we can either:
perform this SEO service for you and we base our costs on the challenges we can quickly identify, or
we can lay down a strategy and plan for your website, based on a page-by-page, and section-by-section review of your website.
Google ranks pages that satisfy users at the top of search engine results pages. Improving the speed and usability of your responsive website is one of the best ways to improve the user experience of visitors to your website.
Does Hobo perform competitor research for you?
Yes.
We review your competitors to see why they rank where they do. Once we have this information we can use it your advantage. We can formulate a content and user-focused strategy based on your project goals and the most pragmatic opportunity available to you.
Does Hobo perform keyword research?
Yes.
We review your competitors to see what keywords they rank for and what positions they currently hold over your own site. Once we have this information we can use it your advantage. We can formulate a keyword-based strategy based on your project goals and the most pragmatic opportunity available to you.
Does Hobo SEO title tags and meta descriptions?
Yes.
We immediately provide recommendations on your current website title elements and metadata.
We can then, either:
perform this SEO service for you and we base our costs on the size of your website and the number of pages you require Title Tags and Meta Descriptions optimised, or
we can lay down a strategy and plan for your website, page-by-page, and section-by-section of your website.
In both cases, we aim to clean up unnecessary old-SEO techniques present and optimise the page titles and meta descriptions to meet Google's quality guidelines.
Optimising your page titles and meta description for instance, to both rank high in Google and attract clicks is an art form.
Our page title and meta optimisation services are specifically designed to recreate your page titles and meta descriptions to attract more clicks in Google SERPs. We have nearly 20 years of experience optimising elements and metadata.
Does Hobo SEO internal links?
Yes.
We include a review of your current website information architecture. We optimise internal anchor text and internal navigation systems to ensure your navigation system gives Google as much context about your pages as possible.
We use keyword mapping principles to map important keywords to important pages on your site that can rank against the competition. We aim to identify and remove doorway pages and improve the pages that remain.
Does Hobo SEO Schema markup?
Yes.
We always include a review of your current website visibility in search engine results pages and your current schema and rich markup implementation.
After that review, we tailor your website schema and other important information to your business in a way that exactly meets Google's quality guidelines to ensure your web content ranks as well as it should in SERPs (Search Engine Results Pages)
Does Hobo perform link building?
Yes.
We always start with a review of your current website promotion techniques. Some of the techniques you use may have to come to an end.
We can advise on areas of sponsored web marketing that will have a realistic ROI for your business and could have a positive impact on SEO including link building and link outreach management
A sensible approach to organic web marketing is to have professionals write your website page copy, and have a marketing person with expertise and invested in your company to spearhead content creation on the site that users can share. Such a person should come from within your organisation, who we can assist.
Link building should focus on high-quality marketing if you want to stay within Google's guidelines.
We analyse your niche to look for high-quality links, and hunt for (for example) any previous competitor strategy that worked well and that could be emulated to bring success to your SEO efforts.
For more information see Hobo link building services.
Does Hobo create new content for your website?
Yes.
We review your website content quality immediately. Some of the content you use on your site may be useless. For instance, we reduce unnecessary keyword stuffing on web pages and get you focused on creating content that matters, with a clear purpose for users, not just search engines.
We can advise on areas of content marketing that will have a realistic ROI for your business.
We specialise in:
planning and creating new content
web page content reclamation to reuse your current website page content in a better way to get the most out of your SEO campaign
web page content cleaning and content creation services for very large sites with sometimes hundreds of thousands or millions of pages to clean up/de-index
Once we know what the priorities are for you (which is determined by an SEO audit), we get to work planning out new content and then creating that content.
Does Hobo provide backlink cleaning services?
Yes.
We always start with a new SEO project with a discussion about your current backlink profile.
Many (if not all) of the techniques you used in the past may indeed be hampering your rankings today. It is always worth reviewing the links that point to your site from other sites and categorising your links in a way so you can make a determination of whether or not it would be better to disavow historic paid links and start afresh.
We have helped many businesses over the years lift a Google manual action for unnatural links. If your site has a Google manual action for these types of links, a disavow and link clean-up attempt is usually the only practical way of lifting the penalty.
The length of time that this critical task will take is naturally dependent on the number of backlinks that you have and the type of links that you have pointing to your site that needs to be checked.
Does Hobo buy backlinks for your website?
No.
Does Hobo provide a white label SEO service for agencies?
Yes.
Hobo Web provides fast and bespoke 'White Label' SEO audits, reports and services to marketing agencies, web and creative design companies of any size.