I get asked what's a blog and how to blog all the time, as if I know. I have been blogging since 2006 after Andy Beard's blog influenced me to stop spamming them and make one. I thought it would be cool if in some way, one day, I could have a blog like my SEO hero lol US based link builder Jim Boykin (who in fact was the first SEO I ever ended up meeting as a result of blogging).

I do treat this blog as virtually a personal blog, but I always have someone looking over my shoulder these making sure I don't get us sued (unsuccessful move as it was :) ) again so I need to remember Hobo is sort of a corporate blog.
On a simple level blogging just about adding content to your site. The more content you have, the more traffic you'll get, the more links you'll attract, the more domain authority you'll build, and around you go again.
We got over 650,000 visitors to our site, most from blogging in 2009. There's no single way to blog and here's what I learned and how I did it if you are totally new to blogging.
Every time I blog I have some simple aim in mind, and on a post by post basis, none are really that clever, but together as a whole, I hope to create, well, a resource of sorts that drives traffic.
Some blog posts are for attracting links from other sites
Some posts are for growing a reputation and influence in social media
Some posts are for giving back, helping those who have helped you, and linking out
Some posts are about the company, but not many
Some posts are about the company's products, but not many
A lot of posts are about unlocking domain authority and ranking in search engines
Some posts are about connecting with industry or niche players
Some posts are about conversation
Some posts are about traffic
Some posts are about increasing subscribers (and losing them)
Some posts I do because I have an affiliate link
Some posts are just to test how Google works
Some posts I do because I like writing and putting ideas down
Some blog posts are for fun – (dumb posts can often do really well in social media circles)
Some blog posts are a bit more serious
Blogging is pretty easy – and it looks as though you get better (or at least it gets easier) the more you do it especially if you copy how others do certain elements of it.
I learned (and still learn) how to blog at:
These people do it better than me, and/or make more money blogging. Of course everybody loves SEO book and SEOmoz for the way they've presented SEO to the masses, and I like SEO a bit more geeky these days so I like reading Sebastian's Pamphlets,  Huomah and SEO By The Sea to name a few.
My single aim when I started this blog was to add content to my site which, because of the way blogging works, pages appear immediately in Google results.
What I've learned in simple terms is most people don't care about your boring company or products (leave that for the search engine visitors who are looking for your stuff) and most people connect with the individual if the voice behind the blog is at least honest.
Helping others out when you can, seems to be a good way of getting on in the blogging world.
Some savvy marketers might say the biggest mistake I made (probably) was running the blog for 3 years with virtually no ads of any kind, but I'll introduce some sort of limited advertising on the site in 2010. I don't want that stuff to get in the way.
Actually, I think my biggest mistake was blogging for nearly two years not giving a damn about subscriber counts, which is actually my most important metric now even above traffic and search engine positions for this site at least. (Compare your feed with others here and learn how to increase subscriber counts here)
We've got well over 6,000 email subscribers when at the start of the year i thought I'd set myself a target of 2,000 so, cool, it has seemed to work out just by blindly pushing on.
I think the biggest mistake you will probably make is you'll be scared to link out to other blogs and send traffic to other blogs (even those in the same industry as your company).
And that is a mistake.
If you're not even a bit generous with your links in articles, and all your links are to internal pages, you're making it much harder for yourself. I see blogs do this all the time – being stingy with links – it's so narrow-minded.
I blog about what I want to blog about and I link to wherever relevent. I don't care if it's newsworthy or not and I don't want to turn into anything like a SEO news blog, but at the beginning, tracking industry news stories is always a good way to go.
I prefer to add content which might be of help to folk, and might get me a link at some point. That's my blogging strategy at the moment lol and I would rather do that than scour Twitter all night for the latest news story.
The benefit of blogging for us is simple:  we've never had to pay anybody for advertising, ever, or had to ask anybody for work, ever. Because of it, the phone goes every day. It takes about an hour a day (usually at night) to do. Not that hard to understand.
It's by no means the end, but I thought I would share some random thoughts about what I've learned about corporate blogging to date.
One last tip? I think blogging should be at the centre of any social media marketing you employ and I don't think it's too late to start – ever.
If you've got any blogging tips, experiences or nightmares you're willing to share, you could drop them in the comments.
How To blog? What Should YOU write in a blog?
Just some of the questions I get asked all the time, and it kind of gets tiring answering the same stuff over and over again – especially when the enthusiastic Q&A How To Blog session with favourite clients culminates in, well, no actual action client side.
But once again one of the ladies at Outspoken Media have come up with a great post for those bloggers who are just starting out and stuck for ideas what to blog about.
Do check it out! I did share the benefits of corporate blogging above, but the post above gives you actual ideas what to blog about.
Automatically Post Your Blog Posts To Twitter, Linkedin & Facebook
IFTTT stands for If This, Then That, and the name is practically self-explanatory. If one of the several triggers you setup happens, then the service activates whatever multiple commands you designate
When I publish a post on Hobo, ideally I want it to automatically be shared to the Hobo Facebook page, Linkedin, Google Plus and Twitter profiles. If you haven't heard about it, ifttt.com is very useful. FREE, too.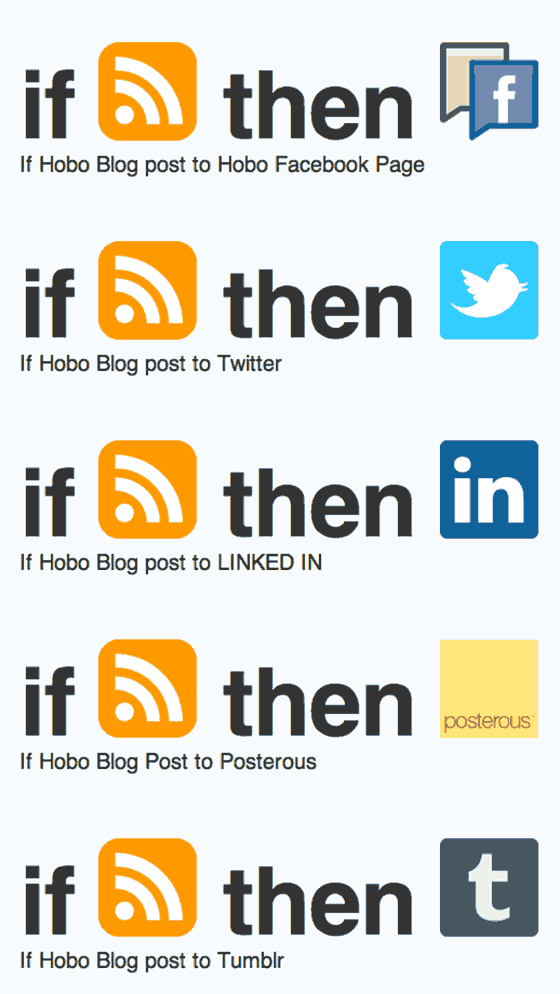 Ifttt has been about for a while, is a joy to use, easy, and can actually automate a lot of other social services, not mentioned in this post –  and potentially save you loads of time: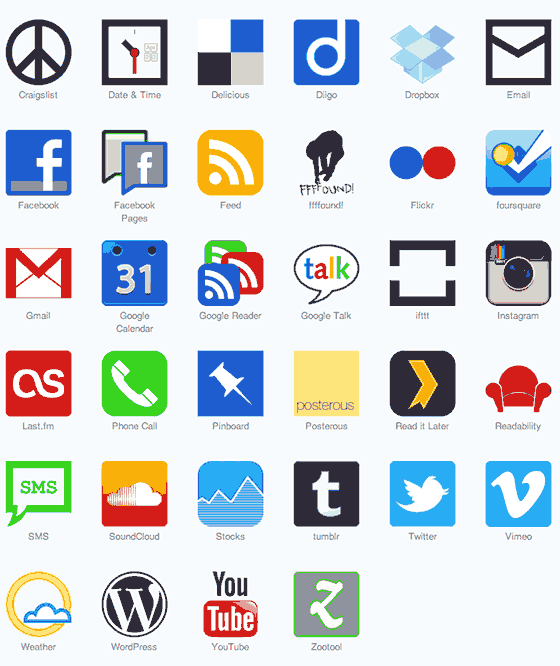 – unfortunately no Google+ option as yet (unless there is a workaround I don't know yet).
See here for more.
Do I put A Blog in Sub-Domain or Sub-Directory on Main Site? Which Is Best?
Would I host a Blog on sub-domain or a sub-folder on the main site?
For me, like a lot to do with SEO, it would depend on what I had to start off with:
Sub-domain – If I have a large site with a lot of domain authority, like a powerful brand, or a well-known organisation or institution, I'd consider a sub domain. The benefits are enormous – an EXTRA two spots in Google search results, etc, etc. After all – as a brand the site already HAS a lot of domain authority (Pr7-10). I'd be spreading that s*** all over the place if I had the resources to actually build value into the sub domain – like Google does :)
Sub-folder/sub-directory – If I have a smaller site (Pr0-Pr7), like most of us have, I would put it on the main site (it doesn't have to be in a folder it could be in the root), because you are LOOKING for MORE domain authority, and links generated by your blogging will help your whole site gain trust in Google and ultimately gain more trust – trusted links are a key to good rankings in google these days – though it's worth pointing out Pagerank isn't always an accurate measure of the amount of trust a site has
For most, putting a blog on your main site is of most benefit, if of course, you are actually going to spend time making the blog a useful destination. Neither is a quick win – both include a lot of work, but making something of value usually does.
Ultimately it's the quality of WHAT you put WHERE, rather than WHERE you put it.
I'd never put a blog on a separate domain, and I'd never go with the even easier option of hosted blogs on domains I don't own.
PS – I'd use WordPress, and I'd respect the license. ;) There's more than one way to skin a cat – What would you do?
* Someone emailed me and asked me this. So I mentioned I would blog it.
How Did They Start The Best SEO Blogs?
Ever wondered how you start a blog? Ever wondered how best SEO blogs in the UK and US started? I decided to take a look at how some of the blogs I read on a weekly basis kicked things off. (EDIT 2013 – Note some posts have flagged as 404 and since removed)
Andy Beard
Michael Gray
ShoeMoney
Maki
XMCP
As you can see, these (mostly UK and US) blogs went on to become quality SEO resources. The most important thing to note is that they…..started. It's 2008, but it's still not too late to start your blog, no matter the industry.
Blogs help build brand awareness. An interesting blog post can generate natural incoming back-links and build domain authority, which is a must for success in Google. Blogs allow you the means to update your site easily and let other sites know about your site. A blog allows you to participate in many communities. There's so much a blog can do for any business, if you start blogging with some regularity.
What are you waiting for?
All the best for 2008 from Hobo Web.
Most Popular Pages On Hobo SEO Blog
Following on from our post about traffic to this blog in 2009 from search engines, here's some stats on our content.
I wrote about 150 posts or so and I did take about a month off blogging at one point. A post every couple of days or so it works out. About 65,000 visitors a month visit the site at the moment and about 30,000 read it via feedreader.
Pages on Hobo were viewed a total of 1,044,114 times in 2009 with 877,466 unique views. On average people stay on the site for about 2 and a half minutes.
The most popular page on the Hobo site (created in 2009) was our quick start guide to Google SEO we published in April (which Matt Cutts of Google voted for at Sphinn which was cool) – according to GA 30,177 people viewed it. (10 Dec 2008 – 10 Dec 2009)

Our second most popular page was our free beginners guide to SEO Ebook.
Third most popular post was our linkbuilding for beginners post (which we followed up with another free ebook)
Fourth most visited page in 2009 was our post sharing which wordpress plugins we use on the Hobo site
Our guide to Google Local Business Center mash-up proved popular at the end of the year too.
Creating how-to-guides is a good tip for any blog if your new to blogging.
Older content still proved popular of course, including one page which has accounted for @90,000 visits every year for a while. A lot of the things I write about there are always folks looking for information on for instance keyword density and keyword research.
These stats don't include feed reader views (305,486 views since we started properly sometime in 2007)
Is Twitter Killing Real Blog Comments?
I'm just toying about with Twitter at the moment in terms of actually contributing to the conversations but since the rise of Twitter I am seeing less comments across the board on a lot of my sites.
A recent blog post asked the question was Twitter killing blogging while a poll asked How Has Twitter Impacted the Frequency of Your Blogging? and I wonder if it is having an impact on blog commenting too.
Perhaps people just feel more comfortable commenting in their own 'space' on Twitter. Maybe it's the nature of my posts, or because I don't have D*follow or L*nky L*ve (installed) splattered all over my page titles (I de-optimised that stuff right away!)
Of course, it's not stopped the army of crappy comment spammers with no value to add who find my site using D*follow lists and search engines.
Blog Comment Spam Advice From Google
If you run a blog, you really need to watch out for comment spammers.
Comment spamming advice just posted from Google:
At best, a link spammer might spend hours doing spammy linkdrops which would count for little or nothing because Google is pretty good at devaluing these types of links
One of the reasons I moderate all comments, and use a custom wordpress comments plugin so only returning visitors get a search engine friendly link. EDIT – NOT ANYMORE – Google is serious about cracking down on this sort of thing, so we've disabled this feature.
It's probably kind of easy for Google to spot comments on blogs. On first crawl, it gets the fresh page, second, the page with some comment links, third, more comment links (Google does seem to have a long memory). Probably easy to devalue comments even without knowing the system involved. If you are going to comment, probably best to get in early, and keep it intelligent.
It seems to be getting more and more these days Google is actually telling US (you and me) to clean up OUR existing link profile.
I wonder if this failure to do so will feature more heavily in the 2010 algorithm, in terms of your own site rankings.
If you used this approach in the past and you want to solve this issue, you should have a look at your incoming links in Webmaster Tools. To do so, go to the Your site on the web section and click on Links to your site. If you see suspicious links coming from blogs or other platforms allowing comments, you should check these URLs. If you see a spammy link you created, try to delete it, else contact the Webmaster to ask to remove the link. Once you've cleared the spammy inbound links you made, you can file a reconsideration request.
The question is of course… why bother? EDIT – IN 2013 you should bother – Google Penguin looks to penalise sites with unnatural links.
I don't see anything on that post that mentions penalties. And of course, if there was, you could just mass spam blogs to take out your competitors. EDIT – Yes, and now this is called negative SEO, and it works (to some extent) to destroy rankings in some cases.
posting tons of links that point back to the poster's site in an attempt to boost their site's ranking
Ah, Google means…. tons. Mass spamming, cross scripting then?
Yeah no wonder Google is posting this I am watching a well known SEO company in England cross script a popular comments plugin for a client, just in time for Christmas – it's working too.
The odd link shouldn't be a problem then?
Others might tweak this approach a bit by posting a generic comment (like "Nice site!") with a commercial user name linking to their site.
Has Google got a range of crappy comment types it's going to start trying to find? That would actually be sweet lol.
But it's kind of vague. Who's blog is getting nuked? The blog the comments are on, or the site the comments point to?
For this reason there are many ways of securing your application and dis-incentivising spammers.
Disallow anonymous posting.
Use CAPTCHAs and other methods to prevent automated comment spamming.
Turn on comment moderation.
Use the "nofollow" attribute for links in the comment field.
Disallow hyperlinks in comments.
Block comment pages using robots.txt or meta tags.
Above, I've bolded the one thing you actually need to stop comment spammers.
Comment spammers are a pain – why I outed one, but this post doesn't really tell us anything we didn't already know….
Block comments pages using Robots.txt?
Not likely.
Syndicating Content Via RSS
Be VERY careful how you syndicate content. In my experience, syndicated content usually ends up on very low-quality sites made to get some free traffic from Google without much value add. If you have links pointing to your pages, and your posts appear on lots of low-quality sites, you could end up with a manual action on unnatural links. If you leave a credit link in your RSS feed – ensure you nofollow it.  Building links via rss is not as useful as it once was. Google doesn't like you using spammers to help you improve your own blog rankings.
WordPress
"WordPress is a state-of-the-art … personal publishing platform with a focus on aesthetics, web standards, and usability."
WordPress is one of the most popular blogging platforms in the world, and in my opinion, it's the best for small companies. It's easy to install, easy to configure, easy to integrate into any website design and it's quite simply a joy to use. For the small business owner, it makes editing your website very fast and easy. You can have a new page in 2 minutes, you can change the navigation structure easily, you can even change the 'look' of the website with one click. Once you have "proved" the site is to be trusted in search engines, when you publish a new article, it can appear in Google immediately – and at the top of Google results, if your site is really 'trusted' or "hot" (forgive me we're a SEO company).
WordPress is another open source content management system meaning we don't have expensive CMS costs to pass onto you when we develop these kinds of sites. As a matter of fact, the HoboWeb site is based, largely, on the WordPress platform. You are 'in' the WP environment when you click on our 'blog' menu at the top of this page. It lets our staff add news to this site at the touch of a button.
In fact, WordPress is the ideal solution if all you want to do is use your website as an up-to-date news section on your site. We're an SEO and web design company who specialises in cost effective WordPress Design & Installation.
With a Google Friendly WordPress Blog, from Hobo, you can also install free plug-ins that add more functionality to the site. Want a photo gallery? Want a calendar? There's a 'widget' or plug-in for almost anything. We host your site, manage your domain name for you, give you control of your email – in fact, we take care of everything if your in the market to buy a new website for your company. We're a one-stop-shop for website design services in Scotland.
We're a Scottish company based near Glasgow that's passionate about website design with WordPress. We build modern looking WordPress websites to industry standards, that are highly tuned (optimised) to work in Google. Our stylish WP websites download fast, are easy to edit and are easy for visitors to use.
As a result of our award winning website design skills, we have had the pleasure of working with colleges, universities, the NHS, charities, national companies, brand names, corporates and a plethora of small businesses across Scotland. In fact, we have clients in London, Manchester & Birmingham and elsewhere in England, too. Actually, we've got clients as far away as Australia!
As we said though it's not just seo-friendly websites for larger organisations, charities, colleges and corporates we make. We've created WordPress sites for the small business / SME owner too. In fact we have an incredible small business website design package to suit any company's budget.
Contact Hobo today about developing your new site with WordPress – we can sort it.
The Hobo SEO company was co-founded by Michael Bonnar & Shaun Anderson in April 2006. We optimise websites to improve rankings in search engines and get more targeted traffic to a website from Google, Bing and Yahoo – the world's most popular search engines.
Our Glasgow-based SEO team been mentioned on some the most influential SEO industry related sites across the world.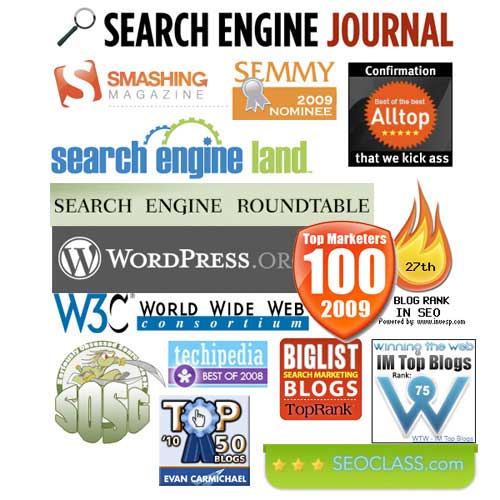 We don't spend that much time driving traffic to our own site, but we usually get about 100,000 free visitors a month to this site mostly from Google.
Alexa rate us as the 15,496 most popular site in the world (at the time of writing and that is out of tens of millions):
Technorati rank Hobo SEO company as one of the top small business blogs in the world too, and we have been awarded an ADAGE POWER 150 STATUS – as one of the most popular advertising blogs in the world.
Our search marketing company is well known in the industry, and members of our SEO team have been acknowledged by peers as experienced industry experts:
Our agency staff have been voted amongst the Top 100 Most influential marketers of 2009, and amongst the most influential SEO practitioners in the UK in 2010: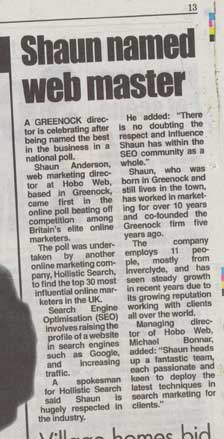 SEO Services
Hobo specialises in the following internet marketing services:
search engine optimization
information architecture optimisation
keyword research
web marketing strategy
website promotion
e-commerce SEO and web development
content-based linkbuilding
stylish, accessible web design
wordpress web design and development
Google Adwords, Analytics and Web Optimiser
Corporate SEO
Affiliate SEO
Hobo is a UK based SEO company. Our offices are in Greenock, just outside of Glasgow, in Scotland.
We are not a secretive SEO company and as such the Hobo SEO company website  is one of the most visited SEO companies' website in the UK with 60,000 visitors from search engines and social media every month. Our SEO blog is one of the most subscribed search marketing blogs in the world with nearly 15,000 subscribers reading our free SEO newsletter.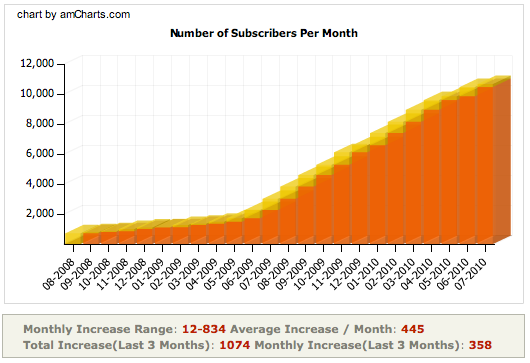 are currently subscribed (in fact according to Feedburner there are over 15,000 subscribers by email alone).
Our SEO company has never paid for advertising. Ever. 100% of our traffic and leads are generated from free traffic sources.
Our search engine optimization company is staffed by 13 creative individuals, each an expert in their respective fields, and we have a staff retention rate in nearly 5 years of 100%.
Within our company has a diverse range of skill sets ready to deploy for companies of any size and to nearly any budget. Our experienced SEO consultants can advise on the best SEO strategy for your business, while our web development studio can deploy innovative php-based web designs and web applications to the latest standards in CSS & HTML.
Are we the best SEO company to win your business? Our professional SEO firm has clients from Edinburgh & Glasgow in Scotland to Manchester and London in England, and to Ireland, Russia, Australia and even as far away as Bermuda – we are truly a UK SEO company able to service local and word-wide markets. We do not outsource any aspect of our core online marketing strategy or web development to foreign marketing companies – all key facets of our operations are managed in Greenock, Scotland. All of our clients have been won by either word-of-mouth recommendations from satisfied clients, or through our own search engine optimization techniques that ensure our services are presented to a visitor when they are, for instance, searching for the best SEO company in the UK for their business.
Ethical SEO
We are an ethical SEO company. Our agency link builders do NOT:
spam personal blogs for comment links
spam forums for signature links
buy links
…or engage in any cheap SEO practices that clearly violate search engines rules for inclusion – unethical SEO – or more importantly knowingly illegally hurt another site or cause another Webmaster inconvenience.
As an ethical SEO agency, we do NOT make false guarantees like guaranteed top ten rankings or 24 hour no1 rankings we can never honour. We aim to build a site using best practice SEO practices and techniques. Our SEO endeavours are clearly tracked via Google analytics
Our intent is ALWAYS to promote REAL businesses through quality, accessible, relevant content creation. We do NOT optimise websites with any intent that could be seen as licentious, exploitative, or illegal in the UK.
This SEO company looks to place our clients in a dominate position in Google natural listings, Google Places, Google Images, Google Video, Google social search and Google Adwords.
We are an expert wordpress SEO company too, in fact, our SEO blog is powered by WordPress.
If you need a SEO company to come in, audit your online marketing activities, and improve search engine rankings and traffic – contact us today to see how we can help you dominate your niche! We have experience in many markets, and can offer cost effective SEO services to small businesses, SME, big brands, multi-national corporation, the NHS and charity organisations.
Call us today on 0845 094 0839.
What People Say About Our Blog