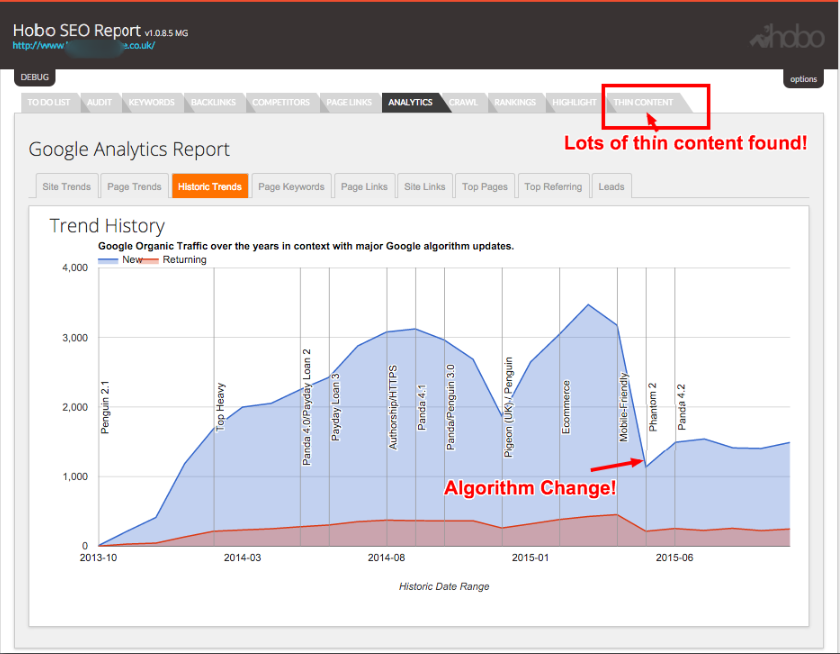 Every site is impacted by how highly Google rates it.
There are many reasons a website loses traffic from Google. Server changes, website problems, content changes, downtimes, redesigns, migrations… the list is extensive.
Sometimes, Google turns up the dial on demands on 'quality', and if your site falls short, a website traffic crunch is assured. Some sites invite problems ignoring Google's 'rules' and some sites inadvertently introduce technical problems to their site after the date of a major algorithm update, and are then impacted negatively by later refreshes of the algorithm.
Comparing your Google Analytics data side by side with the dates of official algorithm updates is useful in diagnosing a site health issue or traffic drop. In the above example, the client thought it was a switch to HTTPS and server downtime that caused the drop when it was actually the May 6 2015 Google Quality Algorithm (originally called Phantom 2 in some circles) that caused the sudden drop in organic traffic.
Thin Content
A quick check of how the site was laid out soon uncovered a lot of unnecessary pages, or what Google calls thin, overlapping content. This observation would go a long way to confirming that the traffic drop was indeed caused by the May algorithm change.
Another obvious way to gauge the health of a site is to see which pages on the site get zero traffic from Google over a certain period of time. I do this by merging analytics data with crawl data – as analytics doesn't give you data on pages it sends no traffic to.
Often, this process can highlight low-quality pages on a site.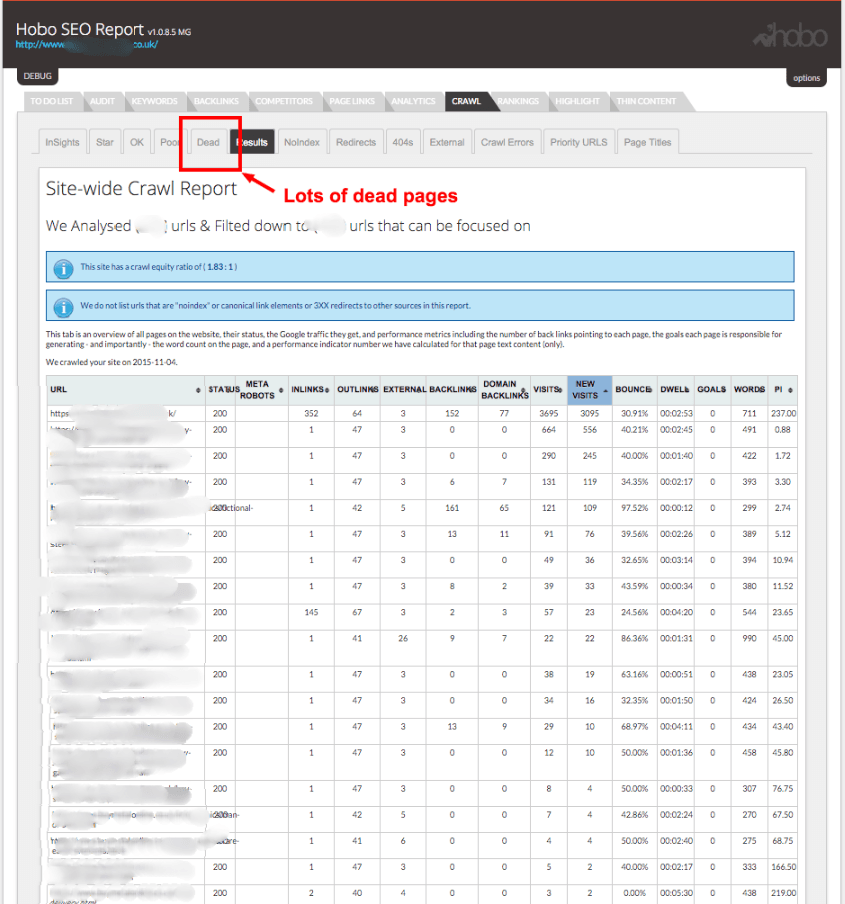 Google calls a lot of pages 'thin' or 'overlapping' content these days. I go into some of that in my duplicate content penalty post.
FYI – Here's John Mueller discussing one aspect of thin content on e-commerce sites.
Algorithm Changes
Algorithm changes in 2017 seem to centre on reducing the effectiveness of old-school SEO techniques, with the May 2015 Google 'Quality' algorithm update bruisingly familiar. An algorithm change is usually akin to 'community service' for the business impacted negatively.
If your pages were designed to get the most out of Google, with commonly known and now outdated SEO techniques chances are Google has identified this and is throttling your rankings in some way. Google will continue to throttle rankings until you clean your pages up.
If Google thinks your links are manipulative, they want them cleaned up, too.
Actually – looking at the backlink profile of this customer, they are going to need a disavow file prepared too.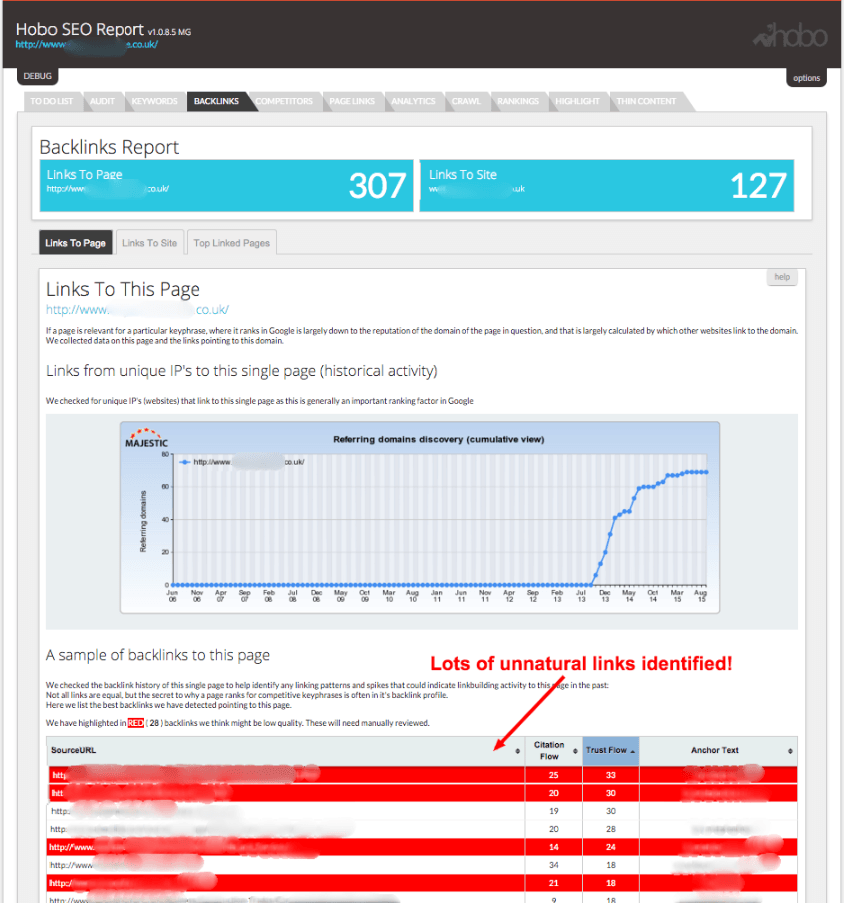 That is unsurprising in today's SEO climate.
What could be argued was 'highly relevant' or 'optimised' on-site SEO for Google just a few years ago is now being treated more like 'web spam' by punitive algorithms, rather than just 'over-optimisation'.
Google went through the SEO playbook and identified old techniques and use them against you today – meaning every SEO job you take on always has a clean up aspect now.
Google has left a very narrow band of opportunity when it comes to SEO – and punishments are designed to take you out of the game for some time while you clean up the infractions.
Technical Issues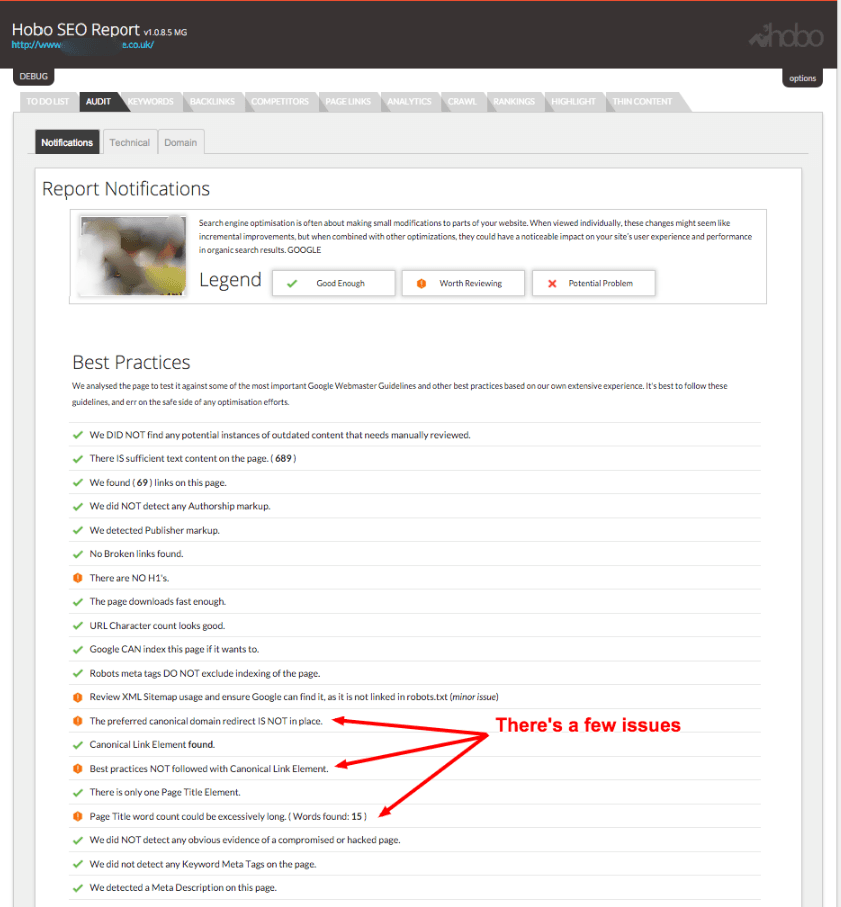 Google has a LONG list of technical requirements it advises you meet, on top of all the things it tells you NOT to do to optimise your website. Meeting Google's technical guidelines is no magic bullet to success – but failing to meet them can impact your rankings in the long run – and the odd technical issue can actually severely impact your entire site if rolled out across multiple pages.
The benefit of adhering to technical guidelines is often a second order benefit.
You don't get penalised, or filtered, when others do. When others fall, you rise.
Mostly – individual technical issues will not be the reason you have ranking problems, but they still need addressed for any second order benefit they provide.
Google spokespeople say 'user-experience' is NOT A RANKING FACTOR but this might be splitting hairs as lots of the rules are designed to guarantee a good a 'user experience' as possible for Google's users.
For instance, take good 404 pages. A poor 404 page and user interaction with it, can only lead to a 'poor user experience' signal at Google's end, for a number of reasons. I will highlight a poor 404 page in my audits and actually programmatically look for signs of this issue when I scan a site. I don't know if Google looks at your site that way to rate it e.g. algorithmically determines if you have a good 404 page – or if it is a UX factor, something to be taken into consideration further down the line – or purely to get you thinking about 404 pages (in general) to help prevent Google wasting resources indexing crud pages and presenting poor results to searchers. I think rather that any rating would be a second order scoring including data from user activity on the SERPs – stuff we as SEO can't see.
At any rate – I don't need to know why we need to do something, exactly, if it is in black and white like:
Create useful 404 pages

Tell visitors clearly that the page they're looking for can't be found. Use language that is friendly and inviting. Make sure your 404 page uses the same look and feel (including navigation) as the rest of your site. Consider adding links to your most popular articles or posts, as well as a link to your site's home page. Think about providing a way for users to report a broken link.

No matter how beautiful and useful your custom 404 page, you probably don't want it to appear in Google search results. In order to prevent 404 pages from being indexed by Google and other search engines, make sure that your webserver returns an actual 404 HTTP status code when a missing page is requested
….. all that is need doing is to follow the guideline as exact as Google tells you to do it.
Most of Google's technical guidelines can be interpreted in this way. And most need to be followed, whether addressing these issues has any immediate positive impact on the site or not.
Whether or not your site has been impacted in a noticeable way by these algorithms, every SEO project must start with a historical analysis of site performance. Every site has things to clean up and to optimise in a modern way.
The sooner you understand why Google is sending you less traffic than it did last year, the sooner you can clean it up and focus on proactive SEO that starts to impact your rankings in a positive way.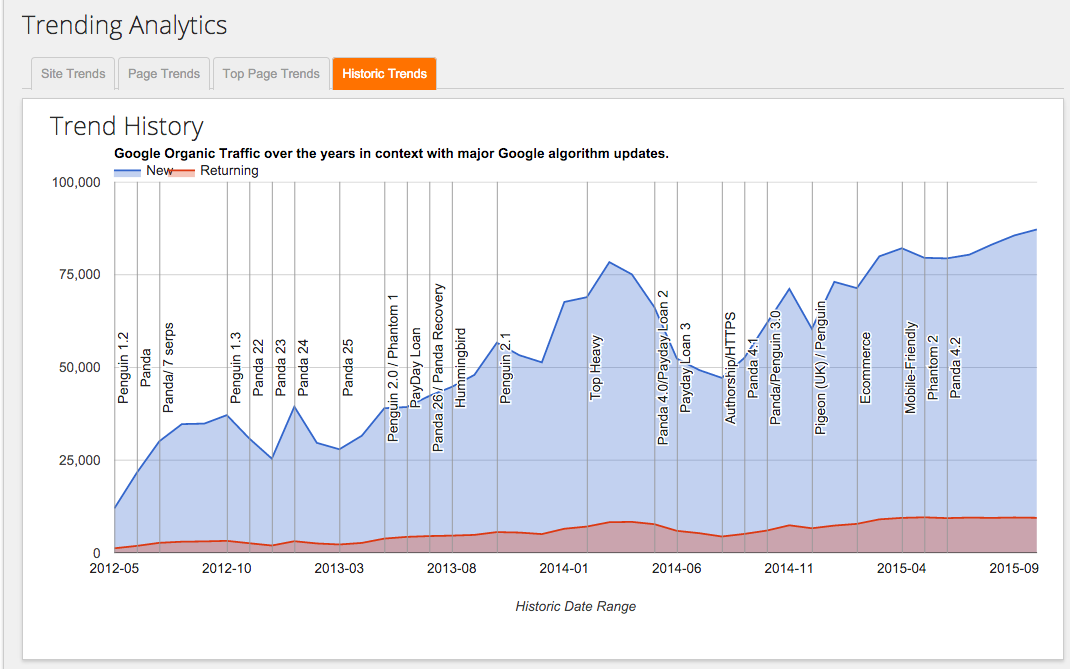 If you need help with this type of analysis for your website, contact me here or you can purchase a review of your website here.
Further Reading