You can hire our UK based SEO specialists today, without any long term contracts and with agreements you can cancel at any time.
That's 100% peace of mind for you . You can choose to work with an seo agency with a proven successful strategy focused on building real reputation, real trust and real quality content. That's one reason Google sent 683,664 new visitors to the Hobo site in 2014 which was a 40% improvement on previous years organic traffic.
Google organic search has sent this Hobo site four million new visitors, for free, since I launched Hobo in 2006.
That's a result of Google.co.uk ranking us on the first page or thereabouts of organic listings out of millions of competing pages for terms like 'search engine optimisation', link building and 'seo company' – to name a few of the important keywords we rank high for.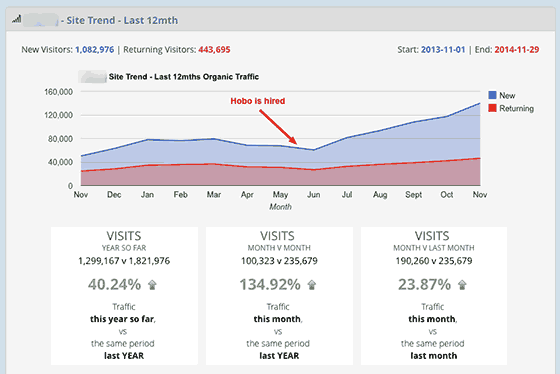 …and Google will send you free traffic, too, if you also focus on optimising your website for VISITOR SATISFACTION, instead of just 'for Google'.
What we do if you hire us:
Simply, what we do for ourselves.
We find the balanced marketing approach that gets your website the most from Google in 2015, without getting you penalised in 2015. We focus on building reputation and keyword relevance satisfaction – which is the KEY to successful search engine optimisation in 2015. Basically – that means making you the highest quality, most relevant option for Google when it comes to ranking pages for it's search engine service.
We focus on improving the performance of your website, improving the relevance of your website content, the accessibility of it's information, and the reputation of your backlink profile, to help you get more visitors from search engines like Google, Bing & Yahoo.
Our management fees start from £199 per month. You can also hire us for one off projects to advise on what specifically to do to your website to improve traffic from Google. If you are concerned about unnatural links to your site, we can help you with that too.
Over the course of a managed project, all our contract (per month) search engine optimisation packages typically include:
– Detection of Google penalties (including Penguin and Panda)
– Manual review, investigation & detection of "unnatural links"
– Investigation & detection of "negative seo" attacks
– Disavow of toxic or unnatural links (costed separately if large backlink profile)
– Help and management of Google Reconsideration Request process
– Removal of toxic links (costed separately IF required)
– Technical seo audit of your website
– Technical seo audit of the most important pages on your site
– In-depth keyword research for your niche, services and products
– Competitor research
– Competitor spam detection
– Quality back-link identification in the niche & advice on how to build quality backlinks
– Site-wide review of your website from a Google perspective
– Advice on how to proceed to avoid future Google ranking issues
– Advice on content marketing and other link building activities
The only difference campaign to campaign is studio hours and how quickly these items can be addressed. EVERY campaign will cover the items detailed above through the course of the project – the difference in costs come down to hours in the studio and how many hours can be assigned to the project through the month.
Costs are dependent on hours needed to complete the tasks involved, and this is dependent on many factors we can only determine once we know the full facts.
We address PRIORITY items as early as possible in the campaign, as this is normally more affordable for customers, and we avoid seo techniques that Google will penalise you for in the future. If you wish for the services to be completed in a shorter period i.e. 1-2 months we can schedule the work with the contract fee paid over this shorter timescale.
Managed SEO Campaigns (Pay Per Month)
---
SEO takes time to implement – like a garden, there's always something to do. It takes time to see the fruits of your labour. Here's the costs of us improving the rankings of your website and so the traffic you get from Google, using a white hat seo strategy working within guidelines enforced by Google in 2015.
OPTION 1: You are a small business owner with budget of £199pm
For smaller businesses with a tight budget, our £199 package is the best option for you if you want to invest in seo that actually succeeds for the long term. This consultation package will allow us to review and analyse different elements on a monthly basis and then send you the recommendations that we would implement for the best results. All you then have to do is carry out these tasks yourself or pass them to your web developer or content manager to execute them to get the benefit. Over 10 years experience, and industrial strength data analysis is brought to bear on your site, and over the coming months, we'll help you deploy a strategy that focuses on the most important keywords for your business. Tell us a few keywords you want to focus on, and we'll develop a plan to rank for them, and help you deploy it. Once you see the results, you'll want to invest more in seo. This fee is for the analysis time within our studio to help you get results you need. You can cancel at any time – and you will always have our detailed recommendations on your site to take forward.
---
OPTION 2: You are a small business owner with budget of £499pm
You know the value in seo, and have a budget of about £500 to spend on SEO. With that increased spend, we can carry out the analysis within the campaign and quickly deploy the recommendations for you meaning everything is managed by us. We will keep you updated with everything that we plan to implement for your site. You can cancel at any time.
---
OPTION 3: You are a small business owner with budget of £749 per month
The ONLY difference with this package is we have a budget to spend more hours deploying more changes to the site, or finding you those quality links you need, for instance. This allows us to address different elements that have a real impact on your site quicker, meaning you see the benefits faster. We deploy our recommendations only after we have full agreement from you the business owner.
Our most popular small business package. You are a small business owner that's dabbled in seo in the past, and been stung in Google's recent aggressive algorithm changes. You have an unnatural links warning, or a suspected algorithmic issue because of past online strategies and you want to continue to invest in SEO going forward. We can sort any issue for you, and help you push on in a more successful direction with your web marketing. Rankings can return, if you make simple moves from now on.
---
OPTION 4: You are a small business owner with budget of over £1K per month
We can deploy a campaign VERY quickly if you have the budget to do ANYTHING that's needed to get results as QUICK as is possible. Larger budgets mean that we can assign more studio time to your campaign. We are only limited by our data costs – if you have the budget to spend, we have tools in-house to meet your needs. Please note we adhere to Google 's rules for inclusion in it's listings. We do not guarantee rankings, and we do not offer link building / buying packages, as these contravene these guidelines, and only end up getting you penalised. We DO identify quality links for you that competing sites have, in all our packages, as we discover them. If you are a marketing manager with a budget to spend and need in-house support for your web team, or want to white label our services. CONTACT US.
Services With No Recurring Fees
---
Not all our search engine optimisation packages involve recurring fees, and I detail these below:
OPTION A: You need a one off seo audit completed on any site
We produce an easy to understand task list of actions to take to optimise your website. If you follow our advice, you'll make your page more accessible, relevant and reputable – it's this combination that will get your page ranking in Google (and Yahoo and Bing). We do all the hard work – all that's needed to do is for you to make the changes to your site and pages (which we can naturally help with once you know what needs focused on).
We examine your site on a page by page basis and tell you exactly what to do to each page to improve it's rankings in search engines. We'll share our recommendations with you, so you know exactly what we are doing, and we'll track performance of everything we do.
---
OPTION B: You need an unnatural links penalty fixed fast!
You are a small business owner, with a known back link issue that needs cleaned up ASAP. Rankings in Google in 2015 have a lot to do with how much Google trusts your site – and you are not going anywhere until you sort that out. We can help.
Every reconsideration request we have submitted has been successful. We do NOT have a special relationship with Google or anything (NO seo company does), but Google (in our recent experience) is being fair handed with small business owners stung by the changing seo landscape over the past few years, when you make a concerted effort to avoid low quality seo tactics in future. We get results because we STICK AT IT – and work with your business UNTIL the penalty is lifted, and for a fixed cost, based on the number of domains (websites) pointing at your site.
Every website situation is different, but the good news is your business CAN recover from such a Google penalty. It CAN return to previous ranking positions. It CAN even improve in terms of rankings and traffic after a penalty, if you are willing to promote your website in a more legitimate manner in future.
We can often get this penalty lifted relatively FAST, and using no tricks – contact us today if you need a professional, manual review of your unnatural links, and help with identifying and removal for the purposes of a successful Google reconsideration request.