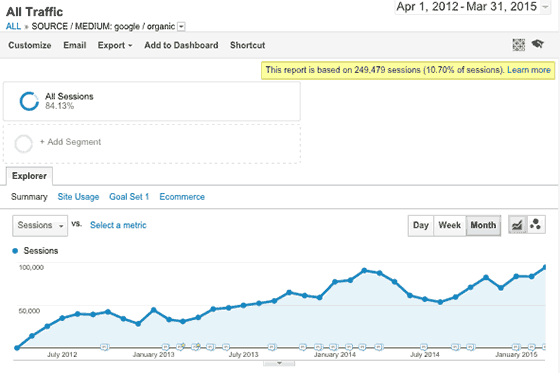 PUBLISHED APRIL 2015; Hobo UK SEO – A Beginner's Guide (2015) is a free pdf ebook written by myself you can DOWNLOAD from here (2mb) that contains my notes about driving traffic to a site using search engine optimisation and within Google's guidelines.
I am based in the UK and most of my time is spent looking at Google.co.uk so this ebook should be read with that in mind. Google is BIG – with many different country specific search engines with wildly different results in some instances. I do all my testing on Google.co.uk, for instance.
It is a guide based on my 15 years experience. My ebook is meandering, but contained within it is largely the information I needed as I took a penalised site to record Google organic traffic levels in 2015.
This is the 3rd version of this document I've published in 6 years and I hope this, and previous ones, have reflected my aim of communicating something I have been evidently obsessed with for a long time.
Warranties
There's no warranties. This seo pdf is my opinions, observations and theories that I put into practice, not advice. I hope you find it useful. I hope beginners can get something out of it or the links to other resources it points out.
Click here and subscribe to this blog for updates.