NOTE – Google Penguin has not run again since October 2014.
Penguin, the punitive algorithm with a reputation for crushing site rankings in Google, HAS LANDED.
A Google spokesman confirmed in a Google Webmaster Hangout Penguin 3, in some form, has been deployed (direct link). There's been conflicting stories out there over the last few days – that the update may not be quite 'over'. A Googler has confirmed it's probably not 'over':
google: penguin 'refresh' – not 'update' – impacts "fewer than 1% of ENG queries – not 'about' 1% = It could have been a lot less than 1%

— Shaun Anderson (@Hobo_Web) October 21, 2014
In Summary:
My webmaster tools account shows a massive crawl on the date of the update (although this could be unrelated):

Google Penguin 3 Update hit on Friday / Saturday (October 17th and 18th).
Quite a number of Blackhats are reporting they got hit hard by the looks of it.
Targets obvious spam, obvious out of context links and obvious brute force linking (examples given are footer links, blogrolls and some pbns – private blog networks) – not the sort of links you want to point at your main site. Some are reporting 301s hit too – home pages disappearing and affiliate sites being penalised (although a black hat affiliate site isn't going to last long these days without somebody who knows what they are doing at the helm). Suffice to say it will take a couple of weeks for any serious analysis to get published somewhere.
This update blindsided most third party rank visibility tools leading many to think we are not finished…. yet
Penguin 3 was nowhere near as keenly felt as Penguin 1 and 2 but then again you would expect most professional optimisers to have gotten well out of Google's way on this. Blackhats – naturally – are the ones that will be the final judge on how aggressive this update was – as it seems to be targeted at them.
It looks as though Google has (at least) started this algorithm update by targeting obvious 'spammy' churn and burn type sites – but a lot of people are asking….. is that it? I think the industry expected something more like the first or second update – and certainly for some in the Google Webmaster forums and on black hat forums – Google delivered that.
The fact that most 3rd party tools totally missed this update could be telling….
I stopped looking at Google webmaster forums – the sites submitted there are usually total crap submitted by first timers who cant even read webmaster guidelines. I wouldn't even link to it these days.
Black hats ARE, however, very much worth listening to at times like these. The most interesting discussion so far is on http://www.blackhatworld.com/blackhat-seo/black-hat-seo/711703-penguin-3-0-released-couple-hours-ago.html
It looks as if Google wants to make churn and burn less profitable – or at least – harder to pull off. Or at least – seem that way. That's possibly a good thing, for most real businesses building real authority, but you can bet the black hats will be back with more of the same.
We'll have a better idea in a couple of weeks – these updates are always designed, by Google, to confuse. It certainly 'feels' as if this update DID target OBVIOUS and RECENT black hat tactics, rather than small businesses who might have the odd unnatural link here and there.
Google Penguin 3 Targets Obvious Spam
After a long time in the coming, we've found out just what this algorithm shift looks like.  Many web masters are reporting the algorithm has released them from rankings purgatory inflicted by the first or second Penguin update, and Black hats are reporting some damage in many forums around the web. There's always winners and losers, though, and many are claiming the opposite, which is a hard pill to swallow considering web masters have waited over a year to be 'released'.
Apparently it was not so simple to re-run Penguin. Google has since mentioned it might have been too aggressive for too many webmasters, to run it as was.
Penguin 'penalties', we now know, can last for over two years(!) and if you get hit with a Penguin penalty because of your OWN activities – there's a really good argument for starting again with a brand new domain. That's how serious it is.
Google will no doubt claim that Penguin is baked into the algorithm at some point – but would you really bet on that? Even if that is the case – if you get Penguined – Google still wants to penalise you for (maybe) a year – or – where's the stick – or at least – where's the carrot for White hats?
Most would spam Google silly if there was no 'penalty' in doing so.
The length of your 'penalty' is possibly calculated in part to how much brute force you used in the first place to rank. If you tried to rank with low quality all the way in terms of content and links – you're probably never coming back.
Penguin & Panda
If they do bake it into the algorithm I wonder if it will become part of the monthly 'Panda' algorithm changes.
I think that because I think the two are more closely related than is talked about. I think there's a heavy manual element to Penguin in a set up – perhaps, because of the negative seo fallout of any such update – whereas Panda can probably be largely calculated pretty easily by the algorithms. Both seem focused on quality, as Google defines it, although both are focused in different areas.
For instance – Google has published advice on high quality sites:
What counts as a high-quality site?

Our site quality algorithms are aimed at helping people find "high-quality" sites by reducing the rankings of low-quality content. The recent "Panda" change tackles the difficult task of algorithmically assessing website quality. Taking a step back, we wanted to explain some of the ideas and research that drive the development of our algorithms.
Below are some questions that one could use to assess the "quality" of a page or an article. These are the kinds of questions we ask ourselves as we write algorithms that attempt to assess site quality. Think of it as our take at encoding what we think our users want.
Of course, we aren't disclosing the actual ranking signals used in our algorithms because we don't want folks to game our search results; but if you want to step into Google's mindset, the questions below provide some guidance on how we've been looking at the issue: 

Would you trust the information presented in this article?
Is this article written by an expert or enthusiast who knows the topic well, or is it more shallow in nature?
Does the site have duplicate, overlapping, or redundant articles on the same or similar topics with slightly different keyword variations?
Would you be comfortable giving your credit card information to this site?
Does this article have spelling, stylistic, or factual errors?
Are the topics driven by genuine interests of readers of the site, or does the site generate content by attempting to guess what might rank well in search engines?
Does the article provide original content or information, original reporting, original research, or original analysis?
Does the page provide substantial value when compared to other pages in search results?
How much quality control is done on content?
Does the article describe both sides of a story?
Is the site a recognized authority on its topic?
Is the content mass-produced by or outsourced to a large number of creators, or spread across a large network of sites, so that individual pages or sites don't get as much attention or care?
Was the article edited well, or does it appear sloppy or hastily produced?
For a health related query, would you trust information from this site?
Would you recognize this site as an authoritative source when mentioned by name?
Does this article provide a complete or comprehensive description of the topic?
Does this article contain insightful analysis or interesting information that is beyond obvious?
Is this the sort of page you'd want to bookmark, share with a friend, or recommend?
Does this article have an excessive amount of ads that distract from or interfere with the main content?
Would you expect to see this article in a printed magazine, encyclopedia or book?
Are the articles short, unsubstantial, or otherwise lacking in helpful specifics?
Are the pages produced with great care and attention to detail vs. less attention to detail?
Would users complain when they see pages from this site?

Writing an algorithm to assess page or site quality is a much harder task, but we hope the questions above give some insight into how we try to write algorithms that distinguish higher-quality sites from lower-quality sites. SOURCE
Those guidelines above are generally recognised for PANDA and SITE QUALITY issues – and REALLY worth paying attention to –  but equally, if you put your link building hat on, you could say they were a simple guide as to where you might NOT want to see a link to your site – which is where, in obvious cases, Penguin takes over.
Why would Google want to count a link to your site if your link was on any page that didn't meet these quality guidelines? Why not considering penalising you if all your links are on pages that "users complain when they see pages from this site?".
Right or wrong – this is what Google is doing – in it's self styled pr 'war' on 'black hats' and you don't want pulled into that battle if you can avoid it. Google doesn't seem to care about sites hit by Penguin as much as per say a human reviewed manual action (when a penalty can be lifted sometimes very quickly if the infraction is borderline).
It might be too early to tell…. but this looks a lot softer on small businesses, with Google going more aggressively after beginner black hats using public (and so very risky) networks.
Should you be worried about future Penguin updates?
If you run a business that can't afford to flip domains and change web addresses, then yes, especially if you are letting someone 'build' links to your site.
If you are not buying links (and have never done so) then you probably have A LOT less to worry about (and should be more concerned with Google Panda and overall site and page quality challenges). If you are the unfortunate recipient of negative seo attacks (as I have been the few last years) then the only real option you have is to have your disavow file in place at Google Webmaster Tools – and make a clear attempt to disassociate yourself from the most toxic of those links.
Google recently penalised a lot of not-so 'Private' Blog Networks (PBNs) that were breaking the rules, and Google's John Mueller said recently also said that algorithms don't operate in isolation – which could indicate your site needs to trip other algorithms, too, to be slapped by the harshest of Penguin – but Penguin has always been more traditionally about the nature of your backlinks.
Matt Cutts recent tweet would indicate that it was black hat seo services they were going for with this.
Blackhat SEO fads: like walking into a dark alley, packed with used car salesmen, who won't show you their cars. http://t.co/pQEpSv5LIT

— Matt Cutts (@mattcutts) September 24, 2014
If you are worried about 'unnatural' links, I go into those kind of links here – and little has changed from when I wrote that – although I have expanded my thoughts in this recent link building tutorial for beginners. Many of my black hat friends won't go near a disavow file but they have a completely different business model.
If you care about a site, you probably should have a disavow file in place – especially if you rank successfully for anything.
Penguin is the one algorithm you do not want slapping your site down – so check your back links for obvious, low quality links. I presume you are already addressing site quality issues to avoid getting continually pumped by a constantly evolving Panda algorithm.
Website Lost Rankings in Google?
If your main site did get hit with any of the Penguin updates (perhaps apart form the first!) then you're probably doing something really, really wrong. Symptoms include website rankings dropping 5 or 6 places on the following dates I list, or dropping on to the second page of results, or even vanishing from Google completely.
Penguin Update History:
Penguin 1.0 – April 24 2012 (3.1% of searches)
Penguin 1.2 – May 26 2012 (0.1% of searches)
Penguin 1.3 – October 5 2012 (0.3% of searches)
Penguin 2.0 – May 22 2013 (2.3% of searches)
Penguin 2.1  – Oct. 4 2013 ( 1% of searches)
Penguin 3 – Oct. 17/18 2014 (LESS THAN 1%)
Previous Penguin Updates
Many sites were impacted by Penguin 1 and Penguin 2, and some webmaster shave been waiting since 2012 to be 're-evaluated' by this algorithm – leaving them in a desperate position. People have been pretty mad at Google.
Google Penguin 2 did a pretty good job at devaluing some lower quality links from obvious link sources. Wether Google just slapped an algorithmic change on you, algorithmically penalised you or started ignoring your links – the end result was that your previously stable rankings disappeared overnight. If the sites that link to you have a quality issue (from Google's point of view), expect that ranking problem to only worsen over the coming months.
If you have been hit with one of Google's changes – you can expect rankings to fluctuate, and perhaps dissolve in the coming weeks and months, especially if you have LOTS of 'low quality' links pointing AT your site.
I do see Google rewarding a diverse and natural link profile even in some less spammy verticals. There is still a lot of spam, of course, and it has only got worse over the summer of 2014 in a lot of verticals.
Penguin 2 was not initially as aggressive as Penguin 1. Penguin 2 looked like more of rerun of Penguin 1 with a net cast wider. Penguin 1 was focused on home pages (with lots of manipulative anchor text) – and Penguin 2 was a rollout of the same algorithm to internal pages on your site (as we understand it).
Penguin 2 was not a catch all update
MC mentioned in his blog comments that there was further changes to come:
we can adjust the impact but we wanted to start at one level and then we can modify things appropriately.
and hinted that Penguin 2 was not a catch all update. "Denying Value Upstream For Link Spammers"?, for instance, as mentioned in a recent webmaster video:
That comes later.
and also, when asked a question:
The site was registered 4 months ago, has over 500 referring domains (unnatural link velocity), links mostly from unrelated sites (I found one from an escort directory), and 70% anchor text was money keywords (again, completely unnatural). Most of the links were either hacked or paid and a big portion of them were hidden with CSS.
Matt Cutts responded:
we have some things coming later this summer that should help with the type of sites you mention, so I think you made the right choice to work on building authority.
Weaker than Penguin 1 and 2 but still visible
To be honest – in some verticals I am monitoring Penguin HAS had a noticeable impact over the years.
I doubt Penguin 3 will be as much of a shock to webmasters as Penguin 1 or 2 – but we can probably expect it to look at similar quality signals. Too many anchor text rich links from low quality websites. Too many links from sites effectively made just 'for' Google.
I really cleaned up all our link building practices as soon as Google released Penguin 1. That was a choice – I don't want to be jumping through hoops every time Google goes after the herd. I'd rather make stuff for the long term and I am fortunate – I do have a choice on the type things I can work on.
That means effectively focusing on links from sources everybody else isn't getting their links from, and focusing on getting relevant, editorial links.
It doesn't change what anybody running a site for the long term should be focused on since last year:
Making content
Making content relevant
Making relevant content reputable
Increasing engagement
For the small retailer wanting to compete in Google who wants a certain amount of confidence the rankings they have today are there tomorrow, building links with lots of focused anchor text and using low quality networks is kind of finished.
AND don't expect Spam to disappear. Spam always ranks before a fall. During that time – you lose out. By the time Google has caught up with the spam, it's ranking new spam above you. Google makes a lot of money from the status quo if you haven't heard.
Dissociating toxic links
Google says of the disavow tool:
This is an advanced feature and should only be used with caution. If used incorrectly, this feature can potentially harm your site's performance in Google's search results. We recommend that you only disavow backlinks if you believe you have a considerable number of spammy, artificial, or low-quality links pointing to your site, and if you are confident that the links are causing issues for you.
and:
If you believe your site's ranking is being harmed by low-quality links you do not control, you can ask Google not to take them into account when assessing your site. You should still make every effort to clean up unnatural links pointing to your site. Simply disavowing them isn't enough.
Lots of seo naturally are wary of anything Google says.
But, if your positions took a slap over the last few days, it may be time to clean up those links and get busy building new reputation and authority – disavowing the real crap is a potential place to start (although I would 404 / 410 internal pages with VERY spammy link profiles first).
What If I Do Nothing about my old toxic links?
You can also do nothing, and hope Google passes you by, and your rankings do not disappear over the coming months.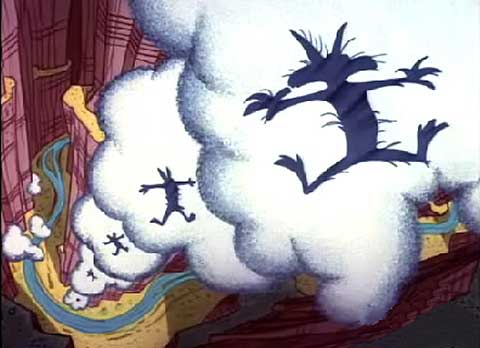 I wouldn't. You SHOULD still be planning on disavowing ANY really risky links from your backlink profile as you are still at risk of manual actions and future algorithm changes.
You should STILL be link building, too, but with a piece of content that deserves links.
Links STILL make the world turn as far as Google is concerned – just don't be doing what everyone else is doing.
If you are not involved in any low quality link building, Penguin will probably not affect you – there are lots of other things going on at Google to affect your rankings. Google has a habit of hitting us up with one update after another to keep us guessing – whether it is just public relations or not.
Google Penguin Penalties
The original Penguin update in 2012 was supposed to target 'webspam', but in fact, nuked a lot of other types of websites, and apparently, a lot of websites that had not been involved in any 'link-schemes', for instance.
A LOT of web masters were OUTRAGED, for want of a better word, at what Google did.
There were MANY LOUD complaints on the actual post from from Google about the Penguin Update, (although it's usually only complaints you hear about as actually telling people you are winning in Google is not usually the best tactic)!
Here's one:
I built a public benefit website that for 8 years has helped thousands and thousands of addicts find addiction treatment for free… We were able to provide the service through the industry paying for featured status for their centers in our directory of treatment centers… Harvard's addiction hospital links to us, as well as a number of super picky super high quality websites… A few years back I started to notice crap links pointing at the site… Then Panda came and the site lost half it's traffic… We submitted reinclusion requests, we sent notices for sites to remove links to us and informed Google, and now this! Now our site is nowhere to be found, and competitors (who are no doubt paying link companies to take down certain competitors thanks to the algorithms changes) have won! Well done Google… You took a true public benefit site out of the rankings (one with a database of treatment centers more complete than the U.S. government's), and replaced it with referral sites (of course, the exact-keyword match .com) and individual treatment centers that charge people in dire need of help (and usually broke) scores of thousands of dollars for treatment, because they can afford to bring down the real good-guys that have been helping people for years by pointing links at them. Well done Google.
One can help feeling that with all these changes in the serps over the last few years, that Google is at war with certain smaller sites (especially affiliates) that try to make a living in Google natural listings and that Google's main aim is to force more people into using Google Adwords (where Google makes all it's profit). Google would say different, of course.
Saying that – Google seems to have been a little softer on small businesses this time around, and a little harsher, relatively on black hats – at least with this algorithmic change.
PENGIN 1 (April 2012) – Almost Named The Google 'Titanic' Update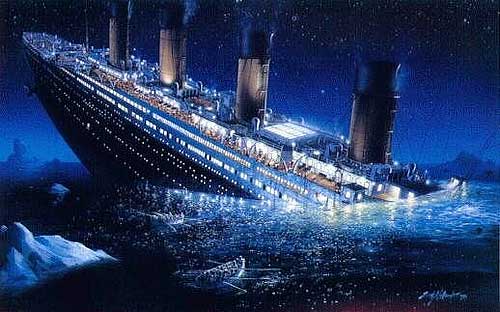 If you have worked in search marketing in the last few years you'll be no doubt aware of the Google Penguin update and the hundreds of thousands of webmaster messages that Google sent out in the preceding months. Webmaster forums erupted when it was revealed that the focus was what Google called 'unnatural links' and many, including myself, were about to name the update the 'Titanic' update as the timing was so close to the 100th anniversary of the ship disaster in 1912.
Welcome To The New Google
Google Webmaster Tools notice of detected unnatural links
Dear site owner or webmaster, We've detected that some of your site's pages may be using techniques that are outside Google's Webmaster Guidelines. Specifically, look for possibly artificial or unnatural links pointing to your site that could be intended to manipulate PageRank. Examples of unnatural linking could include buying links to pass PageRank or participating in link schemes. We encourage you to make changes to your site so that it meets our quality guidelines. Once you've made these changes, please submit your site for reconsideration in Google's search results. If you find unnatural links to your site that you are unable to control or remove, please provide the details in your reconsideration request. If you have any questions about how to resolve this issue, please see our Webmaster Help Forum for support. Sincerely,Google Search Quality Team.
Google sent a lot of these "Google Webmaster Tools notice of detected unnatural links" messages out to a LOT of website owners recently – and there's a lot of noise around the web.
THIS SIGNALS A BIG CHANGE IN HOW GOOGLE REACTS TO YOUR LINK BUILDING EFFORTS. The short answer is IF you are linkbuilding using low quality and inexperienced methods….Google is now organised enough to start slapping you about a bit.
No longer it seems, can you rely on Google to 'just ignore' links it doesn't like and you've made yourself. Now, these links may well get you penalised – and quickly – and a lot more noticably.
No longer, it seems, should you be very cavalier about were you get your links. I, for one, have been happy to take links from anywhere, pretty much safe in the knowledge links are not toxic, and Google will ignore a lot of them. I'm not even sure letting people scrape your content for links is that safe these days!
Google even said recently links can't **hurt** you, that toxic links don't really exist, but what's clear, is that your website CAN have a toxic link profile. It's clearly all aboutYOUR INTENT. If your intent was to rank high in Google for particular keywords…. I think that's enough for Google, these days, to sink your site.
Beware
EDIT – A number one consideration in 2013, is to ensure your link does not end up duplicated across LOTS and LOTS of low quality sites. Too many of these types of links DECLARE AN INTENT to Google to manipulate rankings.
Beware overdoing any of the following…..
sitewide links and site interlinking, and ESPECIALLY if using rich anchor text, and or manipulating the links in any way (like changing the keyword text)
blog comment links
article marketing links
rss syndication links
directory links
DO
Get links from real websites
focus on getting links to inner pages of your site
build natural domain authority
Add lots of new content to your site
Make sure your web page is OPTIMISED for EVERY keyword phrase you think it needs to rank for…..SERIOUSLY…these phrases need to be on the page if you expect to rank
make sure your content is shareable
Is linkbuilding dead? No. But it just got a LOT more risky.
This advice is not new – it's just that much more important now.
Unnatural Anchor Text Icebergs
Too much anchor text and little brand signal? If your anchor text profile looks like this: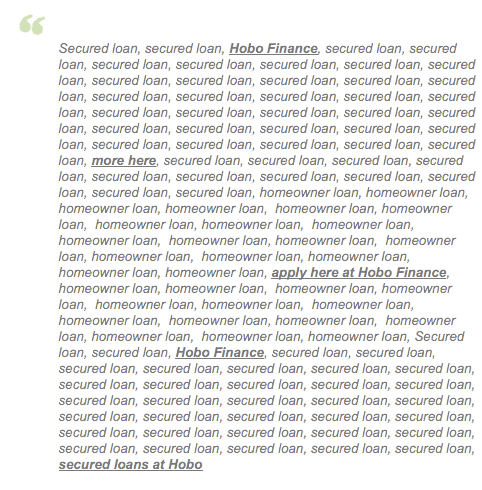 …expect some ranking woes over the next 6 months….. ESPECIALLY if those links are from low quality sites.
Tip
If your site is in Google Webmaster Tools – check for a warning message. You will have about 3 weeks to sort this. If you see your rankings take a nosedive – something is toxic about your link profile.
I don't usually recommend using GWT especially if you are up to anything a bit grey…I thought the recent changes to Google's Privacy policy  (possibly illegal in the EU) may be the Patriot Act of Search Marketing – effectively giving Google permission to REALLY investigate what you do across ALL it's products –  but if your site is suffering, GWT may be the only way out at the moment, unless you want a LONG wait at the bottom of Google.
Light at the end of the tunnel? Once you clean up your profile and get back into Google's circle of trust, perhaps you have a clean start and a chance to do it a bit differently this time? Especially, if Google is going to actually take action on your competitors who are spamming worse than you…. time wil tell on that one.
If you do get a Google Webmaster Tools notice of detected unnatural links message:
stop link building **wether** or not you are fighting fire with fire
make an effort to remove your crap links (especially the ones with a lot of similar phrases – there is a lot of phrase match penalties being handed out and some are reporting their websites and blogs deindexed)
accept responsibility and take your penalty
reconsider where you are getting your links from – and definitely,
KNOW where you are getting your links from
pay attention to site-wide links from other sites…. not only are most of them useless anyway…. now they can make your link profile REALLY toxic ( I think!) – (UPDATE – this has been confirmed with an example actually included in Google's recommendations to webmasters)
focus on getting links from REAL sites, and ideally, sites with REALonline business authority
You can probably forget about generating a lot of anchor text rich links fast….
For now you should probably concentrate on building links with brand signals like simple website addresses and/or your brand name, while paying particular attention to the QUALITY of the site you are getting links from.
I am certainly ONLY marketing my site via CONTENT CREATION, for instance. Social links DO NOT pass the same amount of link power as traditional links especially from very trusted websites…. but they are getting more important, and the more people who see your site, the more chance there is of picking up natural links…..
Manipulating anchor text is very risky now…. and ESPECIALLY if those links are from low quality sites.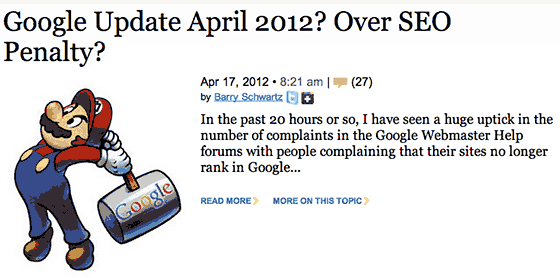 maybe next time…..
Interesting times indeed. Google didn't like that name though….
Google Webspam Update Renamed Google Penguin
Here's a quote btw from possibly the hottest forum on the web at the moment…..(EDIT – about the Google Penguin Update or Google Webspam update, as it turned out, that affected A LOT of webmasters – not just the type Google would label webspammers).
Google has dropped the nuke
If Google didn't win the war today…. they certainly dropped a nuke on a particular battlefield of it.
 this algorithm represents another improvement in our efforts to reduce webspam and promote high quality content. While we can't divulge specific signals because we don't want to give people a way to game our search results and worsen the experience for users, our advice for webmasters is to focus on creating high quality sites that create a good user experience and employ white hat SEO methods (GOOGLE)
Nuked!
Forum posters went on to elaborate how this algorithm is treating them:
Here we go again. This has gone from an attack to a massacre.
I have always thought if you want to know if Google is winning the war against webspam, as labelled by Google itself – you listen to the people doing it –  and a lot of them are talking. Actually – it's pretty clear it's NOT just 'webspammers' as GOOGLE labelled them, that are getting hit.
It is way to early to decide if these guys are the experienced ones or not, of course.
I think they may have rolled this change out now in the UK. Almost all of my site have been wiped out!
there's more
I got hosed bad too, about 4 hours ago.
and more
If these SERP changes I'm seeing hold, we are gong to need to turn off that "profanity" filter because this is a blood bath!
and more
Bah, will this madness never end. The fallout from this algorithm change is shaping up to be pretty messy
and more
A ton of my sites have just tanked big time…….in fact rankings in a lot of my niches have taken drastic changes. My days as an internet marketer look to be numbered….
and
I think my days as an internet marketer are numbered too.
It goes on and on – read the forum posts for more. I don't want to nick ALL the forum content.
I also think some of these webmasters and/or  being a bit hard on themselves. If you can spam – you can probably market a site in Google, without spamming (if that's what they have been up to).
Where Did It Come From?
I found this comment interesting when the discussion moved to how Google had tracked them down…..
it has to be how many domains link to the same 10, 50, 100, or 1000 or more domains. These are link schemes, doesn't matter what the anchor is.
It appears a certain type of linkbuilding will be less effective from this point on.
I can't see anybody going to the hassle of building a private network letting inexperienced webmasters into it…. so it probably just got a lot more expensive, too.
So did white hat seo btw. A LOT more expensive.
IS SEO Finally Dead?
NO.
And even before white hat seo everywhere scream hallelujah and start partying…. consider this:
I see a site no1 in Google on TONS of the same EXACT MATCH keyword anchor text – ranking on ZERO  diversity – ZERO organic links –  all the same keywords – the only difference?
The links are from real sites.
THAT's a problem Google cannot blame on 'webspammers'. That's a problem Google invited by the way it actually works to rank pages, and has done since it started.
So in a lot of ways – it's still the same as it ever was.
White hats still have lots to complain about by the looks of it, for now.
Strike ONE?
Google evolves. Spam evolves. Google evolves. Spam evolves.
Though I don't know how spammers (and no, I am not talking about anyone in particular) can have the stamina to keep up, especially if Google intends this to be the first of a few nukes…. the fear will be enough to put a lot of them of for a while, that's for sure.
Fallout Cloud
The fallout cloud is rising…. it's probably going to take time to settle on the web, so it's too early to say what the final result of all this will be…
One of my next posts may be about this next comment….
soon it will be nothing but name brands because they are the only ones who can really create buzz and backlinks "naturally" – seriously, who the F wants to link to my los angeles personal injury website… no one gives a sh!t
Collateral Damage?
Indubitably.
The reports will be in shortly….. no doubt.
It's Not Just Links That Sink A Site
It's worth remembering it's not just links – or specifically unnatural links – or either, your LINK PROFILE as a whole –  that make your site lose rankings in Google. Chances are – if you are running a new affiliate site, for instance, with little domain authority, Google isn't going to rank you very high in it's search results pages at all – NO MATTER how good and original your content is.