NEWS: Google buys beat that quote! Google penalises beatthatquote.com? Surely not :)
BeatThatQuote.com, a UK price comparison site for loans, insurances, mortgages and legal services, was bought by Google it seems – and money.co.uk seemed to be first to break the news.
Here is:
I'm confused.com :)
My head is spinning at least.
How can Google penalise moneysupermarket for instance, like they did (allegedly) a while ago, if they own a competitor like Beat That Quote? Will Google NEED to ban BeatThatQuote.com if it is found to be breaking the rules?
Some very high profile search marketers think so including Dave Naylor: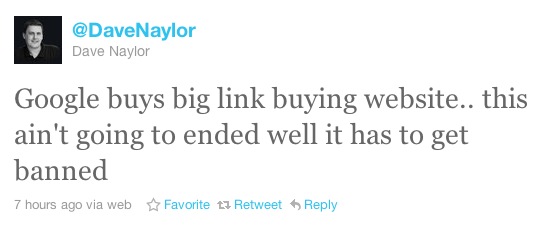 Dave has even funnier quotes on his Twitter stream if you want to check out.
I don't really like discussing other's seo strategies in public – but some newspapers might be in for it, as well as BeatThatQuote.com, as well as a lot of seo, if those alleged questionable links are confirmed as paid links, which is a practice clearly against Google guidelines.
UPDATE: Other credible sources (now backed by http://searchengineland.com/google-bans-itself-again-by-banning-beatthatquote-com-67437 - my usual source for seo news):
I recommend you don't buy links as a standard, wether they work or not, because it's against search engine guidelines, and you might suffer from fallout from something exactly like this. But how do you feel if you are a competitor and your competition has been bought by Google of all companies and it is confirmed (which this case is not yet) to be breaking the 'rules' laid down by the very same search engine?
This one is going to be interesting to watch over the next few days and weeks…
I wonder if beatthatquote.com can give a quote on buying li………nah – better not! :)
Disclaimer: This post is opinion and conjecture at this point obviously…..
Update: Featured on Beat That Quote homepage, a quote from them:
BeatThatQuote.com today was sold to Google for GBP37.7 million. We think this deal is a tremendous opportunity for our company to develop new and innovative options for personal finance in the UK. Our team is excited about becoming a part of Google. We look forward to working with their engineers to create new tools making it easier for consumers to choose the right financial products. We think we can offer more transparency and better pricing information than existing online offerings.
Update: At the moment, less than a day after this acquisition was announced – Beat That Quote can't even rank for ….. Beat That Quote! lol
Some other responses:
I wonder what SEO company will be talking the fall this time :)