Mar 8, 2011: Google buys beat that quote! Google penalises beatthatquote.com? Surely not
BeatThatQuote.com, a UK price comparison site for loans, insurances, mortgages and legal services, was bought by Google it seems – and money.co.uk seemed to be first to break the news.
Here is:
I'm confused.com :)
My head is spinning at least.
How can Google penalise moneysupermarket for instance, like they did (allegedly) a while ago, if they own a competitor like Beat That Quote? Will Google NEED to ban BeatThatQuote.com if it is found to be breaking the rules?
Some very high profile search marketers think so including Dave Naylor: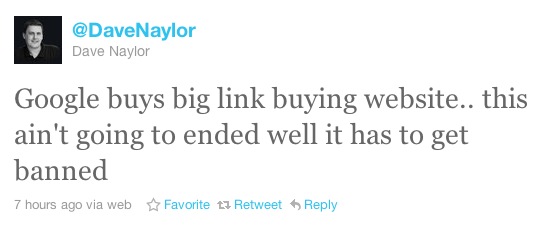 Dave has even funnier quotes on his Twitter stream if you want to check out.
I don't really like discussing other's seo strategies in public – but some newspapers might be in for it, as well as BeatThatQuote.com, as well as a lot of seo, if those alleged questionable links are confirmed as paid links, which is a practice clearly against Google guidelines.
UPDATE: Other credible sources (now backed by http://searchengineland.com/google-bans-itself-again-by-banning-beatthatquote-com-67437 – my usual source for seo news):
I recommend you don't buy links as a standard, wether they work or not, because it's against search engine guidelines, and you might suffer from fallout from something exactly like this. But how do you feel if you are a competitor and your competition has been bought by Google of all companies and it is confirmed (which this case is not yet) to be breaking the 'rules' laid down by the very same search engine?
This one is going to be interesting to watch over the next few days and weeks…
I wonder if beatthatquote.com can give a quote on buying li………nah – better not! :)
Disclaimer: This post is opinion and conjecture at this point obviously…..
Update: Featured on Beat That Quote homepage, a quote from them:
BeatThatQuote.com today was sold to Google for GBP37.7 million. We think this deal is a tremendous opportunity for our company to develop new and innovative options for personal finance in the UK. Our team is excited about becoming a part of Google. We look forward to working with their engineers to create new tools making it easier for consumers to choose the right financial products. We think we can offer more transparency and better pricing information than existing online offerings.
Update: At the moment, less than a day after this acquisition was announced – Beat That Quote can't even rank for ….. Beat That Quote! lol
Some other responses:
I wonder what SEO company will be talking the fall this time….
Update 2 – My friend Rishi obviously has too much time on his hands 
Kudos to him for creating a great piece of content to in fact rank no1 for 'beat that quote' though I missed getting a screenshot. It enabled him to pick up some quality links and a flurry of social media links to his post – proving if you are willing to put a few hours work into a piece of quality content, and have built up good relationships online, you can come from behind and win in Google SERPS.
Rishi was one of the first to spot Google I mean Beat That Quote  was back in Google search engine results for it's brand term.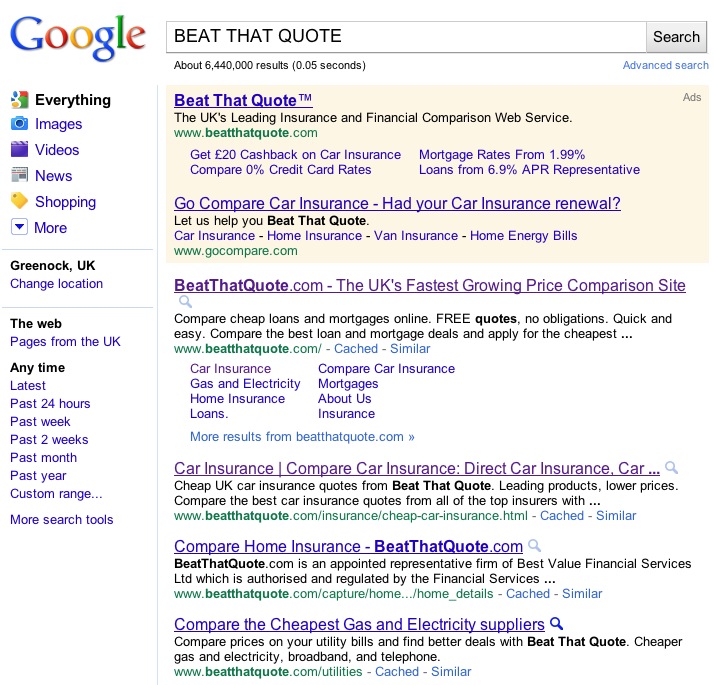 SEO Cry Foul
Beatthatquote.com now ranks for 'beat that quote' brand terms again – so the ranking penalty lasted for 2 weeks, as Rishi pointed out.
At this time it's yet unclear if this penalty is still in place for more valuable market key-terms like 'car insurance', for instance.
A few seo friends including Aaron Wall have pointed out  the apparent double standards with the whole Beat That Quote debacle. A 'token penalty' one could be forgiven for thinking.
While it's clear smaller businesses wouldn't receive the same support for 'brand' terms if they were penalised, it was just making the SERP for the term 'beat that quote' a bit of a joke, and indeed, a bit embarrassing to Google (perhaps).
I'm not surprised to see it back at all.
Google Penalises Itself Again
Jan 4, 2012  – If any website on the web is caught buying links, normally the website cannot rank for a lot of its valuable keywords.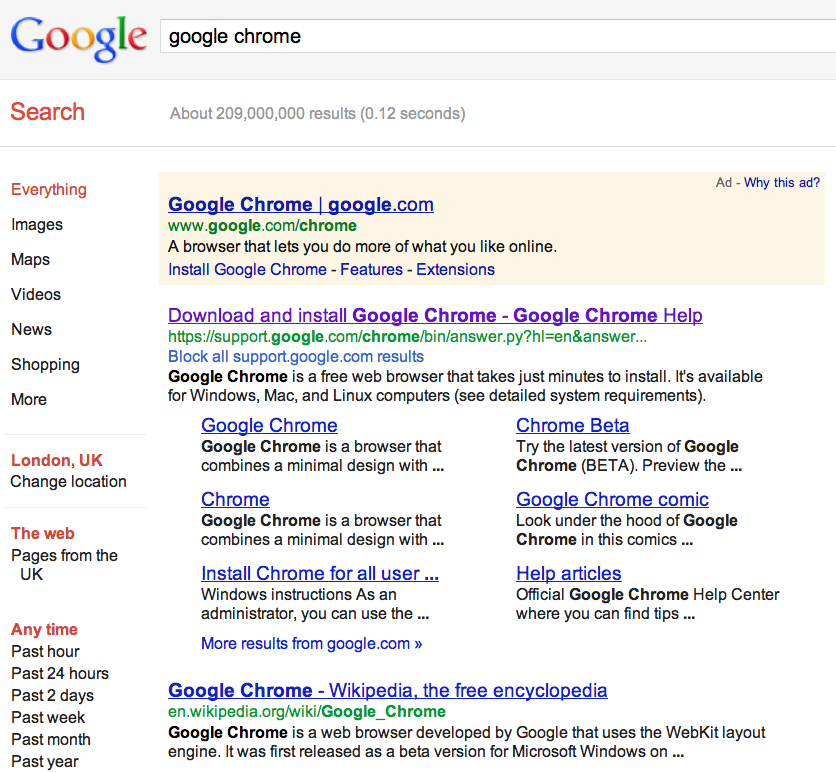 Looks like the same website ranks for the same keywords.
Not much of a penalty.
Well, I've seen worse…..
In case you don't know what I am on about – Google penalised itself again yesterday for breaking it's own rules. It KIND of HAD to. Even though by all accounts (I saw on one of the articles at Search Engine Land) that they may in fact be able to blame a marketing company on this one – although I have no idea on the accuracy of that one.
That aside – Google has gave us a pretty decent Website Reconsideration Request template if you ever need one….
Google (REPLACE WITH COMPANY IN QUESTION) never agreed to anything more than online ads. We have consistently avoided paid sponsorships, including paying bloggers to promote our products, because these kind of promotions are not transparent or in the best interests of users. We're now looking at what changes we need to make to ensure that this never happens again.
Apparently they considered giving themselves a Google Pagerank penalty for 60 days too ….. I thought that was interesting. Google Japan got a pagerank penalty that lasted the best part of a year, not that long ago….. Beat That Quote (also owned by Google) is still penalised I think.
Seems a little preposterous, all this.
You can get the full story (broke by the SEOBook community) with a glance at Search Engine Land's home page.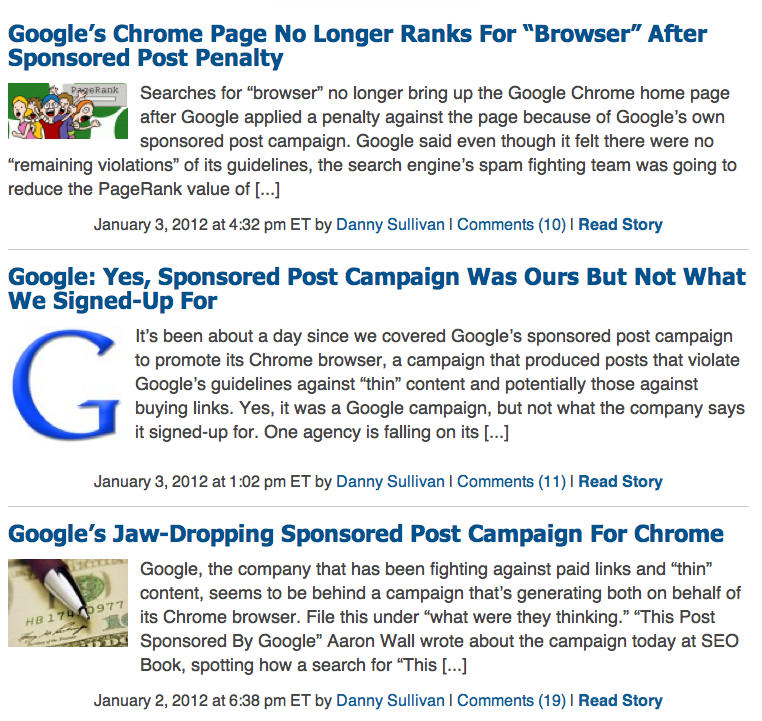 Oops…… good browser, too.