The best website design company Greenock has to offer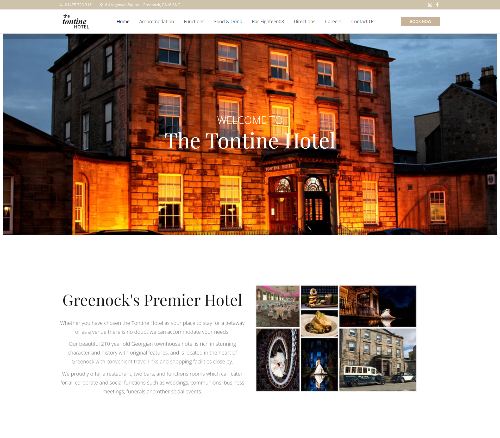 Hobo Web is a website design and website development company based in Greenock, Inverclyde, Scotland in the UK.
From a base in Inverclyde, Hobo web developers create websites for businesses from all over the world.
Our Greenock-based web designers have launched and managed hundreds of WordPress websites over 15+ years. Hobo is a Greenock website design company and web development service.
Your WordPress website development costs
How much does a new website cost?
The quick answer is it depends on your requirements.
Below is a rough guide to Hobo Web costs for website development and website design:
| | | | |
| --- | --- | --- | --- |
| SMB Website | OPTION 1 | OPTION 2 | OPTION 3 |
| WordPress CMS (Edit your own site) | YES | YES | YES |
| Domain Name Management | YES | YES | YES |
| Hosting Management | YES | YES | YES |
| Contact Form | YES | YES | YES |
| Fast Mobile Friendly Responsive Design | YES | YES | YES |
| Changeable Design Template inc Logo | YES | YES | YES |
| Plugin (extra Functionality) Install | YES | YES | YES |
| Newsletter Functionality | YES | YES | YES |
| Technical SEO Checks | YES | YES | YES |
| Optimised Page Titles | YES | YES (@50 Pages max) | YES (@500 Pages max) |
| Security Enhancements | YES | YES | YES |
| Website Backup Enhancements | YES | YES | YES |
| Optimised Meta Information | NO | YES (@50 Pages max) | YES (@500 Pages max) |
| Social Media Integration (via IFTTT) | NO | YES | YES |
| Extra Website Speed Optimisation | NO | YES | YES |
| Bespoke Lead Generation Form | NO | YES | YES |
| Migrate Content From Old Website | NO | YES (@50 Pages max) | YES (@500 Pages max) |
| Migration 301s (redirecting old pages) | NO | YES (@50 Pages max) | YES (@500 Pages max) |
| Basic Schema | NO | YES (@50 Pages max) | YES (@500 Pages max) |
| Ecommerce Integration | NO | YES (@50 Pages max) | YES (@500 Pages max) |
| Payment Gateway Integration | NO | YES | YES |
| SEO Strategy (Competitor Analysis etc) | NO | NO | YES |
| Bespoke Design Process | NO | NO | YES |
| Bespoke Image Redesign Work | NO | NO | YES |
| | £495+VAT | £950+VAT | £1,995+VAT |
Hobo's web designers create simple but highly functional WordPress websites.
If you only need a few pages, and an email contact form, Hobo Web's no-frills static website from £495+VAT would suit you. If you need a little more assistance then Hobo Web's small-to-medium business website package starts from £950+VAT with a complete content management system (CMS) and is very popular.
If you need a large WordPress site managed, or rebuilt, Hobo can submit a website development quote to you for this on a case-by-case.
Every website Hobo publishes includes standard basic technical SEO (search engine optimisation) adjustments to make sure you rank optimally in Google from the start.
Hobo Web tailers websites to meet your budget and website design projects are thoroughly planned out first. Hobo works with every type of business, including the NHS, charities, churches & cathedrals, banks, and SMEs.
Hobo's web designers build websites that perform on all major search engines, including Google and Bing.
So whether you need only a small (but functional) website, or your ambitions are much broader, contact Hobo Web today to get your web development quote.
Your Greenock website design company
Hobo Web is a website design company in Greenock.
Hobo Web Greenock-based web designers design fully functional small business WordPress websites for £950 +VAT.
What you get:
Domain name administration and management (your web address) if required
Hosting management.
A content management system (CMS) so you can edit the site yourself, add pages, change the structure, add text, add plugins… you can do anything with it – and you can log into your secure area from any computer, anywhere in the world, whenever you want to make changes
A design for your website based on open-source website templates and, for instance, your logo.
An SEO-friendly website design and website structure
Basic ad-hoc SEO (search engine optimisation) based on a few select keywords you are interested in
A website launched with your text and images in place
A website that is connected to Google Analytics and Google Search Console, so you can see how many visitors visit your website, where they come from, and what they do on your website.
This small business website design package is designed to give you a fully functional website you own and control 100%, and an editable website where you can easily publish and un-publish pages and news.
Hobo Web can usually create and launch your site to the world in 4-12 weeks.
So that's it.
The Hobo Web SME / small business website design package – yours from Only £950 +VAT.
Small Print

You need to supply images and content in an electronic format.
Hobo Web costs for web design vary and are based largely on the cost of the actual design, amount of content and images, and functionality. The small business package is designed to give you a cutting-edge SEO-friendly website at the lowest cost possible.
Hobo Web does not guarantee rankings in Google, no one can. You will have an SEO-friendly website and by adding good content to your site, attracting good quality links from other relevant websites, and by examining your competitors and carrying out keyword research, you'll have a chance to rank for desired key terms in Google, like everyone else.
Hobo Web is not responsible for problems arising when dealing with 3rd part hosting or domain management firms.
Hobo Web's small business website package does not include E-Commerce functionality (out of the box)
Your Greenock website development company
Hobo Web is a website development company.
Based in Greenock, Inverclyde Hobo Web's ongoing remote WordPress website management service is all you need to manage your WordPress site and ensure no catastrophic event happens to take your business offline.
Hobo's monthly WP management service includes:
Optimising your WordPress site technical elements for Google rankings
Backing up your WP website
Improving the security of your WP website
Updating and checking core system and plugin updates
Adding tracking to your site to highlight you of any changes on the site. Ideal if you are planning an upcoming migration.
This service is designed for the small business owner with limited to no technical support (with a small site of a few hundred pages) looking for ongoing basic WordPress site support and who requires ongoing monitoring of the site that will highlight any changes on the site that could impact your business health or Google rankings.
The ongoing website management service is a bolt-on service to our small business website design packages.
Your WordPress developer in Greenock
Hobo Web is a WordPress developer based in Greenock.
Hobo has built hundreds of WordPress websites for corporates, colleges, universities, charities, and cathedrals – and a lot of small businesses.
To be successful in Google, you need a website you can update easily because the search engine loves up-to-date content. Understanding this, every site Hobo creates is easy to edit.
That's why, when you hire Hobo to create your next website, your website comes with a free content management system (a CMS) installed.
What's more, it's not just any CMS either.
Hobo Web's website designers use WordPress which has been quite literally voted 'best in the world' when it comes to what does.
WordPress is a full-fledged content management system
WordPress is created by a community, for the community, and free to build your website on.
You don't need to buy it, no matter what other website design companies may tell you. What's more, it is super-powerful, allowing you to do whatever you want to do with your site.
Hobo Web doesn't 'sell' WordPress. This CMS comes free.
When you buy a website from Hobo Web, you can be assured it'll be Google friendly, built with web accessibility in mind, professionally designed and easy to edit. You're paying Hobo web developers for the time it takes to create the look and feel of the site and then develop the structure and content of the site. The WordPress CMS is not a 'cost', so you instantly save money.
On launching the new website, you own the site, the domain, the design, and the right to operate your site built on WordPress. You own everything, including all creative copyright.
There are no catches with Hobo Web.
WordPress is the only website you'll ever need (probably)
Hobo's website is built on WordPress, too, and since 2007.
WordPress has got everything you'd ever need, truly cutting edge in every way.
You can change the text, images, and navigation on the site. You can make whole sections appear or disappear on your site with one click of a button. You can upload pdf or word documents. You can sell stuff, or create a community.
Your new WordPress website generates search-engine-friendly pages, meaning you will get all the pages on your site into Google, Yahoo, and MSN. Combined with the Hobo SEO package, you can be sure of good visibility in Google.
Your new WordPress site contains a powerful Content Management System (CMS) that will help you get the most out of your website.
WordPress is suitable for almost any type of site
This content management system is suitable for almost any organisation like:
Corporate websites or portals
Online commerce
Small business websites
Non-profit and organizational websites
Government applications
Corporate intranets and extranets
Schools, churches & cathedrals
Personal or family homepages
Community-based portals
Magazines and newspapers
The possibilities are limitless
WordPress can be used to easily manage every aspect of your website, from adding content and images to updating a product catalog or taking online reservations.
WordPress can have many different users working together
Once WordPress is installed and running, it is simple for even non-technical users to add or edit content, easy to update images, and simple to manage the critical data that makes your company or organisation tick.
Anybody with basic word processing skills can easily learn to manage a WordPress site.
Via a simple, browser-based interface (that is, you can log in from anywhere) you will be able to easily add new press releases or news items, manage staff pages, job listings, product images, and create an unlimited amount of sections or content pages on your site.
A new website can be launched, with your bespoke design and feel, with your content and the following pages and plug-ins installed as standard:
10 Pages (unlimited page generation if you have more pages)
Includes set-up, free domain management, and free hosting management if required to set up the site
Document Management / Upload System
News Blog
Data Collection and Reporting Tools
Email Contact Form
Powerful Google Analytics software to track visitors
The basic system can be expanded to include:
Integrated e-commerce systems
Inventory control systems
Data reporting tools
Custom product catalogs
Complex business directories
Reservation systems
Communication tools
Application bridges
Image and Multimedia Gallery
This website publishing system is ideal for any type of organisation or business.
The basic WordPress system can be in place in hours.
Your new site can be launched with a bespoke design within a month or two later.
Greenock website development service
If you are looking for a local website development service in Greenock, Hobo Web has been based in Greenock, in Inverclyde since 2006.
Your local Hobo WordPress website development service provider has launched thousands of websites over nearly two decades.
Hobo's web developers are up there with the best website designers Greenock has to offer. We've built many Greenock-based businesses websites.
Use the form below to contact Hobo Web today about any inquiry you may have.