Note – This is a test, testing Title Tags in Google. Consider also Google Title Tag Best Practice and How Many Characters In A Title Tag For Google.
We recently tested "how many keywords will Google read in the title tag / element?" using our simple seo mythbuster test (number 2 in the series). And here's the results, which are quite surprising.
First – here's the test title tag we tried to get Google to swallow. And it did. All of it. Even though it was a bit spammy;
HoboA HoboB HoboC HoboD HoboE HoboF HoboG HoboH HoboI HoboJ HoboK HoboL HoboM HoboN HoboO HoboP HoboQ HoboR HoboS HoboT HoboU HoboV HoboW HoboX HoboY Hob10 Hob20 Hob30 Hob40 Hob50 Hob60 Hob70 Hob80 Hob90 Hob11 Hob12 Hob13 Hob14 Hob15 Hob16 Hob17 Hob18 Hob19 Hob1a Hob1b Hob1c Hob1d Hob1e Hob1f Hob1g Hob1h
Using a keyword search – hoboA Hob1h – we were surprised to see Google returned our page. We also tested it using – Hob1g Hob1h – the keywords right at the end of the title – and again our page was returned.
So that's 51 words, and 255 characters without spaces, 305 characters with spaces, at least! It seems clear Google will read just about anything these days!
**************
Update: Qwerty pointed out an interesting fact about the intitle: site operator in Google.

…..results as expected. But next in the sequence returns the following, unexpected result…..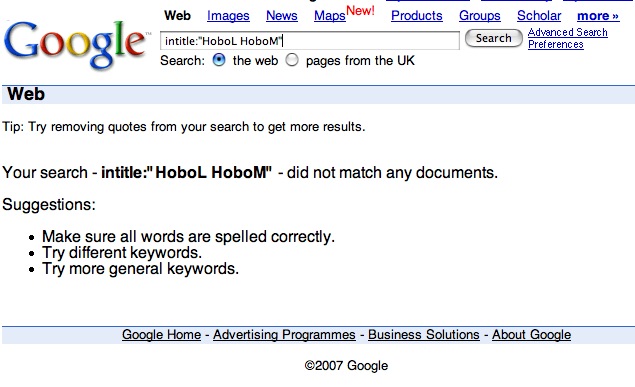 So what does this tell us? Google seems to stop at the 12th word on this page at least when returning results using the intitle: site operator. Another interesting observation. Thanks Qwerty.
**************
We're obviously not sure what benefit a title tag with this many keywords in it has for your page, in terms of keyword density / dilution, and "clickability" in the search engine results pages (SERPS). 50+ words is certainly not best practice!
When creating your title tag bear in mind Google only shows you the first 70 characters (about 8 words) in SERPS and many think you need to get a well formed understandable call to action in this space.
But from this simple experiment, it's clear Google reads much more to factor your page in the serps. A lot more.
SEO Myth Buster #1 – Google Prefers Valid HTML & CSS?
SEO Myth Buster #2 – How Many Words In Your Title Tag For Google?
But what about Yahoo and MSN? Well so far, neither of these engines have indexed the page, even when it was created with a title tag of 26 words. They are obviously a bit choosier than Google at the time of writing. :)
FYI – New guidelines for displaying in Google SERP snippets 2012.
Google displays as many characters as it can fit into  "a block element that's 512px wide and doesn't exceed 1 line of text". So – THERE IS NO AMOUNT OF CHARACTERS any seo can lay down as exact best practice to GUARANTEE your title will display, in full in Google, at least.Ultimately – only the characters and words you use will determine if your entire page title will be seen in a Google search snippet. Google used to count 70 characters in a title – but not in 2012. If you want to ENSURE your full title tag shows in Google SERPS, stick to about 65 characters. I have seen 'up-to' 69 characters in 2012 – but as I said – it depends on the characters you use. Best Practice Titles for SEO.
More Reading: