The penalty box (sometimes called the sin bin, bad box, or simply bin) is the area in ice hockey, rugby league, rugby union and some other sports where a player sits to serve the time of a given penalty, for an offense not severe enough to merit outright expulsion from the contest.
If…
Google identifies you have unnatural links pointing at your site, and
a history of 'webspam' activity Google is confident about, and
you get a manual actions message in Google Webmaster Tools
or your traffic or rankings tank over night
…you can probably consider your site "sin binned" – penalised – until, basically, you sort the unnatural links out.
I see a lot of people complaining this doesn't work and that doesn't work to lift these penalties – manual or algorithmic – [Google isn't fair!!! Google is telling lies!!!] – they seem to miss the point.
Punishment
Punishment is the point. Google wants you to feel the pain. Google wants you to lose time. It wants you to refocus your efforts away from investment in low quality link building services. Google wants you removing these links from the web – which for some involves a lot of emails to webmasters of sites you've dropped links on, numerous times. Google wants to see you're rehabilitated. That you've learned the error of your ways. From this point on – it's all quality stuff. They want to stop you buying links.
Wether or not you agree with it, that's how it is – or at least, the message Google is ramming down our throats.
Using the disavow tool as a last choice
The disavow tool is presented as the last choice. I find this rather contrary, as the disavow file would surely be a MUCH faster way of showing "good faith" in dissociating a site from artificial links. It's where I start, anyways.
You know, whether you're tracking things in a spreadsheet. Or you're just doing a good job of monitoring. How many sites you've asked to take things down. Essentially we just wanna know you've done a prolonged, sustained effort to try to clean things up as much as possible. So the mental model we want you to have is this. We'd like to see as much of the link spam to go away. As much as possible. And so that's your first goal. To try to get as much down. And then we need to know that ideally, we're not gonna see this sort of link spam in the future. And so that's where the documentation comes into effect. MATT CUTTS
Community Service
Google even wants us cleaning up the links that were made in your name.
Google doesn't want folk seeing how low quality links manipulate Google results. If you've looked at link spam, or been involved with it, you'll know that linkspam makes Google look stupid, and render proclamations about good content ranking above spam 'not true', at least, in many instances. If you get a penalty for unnatural links – you just bought some community service cleaning up the neighbourhood. Don't like that? Tough sh*t.
Will your rankings recover after you remove a penalty?
While I answer this in my other post (and the answer is – depends on what quality you have left after your link clean up), I think it is a mute point.
In many cases, if you have a manual action against your site, you are not going anywhere on your main keywords until you do something about it. If you ignore the warning, or try to play around it, other rankings start to deteriorate, given time.  Unnatural links are, I think I can say, the kind of links that often made sites rank at the top of Google organic listings, from 1998 to, well, now. It is and was very hard to compete with unnatural links, without employing them.
Clearly Google is telling us the fastest way to get out of this penalty box is to remove the artificial links pointing at your site and disavow the rest. A scary prospect for everyone I talk to – these are the links that got no1 rankings. That is true as far as I can tell.
I am talking from experience (this is all I can do):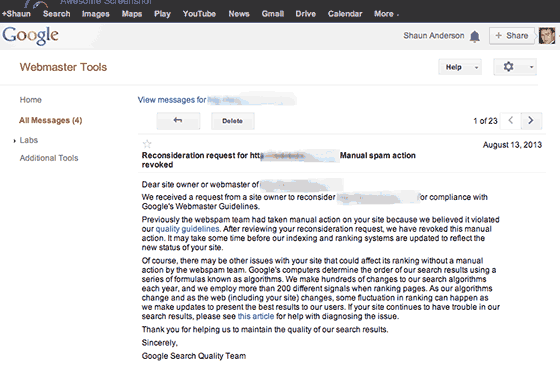 I've saw quite a few of those now…..
If I cared about the site in question from a longevity point of view, I would dump low quality unnatural backlinks now – and stay away from building them in the future. Penalties generally get harsher for repeat offenders, and Google is getting more and more aggressive, and faster, in dealing with them. PAID LINKS are particularly problematic if Google finds them – and I've seen enough of them recently in site cleanups (from supposedly experience paid link brokers), to say the VAST majority of paid links are clearly paid links lol. Oops.
I wonder what happens next year, despite repeated warnings, some sites still engage in low quality seo tactics. What happens when low quality seo activity "merit(s) outright expulsion from the contest" for a big brand for a prolonged period of time.
Maybe Google won't go this far with a big brand (they can defend themselves) – but it will CERTAINLY do it to your site.
Whatever – cleaning up your back links just became a priority!
Some more on this: