A bit of of seo testing :)
A lot of people use gibberish words in tests so I don't. I use unique numbers which only appear in hidden elements – and I have a lot of pages all over the place. I am only interested in what I can see and what actually helps a page rank in SERPS -
Q:

Does Google, Yahoo or Bing use the meta description as an aid to rank a page

?
Does Google Use The Meta Description When Ranking A Page?
My test page comes up No1 for the keyword search. THE QUERY search result is here. It's no1 – note that.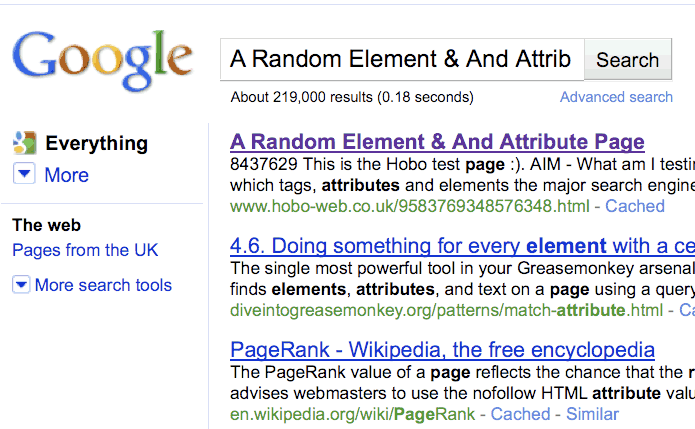 I have a unique number in the meta description which is not on the page.
If I search for – "THE NUMBER" + "THE QUERY" I get no results – Google says there is no single page in it's index with those 2 terms on the page, even though there is. Query here.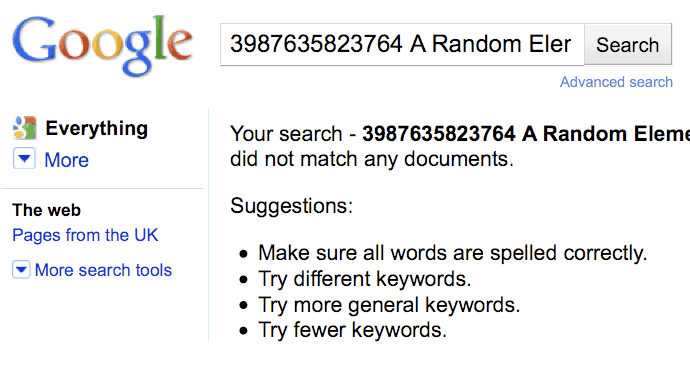 These tests have been live for months and at least in this qualitative test, it certainly appears as if:
Google ignores the meta description when ranking the page for the query - if keywords are only in the meta description and not on the page, the page gets NO Benefit in a real life search.
Google knows it's there – you can check that using the info: operator with the same "THE NUMBER" + "THE QUERY" search and it's clearly visible in the SERPS when the page IS retured.
BUT THIS ISN"T HELPING A TARGET PAGE RANK – AND THIS IS ALL I AM INTERESTED IN.
Does Yahoo Use The Meta Description When Ranking A Page?
Yahoo DOES use the Meta Description when ranking a page it seems….

Does Bing utilise the meta description in this way? It does not return the page. Bing seems to work the same as Google – effectively ignoring the meta description tag according to this test.
Takeaways
Google is ignoring the meta description when the keyword is not also present on the page – which kinds of suggests Google ignores the meta description WHEN RETURNING A BASIC SEARCH RESULT TO A USER.
Google still reads the meta description and uses it in snippets if you are using certain operators – if you want the meta description to appear as the snippet,

place your keyword in it

(and that keyword needs to be on the page, too).
Yahoo does seem to still use the meta description when returning a page in this manner
Bing is similar to Google (there's a surprise – sarcasm) – it does not apparently use keywords in the meta description that are not on the page
It also might mean Google wants us to think it is ignoring the meta description totally – certainly, this is a good way to nulify the unique word in the meta description test, and any seo tester testing on a granular level will tell you, Google likes to nulify or muddy these kind of tests.
Which kinds of makes it hard to test things on a granular level these days.
Don't trust me though. Test yourself, on the site you want to rank. You just need to ensure the keyword is unique to the page, and not in links or mentioned anywhere else on the site. Which is kind of hard.
Questions This Test May Not Answer?
Does Google reward a VERY RELEVANT meta description? Again, very hard to tell for sure (I'm running tests on this too).
Run your own tests and see what you can cup with, but for me, I still just try and make good pages that are as relevant to the phrase I am targeting – and IMO, you can probably always make a page more relevant. Sometimes I include a meta description sometimes I don't. Usually, I write it for humans first, then engines.
I just thought it was worth sharing for discussion as I seem to use a slightly different method of determining things to some of my seo buddies with tests here and here.
Do add any comments or let me know if you can think of testing – I use that word loosely -  things a bit more accurately.
I'll share some more test results for discussion later, too.