Disclosure: "I am an affiliate of SEMRush. This post is opinion. There are affiliate links on this page where I would make a commission if you were to buy the product. The content is my own and not sponsored. External links to third party sites are moderated by me. Links to internal pages promote my own content and services. I highlight monetised links in an clear way on this site. This page uses cookies. Your privacy is respected." Shaun Anderson, Hobo
SEMrush (voted the best SEO software suite at the recent US Search Awards) is fast becoming one of best all-in-one SEO Toolset available to marketers in 2019 (which is why it features so prominently in my best SEO software roundup).
I use it every day. In this article, I will explain how to analyse a website ranking history using the tool.
The amount of data SEMrush has collected is vast and impressive. Part of that data set includes access to historical website keyword ranking data (available to subscribers signed up to the SEMRush GURU package – Disclosure: I am affiliate and customer of SEMrush).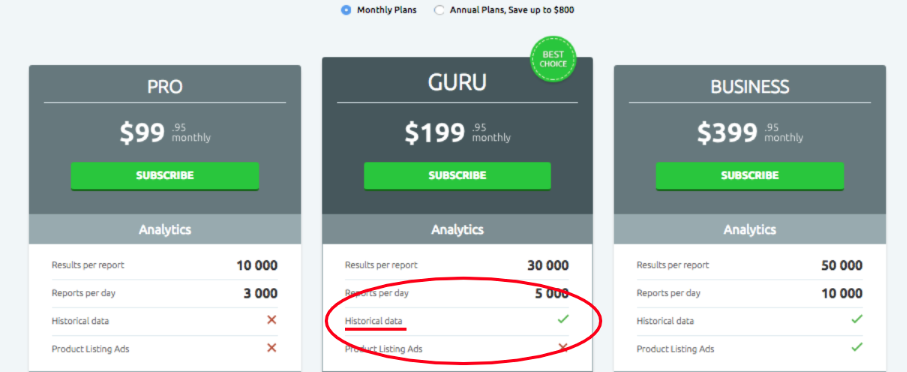 You can use this feature to look to see where a website ranked in Google SERPs (search engine result pages) for a particular keyword in the past in any given month. You can also identify which page ranked for which keyword – another extremely valuable insight. If you
This historical Google ranking data goes way back to 2012 – helpfully enough when this kind of data became important! Even Google Search Console doesn't give you this data. It's ESPECIALLY useful if the months you are interested in are post-January-2016, when SEMrush started sharing much more keyword term ranking intelligence.
This is, frankly, another killer, potentially unique selling point for SEMrush (i am not sure if any other tool has such data – in this amount – available to the common marketer at such an accessible cost).
The Challenge
It's a common challenge for the professional SEO in 2019 to try and identify how a site (you've just been introduced to) performed in the past.
This is especially relevant after a major Google quality update that has seen the site tumble in the rankings, or after a botched website migration project that happened 6 months ago that negatively impacted Google keyword rankings for a website.
These are the common questions an SEO might have when investigating a Google rankings drop after a botched migration e.g. how to find:
What keywords did this site historically rank in Google for in the past?
What keywords did a specific page rank in Google for in the past?
What pages on the site ranked for which keywords in the past?
What keyword positions did a website rank for in Google last month, or any month in the previous couple of years
What pages ranked in Google for which keywords during any specific month in the past 6 years?
SEMrush can answer those questions!
Case Study – A website Migration gone horribly badly
The chart below (using the SEMrush Graphs Tool) illustrates a website migration that went horribly wrong some time ago (6 months) before I had heard of the site.
When a migration goes wrong like this, it is usually because of a variety of well-understood technical failures missed by the technical team at the time or less-understood technical minutiae that can cause a total destruction of Google rankings.

In this instance, the problem was…. not immediately obvious, just let's say that.
There was a litany of technical failures on the site (although not any that would have been a major problem some 5 years ago) and some decisions were made that were ENTIRELY not OPTIMAL from a search engine optimisation point of view. On top of that, the history of the website demanded certain procedures be implemented to ensure a smooth migration to a new domain.
The site lost a business-shattering amount of keywords and despite the technical teams best efforts, they (and other SEO agencies) could not determine the problem.

One of the options available that made checking this migration was the historical keyword rankings data that SEMrush afforded me. With this data, I could VERY QUICKLY check what keywords the website ranked for back in the past (the month before the migration) and what the new website ranks for, and analyse the gap in between.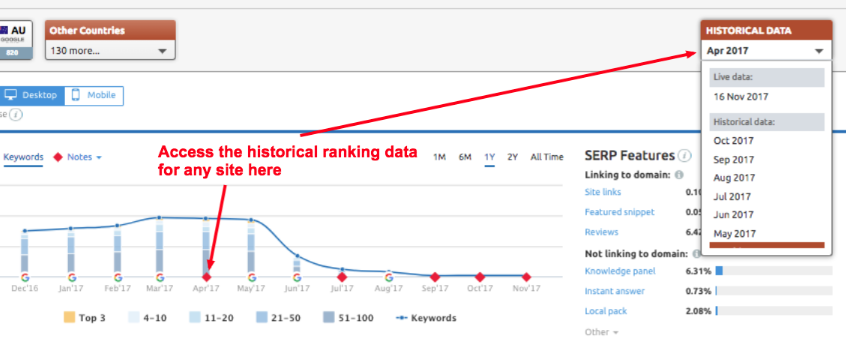 Once you have identified the month you are interested in, you can export a list of the pages that ranked and work backward to determine if there are any obvious important pages missing search engine friendly redirects, for instance.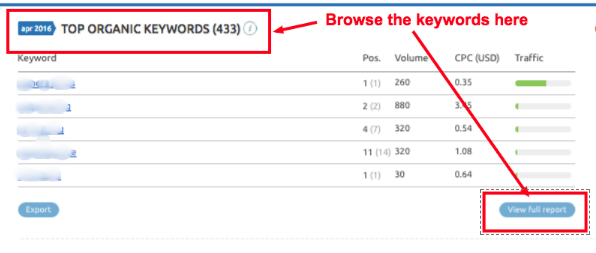 It's a simple but really effective way to check what pages were ranking for which keyword phrases back 6 months ago.
Highly recommended.
NOTE 1: A big caveat before you sign up. To use this tool, a website must have had some visibility in the past that SEMrush has recorded. If a website had a lot of positions in Google, SEMrush will have the data. If the website is a very small website with no real visibility in Google for any keywords, you are out of luck and will need to go through more manual ways of working such data out.
NOTE 2: Its still early days (we were only hired last month and fixes were only applied a fortnight ago). I'll update this case study in a few months. Yes, months – Google doesn't play nicely these days in some very specific instances! Not with this kind of screw-up.
If they had hired an SEO with as much experience of website screw-ups I've witnessed, this would not have happened AT ALL, which is sad, and potentially a business-ending decision.
NOTE 3 – Website migrations that preserve Google rankings have NEVER been more tricky than they are in 2019.
If you need professional help planning a website migration or planning for the changeover to mitigate such a disaster, you can see my website migration and changeover service page.
You May Also Like
Check out my other beginner tutorials that use SEMrush:
Check out the full features of this SEO tool and other tools in my best SEO software roundup.
Disclaimer
Disclaimer: "The author does not vouch for third party sites or any third party service. Visit third party sites at your own risk. This article is a personal opinion of research based on my experience of almost 20 years. It is not advice. I am not directly affiliated with Google or any other third party other than via affiliate programme. This website uses cookies only for analytics and basic website functions. This article does not constitute legal advice. The author does not accept any liability that might arise from accessing the data presented on this site." Shaun Anderson, Hobo