In my previous post I mentioned a site that hit by the dreaded doorway pages penalty…..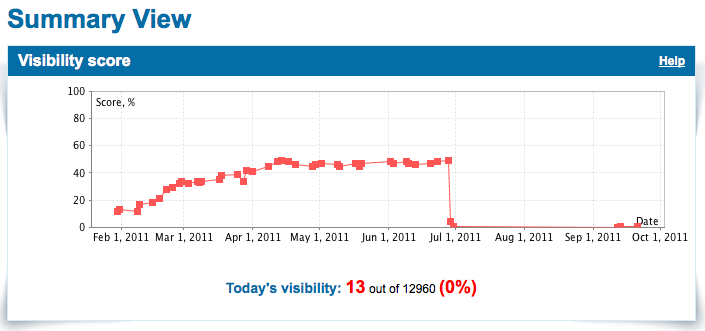 But having access to the stats of such a site is interesting in so much it shows you what happens when a site is penalised for being a doorway site….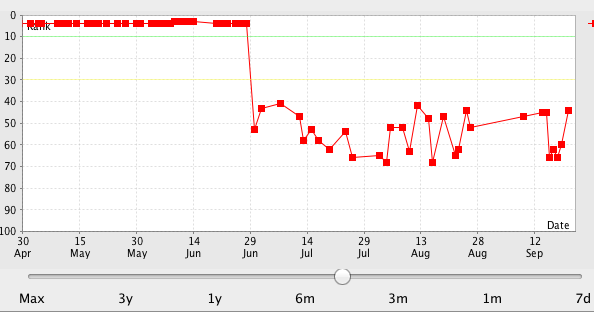 After being notified via GWT of a doorway pages penalty, my friend has submitted numerous reconsideration requests on the above site with no luck yet…..
Positions 40-70 is in some sort of neutral zone for it's main keywords – effectively a -50 penalty to begin with. It's something to check your rank checker stats for if you think you have been hit with a penalty.
NOTE – A lot of people don't realise this (or something like it) happens all the time to thin affiliate sites…..
Another example of if Google classifies your site as undesirable or manipulative, there might be VERY LITTLE you can do to it to get it back in Google's good graces….. nothing to the site in question, at any rate.
I think Google is probably a lot better at discovering and classifying a site and it's intent these days – which also may lead to why Google feels comfortable about actually informing people via Google Webmaster Tools (which ironically you DO NOT want to register with if you have lots doorway page sites lol) about naughty stuff. I remember reading A LOT about -50 penalties etc  in the last few years and reading LOTS of different ideas about how to recover from it. I have also seen a LOT of folk try and recover from PANDA, for instance, and apparently FAILING.
Maybe sometimes it's not always about your backlinks, your anchor text, or your on page content, your bounce rate or the position of your adverts.
Maybe it's a classification thing. You're either trying to be a middleman or you are not.