StumbleUpon Frenzy Rattles Our Website!
A few of the articles on this site have proved popular in the search marketing industry network this week, the result being a lot of traffic to our seo blog.

The articles like our interview with expert seo geek Sebastian about robots.txt, how top bloggers started their blogs, how top bloggers use Robots.txt, the Unethical SEO Company Handbook and my Google Links & Lasers Analogy has also led to this – a traffic bonanza from StumbleUpon users (thank you very much!); :)
Look At The Free Traffic StumbleUpon Is Currently Sending Here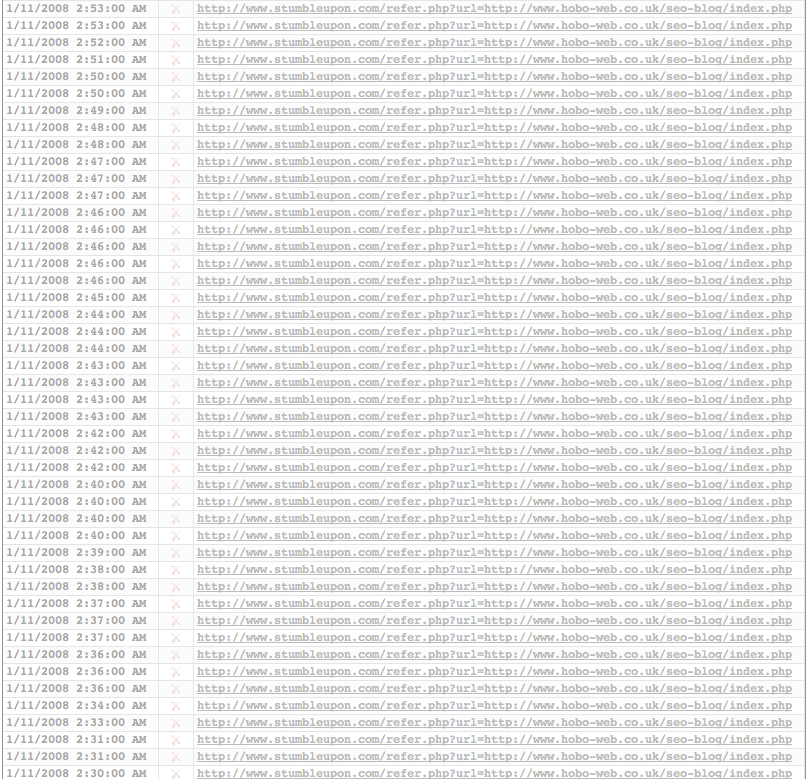 ….and it's been like that for days. Traffic from Stumbleupon has been non-stop and hammering away at our website bandwidth – which is nice. Average time spent on site is still about 2 minutes per visit so people seem to genuinely like what we've put out recently and stayed around too, as the unique visitor graph below details;

StumbleUpon is an amazingly fun tool and having the StumbleUpon Toolbar installed, I often play about with it myself, the result being it leads me to great sites I'm interested in and excellent articles I might not have found otherwise. From a business point of view, StumbleUpon is an excellent Branding mechanism, that can send hundreds if not thousands of visitors to your site in one day – it gets you noticed. It's also proving to be a neat networking tool to hep me touch base with some of the best SEO/SEMs in the industry.
Of course everything we do is for ultimately IBLs and good visibility in Google and other search engines – in return, getting good, qualified leads for our seo and website design services. But Brand Visibility and Eyes On Corporate ID is nice too.
The aim of course, is to give up blogging for a while and get back to work as we get too many leads from our site as it is because of a ton of good serps. Actually, so much so we're introducing a minimum fee for seo work, to save visitors the shock of finding out over the telephone what the 'best seo company in Scotland' charges for SEO. ;)
The job at hand in 2008 is to take what we've learned in latter 2007 and drive more traffic to clients' sites, after all.
Cheers! :)