Experienced Affiliates SEO – This isn't probably for you. You know this stuff. I'm just thinking out loud here….. although feel free to rain on any theories about observations expressed :)
I read some forums and just about every answer to somebody's ranking woes is get better quality links. In the long term of course for most sites, it's useful advice (if a bit cryptic). I looked at a site that was given as an example, and wondered if the site itself wasn't the reason for crap rankings, and perhaps even the age of the operational site present.
I mentioned before I class myself as a corporate seo. Moving into affiliates last year and building a lot of sites gave me a chance to experience things I just hadn't experienced before. I've worked in a lot of different verticals in very competitive niches. Just NOT to experience things I experienced this year in my web travels gave me a gut feeling that once Google identified your NEW site's 'INTENT' by classifying your site (I'll surmise – as either a 'bricks and mortar' business or a middleman site) your rankings where at risk regardless of any quality onsite or inbound signals your site may have.
Normally we build a small microsite for a client around a keyword rich url, build a good, user friendly site, ensure it has all the normal business 'signals', and submit it to directories and article sites for search engine discovery and get on with coming up with ways of getting real business signal links to the site (local gov links, sites that don't normally link out to crap etc etc ).
The graphs below illustrate 3 MINIsites all targeting one main keyword phrase, all built virtually identical, all with quality inbound link signals, with just a few differences between them. 2 sites rank today, 1 site is 'sandboxed' for want of a better term.

Exhibit 1 – Small Business Mini Site With Good Rankings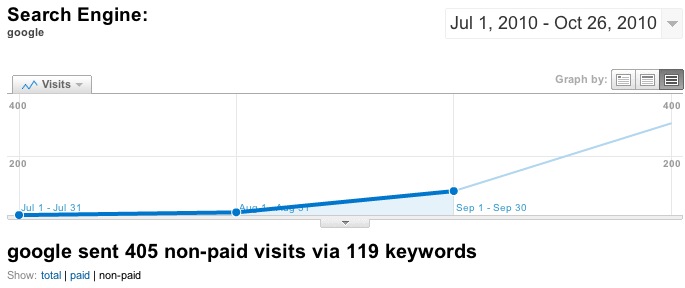 Class: Mini-Site (Ecommerce)
Outbound Links:No
Unique Content
Rankings: Constant (+Improving)
Organic Traffic: Constant (+Improving)
Honeymoon Period / Sandbox: None
Prospects: Looking Good – No10 For Main Keyword after 2 months and improving
Exhibit 2 Private Affiliate Deal With Good Rankings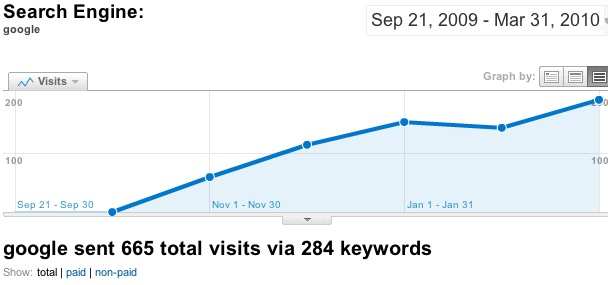 Class: Mini-Site (Private Affiliate – Non-Affiliate Links – ie straight url links)
Rewritten Content found on just a few sites
Outbound Links:Yes
External Nofollow: Yes
Cloaked: No
Rankings: Constant (+Improving)
Organic Traffic: Constant (+Improving/stable)
Honeymoon Period / Sandbox: None
Prospects: Looking Good – No2 For Main Keyword – traffic stable
Exhibit 3 With Affiliate Network Links & TERRIBLE RANKINGS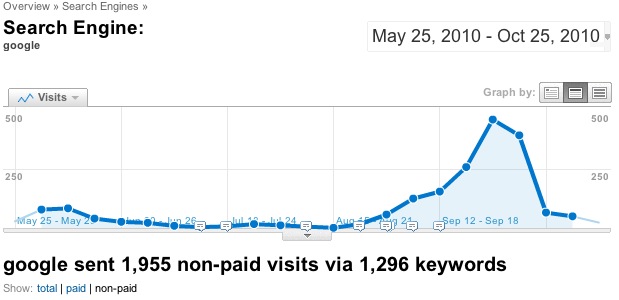 Class: Mini-Site (Affiliate – Affiliate Urls – ie detectable parameters)
Rewritten content (+content found on other sites – but all target pages had unique content and lots of it)
Outbound Links:Yes
External Nofollow: Yes
Cloaked: No
Rankings: ERATIC!
Organic Traffic: ERATIC!
Honeymoon Period / Sandbox: 3 Instances
Prospects: FOR THE MOMENT FECKED – @4weeks top ten for main keyword & great rankings, then SHORTCIRCUIT – top ranking pages are severed from the index, lower, irrelevant pages rank in -50+ positions. Rankings tank, traffic drops to virtually ZERO from Google.
All sites are built on the same platform. All sites have decent links.
How The Sites Perform The Way They Do
Exhibit 1 + 2 perform well and like any other small microsite you build. A few months, some original content, a few decent links, some directory links and articles and the odd quality link here and there.
There's not much difference between exhibit 2 and 3. I mean, these two sites are BUILD EXACTLY ALIKE on the same platform. Site 3 actually has the better link profile as I knew it needed it!
The only real world difference I can see is they are in different markets, one (SITE2) lacking some real quality sites, and the other, seasonable spam city. This could be very important of course.
The only technical difference are affiliate 'looking' links – that is, urls with affiliate IDs. Site3 has them and site2 does not
All sites have pretty decent links (and I mean decent!)
Of course, it's not news Google, it is often argued, hates new affiliate sites – or middlemen sites as I think about it. If you're intent is to make a fast buck out of Google – and upset the status quo Google has decided should merit their rankings (calculated over a longer period than your new site has been in the mix) – then why should Google help you out? At least while your site is so young?
I knew this before I started, but I decided not to cloak or hide my affiliate links on a few sites to see what happened, because this whole year is for learning. (Site3 is one of them)
How Has Google Classified Your Site?
What if – if Google counts a lot of affiliate urls as a signal of your intent, it can class you as a particular type of site. If Google classes you as a particular type of site, it means your NEW SITE (I am talking about brand new domains) may be eligible for a kick in the nuts in terms of rankings fluctuation at least in the short term. What if that filter was perhaps a date activated filter that say shorcircuits new sites in an already crowded set of results?
I'm new to afiliate seo and I know I should be hiding my affiliate ID links. In fact, all my new affiliate sites I 'cloak' my links with a custom script these days. To be honest though, I think if Googlebot comes accross links to internal pages it is blocked from accessing, it's might well class those as affiliate links as well by default – they won't trust those links either.
Your site might well still be classified as an affiliate. Putting nofollow on affiliate links? I heard Google 'drops' nofollow links from the link graph – but that's not to say they won't investigate the link and what it points to before it does drop it.
But I will play along as the new sites we're planning on making will CERTAINLY NOT BE 'frustrating user experiences' – we've put a lot of effort into building sites that actually perform some amazing functionality – ALL USER FOCUSED TOO.
You might not be in affiliate search engine optimisation, but thinking about "does Google classify my site a certain way and will this affect my rankings?" perhaps we really need to think about the signals of intent your site has for best chance of great rankings, or indeed signals it lacks, to ensure you are not classed as the type of site Google has in it's 'short term' sights.
We know Google identifies information sites, like wikipedia as important, and it can easily identify forums, shopping sites, spam, blogs etc and tailor for specific search queries. We know Google has a history of mucking things up at holiday times etc too and perhaps it's by this sort of classification.
It would be very wise to make sure you are in the right classification by sending the right signals to Google at all times, and trying NOT to exhibit any negative footprint it may be on the lookout for. For instance, if you have a NEW small business site, I'd hesitate to put any affiliate links on a page to make a bit of extra cash, for instance.
I have a few ideas what those signals might be but then again so does everyone else (for instance perhaps the AGE of the OPERATIONAL domain (that is, the site that has been operational on that domain) would help in this scenario – that would be why you can't fast break into markets where it's all affiliates with a new site – as this would encounter the dreaded sandbox) . If you do affiliate seo I'd love to hear your thoughts either here or in private :)
These questions and all the other questions that arise are why I love SEO and stuck with it for so long, I think. I always find my self thinking "of course", after every post, "maybe it just looks that way", but it does urge me on to build a better site, at the very least.