Sisyphus, with a name that sounds a bit like a sexual disease, was a King in Greek mythology who used roll a big rock up a hill, only for it roll down every time he got to the top, so he would need to do it again, over and over again. Ad nauseam!
Actually, it's a bit like working nightshift in Tesco too, but I have always had this in the back of my mind when it comes to ranking for big seo terms like "SEO".
The word "sisyphean" means "endless and unavailing, as labour or a task"
Everybody wants to rank no1 for their main keyword, but to do so, you've got to work INCREDIBLY hard, show everybody you're full hand when linkbuilding, show your competitiors your linkbuilding sources and tactics, and indeed show others how to do it themselves, and more importantly, for their clients who you might be competing with!
The competition is fierce for generic terms, and you're in a constant struggle to maintain positions.
Why bother in such a competitive vertical?
The highest I ranked for SEO in Google (UK) was no3 (the spike below indicates the time) and the quality of leads I got wasn't that great.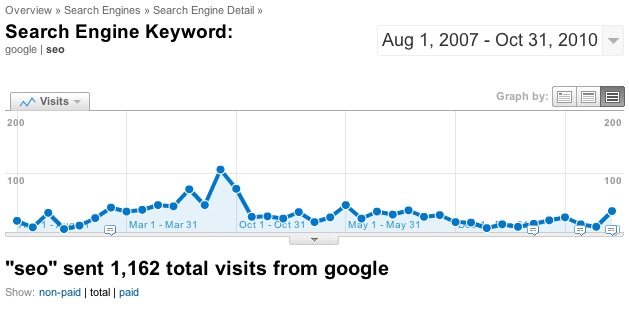 I dropped back to page 3 or something after a month of being no3.
I could have chosen to go for it again.
I could have chosen to throw everything at it and chances are I would be in a better position than I am today (who knows I don't track it).
To be honest, to compete for such a keyterm I'd prrobably need to get spammy, go to conferences to pick up links, or spend a lot of time promoting my business in traditional news channels lol: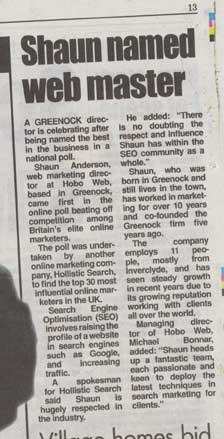 …which I just don't have time for usually – I am a front-line seo that's what I love playing with – and in all honesty I have no idea if I would have the time or skill available to compete against sites who had 50,000 links head start on me anyways and a competent seo at the helm.
Anyway it's not as if my life depended on it…..
Iinstead, I decided to target the long tail of search by just adding more and more content to my site: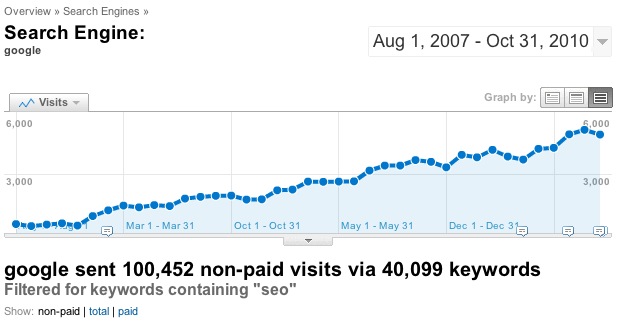 Result? I got nearly 6,000 seo-related visits to the website this month from over 2000 keywords from Google alone, all targeting seo related keyterms through a content based seo strategy that is more valuable, more defensible, more stable and more reliable in the long run – more than enough leads for this small company.
The end result of a content based strategy is  your business doesn't die if Google takes that number one away from you, and a nice side effect is you build an online brand for your company. You are also a LOT more likely to pick up lots of natural links JUST by publishing content on your site AD NAUSEAM.
You can always focus your efforts on ranking for keyterms you have a better chance of converting too: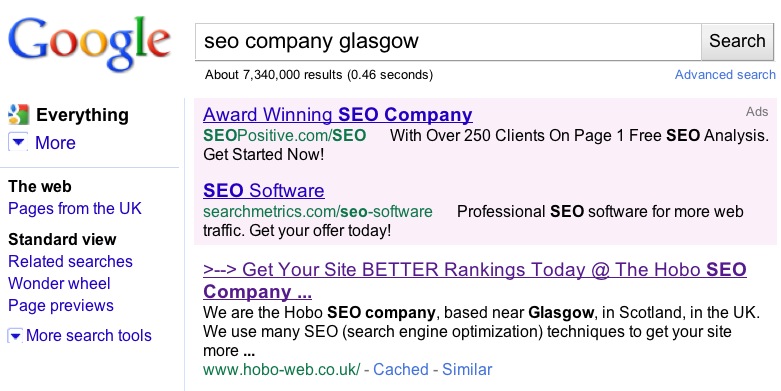 If Google chooses to rank my site higher for such a generic keyterm like SEO, fine.
If it doesn't, I don't care. I won't be spending time working on something like that. I don't get paid to rank no1 for seo, I get paid to get more traffic to clients sites. I wouldn't work for a year on something that a search engine can take away from me at the flick of a switch.
2011 is coming, and it's all about CONTENT & BRAND AWARENESS (OK, you still need to back this up with some quality links) and if you want MORE TRAFFIC from Google, and any other source, that won't disappear overnight, you better be thinking about how to add more content to your site, believe me.
—————-
PS – Thanks to all subscribers who voted for me in the poll run by Holistic Search which got my company a mention in my local newspaper lol :)