The Hobo SEO company was co-founded by Michael Bonnar & Shaun Anderson in April 2006. We optimise websites to improve rankings in search engines and get more targeted traffic to a website from Google, Bing and Yahoo – the world's most popular search engines.
Our Glasgow-based seo team been mentioned on some the most influential seo industry related sites across the world.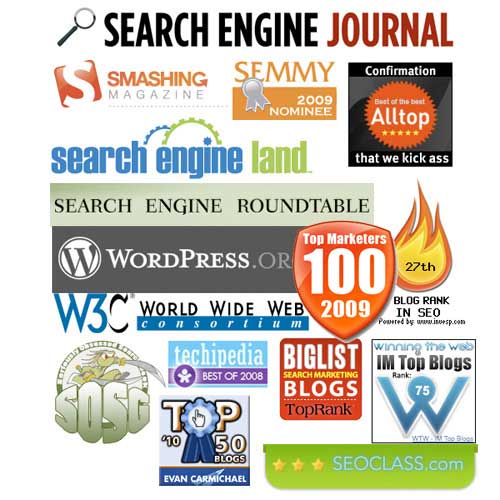 We don't spend that much time driving traffic to our own site, but we usually get about 100,000 free visitors a month to this site mostly from Google.
Alexa rate us as the 15,496 most popular site in the world (at the time of writing and that is out of tens of millions):
Technorati rank Hobo SEO company as one of the top small business blogs in the world too, and we have been awarded an ADAGE POWER 150 STATUS – as one of the most popular advertising blogs in the world.
Our search marketing company is well known in the industry, and members of our seo team have been acknowledged by peers as experienced industry experts:
Our agency staff have been voted amongst the Top 100 Most influential marketers of 2009, and amongst the most influential seo practitioners in the UK in 2010: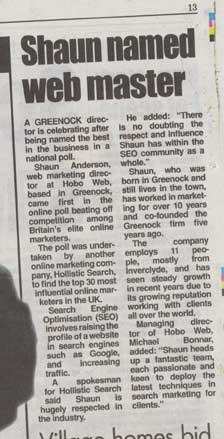 SEO Services
Hobo specialises in the following internet marketing services:
search engine optimization
information architecture optimisation
keyword research
web marketing strategy
website promotion
e-commerce seo and web development
content-based linkbuilding
stylish, accessible web design
wordpress web design and development
Google Adwords, Analytics and Web Optimiser
Corporate SEO
Affiliate SEO
Hobo is a UK based seo company. Our offices are in Greenock, just outside of Glasgow, in Scotland.
We are not a secretive seo company and as such the Hobo seo company website  is one of the most visited seo companies' website in the UK with 60,000 visitors from search engines and social media every month. Our seo blog is one of the most subscribed search marketing blogs in the world with nearly 15,000 subscribers reading our free seo newsletter.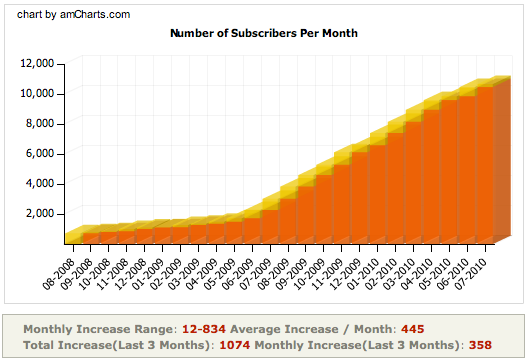 are currently subscribed (in fact according to Feedburner there are over 15,000 subscribers by email alone).
Our seo company has never paid for advertising. Ever. 100% of our traffic and leads are generated from free traffic sources.
Our search engine optimization company is staffed by 13 creative individuals, each an expert in their respective fields, and we have a staff retention rate in nearly 5 years of 100%.
Within our company has a diverse range of skill sets ready to deploy for companies of any size and to nearly any budget. Our experienced SEO consultants can advise on the best seo strategy for your business, while our web development studio can deploy innovative php-based web designs and web applications to the latest standards in CSS & HTML.
Are we the best seo company to win your business? Our professional seo firm has clients from Edinburgh & Glasgow in Scotland to Manchester and London in England, and to Ireland, Russia, Australia and even as far away as Bermuda – we are truly a UK seo company able to service local and word-wide markets. We do not outsource any aspect of our core online marketing strategy or web development to foreign marketing companies – all key facets of our operations are managed in Greenock, Scotland. All of our clients have been won by either word-of-mouth recommendations from satisfied clients, or through our own search engine optimization techniques that ensure our services are presented to a visitor when they are, for instance, searching for the best seo company in the UK for their business.
Ethical SEO
We are an ethical seo company. Our agency link builders do NOT:
spam personal blogs for comment links
spam forums for signature links
buy links
…or engage in any cheap seo practices that clearly violate search engines rules for inclusion – unethical seo – or more importantly knowingly illegally hurt another site or cause another webmaster inconvenience.
As an ethical seo agency, we do NOT make false guarantees like guaranteed top ten rankings or 24 hour no1 rankings we can never honour. We aim to build a site using best practice seo practices and techniques. Our seo endeavours are clearly tracked via Google analytics
Our intent is ALWAYS to promote REAL businesses through quality, accessible, relevant content creation. We do NOT optimise websites with any intent that could be seen as licentious, exploitative, or illegal in the UK.
This seo company looks to place our clients in a dominate position in Google natural listings, Google Places, Google Images, Google Video, Google social search and Google Adwords.
We are an expert wordpress seo company too, in fact, our seo blog is powered by WordPress.
If you need a seo company to come in, audit your online marketing activities, and improve search engine rankings and traffic – contact us today to see how we can help you dominate your niche! We have experience in many markets, and can offer cost effective seo services to small businesses, SME, big brands, multi-national corporation, the NHS and charity organisations.
Call us today on 0845 094 0839.
What People Say About Our Blog