UPDATE 22 February 2013 – News Media sites get a Pagerank penalty – Over the next few days we'll see if reputation and outbound links are affected….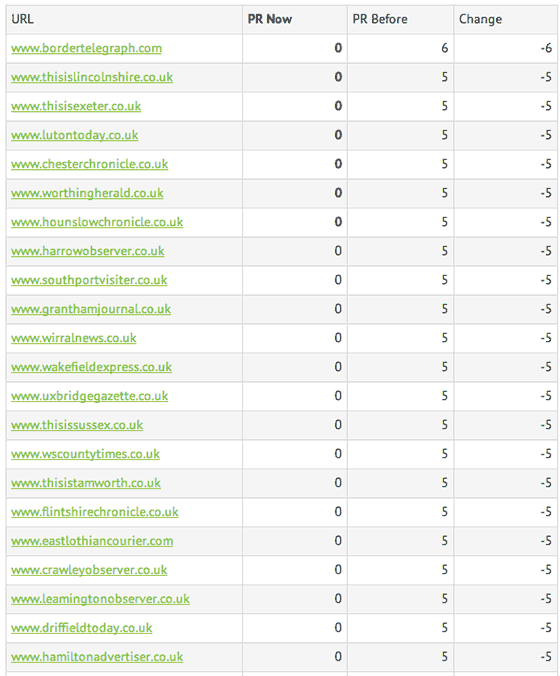 The rest of this article is from 2010
I've long thought it quite funny the situation between the mainstream media v Google.
Some media sites say it's all one sided and Google are stealing their content, are putting up pay-walls, even when seo have been saying for years about how Google is falling over themselves giving them tons of trust, tons of traffic AND making their links some of the most valuable on the web.
Google uses big trusted sites like news media sites, and their links, to help them sort out the cess pool of the web.
A quick look around some newspapers websites (the top UK ones) and some of the seo efforts are shocking – they don't even seem to know how to make sub domains rank well.
Yes, some newspaper sites HAVE cottoned on to the fact they have massive domain authority and are rolling out everything from dating sites to – jeez – low quality business directories. I would do some of that too I suppose.
I mean Google has made newspaper sites authority sites in niches like online dating. Um. Right.
A quick look around some local newspapers too and you see they don't link out to anyone, anywhere.
Oh wait – there's some paid link articles to personal injury lawyers lol and an advertising network of links that have clearly affected the site's 'trust'. Yeah – you need to know when to get out of those things before it goes t*ts up as they say in Scotland.
I don't buy links but at the same time I don't think it's hypocritical to say the least that search engines frown on bloggers selling links and do little to deter newspaper sites obvious link selling tactics.
Some newspaper sites are so stupid they send out crazy link selling emails too and indeed, some folk do out them.
The fact is – only SHOCKINGLY bad – not just bad – seo will get these sites penalised in a NOTICABLE WAY – and even then – only if outed, then a discussion about inappropriate domain authority in particular niches might focus the spotlight. I don't out seo strategies, but I wonder if it's worth examining newspaper seo in the future. They do make a business of outing other folk. Right?
To be honest at this time, I think as a link builder, it's more appropriate NOT to out others under just about any circumstances but it is something I think about.
It's probably more useful to think how you are possibly going to combat mega domain authority gate crashes impact on your business, or in turn work out how you can look like a brand to Google.
Guess what – that involves newspaper websites at the moment…..
(Image Credit – http://www.dailyblogtips.com/create-your-own-newspaper-headlines/ )