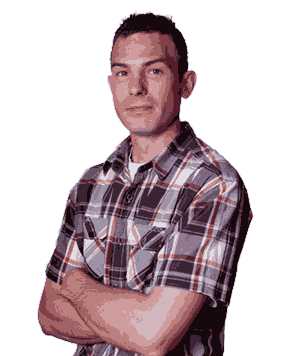 Martin Gardner is the senior website developer and designer at Hobo. He works closely with the website design team to create attractive and functional website's.
Living in Greenock and a married father of two boys, with a BSC: Multimedia Technology Degree. A very people friendly & approachable person who is very technically minded.
Marty is a key member of the creative team at Hobo, and using Industry standard software such as Dreamweaver, Photoshop, Flash, and Premiere he can turn his hand to just about any website development problem.
Marty enjoys hanging out with the kids when he doesn't have any projects or deadlines to work to, Chilling out in front of the xbox, or racing through the Scottish hillside on this Quad. If you want to find him, he'll either be in front of his PC playing Call of Duty, listening to music or he's in the garage fixing what he broke that weekend on the quad…
Marty's a very honest and punctual individual, and is the type of guy that says what he means and if he says he is going to do something, chances are its all ready done!!
Achievements / Training
BSC: Multimedia Technology Degree.
ASP, PHP, XHTML, CSS, MYSQL, MSSQL & Access
Site & Domain Management
WordPress Plugin Development & Mangement
Joomla & WordPress Expert!