[Google Drive is not available in the UK at the moment. But - it's 'coming'.]
Where will you choose to store your life in the cloud? Dropbox (aff) or Google Drive?
NOTE – The following chart says Dropbox had 2 GB free storage as it did – but Dropbox now offers 5GB of free space now same as Google.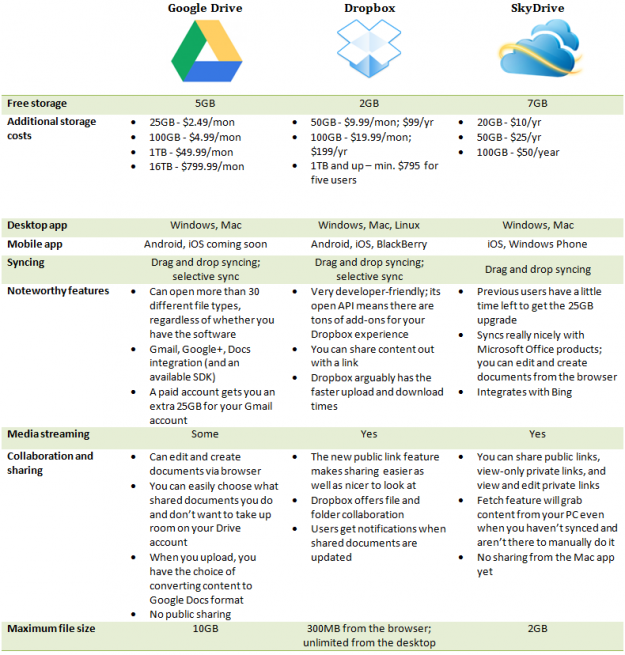 Maybe start with the privacy policies of the two favourites – Dropbox and Google Drive:
Dropbox
By using our Services you provide us with information, files, and folders that you submit to Dropbox (together, "your stuff"). You retain full ownership to your stuff. We don't claim any ownership to any of it. These Terms do not grant us any rights to your stuff or intellectual property except for the limited rights that are needed to run the Services, as explained below.
or
Google Drive
When you upload or otherwise submit content to our Services, you give Google (and those we work with) a worldwide license to use, host, store, reproduce, modify, create derivative works (such as those resulting from translations, adaptations or other changes we make so that your content works better with our Services), communicate, publish, publicly perform, publicly display and distribute such content. The rights you grant in this license are for the limited purpose of operating, promoting, and improving our Services, and to develop new ones.
To be impartial… both privacy policies (and Microsoft (Skydrive) and Apple (ICloud) cloud storage offerings privacy policies) can be interpreted to be very different or pretty similar. Discussion here.
Using cloud storage services creates a dilemma applicable to much of the Web. We have to give up some privacy and rights to do all the cool stuff we want to do. If I want to use Google and Facebook's services, I have to accept that the companies can access that data at will and could give it to the Feds, if pressed. Basically, if you don't want to give companies access to your data, don't sign up. Venturebeat
Food for thought: Dropbox isn't tracking and recording everything else you do, though. Dropbox isn't broke, either by the way. In fact – Dropbox is amazing and always has been. I will be keeping my life on Dropbox for now. I keep my photos and music in ICloud for the moment.
*I couldn't find the original creator of that comparison chart or I would have credited it.
** I have used my old affiliate code for dropbox although all I get if you sign up is free space (and I am actually maxed out). Last month though I got a bonus upgrade for passing this code about.