I had intended to stay out of the recent debate on seo being a con, or seo being spammers, but it irks me when people with an audience misrepresent SEO. So many folk already comment on the seo 'industry' (yawn) and news I often can't be bothered. But it has sparked some healthy debate here in the Hobo studio so…
First, to illustrate my point, here's a an everyday small business client site we took on in July (I've consulted with the client in the past on other projects).
They had a FANTASTIC little ecommerce site (@1,000 products) – very well designed and built by another web dev company). Unique well written content. Unique page titles. Absolutely nothing wrong with it.
But – NO TRAFFIC from Google for (more than) 6 months!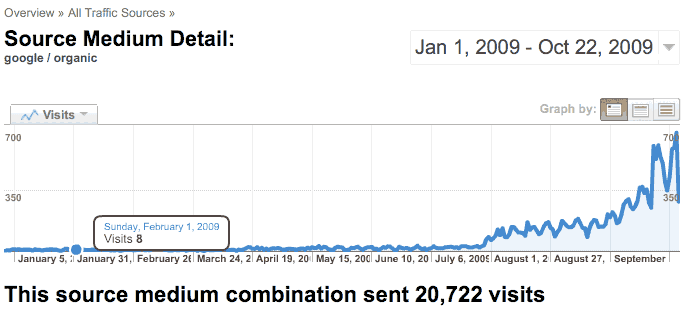 The customer asked us SEO to get involved.
Here's what the same customer made in the last 4 WEEKS with that rise in relevant traffic.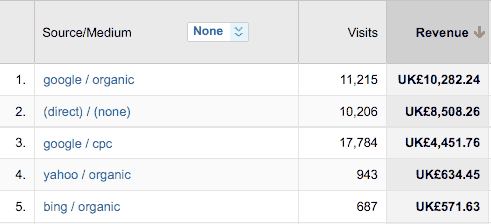 Not including a pretty penny from reffering sites ;)
If you listen to Paul Boag (who's obviously a talented designer), hey all my client needed is a copywriter and all seo is "manipulative". Google wants great content – that is correct, but how does it rank content? Yes, via links. He misses this totally out in his podcast.
Mmmm….. I'd love to see that strategy alone at work for (just about any ecommerce site) and in any competitive niche industry where people use a myriad of strategies including seo, linkbuilding, social media, pr networks, paid links oh AND that copywriter, to rank for terms. Look out you don't walk around a corner into any gun fights with that knife you have there.
By the way, original "compelling content" – so easy to create isn't it – on a site with no links and no audience and no online business authority is as useful as boring, useless content. It won't be FOUND and won't be READ and won't be ACTED upon. Googlebot is stupid – it cant tell if content is good or not unless other pages links to it.
If my client listened to Derek who can rank for 'Derek' my client wouldn't have called a seo company to identify why he got no Google love.
Search Engine Optimization is not a legitimate form of marketing.
He'd have been worried we'd have taken his money and buggered off to finance our international drugs & arms smuggling operations with our seo scamming and hacking buddies.
Generalisations are of course, the foundation of intelligent debate of course, as we all know. :)
Generalisations make for excellent link bait though.
Anyway how did we achieve these results for this particular client? It was obvious there was nothing wrong with the site or the content….
We quickly identified this site had no REAL pagerank = no trust, no authority, no ranking ability. That's a side effect of having a weak link profile by the way.
MOST IMPORTANTLY – We had to identify some trusted sites we could get links from that transferred trust and ranking ability. We did.
A few Press releases to tell the world about the site
A relatively small ongoing article submission and directory linkbuilding program
There was no need to examine the linkbuilding competition in this case – though often there is. No need to buy any crap links – I don't. No need for any new content. No need for any fancy Google xml integration. No need to redesign the site.
A copyrighter would have been as useful as a solar panel powered flashlight in this case. Building a good site was a mute point.
IT WAS LINKS FROM TRUSTED PAGES THE CLIENT SITE NEEDED.
Fact is – Every single site is different, sits in a vertical with a different level of competition for every keyword or traffic stream, and needs a different strategy. There's no one size fits all magic button to press to get traffic to a site. Some folk have a lot of domain authority, some know the right people, or have access to an audience already – indeed, all they might need is a copywriter – or indeed, some pap to write or drone on about today.
They, however, are in the minority of sites. Most of the clients I work with have nothing to start with and are in a (sorry! lols) boring industry few write about.
Fact is. It's not a seo's fault Google is a links based search engine. In one respect, Google doesn't even CARE what content you have on your site (although it's better these days at hiding this). Humans do of course so at some point you will need that content so that's why we are a creative, content focused search marketing agency. I am an SEO in that mix.
Fact is – a successful website needs good people working on every aspect of the site. The client needs to deliver. The web developer. The copywriter. The seo. The linkbuilder. The host. – everybody. You need good folk from every industry and there's plenty of them. I'd never say you don't need ANYBODY or rule out an entire industry. The more good people you have on your team the more likely you'll win.
Not only me either who was bemused by the debate:
Maybe designers should stick to talking about design, and let seo talk seo – we find enough to argue about amongst ourselves without outside 'help'.
Right – back to work. I have a client with an excellent site who's going to phone me shortly to ask why his excellent, pretty and well structured site, with original content isn't top ten for his Christmas terms yet.